---
Spain's housing market still in trouble
Last Updated: September 21, 2010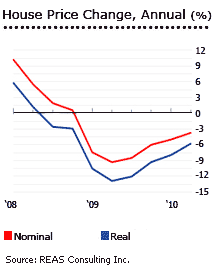 House prices in Spain continue to trend downwards. In August prices were down 4.53% on the year, and down 1.63% on the quarter, according to TINSA, a real estate valuation company.
This comes after some optimism in Q2, when Spain's house prices seemed to stabilize. The official house price index from the Instituto Nacional de Estadistica (INE) showed an increase of 1.6% over the three months to June 2010; and a fall of only 0.90% from a year earlier - the first quarterly increase since the onset of the crisis in late 2007.  INE's data are based on transaction prices provided by the General Council of Spanish Notary Publics.  The Bank of Spain data also suggested that appraised value of houses stood at €1,849 per sq. m. in Q2 2010; only 0.91% lower than the value in the previous quarter and down by 3.75% from a year ago.  During the height of the housing crisis, many had expressed doubt on the accuracy of statistics produced by government offices. The figures were, allegedly, too optimistic.
Low interest rates were one driver of the stabilization in Q2 2010. The ECB have maintained a 1% benchmark interest rate since June 2009. In addition, GDP inched up a bit (0.2%) in Q2 2010.
Yet Spain may have to wait longer for a full housing market recovery. Demand remains weak, and there is still massive oversupply.
The number of unsold properties in Spain reached 1 million in 2009, according to The Ministry of Housing. The Financial Times' survey among experts said that it could "take three to four years to absorb the surplus supply."
Transaction costs on second-hand properties are moderate. There are no restrictions on foreigners buying property in Spain.
Unreliable house price figures?
House price figures published by the Bank of Spain show little variation in house price changes by proper type and location. For instance, the average price of newly built-dwellings fell 7.75% y-o-y to Q3 2009 while the average price of existing dwellings fell by 8.32%.
The average of new houses was €1,911 per sq. m., 8.76% down from the March 2008 peak.
"The official figures are hard to stomach" says Mark Stucklin of Spanish Property Insight. Even developers say that prices are down by 20% or more, he explained in a separate interview.   
AVERAGE PRICE OF DWELLINGS (Q3 2009)

€/ SQ. M.

Y-O-Y

Q-O-Q

FROM PEAK

Spain

1,903

-8.02

-0.94

-9.45

New Houses

1,911

-7.75

-0.67

-8.76

Existing houses

1,891

-8.32

-1.42

-10.07

Madrid and Barcelona

2,606

-8.28

-1.04

-9.89

Coastal provinces

1,676

-8.77

-1.22

-10.31

Other provinces

1,540

-7.55

-1.30

-9.20

Source: Bank of Spain
There was also little variation in terms of location. For instance, the average price of properties in coastal provinces (excluding Barcelona) fell by 8.77% y-o-y to Q3 2009, not far from 8.28% y-o-y price fall for Madrid and Barcelona  and 7.55% fall for other interior provinces (excluding Madrid).
It is widely believed that house price falls in coastal provinces will be much worse since the bulk of oversupply is located there. During the house price boom rich expatriates and locals flocked to the coast pushing up prices of villas and apartments.
Most housing experts are skeptical of the "official figures produced by the central bank. A major pitfall of the house price figures is that it is based on official valuation, and not on actual sales or contract prices.
In 2008, Beatriz Corredor, the Minister of Housing was placed in hot water after the figures she cited in a TV interview contradicted the official figures published by her department.
Massive boom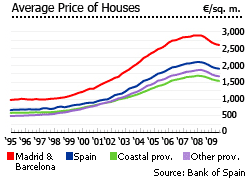 For what it is worth, the official house price indices reveal the enormous house price boom Spain experienced from 1996 to 2007. The national average price rose by 197% 200% (117% in real terms), one of the highest price increases in the region.
Outside Madrid and Barcelona, house prices are highest on the Mediterranean Coast: Catalona, Andalucia and Valencia. These regions saw the highest house price increases during the boom, more than 200% from 1996 to 2007.
The average price of properties along the coast surged by 250% (155% in real terms) within the same period. A significant bulk of buyers was hundreds of thousands of foreigners, mainly from the UK, France and Germany.
On the other hand, the average price of properties in Spain's two main cities, Madrid and Barcelona, rose 188% from 1996 to 2007 while prices in other inner provinces rose by 175% (101%).
Massive oversupply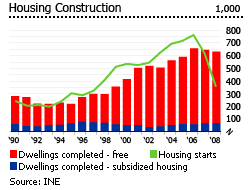 The massive house price boom led to overbuilding especially in coastal areas. With the demand gone, the oversupply of housing units depresses house prices.
The degree of overbuilding can easily be seen by looking at the number of housing starts from the National Statistics Institute (INE):
From 1990 to 1996, an average of 240,000 dwellings were started annually.
Between 1999 and 2002, with house prices rising rapidly, dwelling starts exceeded 500,000 units annually. The number rose to more than 650,000 annually from 2003 – 2004
In 2005, dwelling starts exceeded 700,000 and it peaked at 760,179 in 2006 due to rising demand from EU nationals 
Rising construction cost due to high global prices of fuel and commodities slowed down construction to 615,976 dwellings completed in 2007
The global financial meltdown halted construction activity leading to a drastic decline in dwelling starts in 2008, at 360,000 units
Dwelling completions followed a similar path. Despite the massive oversupply, dwelling completion exceeded 630,000 in 2008, most of the units started before the crisis erupted.
Mortgage slump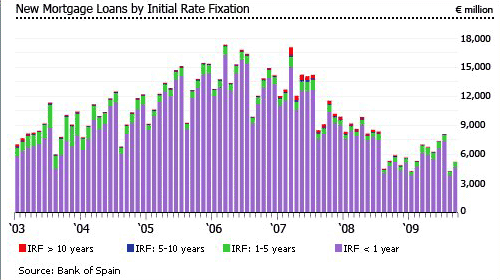 Spain's housing market is extremely vulnerable to interest rate changes, due to the use of adjustable rate mortgages. More than 80% of new mortgages have had initial rate fixations (IRF) of less than 1 year since 2004 (more than 90% of new loans from 2005 to 2006). In 2009, around 89% of new loans had an IRF of less than a year.
This fact combined with record low mortgage and interest rate reveal the weakness of mortgage and housing demand. The European Central Bank (ECB) started cutting its key rates in October 2008 in response to global financial crisis. To increase liquidity and ease monetary conditions, the key rate was reduced to a historic low of 1% where it remained until November 2009.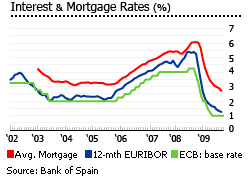 The weighted average interest rate on new loans for house purchase dropped from 6.07% in October 2008 to 2.72% in September 2009, the lowest rate ever. Despite that, the volume of new mortgages remained subdued.
New loans for house purchase in Q3 2009 reached €17.56 billion, down 3.2% from the same quarter in 2008. During the peak of the house price boom an average of €40 billion worth of new loans were approved quarterly from 2005 to 2007.
Spectacular mortgage market growth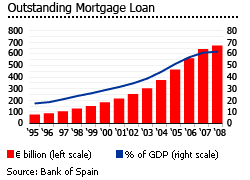 Spaniards traditionally did not finance house-purchases through mortgages. But the liberalization of the mortgage market since the 1990s combined with drastic reduction in mortgage rates changed all that.
The great Spanish housing boom was powered by 15 years of dramatic reductions in mortgage interest rates, from 17% in 1991, to 10%–12% (1995 to 1996), to below 3.5% (2004 – 2005) - among the lowest rates in Europe.
The mortgage market grew by more than 20% annually from 2003 to 2006; although the growth slowed to 14% in 2007 and 5% in 2008. The value of outstanding loans for house purchase soared 254% from €181 billion in 2000, to €673 billion in 2008.
In proportion to GDP, mortgage outstanding have grown from 17% of GDP in 1995, to 29% in 2000, and to more than 61% by end-2008.
Generous tax breaks for mortgage interest payments and capital repayments helped fuel mortgage growth.
Income tax deductions reduce effective interest rates on Spanish mortgages by 2 percentage points, according to an OECD study, and real after-tax interest rates have been negative since 1999 (the study was published in 2004). The subsidies effectively allow homebuyers to increase their total borrowings by 15% to 20%.
Housing savings schemes are also given tax breaks.  Imputed rent for owner-occupied houses, and capital gains on the sale of the primary residence, are also tax-exempt.
Low rental yields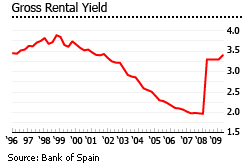 Spain's rented sector is handicapped by rent controls. Only 10% (8% in the private rented sector) of all housing units remained in the rented sector in 2004, down from 20.8% in 1981. New tenancies were partially liberalized in 1985, but leases must run for a minimum of five years, and it is difficult in law to recoup unpaid rents.
Landlords are often better off keeping their units unoccupied, because rental income is typically insufficient to compensate for the wear and tear of letting.  In 2001, 14% of the total housing stock was vacant, bigger than the entire rental stock.
Gross rental yields are very low - gross returns on renting for Spain as a whole fell from 3.8% in 1Q-1998, to 1.97% in Q3-2008, according to the Bank of Spain. With house price falling while rents relatively unchanged, rental returns rose to 3.4% in June 2009. However, it remains low by international standards.
In June 2009, rental yields in Madrid ranged from 2.6% to 4.8%, with smaller units earning higher returns, according to the Global Property Guide. In Barcelona, rental yields are within the same range (2.7% - 3.8%), with smaller units earning more.
Economic dilemma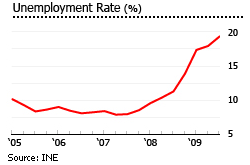 The construction industry is a key driver of the Spanish economy.  The increase in construction activity in the past helped pull unemployment down to 7.95% in Q2 2007 from 24% in 1994. Spain's economy expanded by an average of 3.6% from 2000 to 2007.
With the situation now reversed, the unemployment rate stood at 19.7% in September 2009, one of the highest in EU. It is expected to exceed 21% in 2010, the highest rate since 1997. Economic growth stalled in 2008 (barely growing at 0.86%) and is expected to contract by 3.2% in 2009 and 1% in 2010.
After growing by 7% in 2005-2006, gross fixed capital formation growth slowed to 5.3% in 2007, then contracted by 3% in 2008. It is projected to contract by as  much as 14.7% in 2008, and 8% in 2010.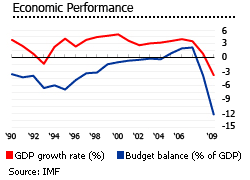 In October 2009, the government approved an additional €5 billion public spending programming to stimulate the economy. This was on top of the €11 billion stimulus package announced in November 2008.
But to pay for the stimulus program and recover the lost income from falling economic activity, the government is also pushing for a €11 billion tax hike. It include increases in VAT, capital taxes and dividends. The €400 tax rebate given to taxpayers staring in 2008 will also be phased out. These measures can push the economy into a deeper recession.
The Spanish government is facing a tough policy dilemma. It has to stimulate the economy but it also needs to control the deficit.  Since the 1980s, the Spanish government annually runs a deficit. It only broke into surplus in 2005, 2006 and 2007, with the biggest surplus of 2.7% of GDP.
However, the global recession pushed the economy into deficit once more; at 3.8% of GDP in 2008. In 2009 and 2010, the deficit is expected to exceed 12% of GDP, way beyond the EU limit of 3% of GDP.
Spain - More data and information