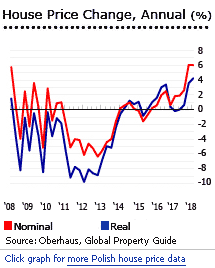 Housing demand in Poland continues to rise robustly due to the country´s excellent economic performance, wage rises and declining unemployment, combined with historic low interest rates.
The average price of existing flats in Poland´s 7 big cities (Warsaw, Gdańsk, Gdynia, Kraków, Łódź, Poznań, and Wrocław) increased by 6.9% (5.1% inflation-adjusted) during the year to Q1 2018, according to the Polish central bank, Narodowy Bank Polski (NBP). During the latest quarter, house prices were up by 2.7% (2.2% inflation-adjusted).
In Warsaw the average price of existing houses rose by 6% (4.2% inflation-adjusted), during the year to Q1 2018.
Gdańsk saw the highest house price rise of Poland´s seven major cities, with a 17.5% y-o-y price surge in Q1 2018. It was followed by Krakow with a 13.2% y-o-y increase.
Other Polish major cities also enjoyed high price hikes, including Poznań (9.3%), Łódź (7%), and Gdynia (6.9%).
Among the 7 big cities, Wrocław saw the lowest price hike of 2.7% (1% inflation-adjusted) during the year to Q1 2018.
Warsaw has Poland´s most expensive housing, with an average selling price of PLN 9,346 (€ 2,158) per square metre (sq. m.) in Q1 2018, according to NBP. Housing is also expensive in Kraków, with an average price of PLN 7,767 (€ 1,793) per sq. m., Gdańsk with PLN 7,712 (€ 1,780) per sq. m., and Gdynia with PLN 7,293 (€ 1,684) per sq. m.
Wrocław had the cheapest houses among the 7 big cities, with an average price of PLN 6,423 (€ 1,483) per sq. m.
The price rises are due to rising demand, supply shortages and higher construction costs, as well as a declining share of low-cost "Housing the Young" (MdM) scheme units, after the programme closed in January 2018.
Limited supply restricts home sales
House sales were down by 2.4% from the same period last year at 18,400 units during the first quarter of 2018, according to REAS. Though around 8.8% more flats were sold from Q2 2017 to Q1 2018, at about 72,000 units, the number of flats launched for sale in Q1 2018 fell by 6.8% y-o-y to 14,900 units. Developers "failed to release enough units onto the market" for the second consecutive quarter in Q1 2018, according to REAS´s Market Analysis and Reseach Partner Katarzyna Kuniewicz.  "Supply is decelerating, for a number of reasons," said Kuniewicz.
"The coming quarters will definitely reveal whether the surplus of demand over supply is only a temporary impasse for developers, or a play to limit the units on offer, preparing demand for a distinct increase in prices," said REAS´ Q1 2018 report. 
Poland had one of Europe´s biggest booms - but its bust was not so big
House prices in the country's major cities are still below their pre-crisis peaks of mid-2008:
In Gdańsk, house prices are still down 7.6%
In Krakow, house prices are down 14%
In Łódź, house prices are down 15.6%
In Warsaw, house prices are down 11.5%
In Poznań, house prices are down 2.6%
In Gdynia, house prices are down 6.5%
In Wrocław, house prices are down 17.1%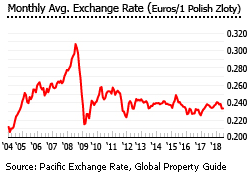 Yet Poland´s bust was remarkably small, given the amazing scale of its housing boom from 2004 to 2007 which was fuelled by an inflow of investment due to the country's accession to the EU, record low interest rates, and mortgage finance development.
Property prices surged in Warsaw during the boom - rising 23% in 2005, 28% in 2006, an amazing 45% in 2007, and 13% in 2008, according to REAS. Other cities such as Wroclaw saw even larger house price rises.
Behind the boom lay strong economic growth.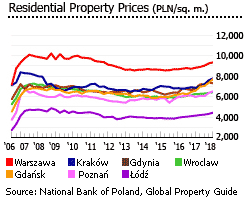 However during the 2008-09 crisis the Polish Zloty fell dramatically, and mortgages - mainly denominated in foreign currencies - became unrepayable.
Home prices fell for 6 straight years. House prices in Poland's 7 major cities dropped 13.8% (-25.3% inflation-adjusted) from 2008 to 2013. Prices started to rise again in 2014, and has been on a rising trend since then.
Key rate still at record low
The average interest rate for house purchases was 3.73% in April 2018, the same as last year, according to the Narodowy Bank Polski (NBP).
For housing loans of between 1 year and 5 years the interest rate was 5.39%.
For housing loans of over 5 years the interest rate was 3.72%.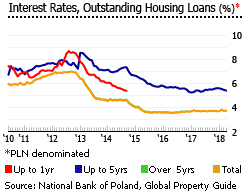 The central bank´s key rate is at a record low of 1.5%.  "Notwithstanding relatively high economic growth and wages rising faster than in the previous year, consumer price growth remains moderate," said the country´s Monetary Policy Council.  "Inflation net of food and energy prices remains low." 
Polish key interest rates are likely to remain unchanged until the end of 2018 and even longer, according to central bank Governor Adam Glapinski.
Good rental yields in Warsaw and Krakow; renters plentiful
Gross rental yields in Warsaw range from 5.50% to 6.75%. In Krakow, rental yields range from 5.66% to 6.47%, based on the latest Global Property Guide research in August 2017.
The Warsaw district of Mokotow, located just below Srodmiescie, houses many foreign embassies and companies. A 120  sq. m. apartment in Mokotow offers rental yields averaging 6.61%.
Apartments in Srodmiescie, which includes the historic neighborhoods of the Old Town (Stare Miasto) and the New Town (Nowe Miasto), offer gross rental yields ranging from 5.50% to 6.75%.
In the other popular Warsaw areas, Wilanów and Żoliborz, apartments offer good rental returns ranging from 5.82% to 6.38%.
Despite attractive rental yields, the big downside is that round trip transaction costs are high in Poland.
Renting is an unavoidable choice for more and more Poles, as stricter requirements for mortgage financing, uncertainty in the labour market, and low growth prospects, all discourage households from incurring long-term debts. The movement of people from other cities to the capital, especially students or young people looking for work, also drives people to rent.
About 21% of households in Warsaw rent apartments, with half of these in social and communal housing. Most residential properties in Poland are owned by private individuals.
About 10.7% of the dwelling stock is rented at lower rates, with 5.7% in communal or social housing, 2.1% in cooperative tenancy, 1.2% in state-owned companies, 1.2% the State Treasury, and 0.5% in public building societies, according to the 2011 National Census. The remaining dwelling stock is primarily owner-occupied.
Increasing residential construction activity
Despite the issue of undersupply, residential construction is actually rising. In Q1 2018, the number of dwelling permits granted rose by 10.3% y-o-y to 66,432 units, according to the Central Statistical Office of Poland. During the same period, the number of dwelling starts also increased by 8.5% to 47,978 units. 
Around 42% of newly-completed dwellings were built by private investors.
Developers built 55% of the total
Housing cooperatives built around 491 dwellings units (only 1% of the total)
The Polish residential market lags behind Western European countries in terms of quality, age of stock, and level of market saturation, according to Ernst and Young. Of the 13.85 million residential units in Poland, around 72% were built before 1989, mostly during the communist era using prefabricated technology, which tends to be of very poor quality.
Modern units built from 2000 onwards comprise only about 12% of the total and are concentrated primarily in six areas: Warsaw, Krakow, Poznan, Wroclaw, Tricity, and Lodz.
Poland's housing supply constraint is "mainly administration-driven and consists of the limited number of zoning plans, covering below 30% of country's area", according to Ernst and Young's 2015 report. The lack of zoning plans leads to administrative procedures to take from a few months to a year to resolve.
MdM ("Housing the Young") program is out; National Housing Program is in
The final PLN 381 million (€ 87.96 million) of subsidies under the Mieszkanie dla Mlodych (MdM) program was approved in January 2018 , marking the end of this scheme.
MdM was a housing subsidy program introduced by the government in early 2014, aimed at helping young people aged up to 35 (either single or married) buy their first new flat. Effectively the program  gave a 10% subsidy to childless families and singles and a 15% subsidy to families with children and single parents. Another 5% subsidy was granted to families with three or more children. However, the program placed caps on both apartment size and price per square meter. In the case of house construction, the subsidy came in the shape of partial VAT return on building materials used.
The Law and Justice Party (PiS)-led government has replaced the MdM scheme by the "National Housing Program" which began at the end of 2016, which includes developing affordable housing units for rent and give renters a purchase option. The new program intends to redirect public funds toward social groups with significantly lower incomes, and away from middle-income groups that were previously supported by other housing programs.
Mortgage market has been growing
The Polish mortgage market grew from only 1.3% of GDP in 2000 to 9.9% of GDP in 2007, and to almost 20% of GDP in 2017.   But in April 2018, Poland´s total outstanding housing loans rose by only 0.7% to PLN 393.33 billion (EUR 90.81 billion) from the same period last year, according to Polish central bank, Narodowy Bank Polski (NBP).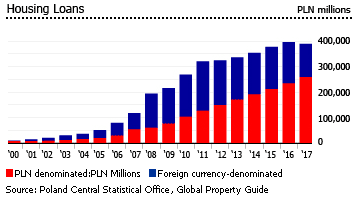 Zloty-denominated housing loans outstanding rose by 10.7% y-o-y to PLN 267.10 billion (EUR 61.67 billion).
Foreign currency-denominated housing loans fell by 15.5% y-o-y to PLN 126.23 billion (EUR 29.14 billion).
The proportion of foreign currency-denominated housing loans (including Swiss franc loans) peaked at more than 69% in 2008, causing a crisis when the currency collapsed. However the proportion has since declined and was around 34% in 2017, according to NBP.
Robust economic performance; tension with EU raises political uncertainty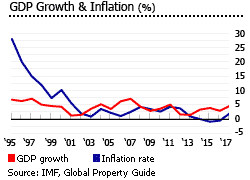 The Polish economy expanded by 4.6% in 2017, its fastest growth since 2011, according to the Central Statistical Office of Poland. Growth was supported by robust domestic demand, a rise in fixed investment due to increased European Union funds, as well as the stronger economic activity of Poland´s neighbouring countries and main trade partners. The European Commission expects an expansion of 4.3% in 2018.  During Q1 2018 the economy expanded by 5.2% y-o-y.
Poland, which does not use the euro, is the only European country that avoided recession during the global financial and economic meltdown. The Polish economy expanded by 4.3% in 2008, 2.8% in 2009, 3.6% in 2010 and 5% in 2011, according to the IMF. However growth slowed in 2012 and 2013, with GDP growth rates of just 1.6% and 1.4% respectively, due to the recession in the Eurozone, which accounts for over 50% of Polish exports. 
The Polish economy bounced back in 2014 with 3.3% growth, fueled mainly by strong domestic demand. Economic expansion continued in 2015 and 2016, posting growth rates of 3.8% and 2.9%, respectively.
Poland´s budget deficit stood at 1.5% of GDP in 2017, the lowest since the beginning of Poland´s data collection in 1995, according to the Central Statistical Office.  The government debt was trimmed to 50.6% of GDP in 2017, from 54.2% of GDP in 2016. Core inflation fell to 0.5% during the year to May 2018, according to the central bank.
In May 2018, Poland´s unemployment rate hit a 28-year low at 6.1%, down from last year´s 7.3%.
In contrast to Poland´s booming economic performance, its political situation is clouded with uncertainty due to the growing strain between the country and the European Union (EU). In December 2017, the EU recommended launching an unprecedented disciplinary process against the Polish government due to the latter´s judicial reforms, which the EU calls a "clear risk of a serious breach of the rule of law".  
The conflict has been brewing since the populist Law and Justice Party (PiS) candidate Andrzej Duda won the presidential elections in May 2015 and the PiS party won the majority of seats in November 2015.
Softening the tension between Poland and EU is the task for Poland´s new Prime Minister Mateusz Morawiecki, who replaced former Prime Minister Beata Szydło after her resignation in December 2017. Poland, the biggest beneficiary of the EU funds, may otherwise see its funds cut in the new 2021-2027 EU budget.
Poland - More data and information