Poland's housing market growth is slowing, with market sentiment adversely affected by continued pandemic fears, coupled with the ongoing Russian invasion of Ukraine, and surging inflation.

The average price of existing flats in Poland's 7 big cities (Warsaw, Gdańsk, Gdynia, Kraków, Łódź, Poznań, and Wrocław) rose by 9.3% y-o-y in Q1 2022 to an average of PLN 9,634 (€2,011) per square metre (sq. m), according to the Polish central bank, Narodowy Bank Polski (NBP). However much of that is inflation. When adjusted for inflation, prices actually fell slightly by 0.4%. 

In Poland's major cities:

In Warsaw average house prices rose by 5.1% during the year to Q1 2022 (but declined by 4.2% when adjusted for inflation). This is down from the previous year's 8.9% price rises.
Kraków saw the highest house price rise among Poland's seven major cities, with a 19.5% (9% inflation-adjusted) y-o-y price surge in Q1 2022.
Other Polish major cities also enjoyed high price rises, including Gdynia, with house price growth of 15.3%, Łódź (14.4%), Wrocław (14.2%), and Gdańsk (9.9%).
Among the 7 big cities, Poznań saw the second lowest price increase of 5.2% during the year to Q1 2022, with prices falling by 4% when adjusted for inflation.


Warsaw has Poland's most expensive housing, with an average transaction price for existing homes of PLN 11,451 (€ 2,391) per sq. m. in Q1 2022, according to NBP. Housing is also expensive in Gdańsk, with an average price of PLN 10,239 (€ 2,138) per sq. m., and in Kraków with PLN 10,001 (€ 2,088) per sq. m. Other major cities include Gdynia with PLN 9,245 (€ 1,930) per sq. m., and Wrocław with PLN 9,202 (€ 1,922) per sq. m.

Łódź has the cheapest houses among the 7 big cities, with an average price of PLN 6,214 (€ 1,298) per sq. m.

Demand is also slowing. In the first quarter of 2022, the total number of new flats sold in the country's six major cities was close to 10,400 units, down by 31% from the previous quarter and by 46% from an exceptionally high Q1 2021 result, according to JLL's Q1 2022 Residential Market report. This is in sharp contrast to 2021, when new flats sold surged by more than 30% to 69,000 units from a year earlier, following a 19% decline in 2020.

"In Q1, the sentiment of market participants was affected by strong negative factors: the pandemic fears prevailing in January, the shock of the outbreak of war in Ukraine in late February, and the rapidly rising inflation throughout the entire three months," said JLL.

Despite the falling sales, Poland remains one of the countries that is now seeing the highest interest from the Global Property Guide's readers in Europe.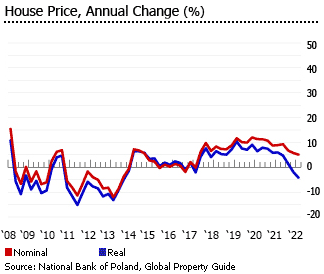 Foreigners who are citizens or entrepreneurs from EEA countries (EU + Norway, Lichtenstein, Iceland) and from Switzerland are free to buy any type of real estate. Foreigners from other countries may freely purchase condominium units throughout Poland, with the exception of areas located in the border zone.

Poland's economy grew by about 5.9% during 2021, a sharp turnaround from the previous year's 2.2% decline, according to the European Commission. The economy is expected to grow by another 5.2% this year.