Poland's house price growth is slowing, amidst weak demand.

The average price of existing flats in Poland's 7 big cities (Warsaw, Gdańsk, Gdynia, Kraków, Łódź, Poznań, and Wrocław) rose by 5.6% in 2020 to an average of PLN 8,325 (€1,819) per square metre (sq. m.), according to the Polish central bank, Narodowy Bank Polski (NBP) – only about half the y-o-y growth of 10.84% in 2019 and 10.3% in 2018. When adjusted for inflation, prices increased by a modest 2.78%.

In fact on a quarterly basis, house prices in the 7 big cities fell slightly by 0.8% in Q4 2020 (-1.1% inflation-adjusted).

In Poland's major cities:

In Warsaw the average price of existing houses rose by a modest 2.7% during 2020 (and actually declined slightly by 0.1% when adjusted for inflation), a sharp slowdown from the prior year's 6.2% rise.
Łódź saw the highest house price rise among Poland's seven major cities, with a 13.4% (10.3% inflation-adjusted) y-o-y price surge in 2020.It was followed by Kraków and Wrocław, with price rises of 9.5% and 9%, respectively.
Other Polish major cities also enjoyed high price hikes, including Gdańsk (7.1%) and Gdynia (6.1%).
Among the 7 big cities, Poznańsaw the lowest price rise of 2.2% during 2020, with prices falling by 0.5% when adjusted for inflation.

Warsaw has Poland's most expensive housing, with an average transaction price for existing homes of PLN 10,072 (€ 2,198) per sq. m. in 2020, according to NBP. Housing is also expensive in Gdańsk, with an average price of PLN 8,874 (€1,936) per sq. m., and in Kraków with PLN 8,118 (€ 1,771) per sq. m. Other cities major cities include Wrocław with PLN 7,973 (€ 1,740) per sq. m., and Gdynia with PLN 7,906 (€1,725) per sq. m.

Łódź has the cheapest houses among the 7 big cities, with an average price of PLN 5,522 (€ 1,205) per sq. m.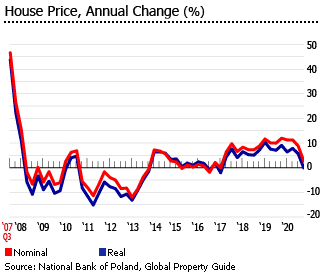 Both demand and supply have fallen last year due to the pandemic. In 2020, the total number of new flats sold in the country's six major cities plunged 19% to 53,000 units from a year earlier, in contrast to a slight growth of 0.8% in 2019, according to JLL's Q4 2020 report. New supply also fell by 24% last year.

Foreigners can freely buy condominium units in Poland. Land for commercial purposes can be freely bought by citizens of the European Economic Area (EU + Iceland, Liechtenstein, and Norway).