Dutch house prices rising, boom on the way
September 04, 2014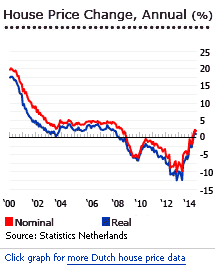 The Netherlands' housing market has finally bottomed out.  House prices are rising after five years of price declines, amid a recovering economy. Property transactions grew very strongly in the first half of 2014.
In July 2014, the prices of existing homes sold in Netherlands rose by 1.9% y-o-y, the fourth consecutive month of annual price hikes in nominal terms, according to Statistics Netherlands (CBS). When adjusted to inflation, house prices rose by 1% over the same period.
Almost all cities and municipalities showed house price growth during the year to end-Q2 2014.
In Amsterdam, the price of existing homes rose by 3.5%, more than the 2.6% y-o-y price increase during the first quarter, and a considerable improvement from 5.5% y-o-y decline in Q2 2013, and on the average price drop of 5.2% in 2013.
In Rotterdam, house prices increased by 4.1%. This was the first price hike after 9 consecutive quarters of y-o-y price declines, including the previous quarter's 0.2% y-o-y decline. In 2013, house prices in Rotterdam fell by an average of 5.5%.
In Groningen, the price of existing homes fell by 0.1%. However, the decline was small compared to the previous quarter's 4% y-o-y drop, and an improvement from 2013's average price decline of 5.4%.
In Zuid-Holland, house prices rose by 1.7% during the year, the first price hike after 20 consecutive quarters of price declines, including Q1 2014's 1.2% y-o-y decline. House prices in the area had an average price drop of 6.1% in 2013.
In Noord-Brabant, the price of existing homes rose by only 0.5%, up from previous quarter's 2% y-o-y drop. Despite the meager growth, it was rather a progress from a 21-quarter y-o-y price declines before it. It was also a huge improvement from 2013's average price decline of 7.2%.
The upward trend of house prices is supported by data coming from Dutch Association of Real Estate Agents (NVM). The average house price in the Netherlands rose by 3.5% during the year to Q2 2014 to €215,000 (US$ 283,542). As compared to the previous quarter, the average price of homes rose by 1.7%.
After a housing boom lasting almost 15 years, the Dutch housing market started to weaken in 2008, mainly due to the global financial meltdown. Based on NVM's figures:
In 2008, house prices fell by 0.08%% (-2.2% in real terms)
In 2009, house prices dropped by 7.3% (-8.2% in real terms)
In 2010, house prices rose by 3.3% (2.4% in real terms)
In 2011, house prices dropped by 2.1% (-4.4% in real terms)
In 2012, house prices fell by 7.6% (-10.1% in real terms)
In 2013, house prices dropped by 2.4% (-4.9% in real terms)
Demand has strengthened surprisingly strongly. Property transactions rose by 54.1% in Q2 to 34,074 units from the same period last year, according to Statistics Netherlands (CBS).
The Netherlands' largest realtor NVM also saw a significant increase in home sales, with around 29,216 units sold in Q2 2014, 20.1% up on the first quarter.
"This does suggest that the market is now really past its worst point," said NVM chairman Ger Hukker. "NVM brokers achieved sales of over 100,000 homes in the last four quarters, a level we have not seen in the past five years." 
Despite the increase in sales, according to Hukker the housing market still has a long way to go before reaching full recovery. The market is now supported by pent-up demand, supported by new policy measures, including the relaxation of gift tax and starter loans.
House buyers are happy
Agrees Pieter van Dalen of Rabobank Groep, the Netherlands's biggest mortgage lender: "House buyers are currently finding conditions more favourable to become active on the housing market than in recent years.
"Many who had postponed their relocation plans are now emerging from the woodwork. Falling mortgage rates and improved confidence are contributing to the improved sentiment."
"In 2015 the economy will pick up further, and we also envisage further improvement in the dynamic on the housing market," Dalen added. "Because neither house prices nor mortgage rates are expected to rise rapidly, affordability will remain good. At the same time, real disposable household income will rise further ‐ as will employment. And in view of the modest house price rise since mid‐2013, confidence in the housing market will likely continue to grow".
Transactions strongly up in 2014, after a choppy history
The Netherlands' house price boom lasted from 1992 to 2007. Median house prices in the Netherlands rose by about 80% (59% in real terms) from Q1 1996 to Q2 2001, while  Amsterdam saw house price growth of 111% (86% in real terms) during this period.
At the peak of the boom, national prices rose by an average of 11% (8.4% in real terms) annually from 1996-2001. Te economy grew 3.7% annually, and real private sector wages rose by 3.6% annually, while inflation was only 2.7%, leading to significant increases in purchasing power.
During the following years median house price growth slowed.
CHANGES IN AVERAGE HOUSE PRICES (%)

ECONOMIC BOOM
(Q1 96 – Q2 01)

POLITICAL INSTABILITY, ECON. DOWNTURN
(Q3 01 – Q1 03)

ECONOMIC RECOVERY
(Q2 03 – Q2 06)

POLITICAL INSTABILITY, ECONOMIC GROWTH
(Q3 06 – Q4 07)

GLOBAL FINANCIAL CRISIS
(Q1 08 – Q4 11)

Netherlands

80.8

2.4

14.0

3.1

-9.2

Amsterdam

111.4

-1.5

9.8

5.4

-13.3

The Hague

76.0

-2.0

17.5

7.3

1.6

Rotterdam

79.1

0.3

9.8

1.2

-4.4

Utrecht

69.3

0.9

14.9

6.9

-6.8

Source: NVM, CBS
But by Q2 2006, house prices in Netherlands had risen 14% (9% in real terms) on three years earlier, with strong increases in The Hague (17.5% nominal and 12.5% in real terms) and in Utrecht (15% nominal and 10% real).
Despite a political crisis, house prices in the Netherlands still rose by 3% from Q3 2006 to Q3 2007, propelled by economic growth of 3.45% in 2006 and 2007. The Hague registered the highest house price increase of 7.3%, followed by Utrecht's 6.9% house price increase.
House prices fell by 0.1% (-2.2% in real terms) in 2008, and by 7.3% (-8.2% in real terms) in 2009, as GDP growth slowed to 1.8% in 2008, and contracted by 3.7% in 2009.
Despite a modest economic recovery since then (GDP growth of 1.5% in 2010, and 0.9% in 2011) the Dutch housing market has remained depressed. The country went back to another recession in 2012 and 2013 (GDP contraction of 1.2% and 0.8%, respectively), and from Q1 2012 to Q4 2013, almost all in Netherlands had price declines:
In Netherlands, prices fell by 3.4% (-6% in real terms).
In Amsterdam, the average house price dropped by 1.7% (-4.3% in real terms)
In The Hague, the average house price, rose by 6.4% (3.6% in real terms)
In Rotterdam, prices dropped by 6.2% (-8.7% in real terms)
In Utrecht, prices fell by 4.8% (-7.3% in real terms)
By 2013 things were so bad that the total number of dwellings sold in Netherlands had dwindled by almost half, to around 110,094 units, compared to an average of 206,000 dwellings sold annually from 2005 to 2007.
However, the decline ended this year, as the number of dwellings sold rose by 43.7% during the year to July 2014 to around 13,883 units, according to Statistics Netherlands (CBS).
Interest rates still falling!
Even after the Dutch housing market started recovering since the second half of 2013, mortgage rates continued to decline, reaching their historically low rates this year.
Housing loan rates as of June 2014 are as follows:
Interest Rate Fixation (IRF) up to 1 yr: 2.78%
IRF 1-5 yrs: 3.11%
IRF 5-10 yrs: 3.38%
IRF 10 yrs or more: 4.51%
The average mortgage interest rate was 3.38%, lower than the 2013 average of 3.78%. A similar trend was seen in the 12-month Euribor rate, down from an average rate of 0.54% in 2013 to around 0.49% in July 2014.
When the global financial crisis exploded in Q3 2008. the ECB slashed the key 12-month Euribor rate from 4.81% in 2008 to 1.35% in 2010. However mortgage interest rates did not fully respond, falling only to 4.86% in 2009, and 4.52% in 2010.
Irresponsible policies, over-mortgaged nation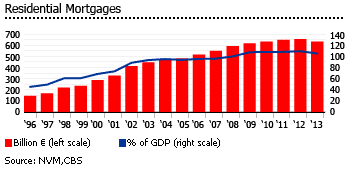 Residential mortgages were around 105% of the country's GDP  at €632.2 billion in 2013, according to De Nederlandsche Bank (DNB).
Over the past decade, the Dutch mortgage market has expanded rapidly, as residential mortgage debt rose from 60% of GDP in 1998 to almost 100% of GDP in 2008. The Netherlands' household debt had the highest increase (41%) among OECD countries from 2007 to 2011.
The rise of mortgage debt is rooted in the government's aggressive promotion of homeownership, offering generous mortgage subsidies, since the 1980s. The Dutch fiscal regime allows full tax deductibility of most mortgage interest payments at the marginal tax rate.
The following requirements should be met for mortgage interest to be deducted from tax:
The house purchased is the main residence
The mortgage loan has a period of a maximum of 30 years
The profit made on the sale of the previous houses is used to reduce the size of the mortgage on the next one
Since 1995, 90% of new mortgages have been not repayable till loan maturity, while 30% do not have to be repaid at all ("interest-only").
The generous Dutch mortgage tax relief, allowing homeowners to deduct the full cost of their mortgages from tax, is distorting the housing market, according to a recent IMF report. It means Dutch banks are faced with higher risks, because the large amount of tax relief encourages people to spend more on a house than they can actually afford.
In order to discourage excessive mortgage growth, the government implemented the following policies:
In 2001 tax deductibility for mortgages used for non-housing consumption or investments and second-home purchases was removed.
In 2002, interest deductibility was limited to 30 years.
From January 2004, homeowners moving to more expensive homes have had to use their capital gains on their former house for down payment.
In 2013, the government implemented new reforms aiming to expand household leverage and lower incentives.
The maximum mortgage tax relief was reduced to 38% from 52% over the period of 28 years.
As of January 2013, mortgages must be amortized over 30 years to be eligible for mortgage interest relief. First-time buyers may have an interest-only mortgage on 50% of the property's value, but the loan's interest is not tax deductible.
The maximum loan-to-value (LTV) ratio will be trimmed slowly from 105% in 2013 (including the 2% stamp duty) to 100% in 2018.
Also, the Dutch government agreed to set up a mortgage institution which, according to the OECD, will "securitise part of the mortgage debt and sell it to international and national institutional investors, including Dutch pension funds".
"The objective is to increase banks' funding stability, lower banks' costs, and pass this advantage on to new borrowers and borrowers who renegotiate their interest rate," the OECD states.
Mortgage approvals strongly up
In Q2 2014, new mortgage approvals rose to €16.5 billion, a 22.6% rise from the same quarter the previous year. Despite the increase, the amount was still below the €20 billion approved in Q2 2008, or the €30.9 billion approved in Q4 2005.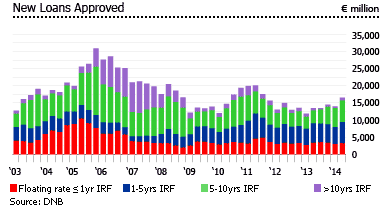 During the first half of 2014, new mortgages amounted to €30.5 billion, 20.6% higher than in the first half of 2013.
Despite the growth of new mortgage approvals, Rabobank expects that the total mortgage debt in 2014 will only rise marginally, if at all, due increased repayments triggered by tax-related incentives.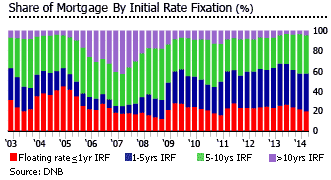 Total mortgage debt fell by 3.5% (€23 billion) to around €630 billion at end-Q1 2014, from €653 billion recorded in 2012.
Most Dutch housing loans are fixed rate mortgages (FRM) for 5 years or more. However the shares of fixed and floating mortgages vary, depending on interest rates. When interest rates rapidly rose in 2007, households shifted to fixed rate mortgages.
As of Q2 2014, most new loans had 1-5 year and 5-10 year interest rate fixations (IRFs), with a 38% share of total loans each, followed by loans with IRF up to 1 year (19%) and 10 years or more (5%).
The Netherlands' inefficient housing subsidies discourage geographical mobility
Traditionally, Holland has had a large social rental housing sector. In the 1950s, owner occupants accounted for only 29% of the housing stock.
More recently the government has been promoting home ownership, with remarkable results. Owner-occupancy rose to 42% by 1980, then to 55% by 2005. Now about 60% of the total housing stock is owner-occupied. But in many major cities (Amsterdam, The Hague, Rotterdam, and Utrecht), about 50% of the housing stock is social housing.
Homeowners receive favourable tax treatment. Aside from full income tax deductibility of mortgage interest payments; capital gains from rising house prices are also not taxed. However, this is partly offset by an annual imputed rental income tax, based on the property's assessed value.
The government provides home-ownership grants to low-income households. Many renters also receive direct government subsidies to keep their rent-to-income ratio within certain limits.
In 2001, total government subsidies for the owner-occupied sector amounted to around €8 billion, with a similar amount provided for the rental sector. The system is highly inefficient in terms of social objectives. It also reduces mobility both for owner-occupiers and renters.
Out of the 57,703 total completed dwellings in 2011, about 39% were rented houses while 61% were owner occupied. A huge proportion of rented accommodation is owned and managed by housing corporations, which manage about 2.4 million dwellings.
Free market yields are good; new regulations pushing up social rents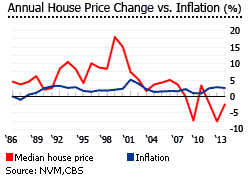 Gross rental yields in the small up-market decontrolled sector are good. Based on the Global Property Guide research in July 2013, average rents per sq. m. in Amsterdam fell by 1% y-o-y, while average rents in The Hague fell by 0.7%. These drops in rental incomes are insignificant as compared to the y-o-y decline in buying prices.
The decline in prices led to higher rental returns in both areas:
In Amsterdam: from an average yield of 5.08% in 2012 to 5.83% in 2013
In The Hague: from 5.83% in 2012 to 7.02% in 2013
In Amsterdam rental yields range from 5.41% to 6.24%, with higher yields on smaller apartments. In The Hague, rental yields are even higher ranging from 6.59% to 7.91%.
In "free market" sector, which is 8% of the rental stock, the rent increase can only occur once per years (applies only to basic rent), but otherwise it depends on clauses in the contract. Usually, the annual rent increase is based on the price index number, or around inflation (2.5% in 2014). Some contracts may also include a clause stating that rent will be increased to market value every five years.
In the social housing market, the maximum basic rent in Netherlands for rent-controlled dwellings was €699.48 (US$ 922.47) in 2014, a 2.7% rise from the previous year's rent control limit at €681.02 (US$ 898.13). Apartments with basic rents (excluding service and additional charges) less or equal to this deregulation threshold are classified as rent-controlled dwellings. About 92% of the rental stock (or almost 2.7 million rental homes) was under this category in 2011, based on ABF Research and IVBN.
The maximum income allowed to live in rent-controlled dwellings was also raised from €34,229 (US$ 45,141) in 2013 to €34,678 (US$ 45,733) in 2014. In theory, only individuals with incomes below the aforementioned limit are entitled to rent-controlled dwellings.
However, a large number of high earners benefit from these rent-controlled properties. A solution to that problem was a new regulation, which makes rental rate hikes to be dependent on incomes, amended in March 2013. As of July 2013, the maximum annual rent increases for rent-controlled dwellings are as follows:
Households with incomes up to €33,614: ceiling of 1.5% + inflation
Households with incomes between €33,614 and €43,000: ceiling of 2% + inflation
Households with incomes above €43,000: ceiling of 4% + inflation
These percentages are computed over the basic rents.
Economic recovery in 2014, the central bank says 2015 will be better
The Dutch economy has been out of the recession for three quarters now, with the country's GDP growing 0.9% growth during the year to Q2 2014, according to Statistics Netherlands (CBS).
The euro crisis has affected Netherlands, sending its economy back to recession in Q4 2011. The recession in Netherlands continued in 2012 and 2013, with economic contractions of almost 1.3% and 0.8%, respectively.
Netherlands' economy is expected to grow by ¾% in 2014, followed by a 1 ¼% growth in 2015, according to the CBP Netherlands Bureau for Economic Policy Analysis.
Based on the central bank's (DNB) semi-annual forecast in June 2014, the country's economic recovery will be maintained. But the country will underperform in 2015 and 2016, as the decline in natural gas production continues.  The bank predicts 1.6% growth in 2015 and 2016, due to the recovery of domestic spending.
The increase in consumer and producer confidence signals an economic recovery. However, Job Swank, DNB's monetary affairs and financial stability director, believes that political instability in eastern Europe, particularly the tensions between Russia and the EU, could affect Netherlands' economic growth.
Beware sado-austerity, prompted by the Netherlands' huge debt burden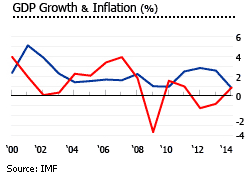 The country experienced uninterrupted growth for 26 years from 1982 until 2008, with an unprecedented boom in the latter half of the 1990s. There was low inflation, strong exports and virtually no unemployment.
But one legacy of the boom years was the huge mortgage debt.
The national debt is also high. During the recession, the government boosted the economy through stimulus programs and bank bailouts, resulting in a budget deficit of 4.6% of GDP in 2009, 5.1% of GDP in 2010 and 4.8% in 2011. As a result, the country's debt rose to 65.2% of GDP in 2011. In 2012, the national debt rose further to about 71% of GDP, far higher than the permissible upper limit of 60% stipulated by the EU Stability Pact. The Netherlands' national debt rose to 74.3% of GDP in 2013 from 71.3% of GDP in the previous year, while its budget deficit was recorded at about 3.3% of GDP.
The government plans to implement €6 billion in austerity measures in 2014, equivalent to about 1% of the country's GDP. This is on top of a four-year, €16 billion austerity package approved in November 2012 when Prime Minister Mark Rutte took office.
Unemployment remains high at 8.2% of the labour force in July 2014. The IMF projects a 7.3% unemployment rate for the full year 2014, up on the 6.9% rate recorded the previous year.
In July 2014, inflation rate in Netherlands was stable at 0.9%, same as in June 2014, according to the CBS.
Netherlands - More data and information