House prices continue to rise strongly in the Netherlands, buoyed by record low interest rates, and with supply unable to keep up with rising demand.

In Amsterdam, the capital, the price of existing homes rose by 6.23% during the year to Q1 2019 (3.6% inflation-adjusted), to an average of €472,375 (US$536,686), according to Statistics Netherlands (CBS). House prices increased 1.43% during the latest quarter (0.78% inflation-adjusted). Nationally, the average house price rose by 8.31% (5.63% inflation-adjusted) to €301,279 (US$341,161) in Q1 2019 from a year earlier, and by 2.75% (2.09% inflation-adjusted) from the previous quarter.

All property types rose in price, nationwide, during the year to Q1 2019.

Apartment prices rose by 11.7%, to an average of €264,409 (US$301,147)
Terraced house prices rose by 8.54%, to an average of €278,167 (US$316,817)
Detached house prices rose by 6.85%, to an average of €437,633 (US$498,440)
Semi-detached house prices increased 6.24%, to an average of €319,663 (US$364,079)
Corner houses saw price increases of 7.18%, to an average of €287,343 (US$327,268)

After a housing boom lasting almost 15 years, the Dutch housing market weakened in 2008, and only began to recover in 2014. From Q1 2014 to Q1 2019, house prices rose by almost 34% nationwide, with Amsterdam registering spectacular price growth of 72%.

Yet despite robust demand, property transactions are falling. In Q1 2019, the number of dwellings sold in The Netherlands fell by 9% y-o-y to 47,431 units, according to the CBS. That is partly because housing supply remains limited. In Q1 2019, dwelling starts fell by 6.1% to 2,108 units while completions rose by 6.1% to 2,093 units, based on figures from the CBS. Currently, there are a total of 7.8 million dwelling units in the country.

The housing shortage in the Netherlands was estimated to have risen to about 263,000 units this year, from 178,000 units in 2017, based on a 2019 report published by Capital Value.

House prices nationwide are expected to rise further during the remainder of the year.

"'Rising prices, falling sales'. This was the housing market in a nutshell in 2018, and we expect the same for 2019," said Rabobank in its latest quarterly report.

"Because supply of houses for sale remains low, we expect the number of sales to decrease further in 2019. For this year, we expect around 205,000 sales, whereas for 2020 we expect around 195,000 sales."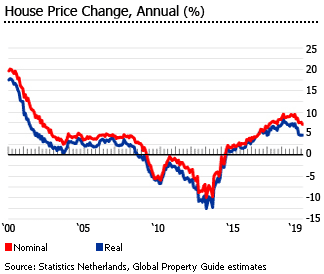 "We also stand by our earlier prediction that the price index for existing owner-occupied homes will rise this year by 6%," added Rabobank.

In the first quarter of 2019, the economy grew by 1.7% from a year earlier, the country's 22nd consecutive quarter of expansion. However economic growth is projected to slow to 1.6% this year and in 2020, according to the European Commission.


Analysis of Netherlands Residential Property Market »