The house price boom in Holland continues strong, with rising demand,and supply shortages.

In Amsterdam, the capital, the price of existing homes rose by 9.08% during the year to Q1 2020 (7.35% inflation-adjusted), to an average of €515,289 (US$584,418), according to Statistics Netherlands (CBS). House prices in the capital city increased 6.47% during the latest quarter (6.88% inflation-adjusted). Nationally, the average house price rose by 8.15% (6.43% inflation-adjusted) to €325,834 (US$369,546) in Q1 2020 from a year earlier, and by 4.14% (4.54% inflation-adjusted) from the previous quarter.

All property types rose in price, nationwide, during the year to Q1 2020.

Apartment prices rose by 10.9%, to an average of €293,085 (US$332,404)
Terraced house prices rose by 6.7%, to an average of €296,882 (US$336,710)
Detached house prices rose by 7.7%, to an average of €471,418 (US$534,661)
Semi-detached house prices increased 6.2%, to an average of €339,491 (US$385,035)
Corner houses saw price increases of 8.4%, to an average of €311,413 (US$353,191)

After a housing boom lasting almost 15 years, the Dutch housing market weakened in 2008, and only began to recover in 2014. From Q1 2014 to Q1 2020, house prices rose by almost 43% nationwide, with Amsterdam registering spectacular price growth of 80%.

In Q1 2020, the number of dwellings sold in the country rose by 8.7% to 51,579 units compared to the same period last year, following almost steady sales last year, according to CBS. During 2019, there were almost 71,000 completions, over 6% up from the previous year and the highest level in a decade.

Yet there is a problem - the housing shortage in the Netherlands was estimated at about 200,000 units this year.

Unofficial figures in April and May indicate that the housing market remains resilient, despite the COVID-19 pandemic. According to NVM, around 2,500 to 3,000 properties are changing hands every week via NVM agents since mid-March, which is broadly in line with the pre-crisis situation.

"It would appear that home hunters still see possibilities," said NVM chairman Onno Hoes. "In addition, interest rates are low and this is also the right season."

Other local market experts seem to agree. "I cannot explain why houses are still going over the asking price (and substantially at that)," said financial advisor José de Boer. "I guess it is because we still have such a shortage of houses and apartments in the Netherlands and interest rates are still relatively low."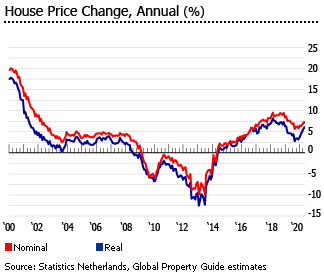 The Dutch economy shrank by 1.7% in Q1 2020 from the previous quarter, the steepest decline since Q1 2009, and marking the end of a long period of continuous growth over the 23 previous quarters, mainly due to declining household consumption, according to the CBS. The economy is projected to contract by a huge 6.8% this year,  due to the economic fallout from the coronavirus outbreak, according to the European Commission.