Do you plan to buy real estate in Malta? Let's take a closer look at the property market and real estate prices in Malta and the general state of the economy.
As with the rest of the world, the COVID-19 pandemic had a strong effect on Malta's real estate market and the economy in general.
However, after slowing down in the first half of 2020, Malta's housing market started gaining momentum again. The property price index rose at an average annual rate of 5.3% during the first three quarters of the year in 2021 and 5% during 2020 (4.8% inflation-adjusted), following rises of 2.5% in 2019, 11.9% in 2018, and 8.8% in 2017, according to the Central Bank of Malta (CBM). 
Quarter-on-quarter, property prices increased 0.3% (5.5% inflation-adjusted) during the last quarter in 2020.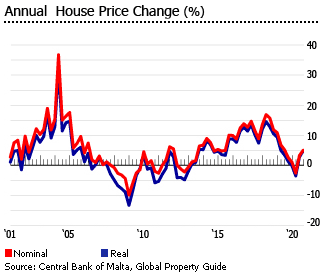 "…historically the real estate market in Malta has been an important contributor to economic growth, and despite the significant economic disruption brought about by the current COVID-19 pandemic, the industry remains resilient on the back of strong consumer confidence, evidenced by the rate of real estate transactions experienced in the past months," said David Valenzia of PwC Malta.
Here are the changes in real estate prices by property type in 2020:
Apartment prices rose by 6.5% on average. When adjusted for inflation, prices were up by 6.3%.
Terraced house prices rose by 1.6% (1.5% inflation-adjusted).
Maisonette prices fell by 7% y-o-y (-7.2% inflation-adjusted).
"Other houses", consisting of townhouses, houses of character, and villas, experienced the highest price surge of around 12.4% y-o-y (12.2% inflation-adjusted).
ANNUAL HOUSE PRICE CHANGE (%)

Year
Nominal
Inflation-adjusted
2007
0.10
-2.87
2008
-4.36
-8.90
2009
-1.42
-0.98
2010
-1.98
-5.79
2011
6.14
4.60
2012
-2.21
-4.82
2013
6.41
5.34
2014
4.73
4.33
2015
10.03
8.67
2016
13.80
12.71
2017
8.82
7.39
2018
11.85
10.48
2019
2.53
1.23
2020
4.99
4.82
Sources: Central Bank of Malta, Global Property Guide
In 2021, the demand kept rising. The number of residential transactions rose by 29.8% y-o-y in 2021 to 14 349 units, after having fallen by 21.1% in 2020, according to the National Statistics Office (NSO). Likewise, the value of transactions rose hugely by 47% y-o-y.
This can be partly attributed to the government's temporary COVID-19 measures providing for a reduced tax and duty rate of 5% and 1.5%, respectively, on the first €400,000 (US$483,308) of property transferred inter vivos. These temporary measures came into force in June 2020 and ended in July 2021.
All in all, Malta's economy grew by 9.4% in 2021 and is projected to grow by another 5.4% in 2022, after a sharp contraction of 9% in 2020, according to the European Commission.
Buying property in Malta has several restrictions
Unfortunately, there are many restrictions on property ownership in Malta. Foreign nationals and EU citizens can usually only buy one property in Malta, and usually only for owner-occupancy, though they can buy more properties in 'specially designated areas' such as Tigne Point, Portomaso, Cottoenra, Manoel Island, and Chambray.
Properties owned by foreigners can be rented out only if the property is valued over €233,000, has a swimming pool, and is registered with the Hotel and Catering Establishments Board. Foreign-owned properties can only be rented out on short-term leases.
Thus, buying several properties in Malta for rental income can be complicated, but for buying a summer house abroad, the restrictions are not too severe.
Becoming a resident in Malta: Residency by investment
The government of Malta has developed a new program for non-EU citizens that would like to reside there. The new Maltese Exceptional Investor Naturalization (MEIN) programme replaced old the Malta Individual Investment Programme (MIIP) in 2020, with salient differences being:
Contribution: €600,000 for the standard residency route (36 months) and €750,000 for the expedited route (12 months), instead of €650,000.
For dependents, the required contribution under the new policy is €50,000.
Donation: the compulsory donation to an NGO is raised to €10,000 from €5,000 previously.
Residential property: the threshold for purchasing a property is raised to €700,000, from €350,000. But the threshold for rental property remains unchanged at an annual rent of €16,000. The property needs to be held for 5 years from the issuance of the certificate of citizenship.
Government bonds: the requirement to invest in government bonds is removed.
Due diligence fees: for main applicants, due diligence fees increased to €15,000 from €7,500; for dependents, they also increased to €10,000 from €3,000-€5,000.
Maximum age threshold: the maximum age threshold for dependents is raised to 29 from 27. Also, dependents who meet the legal definition of 'disability' can form part of a parent's application, regardless of age.
Application for residence: all adult dependents are required to apply for residence, not just the main applicant. The non-refundable pre-payment increases to €10,000, from €5,000 previously. There is also a €5,000 fee for the main applicant.
Under the MEIN, the number of citizenship certificates issued to principal applicants (i.e., excluding dependents) will be capped at 400 every year, and 1,500 for the duration of the policy.
Market demand in Malta recovering strongly
The demand in the real estate market in Malta is recovering strongly after some negative trends due to the COVID-19 pandemic.
During the year to Q1 2021, many regions saw a surge in the number of transactions. Cottonera saw the biggest surge in the number of transactions of 78.4%, followed by the regions:
Mdina, Ħad-Dingli, Rabat, Mtarfa and Mġarr (64.5%);
Ħal Qormi, Ħaż-Żebbuġ and Siġġiewi (37.8%);
Mellieħa and St Paul´s Bay (36.7%);
Fgura, Paola, Santa Luċija, Ħal Tarxien (30.9%);
Ħal Luqa, Gudja, Ħal Għaxaq, Ħal Kirkop, Mqabba, Qrendi, Ħal Safi, and Żurrieq (18.7%);
Mosta and Naxxar (18.6%).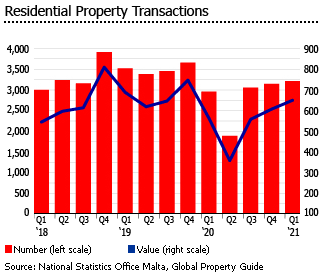 In contrast, residential property transactions continued to fall in a few other regions during Q1 2021:
Gozo(8,1%);
Pembroke, St Julian´s, Tas-Sliema, Swieqi, and Ħal Għargħur (-7.3%);
Ħaż-Żabbar, Xgħajra, Żejtun, Birżebbuġa, Marsaskala, and Marsaxlokk (-5.1%);
Ħ´Attard, Ħal Balzan, Iklin, and Ħal Lija (-5.1%);
Birkirkara, Gżira, Msida, Ta´ Xbiex, and San Ġwann (-4.4%).
The region consisting of Valletta, Floriana, Marsa, Ħamrun, Tal-Pietà, and Santa Venera saw no change in sales transactions.
Residential construction decreasing sharply
In 2020, the grant of permits to develop new dwelling units fell by more than 37% y-o-y to just 7,837 units, according to the Central Bank of Malta, mainly due to pandemic-related restrictions.
Apartment permits (86% of the total) plunged by 37.2% y-o-y to 6,735 units in 2020.
Maisonette permits fell by 40.7% y-o-y to 727 units.
Terraced house permits dropped 25.6% y-o-y to 299 units.
For other houses, consisting of townhouses, houses of character and villas, permits fell by 42% y-o-y to just 76 units.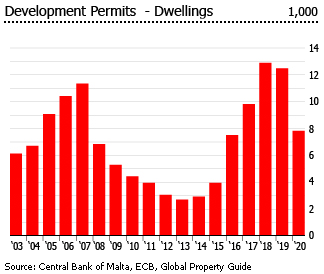 Low mortgage rates
The average interest rate on outstanding housing loans fell slightly to 2.95% in February 2021, from 3.02% the previous year, and 3.08% two years ago.
By maturity:
Up to 1 year: 7.08%, up from 6.09% a year ago and 7.08% two years earlier
1-5 years: 4.06%, from 3.96% in February 2020 and 4.05% in February 2019
Over 5 years: 2.94%, down from 3% a year earlier and 3.06% two years ago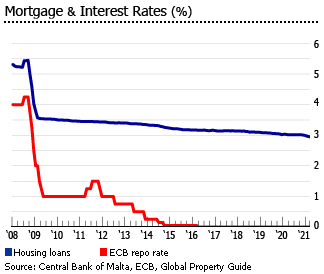 Housing loan interest rates in Malta fell sharply from late 2008, following ECB rate cuts. In March 2016 the ECB cut its base rate to 0% where it remained since.
The mortgage market continues to grow, despite the pandemic
Malta's mortgage market grew strongly to 45.8% of GDP during 2020, up from 40.3% of GDP in 2019, thanks to low and stable interest rates. In February 2021, total housing loans outstanding rose strongly by 7% y-o-y to €5.92 billion (US$7.15 billion).
Housing loans grew by an average of 8.1% annually from 2010 to 2020, a slowdown from an annual average growth of almost 13% in 2006-2009.
The average loan-to-value ratio is now 76%, according to EMF's Hypostat 2020 report.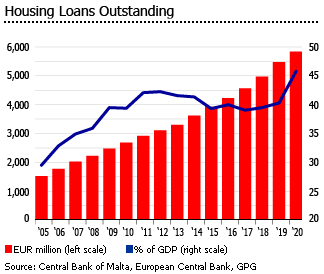 Malta's mortgage market is dominated by Bank of Valletta plc and HSBC Bank Malta plc, which account for 71% of the domestic retail market.
Free market rents are falling sharply
Free market residential rents fell in 2020 by double-digits, due to the decline in tourist arrivals and foreign expat workers amidst the pandemic.
"The proportion of properties registering discounts in their advertised rents….rose dramatically between March and April 2020…from 53.7% to 86.2%, respectively," said the Central Bank of Malta in its 2021 Long-term Housing Rentals report.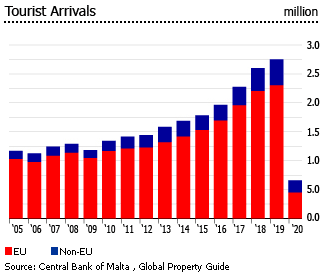 However overall, rents increased by 1% in Q1 2021 from a year earlier, due to the peculiar composition of Malta's rental market – only 10% of rental properties are rented at market prices, the rest being in the subsidized sector.
Most Maltese opt to own property rather than rent, with owner-occupancy rates currently at about 80%, up from 68% in 1995, according to the European Mortgage Federation's Hypostat 2020 report.
Before the pandemic, rents had been rising strongly in Malta, thanks to the increasing number of foreign workers, who mostly live in rented accommodation. Tourism, which increased by 10% annually from 2013 to 2019, and the introduction of the MIIP in 2013, increased rental demand further. However, during 2020, tourist arrivals plummeted by 76.1% to just 658,600 people, according to the Central Bank of Malta.
UK nationals accounted for 20.6% of total tourist arrivals in Malta last year, followed by Italy (14.3%), Germany (11%), and France (10.8%). Non-EU citizens represented almost 32% of total arrivals.
Vacancy rate remains high
Paradoxically, over the past decade Malta's residential vacancy rate has remained high, despite continuously rising house prices. The vacancy rate now stands at 18% of total dwelling stock - one of the highest in the European Union. Many say this is due to Malta's rent control system. To protect tenants, private rental market rents are frozen and landlords are prohibited from evicting tenants, unless a suitable alternative accommodation is offered. To increase the rent the landlord needs the approval of the Rent Regulation Board, which is hardly ever granted.
To address the issue, the Rent Reform Law came into force in January 1, 2010. The new law established an annual minimum rent and was intended to gradually stop the inheritance of rented properties, so that they revert to their owners.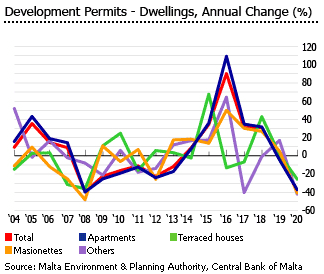 Moreover, to address another source of vacant properties, the government recently reduced from 10 years to 3 years the period after which an inherited property in dispute can be sold, provided that most (but not all) heirs agree on the sale price.
To further encourage the use of vacant properties, the government reduced the stamp duty on transfers of properties within an urban conservation area from 5% to 2.5% in 2016. Also, transfers of restored properties within an urban conservation area will now have a lower final withholding tax, reduced from 8% to 5%. In 2017, the government also lowered the stamp duty on properties acquired in Gozo from 5% to 2%.
Yet according to others, vacant properties don't pose a serious problem. This is the view of Malta Developers' Association president Sandro Chetcuti. "Just drop this about vacant properties," said Chetcuti. "There is no problem with this. There are around 55,000 properties and more than half of these are second homes or summer residences while half of the remainder are either dilapidated or being fought over by heirs. The rest are on the market but they are simply overpriced and cannot sell."
In 2018, the Housing Authority introduced the Skema Nikru Biex Nassistu program, encouraging private owners of one, two, or three bedroomed properties at least 30 years old which have been vacant for a year or more to enter into a lease agreement with the Authority for ten years.
The vacant property owner will receive a maximum grant of €25,000 to refurbish the property. The Housing Authority will then rent the property from the owner in a fully finished state, with the rental based on a set of criteria. During the 10-year period, the owner will receive constant rental payment, with a 2% increase annually.
Malta's government deficit rising rapidly
In 2020, Malta's economy contracted by a huge 9% from a year earlier, in sharp contrast to the 5.5% growth the previous year.
"Limitations on air traffic, tourism and social activities were mainly to blame," said the European Commission.
Yet the EC is optimistic that the Maltese economy will start to recover this year, projecting a real GDP growth of 4.5% and 5.4% in 2022.
"The expected rollout of vaccinations in 2021 and a gradual easing of restrictions in the EU should set the tourism sector back on the path to recovery and re-invigorate domestic demand," the EC noted.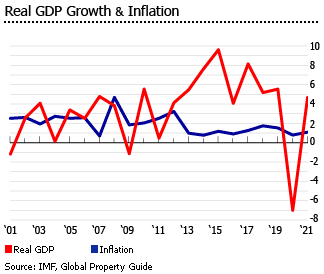 Before the pandemic, the economy had been growing strongly, with an annual average growth of 6.2% from 2012 to 2019, according to the International Monetary Fund (IMF).
The budget deficit shot up to €1.3 billion (US$1.6 billion) last year, or over 10% of the country's GDP, according to the NSO. The shortfall is expected to rise further to €1.6 billion (US$1.9 billion) this year, i.e. about 12% of the country's GDP, as the government continues to provide aid to the ailing economy.
Malta's debt stood at €6.9 billion (US$8.3 billion) last year – equivalent to 54.3% of GDP - a sharp increase from just 42% of GDP in 2019.
Unemployment was 4.4% in 2020, up from 3.5% a year earlier but still one of the lowest in the EU.
In March 2021, inflation was 0.1%, unchanged from the previous month and the lowest reading since December 2009, mainly due to subdued energy prices and lower prices in the services sector, according to the NSO. Inflation averaged 1.1% in 2013-20, a decline from an annual average of 2.9% in 2008-12.
SOURCES:
Malta - More data and information