Czech house prices continue to rise strongly, despite a coronavirus-induced economic recession. The average price of apartments in the Czech Republic surged by 8.37% (4.9% inflation-adjusted) during the year to Q3 2020, after y-o-y rises of 7.75% in Q2 2020, 8.6% in Q1 2020, 8.93% in Q4 2019 and 8.72% in Q3 2019, according to the country's central bank Czech National Bank (CNB).

During Q3 2020:

The average price of new dwellings soared by almost 10% (6.44% inflation-adjusted) – so that prices of new dwellings are now 65.5% higher than the previous Q3 2008 peak.
The average price of existing dwellings rose by 8.12% (4.66% inflation-adjusted) from a year earlier, or 49.3% above the previous Q3 2008 peak.

Land prices increased 10.11% (6.58% inflation-adjusted) during the year to Q3 2020.

While demand remains robust thanks to low mortgage rates, residential construction fell last year, helping the surge in house prices.

"Mortgage rates fell under 2.0% during 2020 and these extremely cheap loans are currently encouraging clients to invest in the residential sector, despite the continued strong increase in pricing," said Colliers International, adding that there had been a record volume of mortgages approved in 2020.

Sales prices of flats in Czech Republic's regional capitals, including Prague, soared by 15.8% in Q3 2020 from a year earlier, to an average of CZK 70,300 (US$3,171) per square metre (sq. m.), according to Deloitte.

In Prague the average price of flats increased 10.4% y-o-y in Q3 2020, to CZK 94,300 (US$4,254) per sq. m.. Prague accounts for just under half the country's total property sales.

Nationwide house prices rose by almost 10% annually over the past five years, more than double the rise in wages. As a result, homebuyers in the Czech Republic need to pay 11.4 times average annual salaries to purchase a 70-sq. m. dwelling, the highest in Europe, according to a 2020 study conducted by Deloitte.

Dwelling completions fell by 5.4% in 2020 to 34,432 units, following y-o-y rises of 7.6% in 2019, 18.5% in 2018, 4.6% in 2017, 8.9% in 2016 and 4.8% in 2015, according to the Czech Statistical Office (CZSO). Likewise, dwelling starts were down 8.9% to 35,254 units in 2020.

The Czech Republic's housing market is expected to remain buoyant this year, as the economy improves.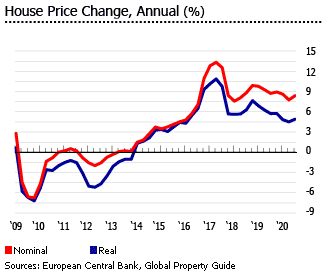 The Czech economy contracted by 5.6% in 2020, in contrast to average growth of 3.5% from 2014 to 2019.The economy is expected to recover this year and grow by 5.1%, according to the International Monetary Fund (IMF), though  as another lockdown comes into force, the European Commission's 2021 growth forecast of 3.2% might be more realistic.