Reasonable yields for investors in Belgian property, but high transaction costs
May 03, 2016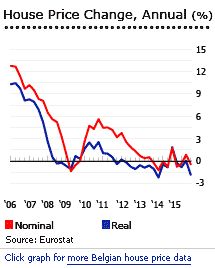 A picture of stability - that's Belgium's housing market. Nationwide house prices rose by 1.37% during the year to Q4 2015, following 1.13% price rises in both 2014 and 2013, according to Eurostat. However, when adjusted for inflation, house prices actually fell by 0.06%.
Prices of existing dwellings dropped by 0.43% (-1.83% inflation-adjusted) during the year to Q4 2015.
Prices of new dwellings rose by 6.5% (4.99% inflation-adjusted) y-o-y in Q4 2015.
"The market is always very stable in Belgium and in Brussels," says Anne Montanari of Brussels Sotheby's International Realty. According to Victoire Properties' Jean Corman, property prices in Uccle have risen most, rising by 20% since 2008. Corman added that while house prices in Brussels and its suburbs rose by 50% from 2000 to 2008, property prices in these areas remain 15% lower than before the global economic downturn.
The average price of regular houses in Belgium was €202,796 (US$ 229,220) in Q4 2014 (later figures are not yet available):
In Brussels-Capital region, house prices rose by 5.17% y-o-y to an average of €381,558 (US$ 431,275) in 2014.
In the Flemish region (Flanders), house prices slightly rose by 0.89% y-o-y to an average of €215,447 (US$ 243,520).
In the Walloon region (Wallonia), house prices were up by 1.59% y-o-y to an average of €151,155 (US$ 170,851).
During Belgium's housing boom (2000-Q3 2008), nationwide house prices soared by 129% (86% inflation-adjusted). The housing boom was driven by low interest rates and increased competition between banks; and also by strong economic and wage growth.
Rental yields are moderate
Belgium's rental market has moderate gross rental yields. In Brussels, rental yields on apartments range from 4.87% to 5.37%, according to Global Property Guide research in October 2015. Smaller apartments of around 50 sq. m. and 75 sq. m. have higher yields at 5.06% and 5.37%, respectively. Larger apartments of around 120 sq. m. have lower yields at 4.87%.
The rental market has been subdued for a number of years because of rent controls (see Landlord and Tenant section) and the rising number of homeowners. The rental market is significant, at about 30% of the housing stock (23% in the private sector, 7% in social housing); but this is falling, and is down from 38% in 1980 and 33% in 1990.
However, 60% of households in Brussels are renters, a fact partly encouraged by Belgium's unusually high buy/sell costs. 
Regional house price variations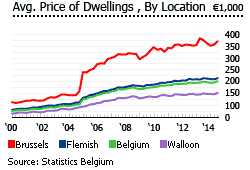 Property prices in Belgium's three main regions move in the same price cycle, but the capital has experienced much the highest price increases. Prices in Brussels surged almost 200% (140% in real terms) from 1998 to 2008, much more than in the two other regions (143% for the Flemish region and 116% in Wallonia), according to Statistics Belgium.  There three regions are:
the Flemish Region in the north, with Dutch-speaking communities;
the Walloon Region in the south, made-up largely of French-speaking communities with a small German-speaking community in the south-east; and
Brussels, the administrative capital region, an officially tri-lingual city inside the Flemish region.
Each has a separate parliament and executive administration. Power has been increasingly devolved. There is also a persisting ethnic conflict, and the political union has come under rising threat.
The drivers of Belgium's very long house price boom in the 1990s and 2000s were:
rapid mortgage market expansion due to low interest rates, and increased competition between banks; and
relatively strong economic and wage growth.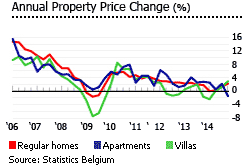 When these conditions were reversed with the global credit crunch, house prices stopped rising. Prices fell most in Brussels during 2010, though the falls were relatively insignificant. The average price of ordinary houses in Brussels decreased 1.44% (-3.88% inflation-adjusted) in 2010; while house prices continued to rise in the Flemish region (up by 4.59%) and in the Walloon region (up by 4.17%).
When the economy emerged from recession in 2011, the housing market bounced back strongly with Brussels house prices surging by 9.59% (5.7% inflation-adjusted). House prices in the country as a whole rose modestly by 2.58% in 2012, 1.81% in 2013, and 2.22% in 2014.
Is the Belgian housing overvalued?  Probably yes.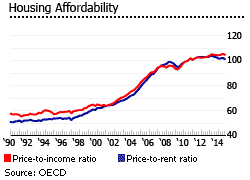 There is general agreement that the housing market slowdown in the first half of 2014 was not enough to bring house prices back to "normal" levels. That begs the question, what is normal?
There are many different opinions, but research generally suggests that Belgian house prices are overvalued.  One view is that of the Belgian Federal Institute of National Accounts, which suggests that Belgian house prices are overvalued by only about 9%.  However research by the Organisation for Economic Co-operation and Development (OECD) has suggested that Belgium's housing market is overvalued by as much as 50%, because income has not risen as quickly as house prices. Deutsche Bank agrees that Belgian homes remain 53% overvalued, with house prices still 51% higher than the historical average, relative to income. And the International Monetary Fund (IMF) also warned in 2014 that house prices in Belgium remain well above historical averages in relation to incomes and rents.
An IMF press release in March 2016 points out that house prices in Belgium have stabilized since 2013, following a long period of rapid growth. The IMF's staff analysis also " does not suggest a major overvaluation, as past price trends were broadly in line with borrowing cost, demographic and income developments".  According to the IMF, despite sustained house price hikes, Belgium's average house prices were still "relatively affordable".
The IMF's 2015 report explained that crude measures, based on historical price-to-income (PTI) and price-to-rent (PRR) ratios, reveal a 30% to 35% overvaluation (calculated over the 1993-2013 period) and a 47% to 58% overvaluation (calculated over the 1980-2013 period), depending on the reference period. However, when underlying drivers of housing demand and supply are considered, the overvaluation was only around 3.6% or 4.2% (overvaluation without private credit) in 2013.
Residential construction fell in 2015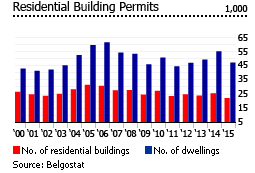 Dwelling permits and dwelling starts fell in 2015 by 14.1% to 47,134 units. Residential building permits also fell by 13.1% to 22,209 units. Actual building starts had an even sharper decline, falling by 26% to 35,573 units during the first 11 months of 2015, while residential permits dropped by 23.2% to 17,263 units.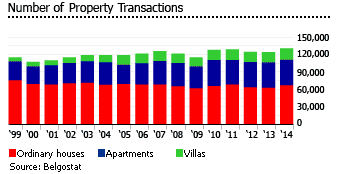 Historically low mortgage interest rates
Belgium's average housing loan rates in February 2016 continued to fall:
Floating rate and with interest rate fixation (IRF) of up to 1 year averaged 2.24%, compared to 2.75% the previous year.
IRF from 1 to 5 years averaged 2.12%, compared to 2.46% a year earlier.
IRF from 5 to 10 years averaged 2.32%, compared to 2.71% the previous year.
IRF over 10 years averaged 2.4%, compared to 2.6% a year earlier.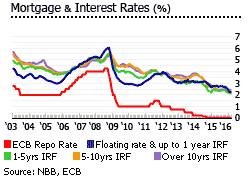 Interest rates have fallen significantly over the past 7 years.  They peaked at 5.33% in October 2008 for new mortgages with 10-year (IRF), and at 6.02% for floating rate mortgages and up to 1 year IRF.
Mortgage loans rising fast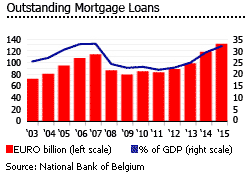 Over the past three years housing loans have soared. In 2015, the size of the mortgage market was again more than 30% of GDP, hearing the 33% of GDP it reached in 2007, which was followed by rapid contraction to just 22% of GDP in 2011, due to the crisis. Outstanding housing loans rose by 11.7% y-o-y to €131.7 billion (US$ 148.6 billion) in 2015, according to the European Central Bank (ECB).
Mortgage lending in 2015 was strongly driven by loan refinancing, "with the large volumes of 'new' loan production being offset by the historically high levels of prepayments observed throughout the market", according to Fitch Ratings' in January 2016.
The Belgian mortgage market has been dominated by four major private financial institutions: Fortis, Dexia, KBC, and ING Belgium since the 1990s, when there was a wave of privatization, mergers and acquisition. All four have interests spread across the financial industry including investment management, retail banking and insurance. Intense competition has led to low fees and charges, and more mortgage options.
Economic growth disappointing
The Belgian economy grew at a moderate pace in 2015. According to the National Bank of Belgium (NBB), Belgium's GDP rose by 1.4% in 2015, slightly up from 1.3% in 2014. The economic expansion, ongoing since the second half of 2013, was attributed by the NBB to:
Favourable financing conditions in the euro area for both private individuals and corporations that encourage investment
Macroeconomic policies less single-mindedly austerity focused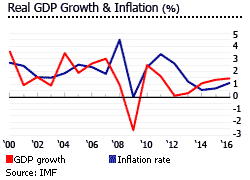 Domestic demand has slowly picked up in the past two years. With oil prices at historic lows, the growth of purchasing power is propelling private consumption.
The economy is projected to expand by 1.3% and 1.6% in 2016 and 2017, respectively, according to Rabobank Group.
From 1997 to 2007, the country enjoyed healthy economic growth of about 2.5% per year.  But since the crisis growth has been weak.  GDP growth was 0.7% in 2008, -2.3% in 2009, 2.7% in 2010, 1.8% in 2011, 0.2% in 2012, 0% in 2013, and 1.3% in 2014, mainly due to the adverse impact of the eurozone debt crisis, according to Belgostat.
In 2015, the country's seasonally adjusted unemployment rate was 8.3%, slightly down from 8.5% in 2014, according to the NBB. In January 2016, the jobless rate for men was around 8.8% while it was around 7.6% for women.
Belgium's inflation rate improved, and was around 2.2% in March 2016, up from -0.4% the same period last year, based on the figures from the NBB. The country had average annual inflation of 1.8% from 2010 to 2015, according to the IMF.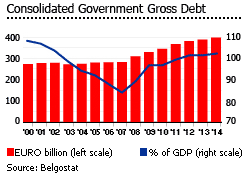 In 2015, the country's budget deficit was estimated at about - 2.6% of GDP, according to the National Bank of Belgium. Belgium's gross national debt amounted to 106.5% of GDP in 2015, the highest level since 2002.
Earlier this year, Belgium was shocked by terrorist attacks in the country's capital, Brussels. In March 22, 2016, three coordinated nail bombings were reported, two at Brussels Airport in Zaventem and another one at the Maalbeek metro station. The incident left a death toll of 32 victims and 3 suicide bombers, as well as around 300 people injured. The act of terrorism, the deadliest in Belgium's history, was claimed by the Islamic State of Iraq and the Levant (ISIL).
Belgium - More data and information