Surprisingly, Belgian house prices continue to rise, despite falling property transactions due to the abolition of "woonbonus" in Flanders coupled with the adverse impact of the COVID-19 pandemic.

During 2020, the nationwide house price index in Belgium rose by 5.74% (5.16% inflation-adjusted), the highest y-o-y rise since 2007, according to Statistics Belgium. Quarter-on-quarter, the overall index increased 2.2% in Q4 2020 (2.33% inflation-adjusted).

Existing dwelling prices rose strongly by 7.38% y-o-y in 2020 (6.78% inflation-adjusted). New dwelling prices rose by 5.21% (4.62% inflation-adjusted).

Yet demand is falling sharply. During 2020, the total number of residential property transactions in Belgium fell by about 18% y-o-y to 122,435 units, mainly due to the abolition in Flanders of the "woonbonus" rules last year (a system of tax deductions for people with a mortgage), aggravated by the adverse impact of the pandemic. The sharp decline in transactions last year was in stark contrast to the y-o-y rises of 14.8% in 2019, 5.2% in 2018, 4% in 2017 and 15% in 2016.

Residential construction activity remains more or less steady. In 2020, new residential building permits authorized in Belgium rose by 4.4% y-o-y to 28,645, according to Statistics Belgium.

During Belgium's housing boom (2000-Q3 2008), nationwide house prices soared by 129% (86% inflation-adjusted). Since the crisis, house prices have followed the economy. When the economy was strong, house prices rose. When the economy was weak, house prices stagnated.

When the economy emerged from recession in 2011, the housing market bounced back strongly with Brussels house prices surging by 9.58% (5.7% inflation-adjusted). After then house prices rose slowly, by an annual average of just 1.2% in 2012-2015. Since then the pace has quickened. House prices rose by 2.54% in 2016, 3.55% in 2017, 2.52% in 2018, and 4.78% in 2019, on the back of improved economic growth. House prices are expected to rise strongly this year.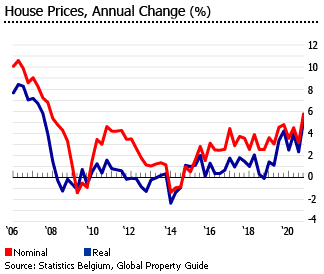 In Q1 2021, the Belgian economy shrunk slightly by 0.6% from a year earlier, its fifth consecutive quarter of y-o-y declines amidst the coronavirus crisis. The economy is expected to return to growth this year, with a projected real GDP growth rate of 4.5%, following a contraction of 6.3% last year, according to the European Commission.

There are no foreign ownership restrictions in acquiring Belgian property.