Belgium's housing market remains fundamentally healthy, primarily buoyed by strong demand. During the year to Q1 2022, the nationwide house price index in Belgium rose by 6.4%, following y-o-y increases of 6% in Q4 2021, 8.2% in Q3, 7.4% in Q2, and 6.9% in Q1, according to Statistics Belgium. However in real terms, prices actually fell 1.5% over the same period, amidst a surge in consumer prices. Overall inflation soared to 9.65% in June 2022 – the highest level since October 1982.

Quarter-on-quarter, the overall house price index increased 1.3% in Q1 2022 but dropped 2% when adjusted for inflation.

Existing dwelling prices rose by 6.7% y-o-y in Q1 2022 (-1.2% inflation-adjusted). New dwelling prices increased 5.1% (-2.7% inflation-adjusted).

Demand is rising strongly again. Residential property transactions in Belgium soared by 17% y-o-y to 143,283 units during 2021, according to Statistics Belgium, in contrast to a decline of 18.2% in 2020 and higher than the annual average growth of 9.8% in 2016-19. It was the second highest number of sales ever recorded. Then in Q1 2022, the total number of sales transaction in the three regions rose further by 15.7% y-o-y to 39,369 units.

During Belgium's housing boom (2000-Q3 2008), nationwide house prices soared by 129% (86% inflation-adjusted). Since the global financial crisis, house prices have followed the economy. When the economy was strong, house prices rose. When the economy was weak, house prices stagnated.

When the economy emerged from recession in 2011, the housing market bounced back strongly with Brussels house prices surging by 9.6% (5.7% inflation-adjusted). After then house prices rose slowly, by an annual average of just 1.2% in 2012-2015. Since then the pace has quickened. House prices rose by 2.5% in 2016, 3.6% in 2017, 2.5% in 2018, and 4.8% in 2019, on the back of improved economic growth.

Surprisingly, the housing market remained strong in the past two years, despite the Covid-19 pandemic. House prices rose by 5.7% in 2020 and by another 6% in 2021.

The Belgian economy expanded by 6.2% during 2021, following a 5.7% contraction in 2020. In Q1 2022, the economy grew by 4.9% from a year earlier, following y-o-y expansions of 5.7% in Q4 2021, 5.1% in Q3 and 15.2% in Q2.

Belgium's housing market is expected to continue growing, albeit at a much slower pace, amidst the deterioration in the purchasing power of households due to a surge in inflation, coupled with tighter monetary policy and the adverse impact of the Ukraine crisis.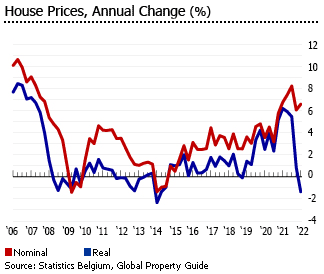 "We expect house price growth to moderate and think prices will rise by around 4% in 2022," said the ING. "Higher inflation and tighter monetary policy will put upward pressure on mortgage rates. The war in Ukraine could also lead to an increase in the risk premium set by banks."

Economic activity is projected to slow in the coming months as soaring inflation due to the fallout from the ongoing Russian invasion of Ukraine, coupled with supply chain disruptions and weaker consumer sentiment, will negatively impact domestic demand and exports. Economic growth is expected to slow to 2% this year and to 1.8% in 2023, according to the European Commission.