Japan's housing market remains steady, amidst the economic repercussions brought by the COVID-19 pandemic. The nationwide residential property price index rose by about 0.8% (0.7% inflation-adjusted) during the year to Q3 2020, following y-o-y rises of 0.6% in 2019, 2.1% in 2018, and 2.4% in 2017, according to the Land Institute of Japan.

Quarter-on-quarter, house prices increased 2.4% (2.1% inflation-adjusted).

There are wide price variations in terms of location and property type.

In Tokyo Metropolitan Area:

Existing condominium average prices rose by 3.38% during the year to November 2020 to JPY 568,700 (US$ 5,432) per square meter (sq. m), following a y-o-y rise of 4.73% in 2019.
New condominium average prices surged by 11.76% y-o-y to JPY 903,000 (US$ 8,625) per sq. m in November 2020, in sharp contrast to a y-o-y decline of 2.67% in 2019.
Existing detached house prices rose by 2.94% y-o-y to JPY 34.87 million (US$ 332,887).

In Osaka Metropolitan Area:

Existing condominium average prices fell by 0.4% to JPY 337,200 (US$ 3,219) per sq. m during the year to November 2020, from a 2.8% rise in the prior year.
New condominium average prices rose strongly by 10.83% y-o-y to JPY 696,000 (US$ 6,643) per sq. m in November 2020, following an increase of 8.1% in 2019.
Existing detached house prices fell by 3.5% y-o-y to JPY 20.38 million (US$ 194,530) over the same period.

Residential construction activity continues to fall, unsurprisingly given the country's massive supply glut. In the first eleven months of 2020, authorized housing starts fell by 10.1% y-o-y to 749,122 units, following three consecutive years of y-o-y declines, according to the MLIT.

Demand has weakened due to the pandemic. In Tokyo, existing condominium sales fell by 5.6% in Jan-Nov 2020 from a year earlier, while existing detached house sales increased 3.6% y-o-y to 18,278 units. In Osaka, sales of existing condo and detached houses fell by 6.8% and 2.2%, respectively.

Yet demand is expected to return as soon as the pandemic is over, as the country remains an attractive investment destination for ultra-rich Asians.

"Japan is a safe haven for wealthy individuals in Asia," said Mori Nishimura of Housing Japan. "Nowhere else in Asia can you buy freehold land as a foreigner." Most foreign buyers in the country come from Singapore, Malaysia, Thailand, Hong Kong, and Mainland China. There is also a growing interest from the US, Australia, Western Europe, Taiwan and Indonesia.

This is supported by a 2020 report released by Savills: "Tokyo's ultra-luxury residential market has been growing, with demand bolstered by a sound domestic base and increasing interest from UHNWIs abroad," said Savills. "While the COVID-19 pandemic has slowed transaction activity, this sector is likely to expand further and benefit from the recovery of inbound visitors."

Japan's reasonable rental return is another attraction. Gross rental yields - the rental return earned on the purchase price of a residential property - range from 3.4% to 5.4% in Tokyo's central districts, according to Global Property Guide research.

Yields on the very smallest apartments are 5.42%, a reasonable yield.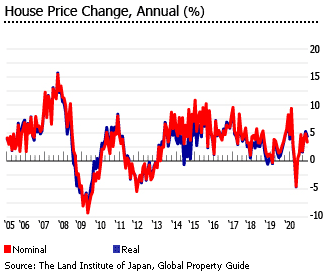 "Some international investors are looking for rental yields and to diversify their holdings outside their home countries, while others just want to have a holiday home in Japan," said Robert Crane of Solid Real Estate.

There are no legal restrictions on foreigners owning real estate property in Japan.

The Japanese economy contracted by 5.3% in 2020, the biggest contraction since 2009, as the COVID-19 pandemic adversely affected domestic consumption, as well as exports. The economy is expected to recover this year, with a projected real GDP growth of 2.3%, according to the International Monetary Fund (IMF).