Indonesia's property market - a real estate boom in the making?
May 29, 2013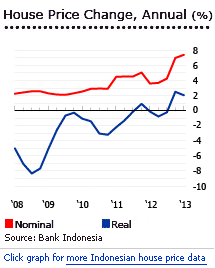 Indonesia's residential property price index (14 major cities) rose by 7.4% during the year to end-Q1 2013, the highest year-on-year price increase since Bank Indonesia began publishing data in Q1 2008. However adjusted for inflation property prices increased by just 2.04%.
Yet demand is rising strongly. In the fourth quarter of 2012, residential property sales in Indonesia soared by 26.7% from the previous quarter. Small houses saw the highest sales growth, about 41% q-o-q in Q4 2012. In December 2012, the total outstanding housing loans in Indonesia rose a stunning 21.74% y-o-y, to reach IDR222.35 trillion (US$22.79 billion).
The reason for strong property demand? Four years of strong economic growth. Indonesia's economy grew by 6.2% in 2012, after real GDP growth of 6.5% in 2011, 6.2% in 2010 and 4.6% in 2009. And Indonesia's strong economic growth is expected to continue - real GDP growth of about 6.2% to 6.6% is projected in 2013.
Makassar was estimated to have seen the highest annual increase in property prices in Q1 2013, at about 15.6%. About 8 % of Indonesia's total population lives in this historic port city. Makassar was followed by Palembang area (10.57%) and Denpasar (9.97%).
Poor recent housing market performance. In recent years, the Indonesian property market has seen very weak real growth (if any) relative to its neighbouring Asian countries.
Over the past five years:
Property prices rose by 2.56% (-7.68% inflation-adjusted) in 2008
Property prices increased by 2.3% (-0.28% inflation-adjusted) in 2009
Property prices rose 2.91% (-3.21% inflation-adjusted) in 2010
Property prices rose by 5.05% (0.89% inflation-adjusted) in 2011
The relatively poor price performance of residential property in Indonesia has been something of a puzzle. There is tremendous pent-up housing demand. Indonesia has the world's fourth largest population of 245 million people. Despite strong economic growth and high levels of investment, some factors that have hampered the growth of Indonesia's housing market are:
High mortgage interest rates
Foreign ownership restrictions
High costs of building materials
High tax rates
Red tape in government
Foreign ownership is difficult in Indonesia. Land titles (hak milik) can only be held by Indonesian citizens. Foreign land ownership is against the constitution.
For apartments, the 1996 regulation (No. 41/1996) states that foreigners who reside in Indonesia, or visit the country regularly for business purposes, can purchase a home, apartment or condominium as long as it isn't a part of a government-subsidized housing development.
However, foreigners can only hold land-use (hak pakai) deeds, and most developments hold right-to-build deeds (hak guna bagunan). It is not possible for someone to have a land-use deed for a sub-unit of a right-to-build deed. The length of these titles varies as well. Therein lie some of the difficulties and unclear ownership issues.
So foreigners can effectively only lease, and not truly own an apartment for up to 70 years, but not free standing houses. Within this 70-year period, foreigners must also periodically renew their right to use. The initial hak pakai period is for 25 years, then renewed for an additional 25 years and finally 20 years.
Additionally, the threshold or minimum property sales price that a foreigner can purchase is 1.5 billion Indonesian Rupiah, which is around USD168,388. This minimum "purchase" price is quite high in the Indonesian context.
Foreigners may purchase a house on freehold land by written consent from the landowner, for 25 years and extendable to a further 25 years. A mooted change in the law on foreign property ownership would extend the leasehold period to a full 70 years as opposed to 25 years followed by subsequent renewals, was expected at the end of 2010, but is yet to be passed in the House of Representatives, and has encountered opposition, particularly in Bali.
While the passing of this law will be a welcome change, investors will still find it coming up short when compared with the regulations in other countries in the region such as Malaysia and Singapore.
Interest rates heading down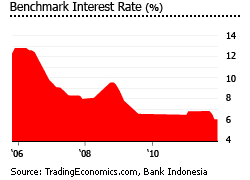 To curb inflationary pressures, the central bank raised the key rate by 25 basis points to 6.75% in February 2011. But generally, the direction of interest rates has been down since December 2005, when Bank Indonesia's policy interest rate stood at 12.75%. Inflation eased to 5.54% in June 2011 from 6.65% in the previous quarter, and Bank Indonesia expects inflation to be under 5% going into 2012.
The Rupiah is still vulnerable to weakness in moments of global crisis, but it is noticeable that the 2011 'crisis of the West' has hardly affected Indonesia's exchange rate. In fact slow growth and low interest rates in developed countries since 2008 pushed funds to emerging markets, including Indonesia.
Indonesia's high growth, high inflation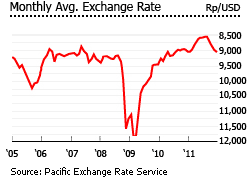 Indonesia's economy grew 6.1% in 2010, after 4.6% growth in 2009, despite the global crisis. With high domestic consumption and investment and healthy export revenues, the Indonesian government is confident that the economy will grow by 6.6% in 2011.
GDP growth averaged 4.6% from 2000 to 2003, then 5.4% from 2004 to 2006, and finally 6.2% in 2007-2008.
But economic growth never translated to strong house price increases. In 2008 the Indonesian house price index was still about 50% below its 1994 peak in real terms; according to research done by Global Property Guide.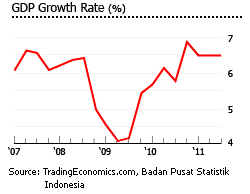 One possible reason for property's weak performance is Indonesia's unpredictable inflation rate, typically outpacing economic growth. From the Asian crisis peak of 58% in 1998 and 20% in 1999, inflation was wrestled down to 3.8% in 2000. In 2001 and 2002, inflation soared to more than 11%. Then it eased to 6% in 2004. The consumer price index jumped again to 10.5% in 2005, and 13% in 2006. Inflation dipped back to 6.2% in 2007 before rising to 9.8% in 2008. Then, it eased again to 4.8% in 2009 and 5.1% in 2010. In January 2011, it again increased to 6.9%, but steadily declined through the year and it was reported at 4.14% in November 2011, according to Bloomberg.com
High inflation increase the level of uncertainty in the economy. This tends to discourage people from borrowing to finance house purchases.
While real estate investment may be used by wealthy people as a hedge against inflation, this is not an option for the majority of the population.
Construction boom
Another possible reason for Indonesia's lacklustre residential prices has been the massive amount of real estate construction.
Before the Asian Crisis, according to Bank Indonesia, the supply of apartments in Jakarta rose from around 6,000 units in 1996 to around 18,000 in 1997, with an additional 2,000 units completed in 1998 and 1999. Scant new supply came onto the market from 2000 to 2003, mostly projects started pre-crisis.
Real estate sales picked up in Q4 2001, encouraging developers to launch new projects, albeit slowly. With strong take-up and increasing occupancy rates, construction picked up pace in Jakarta.
Research carried out by Colliers International reveals that:
In 2004 around 9,500 new units were completed, bringing total supply of new apartments to around 31,500 units.
In 2005 and 2006, more than 5,000 units were completed annually.
In 2007 construction exploded, and more than 15,500 units were completed, pushing total supply to 57,353 units.
During 2008, 19,607 units were added.
As of Q3 2009, total apartment stock in Jakarta reached 74,920.
In Q3 of 2011 3363 units were completed, which brought the overall apartment units in Jakarta to 102,265, a 16.6% Y-o-Y increase.
The total stock is expected to reach 120,000 by the end of 2011
In the last two years the areas of South and West Jakarta have seen an increased supply of apartments because of good infrastructure and facilities like schools, malls, and supermarkets. According to Colliers international's latest report on Indonesian property market, there was an addition of 3363 apartment units in Q3 of 2011 (an increase of 3.6% q-o-q). Out of this 2250 were large apartments, mostly in West Jakarta.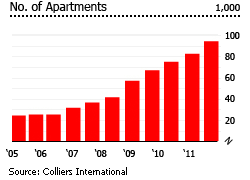 Pondok Indah is a South Jakarta upscale residential suburb much sought-after by expatriates due to the proximity to the Jakarta International School. The overall take-up rates in this region were 75.3%, a slight decrease from 76.4 % in the previous quarter. The CBD also offers many buildings aimed at the middle to high income group individuals and expats.
The average price for the Jakarta area edged 6.9% higher Y-O-Y to Rp12.52 million / sq m (US $1,384/sq m). In East Jakarta, apartments still under-construction had higher take–up rates, mostly because they were offered at affordable prices.
In South Jakarta, many projects such as Residence 8, Senopati Suites, One Park Residence and Kemang Village have been located in premium residential areas. Prices of apartments in this area are expected to increase because land is becoming increasingly scarce. This has caused apartment prices to increase by 70-75% in the premium regions in 2009-2011. In 2009, apartment units were offered at around Rp13 to Rp14million / sq m (US $ 1,440/sq m) but now, with good sales performance, offering prices have jumped to Rp23 to Rp24 million / sq m (US $ 2,547/sq m). Two ongoing mixed-use projects located along Jalan Satrio, i.e. Kuningan City and Ciputra World Jakarta are two projects which have witnessed a sharp price increase.
Bali's stunning growth
In Bali, real estate investment has been rapidly developing in the main tourist areas of Kuta, Legian, Seminyak and Oberoi. Most recently, high-end 5 star projects have been under development on the Bukit peninsula, on the south side of the island. Expatriates have also shown keen interest in buying property in Bali. Bali is one of Indonesia's wealthiest regions. About 80% of Bali´s economy depends on tourism, of which one offshoot is the growing real estate industry. Both Indonesians and foreigners are showing interest in investing here.
Million dollar villas are being developed along the cliff sides of south Bali, commanding panoramic ocean views. Foreign and domestic (many Jakarta individuals and companies are fairly active) investment into other areas of the island also continues to grow. Land prices, despite the worldwide economic crisis, have remained stable.
There are an estimated 30,000 expatriates living in Bali, according to Wikipedia. The positive economic outlook will likely continue to trigger demand in Bali's residential sector, causing prices to climb.
Weak mortgage market
Surprisingly, all the building has taken place despite a relatively underdeveloped mortgage market. Indonesia's mortgage market has grown by an average of 33.5% annually from 2003 to 2008 in nominal terms. But some apparent growth is due to inflation, and mortgage lending has come from a very low base. Despite significant growth during the past five years, mortgage credits were just 2.5% of GDP in 2008, still below the 2.8% of GDP in 1997.
In 2009, in an effort to provide decent housing to low income families and to boost a secondary mortgage market, the government and the central bank signed a joint decree to boost house financing through the sales of mortgage-backed securities. This would allow banks to get quick funds from selling their mortgage claims. The government also decided to increase its subsidy to low cost housing.
Despite the recent financial turmoil, Indonesian banks are strong and adequately capitalized. However, memories of the Asian crisis are still vivid. Banks tend to be extremely cautious in extending housing loans to the real estate industry. According to a Q2 2011 Residential Property Survey by the Bank Indonesia:
55.4% of residential property development projects were financed internally
29% were financed through bank loans
12% of projects were financed by consumer payments (pre-selling)
For home buyers, interest rates at 12-13% (used by 67% of property buyers under house ownership credit or KPR in Q3 2009), relatively low by Indonesian standards, impose a huge burden. During the post-Asian Crisis period, interest rates by commercial banks typically exceeded 20%. The survey also showed that 16.7% of buyers used progressive cash payments, while 7.6% bought using hard cash.
Rental yields high, but property investment unattractive for foreigners
Jakarta recorded rental yields on high-end properties of 10.2% in June 2011, according to Global Property Guide research. This is among the highest in the world. Despite this, property investment is relatively unattractive for foreigners, because of the high tax rates that non-residents are liable to pay.
The tax levied on the average annual income on a rental apartment/property in Indonesia is 20% which is the third highest in Asia, only after Bangladesh (25%) and Malaysia (22.4%).
A 10% Value-added tax (VAT) is levied on gross rental income.
Capital gains realized by individuals from the sale of real property in Indonesia are taxed at a flat rate of 5%. The tax base is the transfer value of the property, without any deductions.
Property tax is levied at 0.5% on the assessed value of the property. The assessment value of taxable property is determined as a percentage of the deemed fair market value of the property
The total cost of buying and then re-selling a residential property ( including Registration costs, Real estate agent fees, Legal fees, Sales and transfer taxes), is one of the highest in the region.
Yudhoyono, the reformer
The 2004 election of Susilo Bambang Yudhoyono, Indonesia's first directly-elected president, was followed by a revival of confidence and substantial economic reforms. A retired general with a doctorate in economics, he has had the political and intellectual acumen to implement reforms, including unpopular ones.
New laws and reforms on Yudhyono's watch:
Laws to improve the investment climate and the delivery of public services.
A landmark investment law providing equal treatment regardless of nationality, to attract more foreign investments.
A new tax administration law strengthening the rights of taxpayers, while limiting arbitrary decision-making by tax officials.
Streamlining business licensing procedures.
Higher corporate governance and risk management standards for state-owned banks.
The fruits of reform are visible. Approved foreign direct investments (FDI) rose from US$10.2 billion in 2004 to US$40 billion in 2007. More importantly, realised FDI has been steadily on the rise. In 2008 realized FDI reached US$14.9 Billion. In 2009 there was a marginal dip to US $10.8 billion, but realized FDI is expected to reach US$35 billion by 2014. Greater Jakarta has received around 50% of all FDI. The real estate sector's share in realised FDI has more or less remained stable at about 6 %.
President Yudhoyono was easily re-elected in April 2009, with 60.8% of votes during the first round. His closest opponent was former president-Megawati Sukarnoputri with only 26.8% of votes.
However, Yudhoyono's reputation has been tainted by his alleged involvement in corruption. Though the president's election platform focused on the rule of law, fighting corruption and wooing foreign investment, Yudhoyono has himself been alleged to have been involved in corruption, for example during the scandal-ridden rescue of Bank Century. Public satisfaction with Yudhoyono's performance dropped from 63.1% in January 2010 to 46.2% in October 2011, according to the Lingkaran Survey Indonesia (LSI), as a result of disappointment over the government's economic, political, legal, social and foreign affairs performance. Yudhoyono continues to rate well on issues relating to internal security.
Secret US diplomatic cables have accused the president of using his power to protect corrupt politicians and other officials in office of authority. Even the religious leaders have criticised Yudhoyono for his silence over these issues and not doing enough to resolve them. Both domestic and foreign investors are becoming increasingly frustrated with the situation. Transparency International still rates Indonesia quite poorly on its corruption index.
Foreign ownership restrictions
Pressure for the government to relax foreign ownership rules is growing. The International Real Estate Federation or FIABCI, was the most recent one to air such calls.
In the past, the government has considered extending the property usage rights of foreigners to 70 years, from the current 25 years, with two extensions possible, of 20 and 25 years. More recently, attention shifted to direct foreign ownership of real estate.
Early in 2009, President Yudhoyono stated that he would ask the National Land Agency (BPN), the home minister and the state minister for people´s housing affairs to conduct an in-depth study into granting expatriates home ownership rights.
Theoretically, foreigners can own condominiums or strata-title residential property. However, more than a decade after Regulation 41 of 1996, no foreigner has actually received a strata title certificate of ownership. Foreigners are likewise not allowed to own land.
Foreigners can only control landed property in Indonesia either by setting-up a Penanaman Model Asing (PMA) Company or through long-term leases, with the right to buy if the ownership laws are changed.
However, these schemes add unnecessary costs, management difficulties and risks to foreign property buyers. In some cases, foreigners use loopholes in the existing laws to buy houses, apartments or condominiums indirectly.
For instance, a foreigner will ask a national to buy a house using his money. Then before a notary, the two sign an agreement saying that the national is acquiring a loan from the expatriate worth the same amount of the property value. Part of the agreement is that the loan will be made permanent, while the property used as collateral, can be retaken anytime.
Removing ownership limits could greatly help the real estate sector. Government officials, however, note that safeguards must be placed to prevent speculative purchases. One way of doing this is to limit ownership to permanent residences.
Outlook for the future
Indonesia's growing economy, relatively stable political climate, surging consumer saving and spending, should lead to an increase in demand for property in the near future. The Indonesian property market was among the top 10 fastest-growing sectors in the economy in 2011, according to Jones Lang LaSalle. Despite looming international economic problems, demand for real estate development in Indonesia is likely to remain strong over medium to long term.
The Medium Term Development Plan, targets average economic growth of 6.3%-6.8%, reaching 7%+ with unemployment at only 5%-6% by the end of 2014. In order to achieve this growth, Indonesia needs to push through the red tape and invest in better infrastructure. To achieve that, the government's draft 2012 budget, released in August 2011, has allocated IDR168.1trn (US$19.67bn) for infrastructure spending by government institutions, up by 16% from the 2011 revised budget.
Since Indonesia's net exports only make up about 3% of its total GDP, global trade does not substantially impact economic growth. For this reason, the Indonesian economy and its real estate sector remain relatively unaffected by global slowdowns.
Indonesia's strong GDP growth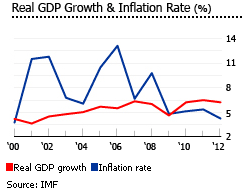 Indonesia's economy is very much driven by domestic developments, and tends to be insulated from global economic trends. In the first quarter of 2013, real GDP expanded by 6.02% from the same period last year. This is strong growth, but actually the slowest growth rate since Q3 2010 and lower than economists' expectations, according to Statistics Indonesia. In April 2013, Bank Indonesia, the country's central bank, lowered its economic growth projections in 2013 to between 6.2% and 6.6% from an initial forecast of between 6.3% and 6.8%.
The slight slowdown was due to slowing exports, government spending and private consumption.
Yet analysts are confident that Indonesia's economy remains on track. It is hard to see what would dent Indonesia's growth – it was almost wholly unaffected by the global economic crisis, and the economy grew by 6.2% in 2012, after real GDP growth rates of 6.5% in 2011, 6.2% in 2010 and 4.6% in 2009, despite the global economic slowdown.
In February 2013, the overall unemployment rate dropped to 5.92% from 6.92% from the same period last year, according to Statistics Indonesia.
The annual inflation rate is projected to surge to as high as 7.76% if the government hikes subsidized fuel prices this year. While this seems high, inflation is actually now less high than in the recent past, suggesting that Indonesia's growing economy is becoming more flexible and productive as it grows. In April 2013, inflation slowed to 5.57%, and though this still above the central bank's target of between 3.5% and 5.5%, Bank Indonesia has felt able to keep its benchmark rate at a record low of 5.75% since February 2012. From 2009 to 2012, the average annual inflation rate in the country has been at 4.9%.
Indonesia - More data and information