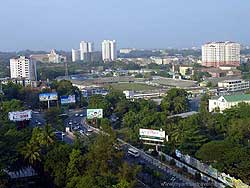 Myanmar is trying to prove further that it is serious to turn its economic page towards prosperity as the ruling government mulls to approve new investment laws that could draw foreign capital to the economy.
A set of new policies including tax holidays and other incentives to be given to foreign investors is about to be approved by government authorities this week before the country votes on its 1 April national elections for a new leader.
Wanting to change the economic crippling policies of late, an official at Myanmar's Ministry of National Planning & Economic Development, says part of the incentives to be given to foreign direct investors is a 5-year- tax holiday and an expansion of their rights to distribute products in the domestic market.
Moreover, in terms of property development, foreigners will be allowed to lease land, be given a permit to repatriate 100% of earnings from a locally-made investment, and hire foreign skilled workers as well.
According to Aung Naing Oo, a deputy at the economic development ministry tasked to handle investments these policies had been approved-in- principle by the Cabinet and will be finalised by the Parliament this week.
The International Monetary Fund is currently granting technical advice on Myanmar as to how to manage its fiscal reforms and balance its current accounts.
Nay Zin Latt, an adviser to Myanmar's President Thein Sein, told the Asian Wall Street Journal that changes in the country's policies would give a boost to the country's foreign direct investments.
He notes that the country is looking at a similar policy in Malaysia that also extends preferences to local companies.
The country will be closely watched on 1 April, as the citizens cast their ballots and elect their leader after more than 25 years under a military dictatorship. A front-runner in the elections is democracy leader Aung San Suu Kyi.
Since the military junta took power in 1987, no overseas development assistance has been granted to Myanmar led by the World Bank, the Global Property Guide Research indicated.
Read more Myanmar from the Global Property Guide: http://www.globalpropertyguide.com/Asia/Myanmar