Myanmar's property prices surge, as it opens up to investment
June 30, 2014
Property prices and rents in Myanmar have risen strongly in recent years, with an influx of overseas investors and persistent land and building shortages, according to many local property experts.

Since 2005, the total number of new residential units in Yangon, Myanmar's capital, has increased by an average of 20,000 units per annum, which satisfies only about one-third of property demand, said local realtors.

Rents for residential houses have also been rising rapidly in recent years. In some areas, rents more than doubled in 2013 from a year earlier.

"Demand and supply in Rangoon are not in balance, so rental fees are also increasing," said Than Oo of Mandine real estate agency. This was supported by Zaw Zaw of Unity real estate agency who claims that "rental prices for two homes in one compound in Bahan Township have increased to 20 million kyats [US$20,450] monthly this year."

In Bahan Township, home of many Burmese business tycoons, land prices now range from MMK800,000 (US$818) to MMK1 million (US$1,023) per square foot (sq. ft.).

Burma's government has been implementing reforms to position Myanmar as an attractive destination for property investment and development.

Under the new Foreign Investment Law, enacted in November 2012, foreign investors in the form of a Joint Venture with a Myanmar citizen or entities, are now allowed to establish, sell and lease residential properties. In addition, foreign real estate developers can now enjoy long term lease possibilities. This is a significant change from the old Foreign Investment Law, which prohibited foreign investors from owning land or property.

Moreover the long-awaited the draft of the Condominium Law was published at end-2013, permitting foreigners to purchase a maximum of 40% of units in condominium developments from the 6th story upwards, and also allowing such units to be used as collateral for loans.

Myanmar is considered as one of the world's poorest countries, with a total population of almost 65 million and a GDP/cap of just US$870 in 2013, according to the International Monetary Fund (IMF).


Analysis of Myanmar Residential Property Market »
Myanmar restricts property
ownership to its citizens
Rental Income: Property income earned by nonresident foreigners is generally taxed at a flat rate of 10%.

Capital Gains: Capital gains realized by nonresident foreigners are generally taxed at a flat rate of 10%.

Inheritance: There are no inheritance taxes in the country.

Residents: Residents are taxed on their worldwide income.
Roundtrip transaction costs are low in Myanmar
The buyer pays for 6% stamp duty for properties inside Yangon, and 4% stamp duty for properties outside Yangon. The buyer also pays 2% additional tax. The property value is established by the appraisal committee.
Myanmar's international isolation is coming to an end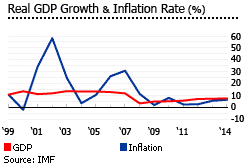 Myanmar (pop. 64,932,000; GDP/cap US$870 in 2013) is one of the most savage military dictatorships still in power, and one of the most closed societies. Its leadership exists largely to enrich itself by whatever means possible. The simple act of having a telephone installed requires a bribe, and the system appears to be institutionalized, with little interest by the military leadership to change matters, since it also helps perpetuate its hold on power. Smuggling of everything from drugs to jade is rife across the porous borders with China and Thailand.
Most overseas development assistance ceased after the junta began to suppress the democracy movement in 1988 and subsequently refused to honor the results of the 1990 legislative elections. The World Bank has approved no new lending for Myanmar since 1987, and has no plans to resume its program.
In the past few years, there was an effort to transform the country from a military rule to civilian democracy. In March 2011, a supposedly civilian government led by President Thein Sein came to power. However, a new constitution brought in by the junta in 2008 entrenched the primacy of the military, with three key ministerial posts reserved to serving generals and one-fourth of seats in both parliamentary chambers are intended for the military.
Despite this, the noticeable reforms undertaken by the government, especially its opening to foreign investments, brought new hope that the decades of international isolation could be coming to an end.
In April 2012, the EU lifted all non-military sanctions to Myanmar and offered the country more than US$100 million in development aid later that year.
In 2013, economic growth was estimated at a robust 7.5%, up from real GDP growth rates of 7.3% in 2012, 5.9% in 2011, 5.3% in 2010, 5.1% in 2009, and 3.6% in 2008, according to the IMF.
The country's inflation rate has also moderated in recent years, at an average of 4.4% from 2009 to 2013, a remarkable decline from an average of 20% from 2005 to 2008.