Barbados: West Coast's house prices up, South Coast down
Barbados' housing market suffered a decade-long decline following the global financial crisis. Residential property prices in Barbados, especially in the high-end market, are still between 20% and 30% below their peak levels seen before the crisis.
Barbados' housing market remains two-tiered, with the high-end West Coast market showing signs of improvement while the South Coast is experiencing falling demand and house prices.
In the famous West Coast, which caters primarily to super-wealthy foreigners, median beachfront condo prices rose by 0.3% in 2019, following declines of 13.8% in 2018, 10.9% in 2017 and 13.3% in 2016, according to Terra Caribbean's Beachfront Condo Price Index (BCPI), which the company launched in January 2015.  There were however more sales – around 20% - above $5 million, so that average prices rose 70%.
The upward movement of prices in the West Coast can be mainly attributed to rising high-end demand. In 2019, sales transactions increased 4.5% from a year ago.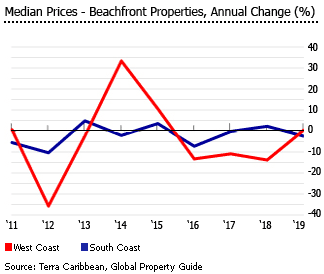 "As of the end of 2019, the BCPI for the south coast has declined by two points reflecting the 2.5% decrease in median price…(and) there have been fewer recorded sales transactions, down 21% from the previous year," noted Terra Caribbean.
On the West Coast the median price of beachfront condos was US$538 per square foot (sq. ft.) in 2019, slightly up from US$536 in 2018, but down from US$622 in 2017, US$698 in 2016, US$805 in 2015 and US$ 728 in 2014.
On the South Coast the median price of beachfront condos was US$407 per sq. ft. in 2019, from US$417 in 2018, US$408 in 2017, US$409 in 2016, US$441 in 2015 and US$426 in 2014.
The nationwide land price index rose by 6.3% in 2019 from a year earlier, following a growth of 4.3% in 2018, according to Terra Caribbean.
Overall demand remains weak
Transactions remain far below the peak levels of 4,250 transactions seen in 2007.
In 2019, overall transaction volumes in Barbados fell by 4.9% to about 2,460 units, following growth of 7.9% in 2018 and declines of 0.1% in 2017, 3.8% in 2016 and 10% in 2015.
"Perhaps this is unsurprising given the economy is reported to have contracted by 0.1% over the same period," said Hayden Hutton, COO of Terra Caribbean.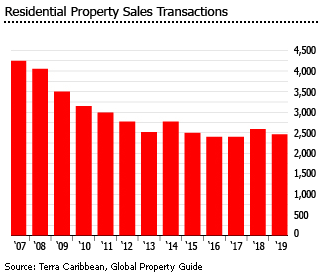 "Whereas there were various adjustments implemented in the 2019 budget, including a sweeping overhaul of the corporate and personal tax rates, the increase in Land Tax rates has likely not encouraged the market in the short term," Hutton added.
Regional variations:
In the West Coast, sales volumes of beachfront condos rose by 4.5% y-o-y to 23 transactions in 2019.
In the South Coast, sales of beachfront condos dropped 21.1% y-o-y to 30 transactions last year.
Most foreign homebuyers in Barbados come from Canada, the US, the UK and continental Europe.
Generally there are no restrictions on foreign ownership in Barbados except for one formality: nonresidents must obtain permission from Barbados' Central Bank if they want to buy property. This is pro forma, but failing to do so will void your purchase.
Property market very dependent on foreign buyers
Barbados attracts a lot of foreign homebuyers. Properties in St. James and in St. Peter are popular with British buyers, while properties in south coast's Christ Church parish attract Americans and Canadians, according to Cherita O'Dell of Million Dollar Homes.
"We live on foreign exchange and one of our biggest foreign exchange earners is selling properties to foreigners," said Lee Gooding of Seaside Realty Inc. "Overall it's very significant. I would say 40% of our customers are from overseas," he added.
During 2019, foreign investors accounted for about 75% of the total sales transactions in Barbados' luxury market, according to Terra Caribbean.
In 2012, a new residency permit was introduced, offering indefinite residency to investors who purchase a property worth at least US$2 million and have a net worth in excess of US$5 million.
Some high profile property market transactions last year include the Marriott's acquisition of the Elegant Hotels group, the announced sales of the former Four Seasons site at Paradise and the Apes Hill Development, progress on the expanded Hyatt Ziva project, the acquisition and proposed redevelopment of various properties along the Careenage, Carlisle Bay, and other projects in the pipeline.
Mortgage borrowing steady, despite falling interest rates
The average mortgage interest rate stand at 5% in May 2020, down from 5.28% a year earlier and the lowest mortgage rate ever recorded by the Central Bank of Barbados.
Despite this, mortgage borrowing has been more or less steady. In 2019, the total amount of mortgage loans outstanding increased by a meagre 0.3% to BB$2.91 billion (US$1.46 billion) from a year earlier.
Local currency-denominated: mortgage loans fell slightly by 0.02% y-o-y to BB$2.88 billion (US$1.44 billion) in 2019
Foreign currency-denominated: mortgage loans rose by 33.6% y-o-y to BB$37.47 million (US$18.74 million) in 2019
Non-residents can get mortgages with loan-to-value (LTV) ratios ranging from 50% to 70% (minimum loan of US$250,000) of the value of the real property, with maximum terms of up to 25 years, according to Terra Luxury:
60% - 70% LTV for US dollar mortgages up to US$2.5 million; and
50% LTV for mortgages more than US$2.5 million.
In order to qualify for a local-currency mortgage, borrowers must have been continuously resident for three years, according to Central Bank of Barbados rules. Mortgage interest rates in Barbados range from 5% to 8.5%.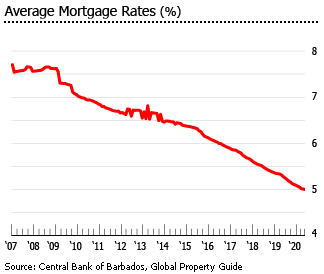 Foreign borrowers who do not qualify can only obtain foreign currency mortgages. Only a few lenders offer US dollar mortgages, including the Royal Bank of Canada and First Caribbean International Bank.
Foreign buyers often end up financing outside Barbados, because mortgage interest rates in Barbados are often higher than in European and North American countries. Over the past few years, US dollar loans have been attractive, especially for UK and European nationals. The interest rate is three-month US LIBOR, plus lender's mark-up.
Since 1975, the Barbados dollar has been pegged to the US dollar at BBD2 = US$1.
Thriving rental market
Barbados has a thriving rental market, due to the large number of tourists. Renting is more attractive for most people than getting a loan to buy, due to high mortgage interest rates.
Rents vary enormously between properties and location-apartments vs. houses vs. villas, furnished vs. unfurnished, inland vs. beachfront, West Coast vs. South Coast vs. East Coast. Rents for beachfront properties are higher than inland properties. Long-term rental properties are difficult to find in Barbados during the winter periods from November to April, and rents are much higher than usual.
The least expensive long-rentals can be found on the East Coast, while prices are increasing in the South Coast. The most expensive properties are generally on the West Coast.
On the South Coast, an unfurnished three-bedroom house can be rented starting at US$ 1,350 per month. Rents for furnished three-bedroom houses range from US$ 1,500 to US$ 2,500 per month, while four-bedroom houses can be rented from US$ 3,000 to US$ 5,000.
Three-bedroom houses located in the West Coast can be rented from US$ 1,500 to US$ 5,000 per month. Five-bedroom houses have monthly rents ranging from around US$ 4,000 to US$ 9,000.
Luxury villa rentals range from US$2,500 to US$100,000 per week.
AVAILABLE RESIDENTIAL RENTALS, 2019

Location
Property
No. of bedrooms
Rent (US$)
Christ Church
Glendale
5
3,500
Hilltop Crescent
3
3,750
Maranatha
5
4,000
The Hammock
4
5,000
Somerley 203
2
2,500
Leith Court 5
2
2,500
Ocean Reef 103
3
4,250
Maxwell Beach Villas 301
2
2,500
Coral Cliff 3
3
1,500
Rockley Townhouse 1
3
1,625
St. James
Green Acres House
4
5,000
Garden Cottage
3
2,750
Prior Park Crescent 5
3
2,750
Apes Hill Polo Villa 13
3
3,750
Forest Hills 30
3
5,500
Crystal Court 404
2
1,150
The Grove Residences 6
3
4,500
Buddha Apt 4
2
3,500
St. Peter
Palm House
3
4,000
Ochiltree
3
4,000
St. George
Walkers Terrace 11
4
2,500
Windsor House
3
3,500
Source: Terra Caribbean's The Red Book Barbados 2020
Gross rental yields in Barbados - the return on the cost of buying a property - are moderate, at 5.5% for 2-3 bedroom houses in St James, according to research conducted by the Global Property Guide. Larger properties yield less.
Tourism grinds to a halt amidst coronavirus scare
Due to the COVID-19 outbreak, Barbados' tourism sector contracted by 16.2% in Q1 2020, as stay-over visitors plunged by 17.9% and cruise passengers by 11.5%, based on the central bank's Q1 2020 Economic Review. In 2019, tourist arrivals had risen by 3.5% y-o-y to a historic high of 704,078 visitors, following annual increases of 2.5% in 2018, 5% in 2017, 6.7% in 2016, 13.7% in 2015 and 2.2% in 2014.
"Rising fears surrounding COVID-19 led several potential visitors to cancel their travel plans and, as the pandemic spread, flights into the island from the main source markets ceased in the second half of March," said the central bank.
"Effectively, the last month of the winter tourism season was lost, resulting in the closure of most hotels and restaurants, with adverse effects on real estate rentals, car rentals, transportation services, duty free sales, visitor attractions and personal services."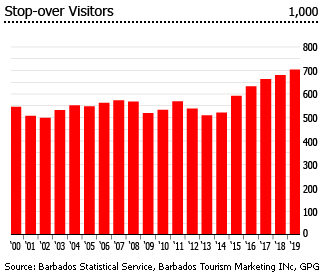 In an effort to buoy the tourism sector, the government has recently launched its 12-month Barbados Welcome Stamp, a new visa that allows remote workers to live and work from the Caribbean country for up to a year. It costs US$2,000 for an individual visa, or US$3,000 for a "family bundle".
"We recognize more people are working remotely, sometimes in very stressful conditions, with little option for vacation. Our new 12 month Barbados Welcome Stamp is a visa that allows you to relocate and work from one of the world's most beloved tourism destinations," said Prime Minister Mia Amor Mottley.
Tourism accounts for around 12% of the country's GDP every year and more than 12% of the country's total employment.
Barbados' already ailing economy suffers further due to pandemic
The government declared a public health emergency and the whole country was put under an overnight curfew during the later part of March 2020, in an effort to contain the coronavirus outbreak.
"The impact of the virus on the domestic economy threatens to be severe," said the Central Bank of Barbados in its Q1 2020 economic review.  "The cancellation of global business and personal travel with the attendant effects on airlift and cruise visits to Barbados has already curtailed tourism activity and it is having negative spill-over effects on ancillary sectors."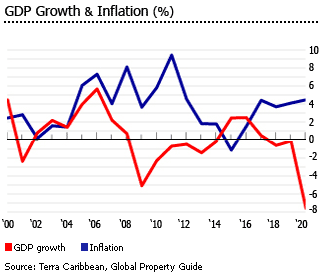 "The hotel and restaurant sectors have been hard-hit, as closures have resulted in the loss of jobs and earnings," the central bank added. During the first quarter of 2020, economic activity declined by 3%.
As a result, GDP is expected to plunge this year by as much as 13%, according to the Central Bank of Barbados. In fact, the government will be forced to secure funding from international agencies.
In Q1 2020, total government revenues fell by 9.4% to BB$ 845.6 million (US$418.2 million) as compared to the same period last year. Unsurprisingly, the government recently lowered its primary surplus target to 1% of GDP for FY 2020-21, sharply down from a target of 6% before the pandemic.
After a serious over-indebtness crisis, the government was able to achieve a primary surplus of 6.1% of GDP for the FY2019/20, thanks to the country's ongoing fiscal reforms and debt restructuring. Likewise, the government's overall debt, while remains high, has declined in recent years. Likewise, gross public sector debt stood at 120% of GDP in FY2019-20, down from 126.3% in 2018, 148.4% in 2017 and 151.2% in 2016.
"The deterioration of the primary balance will cause a deviation away from the plan to reduce debt in the short term," said the central bank. "Government, however, remains committed to achieving its 60 percent debt-GDP ratio by 2033 and a resumption of fiscal consolidation efforts is anticipated over the medium term as the economy rebounds from the shock."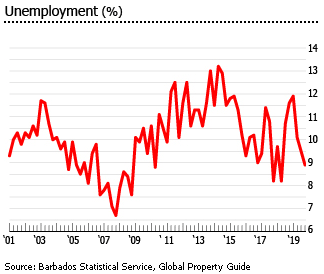 Unemployment is expected to rise to 13.4% due to coronavirus-related job losses. The overall jobless rate fell to 8.9% in the fourth quarter of 2019, from 9.5% in the previous quarter and 11.6% a year earlier, according to the Barbados Statistical Service.
In fact in March 2020, unemployment claims surged to 7,793 compared to an average of just 624 in January and February, based on central bank figures. And during the first four weeks of April, over 20,000 new claims were registered as the nationwide curfew took effect.
The famous West Coast
The West Coast, also called Platinum Coast, extends from the outskirts of Bridgetown (the country's capital) in the south to Harrisons in the parish of St. Lucy in the north.
Many homes belonging to famous celebrities and super-wealthy foreigners can be found here, as can one of the most exclusive resorts in Caribbean, Sandy Lane hotel and residences, a member of The Leading Hotels of the World (LHW). It is home to one of the most expensive golf courses ever built, designed by Tom Fazio - The Green Monkey. Five-bedroom luxury villas here can fetch prices ranging from US$10 million to US$25 million.
Royal Westmoreland, in the parish of St James on the west coast of Barbados, is the only completed gated community in Barbados. It has colonial-style homes and cottages among its 225 properties, a golf course and a beach club. The prices of apartments and villas in Royal Westmoreland range from US$425,000 to about US$6 million, according to Terra Caribbean. In addition, fractional units, offering part ownership, are also available, starting at US$50,000.
The Waterside, located on the pristine shores of Paynes Bay Beach, is an exclusive development that features 26 one and two-bedroom condominiums and 1 five-bedroom penthouse suite. Prices range from US$625,000 to US$2 million.
Port Ferdinand Marina and Luxury Residences, in Six Mens, St. Peter, is a two-phased development completed in 2015 consisting of 82 luxury residences and 120 berths. It offers two- to five-bedroom houses with private berths costing from US$ 2.1 million to US$ 7.75 million.
In the Apes Hill Club, a 470 acre-luxury development with a world-class 18-hole golf course and enjoys views of both the West and East Coasts, lots can be purchased starting at U$ 150,000. Prices of villas range from US$ 795,000 to US$ 3.2 million.
In Port St. Charles, prices of beachfront apartments currently range from US$795,000 to US$3.9 million. In Saint Peter's Bay, which is located near Port St. Charles, is comprised of 57 private beachfront homes, including 6 penthouse suites and 3 deluxe penthouse suites. Prices currently range from US$1,585,000 to US$5,995,000.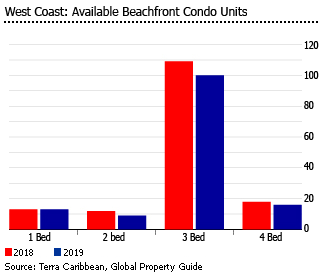 A relatively new lifestyle community in St. Peter, Vuemont, is one of the developments that target families looking for affordable homes. It has 77 residences that costs starting from US$ 225,000 for two-bedroom apartments, and starting from US$ 350,000 for three-bedroom villas.
In the Mullins Bay, a complex located near the Mullins Beach, St. Peter that features 26 elegantly furnished townhouses and villas, prices range from US$775,000 to US$1.5 million.
In The St. James, four- to five-bedroom villas are priced from US$3.95 million to US$4.95 million. Villas On The Beach, a luxury beachfront development located in Holetown, St. James, consists of 18 one, two and three-bedroom apartments and four-bedroom penthouses. Three-bedroom apartments are priced starting at US$1.8 million. In the Merlin Bay, located in the exclusive area of The Garden, St. James, three-bedroom Mediterranean-styled villas are priced from US$875,000 to US$1.6 million.
There were a total of 480 beachfront condo units in the West Coast in 2019, according to Terra Caribbean. Of which, 138 units are still available in the market.
Developments on the South Coast
The South Coast, which begins at Carlisle Bay in Bridgetown and heads towards East Point on the Atlantic east coast, is less busy and has a more local feel. It caters mostly to the mid-market and has seen tremendous growth, with numerous developments already completed and delivered.
According to Cherita O'Dell, Million Dollar Homes and Barbados Real Estate 246 broker, luxury beachfront condominiums in the south coast range from US$3.75 million to US$ 5 million. Meanwhile, condominiums across from the beach cost from US$ 450,000 to US$ 650,000.
The Crane Resort and Residences, built in 1887, is one of the oldest resorts in Barbados. Its residential component has expanded over the years, and new villa-style residences have been completed in 2009. Full ownership homes in the Crane are sold at prices ranging from US$777,000 to US$1,946,000, according to Terra Caribbean's 2020 report.
The Sands, a new condominium development i1n Worthing, Christ Church offers 87 stylish and spacious contemporary beachfront residences. Prices range from US$220,000 to US$496,000.
The Ocean One, a six-storey apartment complex located within the popular South Coast area of Maxwell, currently offers three-bedroom units from US$685,000 to US$700,000 and penthouses for US$2.2 million.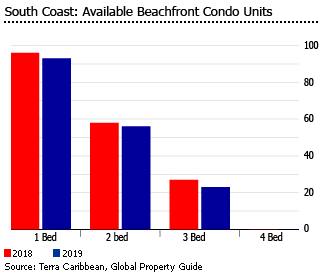 Palm Beach, a new condominium development in Christ Church, currently offers three-bedroom beachfront apartments for US$1,325,000. In Sapphire Beach, another newly built condo development situated on the fabulous Dover Beach, prices of residences range from US$1,179,000 to US$1,350,000.
The Palisades development in Enterprise, which consists of 16 townhouses and one cliff-top house, enjoys extensive ocean views of the South Coast. Prices of residences start at US$ 750,000.
In the Mistle Cove complex, which consists of 14 contemporary residences on a secluded beach in Christ Church, a two-bedroom ground floor apartment is sold for US$625,000.
The Maxwell Beach Villas, a complex of cozy villas and apartments in Christ Church, currently offers two-bedroom apartments for US$575,000 to US$800,000.
In the Cotton Bay Close, a private community located within a quiet neighborhood near Oistins and several other amenities, prices of three-bedroom homes start at US$397,500.
The Terraces, a modern apartment complex located minutes away from the well-known Dover Beach in the heart of St. Lawrence Gap, Christ Church, consists of 16 two- and three-bedroom residences. Prices start at US$297,500.
There were about 574 beachfront condo units in the South Coast in 2019, up 4.4% from a year earlier, according to Terra Caribbean. Of the total, 172 units are still available.
East Coast to remain "local"
The East Coast on the Atlantic side of Barbados is better known for its rugged beauty. Because of huge Atlantic waves crashing along the shorelines, swimming is not advisable. However, beaches on the east coast are popular for walking, surfing and beachcombing.
Much of the eastern coastline is protected land, part of a National Park. Hence, though foreign investment interest in the area has significantly increased in the past years, it is difficult to obtain building or planning permission.
Some popular East Coast beaches include the Bathsheba beach, Cattlewash beach, and Crane beach.
The Villa Nova Plantation in St. John, an approximately 15-acre property of tropical forest and gardens with a total of 28 rooms, is currently for sale at around US$10 million. The property has an industrial kitchen and restaurant, spa treatment cottages, large pool with bar and gazebo, two tennis courts, and conference facilities.
In Bathsheba, St. Joseph, a boutique hotel with magnificent ocean views Sea-U Guest House, which consists of 10 individual rooms, can be bought for US$ 1.35 million.
Sources: