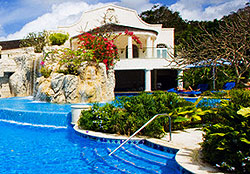 Nestled in the Caribbean just east of the curve of the Windward Islands, with the Atlantic Ocean on its eastern coast, the island nation of Barbados boasts bountiful natural resources and a rich culture.

Barbados was under British rule from the first English settlement here in 1627 until the country was able to negotiate its independence in 1966. The great majority of Barbados current population is composed of the direct descendants of the Africans forcibly brought to the island as slaves by the British during the slave trade of the late 17th century. An estimated 90% of the Barbadian population are of African descent, with whites, Asians and those of mixed race making up the other 10%.
A native of Barbados is often called a Bajan, pronounced "bay-jun". This is also the term for the English-based creole language he uses. Although those involved in administrative functions use English when dealing with tourists, most local people use the native dialect for day-to-day conversations.
Barbados African heritage is reflected in the art, literature, music, and craft of the island. One of the most recognized manifestations is the extensive use of witty figures of speech and classic calypso rhythms in Barbadian music. Local festivals such as the Crop Over celebrate traditional Barbadian life and sugar crop production, which was Barbados leading industry until it was surpassed by manufacturing services in 2003.
The local way of life, architecture and economy also show deep British influence. Bridgetown, the capital city of the Barbados, has its own miniature version of the London's Trafalgar Square, starring an effigy of Lord Nelson without the pigeons.
Barbados has impressive beaches. After taking a stroll along the island's baby-pink sands, a beachgoer can plunge into the pristine waters and enjoy the view of underwater nooks and rainbow-coloured coral reefs where giant eels, hawksbill turtles, barracuda, grouper, snapper and brilliant parrotfish live it's a common pastime on Barbados Platinum Coast, particularly in the city of Holetown.
The Platinum Coast has many luxurious resorts, exclusive hotels, and some affordable accommodations, and is a favourite of moneyed tourists. Coastline-themed restaurants, cafes, boutiques, and shopping areas flourish in this hotspot.
Those looking for a vibrant night life should pay a visit to the numerous clubs and bars along the St. Lawrence Gap. The favourite drink in these pubs is rum, the island's much-loved national tipple.
Barbados has many plantation homes, vast fields, botanical gardens, galleries and museums that explore the country's rich history, from the cruel days of slaves working in the sugarcane plantations to its current independence, political stability and thriving economy largely based not on sugarcane production but on tourism.
---