Mongolia's housing market weak, despite improving economy
Residential property prices in Mongolia are falling again - by 0.38% during the year to Q2 2019, according to central bank Mongol Bank, following last year´s small recovery. But this figure doesn´t adequately mirror reality.  Adjusted for inflation, house prices in Mongolia actually dropped by a huge 7.84%.
The huge gap between nominal and real prices is due to high inflation. In September 2019, consumer prices surged 9% from a year earlier – the highest increase since February 2015.
During the latest quarter (Q2 2019), house prices fell by 1.32% (-4.26% inflation-adjusted).
Mongolia's weak market is due to 3 factors: 
oversupply of more expensive properties
high mortgage rates
high unemployment
1. Oversupply of more expensive properties.   The residential real estate market of Ulan Bator is divided between the buoyant lower end, and the oversupplied upper end/luxury market:
Over half of the residents of Ulan Bator still live in traditional dwellings known as gers, or in housing not well connected to permanent infrastructure. So there´s big demand in the lower end market, encouraged by rising wages and massive government-sponsored access to mortgage financing.
But luxury real estate has a significant oversupply of projects competing for a limited number of buyers and scarce financing.
The average apartment price in Ulan Bator currently stands at MNT2.2 million (US$815) per square meter (sq. m.), according to The UB Post's August 2019 interview with B.Javkhlan, CEO of real estate portal www.oly.mn. However, in the capital city's central business district (Sukhbaatar district), that caters to expats and the ultra-rich, prime residential prices averaged MNT 8.53 million (US$ 3,158) per sq. m., according to the Q2 2019 economic update by Mongolian Properties.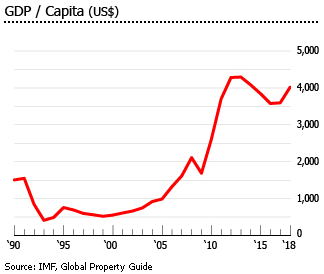 Ulan Bator's most desirable residential buildings/compounds include The Brauhaus, the Temple View Residence, The Jiguur Grand Office Building, The Star Apartments, The Royal County, The Sarnaikh Building, Lux House, The Erel Building, The Russian Embassy Building, Regency Residence, and the Blue Sky Tower, among others.
The "Embassy District" and the area around the State Department Store, also known as the 7 Courtyards, are two of the most popular residential areas for foreign homebuyers and tenants, as well as wealthy Mongolians.
2. High mortgage rates. During 2018, the weighted average interest rate for new mortgage loans rose to 12.2%, up from 11% in 2017, 8.8% in 2016, 9.7% in 2015, and 10.2% in 2014, according to Mongol Bank, despite the fact that the central bank's policy rate remained unchanged at 11% since November 2018.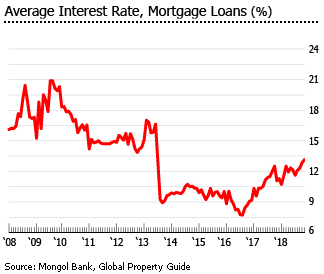 The loan-to-value (LTV) ratio is 70% of the appraised value of the property. The term period is usually over 20 years.
3. High unemployment. Mongolia's unemployment rate stood at 9.9% in Q3 2019, slightly down from the previous quarter's 10.1% jobless rate. Unemployment averaged 10% in the past three years.
Tight rental market, high yields
Rental yields for luxury residential properties in Ulan Bator are high, at around 10%, according to the Q2 2019 economic update by the Mongolian Properties.
"This is partially driven by a growing number of expatriates in the city who have created additional upward pressure on the leasing market for high-end units," said the Mongolian Properties.
Most of the rental apartments that cater to foreigners and expats are relatively expensive, with a monthly rent of about MNT 5 million (US$1,851) to MNT 6 million (US$2,222), according to B.Javkhlan.
Mongolia: still attractive for property investment
Despite all the problems, investing in Mongolian property remains attractive.
The regulatory framework for title and property rights in Mongolia appears relatively lenient; this combined with one of the best tax policies in Asia makes Mongolia attractive for property ownership.
Property ownership rights exercised by international or foreign investors are identical to those enjoyed by Mongolian citizens. Foreign and domestic residents alike pay taxes, fees and fulfill other duties in compliance with the property law equally.
Land in Mongolia is almost all in state ownership, and this affects condominiums, since ultimately they sit on land. Although the Constitution provides for the possibility of private ownership of urban and arable land, till recently the existing legislative framework did not provide a mechanism for introducing such private land ownership.
However, the reality is that developed freehold property can be bought and sold, by foreigners and by Mongolians, but the terminology is not that of a sale of land, but that of a 'lease', or alternately, of an 'Immovable Property Ownership Certificate'.
Sales taxes on immovable property and land are technically limited to a 2% stamp duty tax paid upon eventual sale of the property (based upon the value of the property registered on the deed, called Immovable Property certificate, or if no valuation exists, on the sales price on the primary market). There are no capital gains taxes levied on immovable property sales in Mongolia. Neither the Government nor any other legislative body can evict owners (foreign or domestic) or confiscate property for which there are Immovable Property Ownership Certificates.
Furthermore, there are no currency controls. There are no issues repatriating profits out of Mongolia as the currency is fully convertible and freely floating.
A history of the Mongolian property market
The boom of the early 2000s. During the 2000s residential prices soared in Mongolia, boosted by strong economic growth, high copper prices, and large increases in gold production. Economic growth averaged 7.2% annually from 2001 to 2008.
Expatriates, foreign diplomats, and executives moved to Ulan Bator en masse. It became a boom town, four wheel drives proliferated, money was thrown about, and a great time was had. Louis Vuitton, Emporio Armani, Burberry and Hugo Boss are now established in Ulan Bator.
The global economic crisis hit hard. However, Mongolia's heavy reliance on commodity prices meant the global crisis hit hard. The price of copper, the country's single largest export, plunged by almost 65% from July 2008 to February 2009. In 2009 the economy contracted by 2.1%.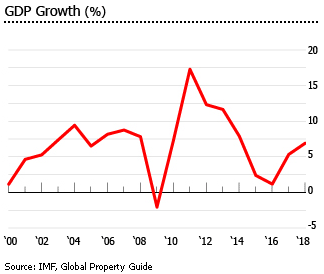 The Mongolian Tugrik (MNT) became unstable. Foreign investment dried up. Banks stopped lending. Construction projects screeched to a halt. Housing demand, especially from foreign expatriates, vanished, and the residential property market stagnated from 2008 to 2010.
In 2010 the economy returned to growth. Due to strong copper demand from China GDP rose by 7.3%.  With the signature of the long-awaited Oyu Tolgoi Investment Agreement to develop the Oyu Tolgoi mine, one of the world's largest untapped copper deposits, the economy expanded by 17.3% in 2011, 12.3% in 2012 and 11.6% in 2013.  In 2011 residential prices rose by a whopping 41.5% in major city centre locations.
Politicians scared off investors 2012-2016: the dispute with Rio Tinto. Mongolia´s macroeconomic environment changed drastically in 2014. Problems began when Rio Tinto´s Turquoise Hill Resources arm, then operating under its former name Ivanhoe Mines, announced plans to sell its stake in South Gobi Resources (a large Mongolian coal mine) to the Aluminum Corporation of China (Chalco) in April 2012, two months before national elections in June 2012. The proposed deal allowed populist politicians to claim that Ivanhoe/Turquoise Hill was not only trying to deceive the people of Mongolia but was also selling a large Mongolian coal mine to China, with which Mongolia has a testy relationship.
Half a month after the deal was announced, the Mineral Resource Authority of Mongolia suspended South Gobi´s mining licenses. Three South Gobi executives were then detained under Mongolia´s controversial visa exit ban policy. The executives were only released in March 2015. Investors were further scared by disputes over cost overruns, profit sharing, management control and a US$30 million tax bill levied on the Oyu Tolgoi project.
This called into question Mongolia´s ability to work with foreign corporations and investors.  In 2014, foreign direct investment declined 81% from a year earlier, according to the Central Bank of Mongolia. Massive capital flight caused a 40% fall in the Mongolian Tugrik versus the US dollar.
Economic growth slowed sharply to just 2.4% in 2015 and to 1.2% in 2016. The fiscal deficit surged to 17% of GDP in 2016, up from 8.5% in 2015. The government had racked up debts worth nearly 90% of GDP by end-2016.  To make matters worse global coal prices plummeted by more than 60% in January 2016 from their peak levels seen five years ago.
All these factors adversely affected the housing market. House prices fell by 4.4% in 2016 (-5.6% inflation-adjusted), following declines of 11.3% in 2015 and 0.6% in 2014.
Now Mongolia is booming again!  In February 2017, the IMF approved a much-needed US$5.5 billion stimulus package on the condition that the government implement fiscal reforms and strengthen its banking system.  In 2017, aided by a rebound in the price of coal globally, Mongolia's economy expanded by 5.3% and by another 6.9% in 2018. Economic growth accelerated further to 8.6% in Q1 2019, according to the IMF.  The economy is projected to expand by 6.5% this year and by another 5.4% in 2020, based on IMF estimates.
"Mongolia's economy has recovered vigorously from the recent downturn," said the IMF. "Economy growth accelerated to 8.6 percent in the first quarter of 2019, over fiscal balance turned into surplus in 2018, and gross international reserves have increased by US$2.5 billion since 2016."
"Notwithstanding the progress, Mongolia remains vulnerable to external shocks given its high debt levels and the economy's dependence on mineral exports," warned the IMF.
As a result of the improving economic environment, the housing market has also showed some improvement, with nominal house prices rising by 0.4% in 2017 and 4.15% in 2018 though real price growth remains negative.  But high inflation has brought high interest rates - which have hit the housing market.
HOUSE PRICE INDEX, ANNUAL CHANGE (%)

Year
Nominal
Inflation-adjusted
2014
-0.59
-10.42
2015
-11.27
-12.92
2016
-4.36
-5.56
2017
0.40
-5.65
2018
4.15
-3.69
Sources: Mongol Bank, Global Property Guide
Mortgage market growing rapidly
By 2018, the mortgage market was 14% of GDP at US$1.61 billion, sharply up from just 1% of GDP in 2005.  Nonperforming loans were only 1.9% of the total portfolio in October 2019, stable from a year earlier.  The loans´ weighted average maturity was 17.2 years, sharply up from 8.2 years in 2008.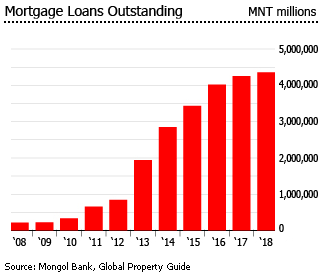 Mongolia's banking sector is highly concentrated, with four banks (XacBank, Khan Bank, Golomt Bank, and Trade and Development Bank) dominating the market.
Construction activity falling
Residential construction is falling, amidst supply glut of high-end apartments. In 2018, apartments completed fell a huge 31.4% to 12,824 units from a year earlier, according to the Mongolian Statistical Information Service, the third year in a row that apartment completions have declined (-19.9% in 2016 and -2% in 2017).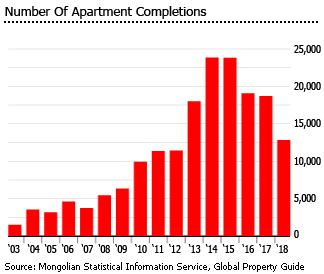 Government support boosts low-end market
In 2012 the government introduced a low-cost mortgage lending scheme in 2012 - the most significant residential real estate development over the past few years.
The "Housing Mortgage Program" offers interest rates as low as 8%, with a term period of up to 30 years. Initially, the program was meant for poorer households, but the program was extended to all first time buyers. Potential homeowners should not own any existing apartments, and the apartments they buy must be new-build developments of 80 square metres (sq. m.) or less.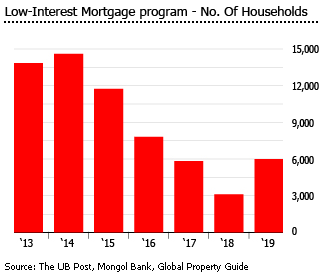 Recently, the government increased the program's annual allocation to MNT 500 billion (US$185.1 million). The funds are distributed to commercial banks through the central bank.   In addition housing loans up to MNT 60 million (US$22,216) will be issued to individuals for the construction of a private house that satisfies requirements such as not bigger than 120 sq. m., energy efficient and has engineering facilities.
Because of high rents and tight supply of affordable housing, the government has also launched the State Rental Housing Program. Applicants are prioritized based on age, income and other factors that determine their need for access to affordable rental housing. The rent for these apartments is MNT 6,000 (US$2.2) per sq. m. per month. So, the monthly rent for a one-bedroom, 45 sq. m. apartment would be MNT 270,000 (US$100) – about 50% to 70% lower than the market rate.+-
Sources:
Mongolia - More data and information