New Zealand's great house price boom continues strong, buoyed by ultra-low interest rates, as well as limited housing supply. During the year to November 2021, the nationwide median house price soared by 23.83% to NZ$ 925,000 (US$632,885), according to the Real Estate Institute of New Zealand (REINZ), following a y-o-y rise of 18.63% in 2020 and 12.14% in 2019.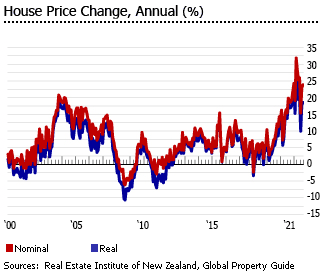 When adjusted for inflation, house prices rose by 18.56% y-o-y in November 2021.
Auckland, which accounts for about 30% of total property sales in New Zealand, saw a house price growth of 26.2% during the year to November 2021.
The highest price increase of all was in the West Coast, where prices surged 42.9% y-o-y to November 2021, followed by Canterbury (31.4%), Gisborne (29.2%), Waikato (27.6%), Northland (26.5%) and Taranaki (26.2%). There were also double-digit house price hikes in Hawke's Bay (25.8%), Manawatu/Wanganui (24.8%), Wellington (21.8%), Bay of Plenty (20%), Marlborough (19.5%), Otago (16.1%), and Tasman (14.9%). House prices also increased in Nelson and Southland, by 9.9% and 9.6%, respectively.
"The market has settled back into its stride — returning to business as near-usual across the board. November shows an active market where property prices continue to increase, stimulated by demand as New Zealand prepared to leave Alert Levels behind," said Jen Baird, chief executive of REINZ.
Auckland has the most expensive housing in New Zealand, with an average price of NZ$ 1,300,000 (US$889,459) in November 2021. It was followed by Wellington, with an average price of NZ$ 962,500 (US$658,542), Bay of Plenty, with an average price of NZ$ 900,000 (US$615,780), and Tasman, with an average price of NZ$ 890,000 (US$608,938).
Even coronavirus has not been enough to stop this strong growth. Housing in New Zealand has become really expensive, for a country with such a small population relative to its landmass.
The cheapest housing can be found in the West Coast and Southland, with average prices of NZ$ 350,000 (US$239,470) and NZ$ 435,000 (US$297,627), respectively.
MEDIAN PRICES BY REGION, NOVEMBER 2021

Regions
Median price
y-o-y change
 
NZD
USD
%
NEW ZEALAND
925,000
632,885
23.8
Auckland
1,300,000
889,459
26.2
Wellington
962,500
658,542
21.8
Tasman
890,000
608,938
14.9
Bay of Plenty
900,000
615,780
20.0
Nelson
736,000
503,571
9.9
Waikato
855,000
584,991
27.6
Northland
745,000
509,729
26.5
Hawke's Bay
830,000
567,886
25.8
Otago
720,000
492,624
16.1
Gisborne
685,000
468,677
29.2
Marlborough
705,000
482,361
19.5
Canterbury
690,000
472,098
31.4
Manawatu/Wanganui
630,000
431,046
24.8
Taranaki
626,100
428,377
26.2
Southland
435,000
297,627
9.6
West Coast
350,000
239,470
42.9
Sources: REINZ, Global Property Guide
New Zealand saw spectacular house price rises of about 114% (82.5% inflation-adjusted) from 2001 to 2007. Then after a pause, there were nine further years of substantial price rises 2012-2021, supported by strong demand and economic fundamentals.
Demand remains strong.  In November 2021, property sales in New Zealand were up 12.4% from the previous month but down 18% from a year earlier, according to REINZ - yet it remains the second-highest November month sales since 2006 – the highest was November 2020.
In Auckland, the number of properties sold reached 3,102 units in November 2021, up 16% from the previous month but down 19.6% a year ago.
For New Zealand excluding Auckland, property sales fell 17% y-o-y to 5,279 units but it was the highest sales count since April 2021.
Nationwide, the number of days-on-market remained steady at 29 days in November 2021 from a year ago, according to the REINZ.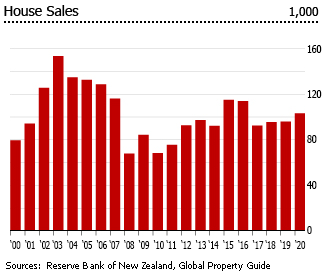 "Inventory levels across New Zealand increased 5.1% from November 2020. Good news for buyers who will benefit from greater choice. While the uptick is welcome, when the amount of inventory is compared to the number of sales, we see eleven of the sixteen regions have 10 or less weeks of inventory available, suggesting that supply-side pressure on prices remains," said Baird.
New Zealand's economy contracted by a modest 2.1% during 2020, in contrast to its robust economic performance in the past decade, with growth of 2.2% in 2019, 3.2% in 2018, 3.8% in 2017, 4.2% in 2016, 4.1% in 2015 and 3.2% in 2014. The economy is expected to grow by 5.1% in 2021, according to the International Monetary Fund (IMF).
A short history of New Zealand's housing boom
House prices in New Zealand surged by almost 114% (82.5% inflation-adjusted) from 2001 to 2007, including 24.8% in 2003, 12.2% in 2004, 15.3% in 2005, 9.7% in 2006, and 8% in 2007. Big rises - but then, this was a period when the economy expanded by an average of 3.7% every year.
House prices started to fall in early 2008, but the decline was much less than in other countries. After falling by 4.78% in 2008, house prices rose strongly by 9.59% in 2009 – but only to fall again by 2.22% in 2010.
Supported by healthy economic fundamentals, the housing market started to recover in 2011. New Zealand saw another housing boom in the following years, with prices soaring by 111% (89.1% inflation-adjusted) from 2011 to 2020, including double-digit price rises in 2016 (10.97%), 2019 (12.32%) and 2020 (17.3%).
HOUSE PRICE INDEX, ANNUAL CHANGE (%)

Year
Nominal
Inflation-adjusted
2008
-4.78
-7.89
2009
9.59
7.48
2010
-2.22
-6.01
2011
0.85
-0.98
2012
9.58
8.55
2013
9.77
8.01
2014
5.39
4.59
2015
3.33
3.25
2016
10.97
9.51
2017
6.59
4.92
2018
1.82
-0.07
2019
12.14
10.10
2020                  
18.63
16.95
Sources: REINZ, RBNZ, Global Property Guide
Are property prices too high? Maybe not - yields are good.
New Zealand, particularly Auckland, was rated as "severely unaffordable" with a median multiple of 10 in 2021, worse than the previous year's 8.6, according to 2021 Demographia International Housing Affordability report. Auckland is now ranked as the fourth most expensive city in the world, up by three notches from seventh last year.
"Housing affordability deteriorated by more than 1.0 median multiple points in just one year, — the equivalent of one year's pre-tax median household income — in Vancouver, San Jose, San Francisco and Honolulu, with the greatest deterioration in Auckland (1.4 points) and Toronto (1.3 points)."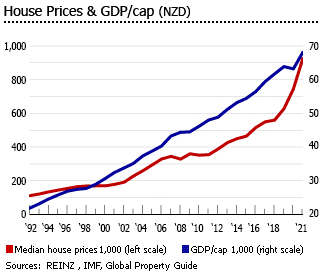 The Economist's global house price index found that New Zealand house prices were about 40% overvalued relative to income.
"On a national basis our valuation metrics point to some cause for concern. In Canada, Australia and New Zealand house prices are about 40% overvalued, compared with their long-run relationship with income," said The Economist.
However these assessments of severe unaffordability and overvaluation are challenged by the Global Property Guide's own research, which suggests that rental yields in New Zealand's prime cities are reassuringly high by international standards, and that on this measure, New Zealand's high residential property prices are amply justified).
Rental yields are very good in Auckland and Wellington, poor in Christchurch
For a developed economy, yields in New Zealand are very attractive. In Auckland, rental yields on apartments range from 6.1% to 7.2%, according to Global Property Guide research. The key to getting good yields is smaller apartments, which earn much more than large apartments.
And rental returns on apartments in Wellington have now moved ahead of Auckland. Rental yields ranged from 6.9% to 8.4%, with smaller apartments earning more.
In Christchurch, rental returns on houses, which are usually lower than on apartments, range from 3% to 4.3%.
The rental market is a big deal in New Zealand – about 64.5% of New Zealand dwellings were owner-occupied in Q3 2021, while 32% were rented.
New Zealand rents continue to rise
Nationwide, the median rent for private residences reached NZ$560 (US$383) per week in November 2021 – up by 7.7% from a year earlier and matching the all-time high first recorded in October, according to Trade Me Rental Price Index. On the other hand, Statistics New Zealand's national rental price index rose by 5.9% y-o-y in November 2021.
"While tenants around the country will be relieved to hear rents have not reached yet another record high, we're still seeing substantial year-on-year growth and it's a tough market for renters," said Trade Me Property Sales Director Gavin Lloyd.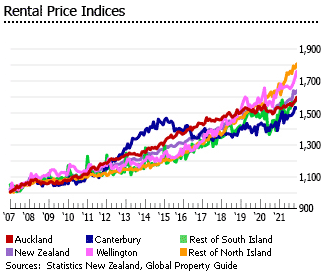 Wellington City remains the most expensive city in New Zealand in which to rent. Its median weekly rent rose to NZ$ 620 (US$ 424) in November 2021, according to the Trade Me Rental Price Index. It was followed by Auckland City with a median rent of NZ$ 600 (US$ 411) per week.
The national rental market supply dropped 6% in November 2021 from a year earlier, while demand increased 1% y-o-y, putting added pressure on the rental market.
Mortgage interest rates rising
The Reserve Bank of New Zealand (RBNZ) Official Cash Rate (OCR) was raised by 25 basis points to 0.75% in November 2021, following another 25-basis point rate hike in October "to maintain price stability and support maximum sustainable employment."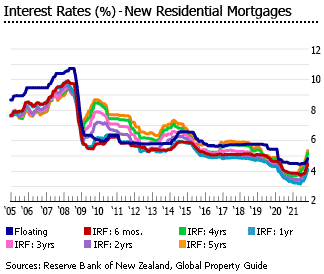 As a result, residential mortgage interest rates are now rising fast. In November 2021:
Floating mortgage rate: 4.83%, up from last year's 4.51%
6 months initial rate fixation (IRF): 4.45%, up from the previous year's 3.9%
1 year IRF: 4.12%, up from 3.34% a year earlier
2 years IRF: 4.65%, sharply up from 3.51% a year earlier
3 years IRF: 4.81%, sharply up from 3.34% a year earlier
4 years IRF: 5.18%, sharply up from 3.7% a year earlier
5 years IRF: 5.36%, sharply up from 3.78% a year earlier
Mortgage market continues to expand
Despite rising interest rates, the total value of new residential mortgage lending surged 36.6% to NZ$91.1 billion (US$62.3 billion) in the first eleven months of 2021 from a year earlier, according to the RBNZ. Over the same period:
Loans drawn by owner-occupiers, including first time homebuyers, (who accounted for about 80% of new residential mortgage loans) rose by 41.4% y-o-y to NZ$ 72.73 billion (US$49.76 billion) over the same period.
Loans drawn by investors rose by 19.4% y-o-y to NZ$17.44 billion (US$11.93 billion).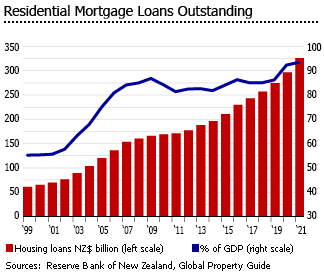 Loan to Value Restrictions (LVR) reinstated; DSRs to follow
This balooning mortgage debt is causing concern to the Reserve Bank of New Zealand. In April 2020, the RBNZ temporarily removed loan-to-value restrictions on residential mortgage lending in response to the pandemic, but reinstated them in March 1, 2021.
"To lean against an accumulation of risky lending, we reinstated LVR restrictions in early 2021 for all buyers..." said the RBNZ in its November 2021 Financial Stability Report. "Restricting new buyers' leverage will help to maintain a low proportion of lending at risk of house price falls, protecting households and the financial system from potential losses."
LVR restrictions, which limit how much banks can lend to low-deposit borrowers, had been in place since October 2013.  But now the RBNZ is also planning to introduce debt serviceability restrictions.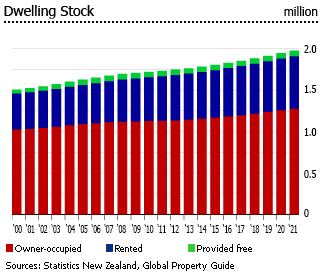 "Our assessment shows debt serviceability restrictions (DSRs) as the most effective additional tool available that we could use to support more sustainable house prices, while also aligning with our primary objective of financial stability. DSRs complement current restrictions on housing lending at high LVRs and would provide an additional way for us to address financial stability risks related to the housing market," said the RBNZ.
Accordingly, while LVR restrictions reduce the likelihood that a borrower would be in negative equity following a house price decline, DSRs build borrowers' buffers against serviceability shocks, such as a sudden rise in interest rates.
Residential construction rising strongly
In the first ten months of 2021, the total number of new dwelling consents in New Zealand rose by 26.1% y-o-y to 40,083 units, a sharp acceleration from the annual average growth of about 13% over the past nine years, according to Statistics New Zealand.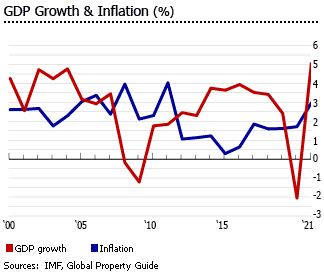 By region:
In Auckland consents were up 24.6% y-o-y to 16,607 units in the first ten months of 2021.
In Canterbury, consents increased 33.4% y-o-y to 6,404 units
In Waikato, consents rose by 27.7% y-o-y to 4,242 units
In Wellington, consents rose by 17.9% y-o-y to 2,812 units
In the rest of North Island, consents rose by 31.3% y-o-y to 6,611 units
In the rest of South Island, consents were up by 16.7% to 3,403 units in Jan-Oct 2021 from a year earlier
The value of new dwelling consents also increased strongly by 29.2% y-o-y to NZ$15.3 billion (US$10.5 billion) in the first ten months of 2021.
Immigration and the housing market
A study by Yale University found that around 40,000 people in New Zealand, or 1% of the population, are living on the streets or in emergency accommodation. This is the highest rate of homelessness in any developed country.  It is generally believed that the shortage of housing, and the high prices, and the homelessness issue, are all interconnected.
One reason for strong house price rises has been the healthy expansion of New Zealand's economy. 
A second reason was low interest rates.
A third reason was high immigration.
International migrant flows have a significant impact on house price movements and construction activity in New Zealand. From 2005 to 2012, the country's net migration averaged only 5,350 people every year, because of the weak economy and low employment opportunities. In contrast, net permanent and long-term immigration was more than 38,000 people in 2002, 35,000 in 2003 and 15,000 in 2004.
To address the problem, the parliament passed the Overseas Investment Amendment Act, effective in October 2018, prohibiting non-resident foreigners from buying existing homes in the country. There are some exceptions, though. Foreigners with NZ residency status are still allowed to buy houses, as well as people from Australia and Singapore, due to existing free-trade agreements. Foreigners who already own homes in NZ are also not affected by the new law.
"This government believes that New Zealanders should not be outbid by wealthier foreign buyers," said Trade and Economic Development Minister David Parker. "Whether it's a beautiful lakeside or ocean-front estate, or a modest suburban house, this law ensures that the market for our homes is set in New Zealand, not on the international market."
In the past two years since the law was passed, only about 0.5% of total home transfers in the country were to people without NZ citizenship or resident visas, down from 2.6% in 2018 and 2.4% in 2017, according to Statistics New Zealand. In fact in the first three quarters of 2021, the share of non-resident buyers to total sales dropped further to less than 0.4%.
Before the ban, in central Auckland and the southern scenic hot spot of Queenstown, foreigners accounted for about 22% and 5% of total sales, respectively.
"Is the ban wise or useful? We think it's neither," said Dave Platter of Chinese real estate portal Juwai.com. "Foreign buying…tends to be focused on new development, making clear again that foreign investment leads to the creation of new dwellings. That's vital in a market with a housing shortage, like Auckland."
In fact, the IMF urged the NZ government to reconsider the ban, as it is unlikely to improve housing affordability in the country. It also warned the move could discourage foreign investment needed to build new homes.
True enough, housing affordability continues to worsen in recent years and house prices are still surging, despite the ban and the Covid-19 pandemic.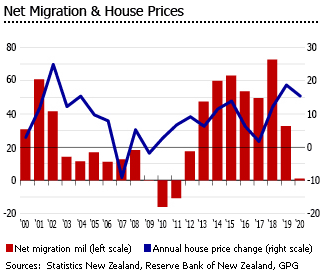 Surprisingly, house prices continued to surge in 2020 despite a sharp slowdown in net migration to 32,686 – a 55% decline from a record 72,650 net migration in 2019. In fact in the first three quarters of 2021, net migration totaled less than 1,000 people, mainly due to pandemic-related restrictions.
Recently, central bank's deputy governor Geoff Bascand noted that if the resurgence of coronavirus cases continues to keep NZ's borders closed, low net migration could cool the housing market and slow house price surges.
"If population growth stays very slow, the housing market could correct a bit faster," said Bascand.
NZ economy recovering; unemployment falling
The NZ economy contracted by a modest 2.1% during 2020, in contrast to its robust economic performance in the past decade, with growth of 2.2% in 2019, 3.2% in 2018, 3.8% in 2017, 4.2% in 2016, 4.1% in 2015 and 3.2% in 2014. After the Asian financial crisis New Zealand grew by an average of 3.8% per year from 1999 to 2007.
New Zealand's economy is believed to have grown by 5.1% in 2021, according to the International Monetary Fund (IMF).  The country's budget deficit only amounted to NZ$4.6 billion (US$3.15 billion) during the 2020-21 fiscal year (which ended last June 2021), compared to the government's projected shortfall of NZ$15.1 billion (US$10.33 billion). The better-than-expected results were due to higher revenues and lower expenditures as economic activity rebounded strongly and unemployment continued to fall.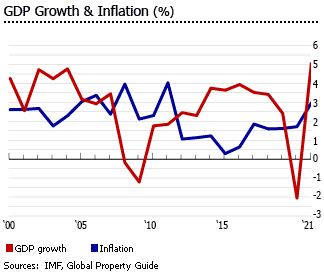 The budget deficit is now equivalent to about 1.3% of GDP, sharply down from the previous year's shortfall of about 7.3% of GDP. However New Zealand's general government gross debt surged to 43.6% of GDP in 2020, sharply up from the previous year's 32% and the highest level seen since 1994, according to the IMF.
Unemployment fell to an all-time low of 3.4% in Q3 2021, down from 5.3% a year earlier, according to the Statistics New Zealand. There were about 98,000 unemployed people in Q3 2021, sharply down from 151,000 in Q3 2020.
Inflation accelerated to 4.9% in Q3 2021, far higher than the previous year's 1.4% and the highest level since Q2 2011. The current inflation is now far above the RBNZ's target range of 1% to 3%.
NZ Prime Minister Jacinda Ardern won a second term in office in a landslide victory during the October 2020 general elections. Ardern campaigned on various social issues including housing affordability and homelessness, improved healthcare, and child poverty. She won praise internationally for her handling of two major crises – the 2019 Christchurch mosque shooting, and the 2020 Covid-19 outbreak.
While poll results show that PM Ardern remains far ahead of any of her opponents, her popularity has significantly dropped recently amidst changes in the country's pandemic fortunes. After more than a year of keeping the coronavirus out of the country, the government is now struggling to contain new strains of Covid-19.
Sources:
New Zealand - More data and information