New Zealand's great house price boom seems to be over, amidst rapidly rising mortgage interest rates coupled with the imposition of stricter lending restrictions. In November 2022, the nationwide median house price plunged by 12.4% to NZ$ 810,000 (US$510,557) compared to a year ago, in stark contrast to the whopping 23.8% y-o-y growth in November 2021, according to the Real Estate Institute of New Zealand (REINZ).

When adjusted for inflation, nationwide house prices declined 17.9% over the same period.

Auckland, which accounts for more than 30% of total property sales in New Zealand, saw the biggest y-o-y house price decline of 18.1% during the year to November 2022 – in sharp contrast to the 26.2% house price growth seen in the same period last year.

Huge house price falls were also registered in Wellington, where prices plunged by 17.4% y-o-y in November 2022, followed by Hawke's Bay (-17.2%), Manawatu/Wanganui (-8.2%), Waikato (-7.4%), and Otago (-6.2%).

Regions with modest to minimal house price declines included Nelson (-4.9%), Bay of Plenty (-3.7%), Gisborne (-3.6%), Canterbury (-3.2%), Northland (-2.7%), Taranaki (-1%), Marlborough (-0.7%), and Tasman (-0.1%).

Only the West Coast and Southland saw y-o-y house price growth of 20% and 10.5%, respectively.

"Rising interest rates, access to finance and concerns around the economy have created uncertainty in the market. Across Aotearoa New Zealand, market activity through spring has been subdued and median prices continue to soften as buyers remain hesitant," said Jen Baird, chief executive of REINZ.

Despite the huge house price decline, Auckland remains the most expensive housing market in New Zealand, with an average price of NZ$1,065,000 (US$671,288) in November 2022. It was followed by Tasman, with an average price of NZ$869,500 (US$547,948), Bay of Plenty, with an average price of NZ$857,000 (US$540,189), and Wellington, with an average price of NZ$795,000 (US$501,000).

The cheapest housing can be found in the West Coast and Southland, with average prices of NZ$420,000 (US$264,776) and NZ$475,000 (US$299,449), respectively.

New Zealand saw spectacular house price rises of about 114% (82.5% inflation-adjusted) from 2001 to 2007. Then after a pause, there were nine further years of substantial price rises of about 155% (114.6% inflation-adjusted) from 2012 to 2021, supported by strong demand and economic fundamentals. But house prices have plummeted in recent months, amidst falling property demand.

In November 2022, property sales in New Zealand were down by 36.1% to 5,525 units as compared to 8,644 units a year ago, according to REINZ. Sales counts in all regions declined by double-digit figures in November 2022 from a year earlier.


In Auckland, the number of properties sold was just 1,797 units in November 2022, sharply down by 43.5% from 3,182 units in the same period last year.
For New Zealand excluding Auckland, property sales fell by 31.7% y-o-y to 3,728 units from 5,462 units a year ago. The regions outside Auckland with the biggest annual decline included Gisborne (-45.2%), Manawatu/Whanganui (-39.1%), and Wellington (-36.2%).

"In late November, the Reserve Bank of New Zealand (RBNZ) raised the OCR by a record 75 basis points to 4.25%. The central bank also forecasts a peak of 5.5% next year and predicts a further rise in inflation. The immediate effect on the real estate market was more hesitancy," said Baird.

Nationwide, the number of days-on-market increased sharply to 41 days in November 2022 – 12 days more than the same month last year.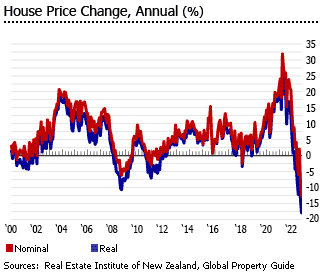 Over the same period, the total number of properties available for sale across the country was 28,449, up by 47.7% from a year ago. In fact, two-thirds of all regions saw an annual inventory increase of at least 50%.

The overall economy is showing signs of slowdown, with a projected economic growth of 2.3% this year, following a 5.6% expansion in the previous year, based on the recent forecast released by the International Monetary Fund (IMF).