The great housing boom in the U.S. continues unabated after eight years of strong house price growth. It has been buoyed by continued low interest rates and by the government's massive stimulus packages to cushion the impact of the pandemic. A limited supply of properties in the market has added to upward house price pressure.

The S&P/Case-Shiller seasonally-adjusted national home price index rose by an amazing 19.7% during the year to July 2021 (13.61% inflation-adjusted), a sharp acceleration from the previous year's 4.85% growth and the biggest y-o-y increase ever recorded. This is supported by figures released by the Federal Housing Finance Agency, which showed that its seasonally-adjusted purchase-only U.S. house price index rose by 19.17% y-o-y in July 2021 (13.11% inflation-adjusted), sharply up from the prior year's 6.92% growth and also the highest annual growth on record.

House prices continue to rise strongly in all of the country's 20 major cities, according to Standard and Poor's, with Phoenix posting the highest increase of 32.41% y-o-y in July 2021, followed by San Diego (27.79%), Seattle (25.5%), Tampa (24.41%), Dallas (23.66%), Las Vegas (22.45%), Miami (22.23%), San Francisco (21.98%), Denver (21.31%), and Charlotte (20.89%). Strong house price rises were also seen in Portland (19.54%), Los Angeles (19.12%), Boston (18.73%), Atlanta (18.48%), New York (17.86%), Cleveland (16.23%), Detroit (16.12%), Washington (15.84%), Minneapolis (14.56%), and Chicago (13.32%).

The Mountain region had the highest house price increases of 25.57% y-o-y in July 2021, followed by Pacific (22%), New England (20.84%), and South Atlantic (20.16%), according to FHFA. Strong house price rises were also registered in the East South Central (18.29%), Middle Atlantic (17.99%), West South Central (17.68%), East North Central (16.2%), and West North Central (15.55%).

The median sales price of new homes sold soared 20.1% y-o-y in August 2021, to US$390,900, according to the U.S. Census Bureau. For existing homes, the median price was up by 14.9% to US$356,700 in August 2021 from a year earlier, according to the National Association of Realtors (NAR).

However limited supply is now restricting sales. Existing home sales fell slightly by 1.5% y-o-y to a seasonally adjusted annual rate of 5.88 million units in August 2021, according to figures from NAR. Likewise, new homes sold fell by 24.3% y-o-y to a seasonally-adjusted annual rate of 740,000 units in August 2021, according to the U.S. Census Bureau.

"Home price appreciation continues to escalate as millennials entering their prime home buying years, renters looking to escape skyrocketing rents and deep pocketed investors drive demand," said Frank Martell, President and CEO of CoreLogic. "On the supply side, it is also the result of chronic under building, especially of affordable stock. This lack of supply is unlikely to be resolved over the next 5 to 10 years without more aggressive incentives for builders to add new units."

The total number of existing homes available for sale fell by 13.4% y-o-y to 1.29 million units in August 2021, according to NAR. Existing homes inventory was only at 2.6 months supply, down from 3 months a year earlier and from 4 months supply two years ago.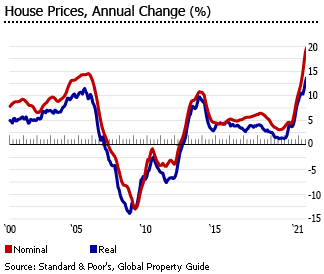 U.S. homebuilder sentiment stood at 76 in September 2021, up slightly from 75 in the previous month, according to the National Association of Home Builders (NAHB)/Wells Fargo Housing Market Index (HMI). A reading of 50 is the midpoint between positive and negative. Sentiment stood at 83 in September 2020 and reached a record high of 90 in November. It then dropped dramatically in the following months, as lumber prices surged and supply chain disruptions hampered construction activity.

The U.S. Fed recently upgraded its 2021 economic growth forecast to 7%, from its earlier estimate of a 6.5% growth, amidst accelerated vaccine distribution and new government stimulus efforts. Last year, the U.S. economy contracted by 3.5% due to the COVID-19 pandemic, the biggest decline since the demobilization from World War II in 1946. The unemployment rate fell to 5.2% in August 2021, sharply down from 8.4% a year earlier and from a peak of 14.8% in April 2020, according to the U.S. Bureau of Labor Statistics. But it remains higher than the average unemployment rate of 4.4% from 2015 to 2019.