After almost a decade-long house price boom, the U.S. housing market is now losing steam, amidst falling demand and weakening economy.

The S&P/Case-Shiller seasonally-adjusted national home price index rose by a modest 3.8% y-o-y in January 2023, a sharp slowdown from the prior year's 19.28% increase and the lowest growth seen since December 2019. When adjusted for inflation, the S&P/Case-Shiller index actually dropped 2.45% over the same period.

This is supported by figures released by the Federal Housing Finance Agency (FHFA), which showed that its seasonally-adjusted purchase-only U.S. house price index increased by 5.27% (and actually dropped 1.07% in real terms) in January 2023 as compared to a year earlier – a sharp deceleration from a y-o-y increase of 18.39% in January 2022.

House prices rose in 16 of the country's 20 major cities, but the rate of growth has considerably decelerated. Miami posted the highest y-o-y increase of 13.84% in January 2023, followed by Tampa (10.52%), Atlanta (8.37%), Charlotte (8.07%), and New York (5.19%). Moderate to minimal house price rises were registered in Dallas (4.95%), Cleveland (4.84%), Chicago (4.82%), Boston (4.25%), Detroit (3.23%), Washington (2.39%), Minneapolis (1.77%), Denver (1.04%), Los Angeles (0.86%), Las Vegas (0.38%), and Phoenix (0.01%).

In contrast, San Francisco saw the biggest annual decline of 7.63% y-o-y in January 2023, followed by Seattle (-5.11%), San Diego (-1.36%), and Portland (-0.52%).

The South Atlantic region had the highest house price increases of 9.56% y-o-y in January 2023, followed by New England (7.06%), East South Central (6.93%), and Middle Atlantic (6.03%), according to FHFA. House prices also increased in West South Central (5.92%), East North Central (5.55%), West North Central (5.34%), and Mountain region (1.4%). Only the Pacific region recorded a house price decline of 1.4% over the same period.

The median sales price of new homes sold rose by 2.5% y-o-y in February 2023, to US$438,200, based on figures from the U.S. Census Bureau. For existing homes, the median price was down slightly by 0.2% from a year earlier, to US$363,000 in February 2023, according to the National Association of Realtors (NAR).

Demand is now falling, amidst rapidly rising interest rates. For full year of 2022, existing home sales – completed transactions that include single-family homes, townhomes, condominiums and coops –  totaled 5.03 million, down by 17.8% from the previous year, according to NAR. Likewise, sales of new single-family houses fell by 16.4% y-o-y to 644,000 units in 2022, according to the U.S. Census Bureau. Demand for both new and existing homes continues to decline in early-2023.

"While 2023 kicked off on a more optimistic note for the U.S. housing market, recent mortgage rate volatility highlights how much uncertainty remains. Nevertheless, the continued shortage of for-sale homes is likely to keep price declines modest, which are projected to top out at 3% peak to trough," said Selma Hepp, the chief economist of CoreLogic.

"Home price depreciation and strong income growth are expected to boost affordability, which is particularly important for first-time buyers. This group has accounted for a higher share of mortgage applications since last summer, as first-time buyers don't need to surrender an extremely low mortgage rate like current homeowners," Hepp added.

The U.S. homebuilder sentiment stood at 44 in March 2023, up by 2 points from the previous month but still far below prior year's 79, amidst persistently high inflation and rising interest rates, and according to the National Association of Home Builders (NAHB)/Wells Fargo Housing Market Index (HMI). A reading of 50 is the midpoint between positive and negative sentiment. Housing affordability has deteriorated sharply last year with mortgage rates reaching their highest level since 2009 and asking prices continue to rise. The persistent increase in the prices of building materials is aggravating the situation.

The total number of existing homes available for sale stood at 980,000 units in February 2023, unchanged from the previous month but up by 15.3% from a year ago, according to NAR. Existing homes inventory was only at 2.6 months supply in February 2023, up from just 1.7 months in the same period last year.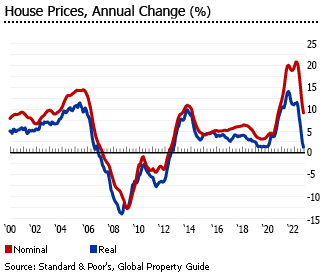 The overall economy continues to slow. During 2022, the U.S. economy expanded by 2.1% from a year earlier, a slowdown from an annual growth of 5.9% in 2021, primarily driven by increases in consumer spending, exports, private inventory investment and nonresidential fixed investment, according to figures released by the Bureau of Economic Analysis (BEA).

The world's biggest economy will slow further in the medium term, with a projected real GDP growth rate of 0.7% in 2023 and 0.9% in 2024, amidst persistent inflation and rising interest rates, based on forecast released by The Conference Board. This is in line with the World Bank's 2023 growth forecast for the U.S. economy of just 0.5%.