House prices in Canada's eleven major cities rose by just 1.95% during 2019 and actually fell by 0.32% when adjusted for inflation, based on figures from Teranet – National Bank of Canada.

This is a clear slowdown from y-o-y rises of 2.51% in 2018, 8.92% in 2017, and 12.25% in 2016, and the weakest performance since 2008 when house prices declined by 0.79%. In the last quarter of 2019, house prices increased by a minuscule 0.32% (0.14% inflation-adjusted).

However prices are expected to take off soon. Construction has fallen, inventory is low, yet demand is rapidly rising, partly in response to strong immigration.

So far this is not visible (figures from theCanadian Real Estate Association):

Apartments posted average gains of 3.35% during 2019 (1.05% inflation-adjusted).
One-storeysingle family home prices rose on average by 3.32% during 2019 (0.97% inflation-adjusted).
Two-storeysingle family home prices increased 3.09% y-o-y (0.79% inflation-adjusted).
Townhouse prices increased by 2.55%, on average, over the same period (0.27% inflation-adjusted).

Of Canada's eleven major cities, Ottawa's house prices rose most during 2019, with a 7.38% average price rise, followed by Halifax (7.35%), Montreal (6.37%), Hamilton (5.93%), and Toronto (4.48%). Minimal house price increases were seen in Quebec (1.49%), Victoria (1.13%), and Winnipeg (1.02%).

There were house price falls in Vancouver (-4.05%), Edmonton (-1.49%), and Calgary (-0.94%).

Why house prices are expected to rise soon
The central bank has taken repeated action to reduce speculative buying – raising mortgage downpayments and reducing amortization periods. This resulted in a sharp slowdown over the past two years.

However there is now rising demand, falling inventory, and declines in construction. During 2019, dwelling starts and completions fell by 2% and 6.5%, respectively, according to Canada Mortgage and Housing Corporation (CMHC). Listings available for purchase are now running at a 12-year low, based on figures from CREA.

In December 2019, sales activity soared 22.7% from a year earlier, a sharp turnaround from a y-o-y decline of 19% in December 2018, according to CREA's Statistical Report. Transactions surpassed the previous year's levels across most of Canada, including all of the largest urban markets. For the whole year of 2019, total sales were estimated at 486,800 units, up 6.2% from a year earlier.

The national average home price stood at CA$ 500,200 (US$376,215) in 2019, up by a modest 2.3% from a year earlier, according to CREA. British Columbia and Ontario had the most expensive housing markets in the country, with average prices of CA$ 699,300 (US$525,965) and CA$ 606,400 (US$ 456,092), respectively.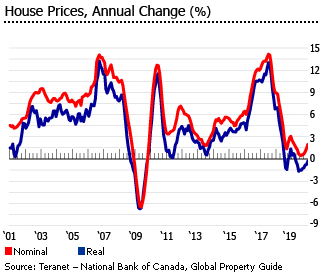 The Canadian economy was estimated to have expanded by just around 1.7% in 2019, a deceleration from annual growth of 1.9% in 2018 and 3% in 2017, mainly due to a beleaguered oil and gas industry, coupled with the US-China trade tensions. Bank of Canada expects that the country's economic growth will remain weak this year, with a projected GDP growth of 1.6%, before partially rebounding to 2% in 2021.

There are virtually no restrictions on foreigners buying properties in Canada.