After slowing in the past two years, Canada's housing market has bounced back strongly last year, despite the COVID-19 pandemic.

House prices in Canada's eleven major cities rose by 9.36% during 2020 (8.33% when adjusted for inflation), the highest growth since 2016, based on figures from Teranet – National Bank of Canada. This is the 12th straight year of house price growth, following y-o-y rises of 1.95% in 2019, 2.51% in 2018, 8.92% in 2017, and 12.25% in 2016.

In the last quarter of 2020, house prices increased 2.81% (2.21% inflation-adjusted).

By property type (figures from the Canadian Real Estate Association):

One-storeysingle family home prices rose on average by 15.9% during 2020 (14.8% inflation-adjusted).
Two-storeysingle family home prices increased 16.5% y-o-y (15.4% inflation-adjusted).
Townhouse prices increased 10.9%, on average, over the same period (9.9% inflation-adjusted).
Apartments posted average gains of 4.2% during 2020 (3.2% inflation-adjusted).

Ten of Canada's eleven major cities saw rising house prices in 2020 from a year earlier. Ottawa recorded the biggest house price increase during 2020 at 19.69%, followed by Halifax (16.32%), Montreal (15.24%), Hamilton (15.06%), Toronto (10.27%), Victoria (7.56%), and Vancouver (7.06%). More modest house price rises were seen in Winnipeg (5.73%), Quebec (4.51%), and Edmonton (1.26%).

Only Calgary registered a house price fall of 1.47% during 2020.

Demand continues to rise strongly. In December 2020, actual sales soared 47.2% from a year earlier – the largest year-on-year increase in 11 years, according to CREA's Statistical Report for 2020. For the whole year of 2020, total sales reached a new record high of 551,392 units – up 12.6% from a year earlier and about 2.3% higher as compared to the previous peak set in 2016.

Residential construction activity has also risen last year. Dwelling starts rose by 4.4% to 217,802 units in 2020 from a year earlier, following declines of 2% in 2019 and 3.1% in 2018, according to Canada Mortgage and Housing Corporation (CMHC). Likewise, dwelling completions increased 6.1% y-o-y to 198,636 units last year. However due to the stronger increase in sales as compared to new supply, the national sales-to-new listings ratio tightened to 77.4%, sharply up from the long-term average of 54.2% and among the highest on record.

"Recent national sales trends have improved more than anticipated over the second half of 2020. New listings in most of the country have also recovered," said the Canadian Real Estate Association (CREA).

"However, while sales activity rebounded to record-high levels, new listings only recovered to about their five-year average in most markets. The relative strength of demand for homes compared with supply has meant sales activity has been eroding active inventory, which was already scarce in many markets pre-pandemic. That said, this has been a trend since 2015," CREA noted.

As a result, the government is now contemplating on the introduction of a new tax on foreign homebuyers to prevent speculative purchases, as well as address the worsening housing affordability in the country. The central bank has taken several rounds of market-cooling measures in recent years, including raising mortgage downpayments and reducing amortization periods. This resulted in a sharp slowdown in house price rises in 2018 and 2019. The housing market gained its momentum again last year as the impact of these measures waned.

The national average home price stood at CA$ 568,758 (US$446,947) in 2020, up 13.1% from a year earlier, according to CREA. British Columbia and Ontario had the most expensive housing markets in the country, with average prices of CA$ 778,012 (US$ 611,385) and CA$ 708,377 (US$ 556,664), respectively.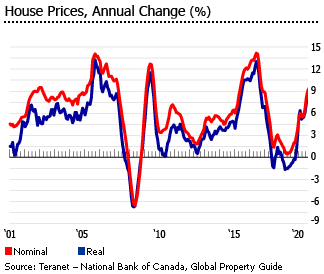 The Canadian economy was estimated to have contracted by 7.1% during 2020, in contrast to a 1.7% growth in 2019 and the first decline since 2009, according to the International Monetary Fund (IMF). The Bank of Canada (BoC) is more optimistic, projecting a contraction of 5.5% last year, before bouncing back in the next two years with an average annual growth of 4.5%.

There are virtually no restrictions on foreigners buying properties in Canada.