Tunisia's housing market is slowing sharply, despite booming tourism and improving economic conditions. This is largely due to rising mortgage interest rates.  Residential property prices are now falling, in real terms. Demand is down and construction activity is weak.

During 2018, the nationwide residential property price index rose by a miniscule 0.47%, a sharp slowdown from y-o-y rises of 10.23% in 2017, 14.8% in 2016, 5.99% in 2015, and 10.28% in 2014, according to the National Institute of Statistics. In fact, it was the slowest annual growth since the statistics agency started collecting data in 2000. When adjusted for inflation, prices actually dropped 6.5% in 2018 from a year earlier.

While apartment prices are now falling, house prices continue to strengthen. During 2018, apartment prices fell by 4.18% (-10.8% inflation-adjusted), in start contrast to a strong growth of 9.77% in 2017. On the other hand, house prices continue to rise strongly by 8.89% (1.32% inflation-adjusted), up from an increase of 6.18% in 2017.

There were also wide regional variations. The Southern region registered the biggest annual increase in residential property prices of 10.13% during 2018, followed by Midwest (9.02%), Northwest (5.58%) and Mid-eastern region. In contrast, Grand Tunis and Northeast saw house price declines of 0.47% and 3.44%, respectively.

Demand is falling rapidly. In the fourth quarter of 2018, the total volume of real estate transactions fell by 13.3% from a year earlier, according to the National Institute of Statistics. Sales for houses plunged 37.2% while apartment sales also dropped 6.4%.

While the housing market is projected to remain weak during the remainder of the year, property demand is expected to eventually increase in the coming years, driven by improving tourism and the government plans to provide affordable housing through its various programs, especially the newly launched "Programme Premier Logement".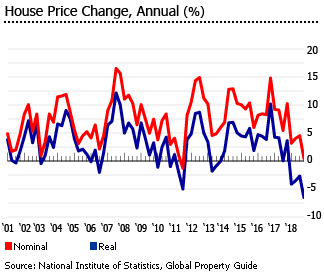 Tunisia's economy grew by 2.5% in 2018, up from expansions of 2% in 2017, 1.1% in 2016 and 1.2% in 2015, according to the National Institute of Statistics. The economy is expected to improve further, with projected GDP growth of 2.7% this year and 3.2% in 2020, based on estimates from the International Monetary Fund (IMF).

A foreigner can buy a property in Tunisia, a villa or an apartment, but cannot own agricultural land. In fact, agricultural land cannot be sold to foreigners, whatever the reason of the purchase.