UK house prices have been rising strongly, but uncertainty persists
Lalaine C. Delmendo | March 30, 2021
Despite the pandemic, house prices in the UK have been rising strongly. The average house price in the UK increased 6.4% to £229,819 (US$318,115) during 2020, according to Nationwide - a sharp improvement from a minuscule growth of 0.8% in 2019. In fact, it was the country's strongest performance since 2014. When adjusted for inflation, house prices rose by 5.6% in 2020 from a year earlier.
London saw a sharp turnaround, with house prices rising by 6.2% (5.3% inflation-adjusted) during 2020 to an average of £486,562 (US$673,499) – in contrast to a y-o-y fall of 1.8% in 2019. London's prices are now about 60% above 2007 peak levels.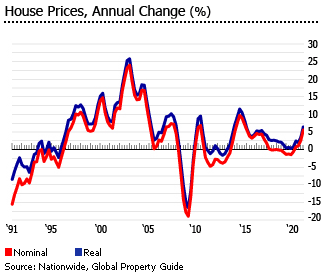 All other regions saw house prices rises during 2020.
East Midlands saw the biggest growth, with house prices rising by 8.6% during 2020 (7.7% inflation-adjusted). It was followed by Outer South East and North West, both registering a house price increase of 8%, Yorkshire and Humberside (7.7%), West Midlands (7.5%), South West (6.6%), Wales (6.6%), North (6.5%), and East Anglia (6.4%).
More modest price increases were seen in Northern Island (5.9%), Outer Metropolitan Area (5.6%), and Scotland (3.2%).
Yet, demand is actually falling. During 2020, residential property transactions in the UK fell by about 11%, to around 1,047,490, following a 1.2% decline in the prior year, according to HM Revenue & Customs. In England, transactions dropped 10% to 989,800 in 2020 from a year earlier.
One of the main reasons of the strong growth in house prices despite weak demand is the chronic housing shortage in the country, aggravated by a further decline in residential construction activity last year due to pandemic-related restrictions. During the year to Q3 2020, dwelling starts plummeted by 25% to 120,100 units, according to the Ministry of Housing, Communities & Local Government. Completions also fell by 18% to 145,430 dwelling units over the same period.
Government measures, such as the stamp duty holiday and extensions of the Help-to-Buy scheme, helped boost the housing market last year. However the outlook this year is very uncertain due to the uncertainty brought by the surge in coronavirus infections immediately after Christmas, as well as the post-Brexit deal.
The most bullish forecast is from the property listings website Rightmove, which projects a house price growth of 4% in 2021.
Savills expect the UK housing market to be flat this year, before regaining momentum in 2022.
Other forecasters, including Zoopla, Chestertons, and Knight Frank, suggest that house prices will rise slightly by 1% to 1.5% in 2021.
Halifax, on the other hand, projects a house price fall between 2% and 5% this year.
EY Item Club, a UK-based economic forecasting firm, also predicts a house price fall of as much as 5% in 2021.
The Office for Budget Responsibility, the Treasury's independent forecaster, is even more pessimistic, predicting a house price decline of as much as 8% this year.
The Royal Institution of Chartered Surveyors (RICS) said that it could not with any confidence issue a house price forecast. "If 2020 has taught us anything, it's 'don't make predictions!' The only certainty we have going into 2021 is more uncertainty," said Christian Cubitt of RICS.
The UK economy is struggling, with real GDP contracting by 9.9% in 2020 from a year earlier, the biggest annual decline on record, according to the Office for National Statistics. With the resurgence of infections, the International Monetary Fund (IMF) recently downgraded its 2021 economic growth forecast for the UK to 4.5%, down from its initial projection of a 5.9% growth.
In February 2021, the Bank of England (BoE) kept its key rate unchanged at its current record-low level of 0.1%, following two consecutive rate cuts in March 2020 totalling to 65 basis points, in an effort to boost the struggling economy.
Housing boom and bust in UK
UK property prices saw huge rises from 1996 to 2007:
Prices in London rose 289.1% (228.1% in real terms).
Prices in Northern Ireland rose by 393.2% from Q3 1996 to Q3 2007 (315.9% in real terms), the highest rise among UK regions.
Price increases in other regions ranged from 187.9% (142.8% in real terms) for Scotland, to 245.5% (191.3% real) for the Outer Metropolitan Area.
The national index rose 240.9% (187.5% in real terms) over the same period (all figures from Nationwide).
In early 2007 interest rates were raised, and lending conditions tightened. House price falls accelerated in H2-2008, due to the global financial meltdown. The biggest falls occurred in Northern Ireland where house prices fell by 39.2% (-41.9% real). London house prices fell by 19.8% (-23.3% in real terms).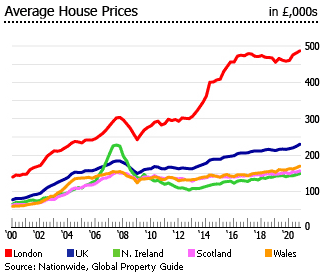 The housing market started to recover in 2013, with nationwide house prices rising by 31.7% (19.2% real) from 2013 to 2020. London had the biggest price growth of 41% (27.5% real) over the past seven years.
The UK's and particularly London's house price rises have, over the past decade, been fuelled by four factors:
Strong immigration and population growth, especially in London.
Interest rates at record lows, with a large expansion of the money supply through "quantitative easing".
Strong growth of the City of London.
Construction activity remains weak (though this is less true of London).
A couple of these "drivers" seem on the verge of weakening. London's population is forecast to shrink in 2021, as a result of Brexit, job losses, and home-working.  Brexit has also hit the City of London. The wider impact of Brexit upon the economy also seems likely to be more severe than initially imagined by government optimists.
Price gap between London and rest of UK narrowing
The gap between London and the rest of UK is now declining, amidst continued house price falls in the capital city. In Q4 2020, the average London home is worth about 129% more than the average home elsewhere in the UK – a huge gap, but the lowest since Q1 2014. The average difference in price is £273,844 (US$ 379,055).
The gap between London prices and the rest of the UK peaked in Q1 2017, when home prices in the capital were 154% higher than the rest of the country, with an average price difference of £290,140 (US$ 401,612).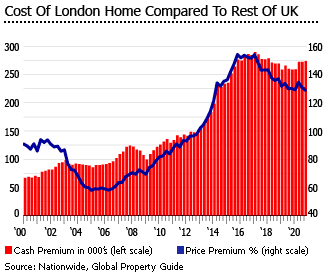 Despite falling since Q2 2017, the average house price in London remains 60% higher than at the peak in 2007. All other regions, except Northern Ireland, have higher property values in 2020 than their 2007 peak prices:
Outer Metropolitan London is 45.7% up on 2007 peak.
Outer South East is 37.6% up on 2007.
East Anglia is up by 32.1%.
South West is up by 29.4%.
East Midlands is up by 28.1%.
West Midlands is up by 25.7%.
North West is up by 11.2%.
Yorkshire and Humberside is up by 10.2%
Wales is up by 9.6%.
Scotland is up by 2.8%.
North is up by 2.2%
Northern Ireland had the weakest performance, with prices still 34.5% lower than at the 2007 peak.
Demand falling
During 2020, residential property transactions in the UK fell by about 11%, to around 1,047,490, following a 1.2% decline in the prior year, according to HM Revenue & Customs.
In England, residential property transactions fell by 10% to 989,800 during 2020
In Scotland, transactions were down 13.6% to 90,110
In Wales, transactions fell sharply by 20.9% to 43,710
In Northern Ireland, transactions fell by 16.5% to 22,930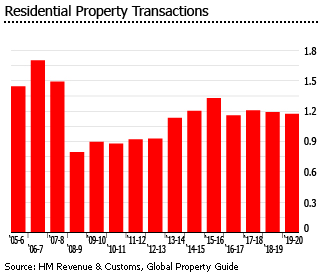 Residential construction plummets; housing shortage worsens
The UK government's COVID-19 lockdown measures have negatively affected residential construction activity last year.
But even before the pandemic, the UK's per capita housebuilding rate was already low by international standards, and failed to respond sufficiently to rising house prices during the boom, due to planning constraints.
For instance in 2019, there were about 178,800 home completions in the UK. However at least 250,000 new homes must be built annually to match population growth, to replace the ageing housing stock and the accumulated backlog, says the Town and Country Planning Association (TCPA).
Homebuilding in the UK stagnated at an average of 186,000 new units annually between 1991 and 2003, and from 2004 onwards barely exceeded 200,000 annually (222,940 in 2007).
"Every government arrives in office pledging to boost the number of new homes being built but the facts speak for themselves: in the 30 years from 1958 to 1988 around 7.5m homes were built in England. In the subsequent three decades the number more than halved to around 3.1m," said Larry Elliot of The Guardian. "The supply of homes is affected by tough green belt regulations, local planning rules and by the lack of a land value tax to deter hoarding."
A reform of the planning system, relying on local initiatives, is under way to speed the system up and expand the housing supply. A housing white paper published in August 2020 details the government's plans for upcoming changes to the planning system, including automatic approval for designated areas, priority for high-quality developments, replacing Section 106 by infrastructure levy, and discounts for developers building affordable homes.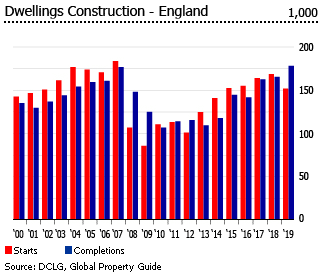 "The whole thing is beginning to crumble and the time has come to do what too many have for too long lacked the courage to do – tear it down and start again," said Prime Minister Boris Johnson. "That is what this paper proposes. Radical reform unlike anything we have seen since the second world war."
"Not more fiddling around the edges, not simply painting over the damp patches, but levelling the foundations and building, from the ground up, a whole new planning system for England," PM Johnson added.
Raising housing supply and other reforms
Before the proposed reform to the planning system, the government had already undertaken several measures in the past to address supply shortages.  At the end of last year, £7.1 billion was allocated over 4 years to a National Home Building Fund to build more affordable, and sustainable homes across England.  In addition the Tenant Fees Act 2019 has banned letting agents' fees to tenants.
In 2014 a Starter Homes policy was announced to address the affordable housing crisis. The Starter Homes policy aimed at households with combined incomes below £80,000 (US$110,736), or £90,000 (US$124,578) in London. Starter homes must cost a minimum of 20% less than the market value, and maximum price after the discount will be £450,000 (US$ 622,890) in London and £250,000 (US$ 346,050) elsewhere. Buyers of starter homes will need a mortgage. If the property is resold within 15 years, some or all of the discount must be repaid.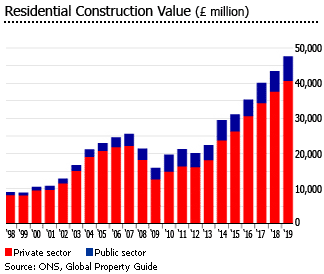 But a review conducted by the National Audit Office in November 2019 showed that building had not yet commenced, despite £173 million being spent to buy land for affordable properties, partly because enabling legislation was never passed. As such, the policy was formally scrapped last year and now being replaced by a new scheme aimed to deliver only 6,600 homes – and only about 36% of these homes will meet the current definition of affordable housing, according to Homes England.
Key rate kept at record low of 0.1%; mortgage rates rising
The Bank of England (BoE) kept its key rate unchanged at its current record-low level of 0.1% in February 2021, following two consecutive rate cuts in March 2020 totalling to 65 basis points, in an effort to buoy economic activity during the onset of the global pandemic. The central bank also maintained its target stock of asset purchases at £895 billion (US$1.2 trillion).
The Bank of England also asked banks to prepare for negative interest rates, opening up a pathway for the central bank to use this as an additional monetary policy tool when necessary. "While the Committee was clear that it did not wish to send any signal that it intended to set a negative Bank Rate at some point in the future, on balance, it concluded overall that it would be appropriate to start the preparations to provide the capability to do so if necessary in the future," said the Bank of England.
Despite this, mortgage rates are rising, except for standard variable rate mortgages. In January 2021, average interest rates for types of mortgages with 75% loan to value (LTV) were:
2-year fixed rate mortgages (FRMs): 1.75%, up from 1.41% a year ago
3-year FRMs: 2.08%, up from 1.57% a year ago
5-year FRMs: 1.93%, up from 1.68% a year earlier
10-year FRMs: 2.53%, slightly up from 2.42% a year earlier
Standard variable rate mortgages: 3.62%, down from 4.27% a year ago
Mortgage market softens
UK's mortgage market is softening, as buyers become more cautious amidst economic and political uncertainties. During 2020, the total number of approvals for lending secured on dwellings fell by 9.4% to 1,404,177 compared to a year earlier.
During 2020:
House purchase loan approvals rose by 3.7% to 818,500, according to Bank of England. It was the largest number of approvals since 2007.
Remortgage approvals fell sharply by 23.2% to 451,415 during 2020.
Other secured lending approvals fell by 22.3% y-o-y to 134,225.
Despite this, the total value of outstanding residential mortgage loans increased 2.9% to £1.53 trillion (US$2.11 trillion) in Q3 2020 from a year earlier, according to the Bank of England.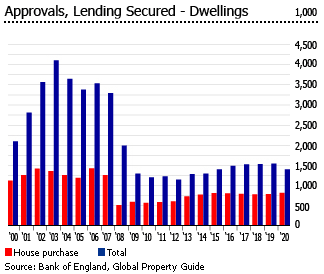 The top five lenders accounted for more than 63% of outstanding mortgage loans last year (Lloyds Banking Group, 17.2%; Nationwide BS, 12.6%; NatWest Group, 12.5%; Santander UK, 11.5%; and Barclays, 9.3%), according to UK Finance.
Arrears and repossessions remain manageable
Despite the financial strain to borrowers caused by the pandemic, arrears and repossessions in 2020 remained near at its record low levels, thanks to the various help and forbearance offered by lenders to struggling borrowers.
In Q4 2020, there were 77,410 homeowner mortgages in arrears of 2.5% or more of the outstanding balance, up 9.2% from a year earlier, according to UK Finance. Yet it remains 0.3% lower from Q4 2018 and 4.8% lower as compared to Q4 2017.
Over the same period:
Arrears of 2.5% to 5% of balance: down 3.3% y-o-y to 28,400
Arrears of 5% to 7.5% of balance: up 9.7% y-o-y to 13,870
Arrears of 7.5% to 10% of balance: up 19.8% y-o-y to 8,480
Arrears over 10% of balance: up 22.5% y-o-y to 26,660
"Since March 2020, mortgage lenders have been offering payment deferrals to customers and buy-to-let landlords where Covid-19 has impacted their ability to meet their monthly mortgage payments," said UK Finance. "As a direct result of payment deferrals and other tailored forbearance, mortgage arrears levels in 2020 remain near to the historically low levels that we have seen in the last three years."
Stamp duty holiday temporarily buoys housing market
In July 2020, Chancellor Rishi Sunak announced a temporary stamp duty holiday in England and Northern Ireland that cut the rate of stamp duty to zero percent for all residential property purchases worth up to £500,000 (US$692,100) until March 2021.
This could save first-time homebuyers as much as £15,000 (US$20,763), if they are buying a property of £500,000 (US$692,100) or more. Based on BBC's sample calculation, the temporary stamp duty rates in England and ern Ireland were as follows:
STAMP DUTIES

Property Value
Old Rates
New Rates
£100,000
0
0
£200,000
£1,500
0
£300,000
£5,000
0
£400,000
£10,000
0
£500,000
£15,000
0
£600,000
£20,000
£5,000
£700,000
£25,000
£10,000
£800,000
£30,000
£15,000
£900,000
£35,000
£20,000
£1,000,000
£43,750
£28,750
£1,100,000
£53,750
£38,750
£1,200,000
£63,750
£48,750
£1,300,000
£73,750
£58,750
£1,400,000
£83,750
£68,750
Sources: HM Revenue and Customs, BBC
Landlords and second-home buyers were also eligible for the tax cut, but still had to pay the additional 3% of stamp duty they were charged under the previous rules.
Other relief measures have also been introduced in Scotland and Wales.
In Scotland, the government has also recently raised the threshold at which the land and buildings transaction tax starts to be paid to £250,000 until the end of March 2021. Landlords pay an extra 4% tax on top of standard rates.
The normal rates on Land and Buildings Transaction Tax in Scotland is as follows:
LAND & BUILDINGS TRANSACTION TAX

Property Value
Tax Rates
£145,001 - £250,000
2%
£250,001 - £325,000
5%
£325,001 - £750,000
10%
More than £750,000
12%
In Wales, the government also introduced a temporary relief on the first tier. This means that first-time buyers of residential properties worth less than £250,000 will not pay any tax. The measure is also effective until end of March 2021.
Welsh landlords pay an additional 4% tax on top of standard rates.
The normal rates on Land Transaction Tax in Wales is as follows:
LAND TRANSACTION TAX

Property Value
Tax Rates
£180,001 - £250,000
3.5%
£250,001 - £400,000
5%
£400,001 - £750,000
7.5%
£750,001 - £1.5 million
10%
More than £1.5 million
12%
More help underway for UK's 250,000 mortgage prisoners
New rules to allow lenders to use different affordability assessment for "mortgage prisoners" were introduced in October 2019 by the Financial Conduct Authority (FCA). "Mortgage prisoners" are borrowers unable to qualify for a new deal with a different provider because they do not meet certain criteria, leaving them trapped with providers that charge high interest rates.
Inactive lenders and unregulated firms, which are not authorized for mortgage lending, are also required to inform borrowers of the rule changes and suggest them that they could get a better deal by remortgaging to another lender.
There are currently about 250,000 mortgage prisoners in the UK. Many of them have paid from £20,000 (US$ 27,684) to over £150,000 (US$207,630) more than customers of active lenders in the past 12 years.
Yet despite the changes, the FCA predicts that only 14,000 mortgage prisoners may benefit using the new criteria.
To extend more help to mortgage prisoners, the All-Party Parliamentary Group (APPG) on Mortgage Prisoners announced in January 2021 that MPs are now reviewing in Parliament three amendments to the Financial Services Bill. Under the proposed amendments, mortgage prisoners held in inactive closed books such as Heliodor, Landmark, and NRAM, would benefit from a cap to Standard Variable Rates (SVR) on closed book cases.
Other changes include:
Vulture funds like Cerberus will be moved under the supervision of FCA
An informed consent from mortgage customers is required before their mortgage is transferred to an inactive or unregulated new lender
Help-to-Buy scheme extended for third time; new version introduced
Recently, the government's Help-to-Buy scheme was extended again for the third time to give thousands of first-time buyers extra time to secure their homes. The new deadline is now set to May 31, 2021.
Originally, homebuyers were given until December 31, 2020 to complete on homes and benefit from an interest-free loan under the scheme. It was pushed back to February 28, then to March 31, and finally to May 31, to allow for delays caused by the pandemic.
Through the Help-to-Buy Equity Loan, the government loans homebuyers up to 20% (or 40% in London) of the full purchase price of a new-build property, provided that borrowers contribute 5% of the property price as deposit, and secure a mortgage for the remaining 75% of a property. The homebuyer is not allowed to sub-let the property and it must also be his/her only property.
Since its inception in 2013, almost 280,000 homes have been bought using it.
Recently, the government has announced a new scheme with tighter lending criteria to run from April 2021 until March 2023. Unlike the current scheme, the new version will be restricted to first-time buyers, which means that a buyer cannot have owned a home in the UK or abroad before. Moreover, the new scheme will include regional property price caps to ensure that it helps those people who need it most. The cap is 1.5 times the average first-time buyer price in the area.
Property price cap per region under the new scheme:
In London, the maximum property price which qualifies for a loan is £600,000 (US$ 830,519)
In Yorkshire, the price limit is £228,100 (US$ 315,736)
In the North-East, the price limit is £186,100 (US$ 257,599)
In the North-West, the cap is £224,400 (US$ 310,614)
In East Midlands, the price limit is £261,900 (US$ 362,522)
In West Midlands, the price limit is £255,600 (US$ 353,801)
In the South-West, the price limit is £349,000 (US$ 483,085)
In the South-East, the price limit is £437,600 (US$ 605,725)
The loan is interest-free for the first five years. In the sixth year, buyers will be charged an interest of 1.75%. The interest rate will then increase annually based on the consumer price index (CPI) plus 2%. The equity loan must be repaid when the mortgage is repaid, when the home is sold, or after 25 years.
Homes England, the government body that administers the new scheme, estimates that a total of £25 billion (US$ 34.8 billion) will be loaned by 2023.
London rental yields are low
The average rental yields in the UK currently stand at 3.53%, according to SevenCapital. This is supported by property comparison site Rentround.com, which showed that nationwide rental yields averaged 3.6%.
Yet London has the lowest rental yields in the UK, at just 2.83%. On the other hand, the North West, Yorkshire & the Humber, Scotland, and Wales have the highest yields, ranging from 4.3% to 4.7%.
Rental yields in the South East, South West, West Midlands, East Midlands, East, North East and North West range from 3.3% to 3.9%.
Rental market gathers pace; rent differential across London narrowing
Rents in Great Britain rose by 4.3% in January 2021 from a year earlier, following y-o-y rises of 4.1% in December, 3% in November, and 1.4% in October, according to Hamptons International.
The strong growth in rents was mainly driven by declining supply of available rental properties in the country – falling by 14% y-o-y in January 2021. With the exception of London, all regions saw double-digit y-o-y declines in the number of rental homes in January.
South East led the rental market growth, with rents rising strongly by 10% in January 2021 from the previous year. This is the first time a region outside London saw double-digit rise since Hamptons' records began in 2012.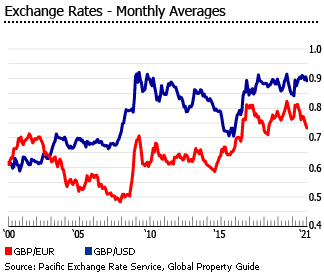 In London, rents increased by an anemic 1% y-o-y in January 2021, according to Hamptons. However, this conceals an Inner-Outer divide. While Outer London rents have risen by 6.2%, Inner London rents actually fell sharply by 15.9%, as landlords slash rents to attract tenants.
That's because the COVID-19 pandemic has sparked an "exodus" from the cities for a new life in suburbs or countryside.
"This gear change in demand has created a glut of properties in some areas and shortages in others. There were 29% more homes available to rent in cities than at the same time last year, while the number available in the countryside was down sharply – by 48%," noted a recent article by The Guardian.
As such, the rent gap between Inner and Outer London is now narrowing. In January 2021, Inner London rents were just 24% higher than Outer London rents, sharply down from a 100% rent differential back in April 2013.
UK economy struggling
The UK economy contracted by 9.9% in 2020 from a year earlier, the biggest annual decline on record, according to the Office for National Statistics. It was also the biggest fall of any G7 nation. All four sectors saw annual declines last year:
Services fell by 8.9%
Production dropped 8.6%
Construction fell sharply by 12.5%
Agriculture fell by 9.4%
The economy is expected to rebound strongly this year, with a projected GDP growth of 5.5%, the strongest growth since the late 1980s, according to estimates released by the Office for Budget Responsibility (OBR). However optimism on strong economic recovery is now being clouded by the resurgence of coronavirus infections early this year, which prompted the government to implement tougher restrictions again.
As such, the IMF has recently downgraded its 2021 economic growth forecast for the UK to 4.5%, down from its 5.9% growth projection published last October.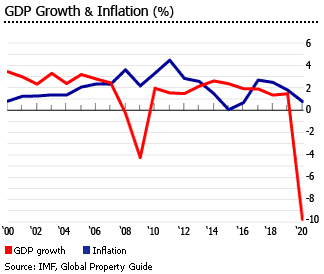 But even before the pandemic, the UK's recovery since the recession had been anaemic, at best. In previous recessions, the UK experienced above average growth. For instance in 1983 GDP grew by 4.2%, and in 1994 by 3%. This compares to an annual average growth of less than 1.9% from 2010 to 2019.
The UK's GDP growth per capita figures are also unimpressive. GDP per capita grew by a minuscule 0.7% in 2018 and 0.9% in 2019, and actually plunged by 10.4% in 2020, according to IMF.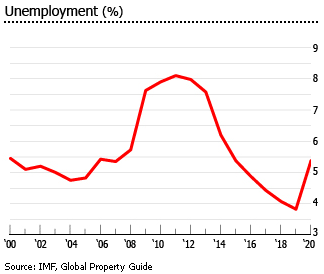 In November 2020, the UK's overall unemployment rate was 5%, up from 3.8% in the same period last year and the highest since August 2016, according to the ONS. The OBR projects that jobless rate will peak at about 7.5% in mid-2021, which represents around 2.6 million unemployed people. Actual figures might be even worse as this forecast was made before tougher restrictions were reintroduced, and before the substantial impact of EU import tariffs on British exports became apparent.
The UK's inflation stood at 0.8% in December 2020, down from 1.4% a year earlier. Overall inflation averaged 1.5% annually from 2014 to 2019.
The UK voted to leave the European Union (EU) in 2016 and officially left the trading bloc, its biggest trading partner, on January 31, 2020. Though, both parties agreed to continue their trading arrangements until December 31, 2020 to allow enough time to agree to the terms of a new trade deal. With Brexit now in full effect, businesses and exporters are struggling to adapt to the new trading arrangements. Based on EU's Winter 2021 Economic Forecast, the exit of the UK from the bloc will result to a GDP loss of 0.5% for the EU by 2022 and of 2.25% for the UK over the same period.
Sources:
United Kingdom - More data and information