Despite the pandemic, house prices in the UK have been rising strongly. The average house price in the UK increased 6.4% to £229,819 (US$318,115) during 2020, according to Nationwide - a sharp improvement from a minuscule growth of 0.8% in 2019. In fact, it was the country's strongest performance since 2014. When adjusted for inflation, house prices rose by 5.6% in 2020 from a year earlier.

London saw a sharp turnaround, with house prices rising by 6.2% (5.3% inflation-adjusted) during 2020 to an average of £486,562 (US$673,499) – in contrast to a y-o-y fall of 1.8% in 2019. London's prices are now about 60% above 2007 peak levels.

All other regions saw house prices rises during 2020.

East Midlands saw the biggest growth, with house prices rising by 8.6% during 2020 (7.7% inflation-adjusted). It was followed by Outer South East and North West, both registering a house price increase of 8%, Yorkshire and Humberside (7.7%), West Midlands (7.5%), South West (6.6%), Wales (6.6%), North (6.5%), and East Anglia (6.4%).

More modest price increases were seen in Northern Island (5.9%), Outer Metropolitan Area (5.6%), and Scotland (3.2%).

Yet, demand is actually falling. During 2020, residential property transactions in the UK fell by about 11%, to around 1,047,490, following a 1.2% decline in the prior year, according to HM Revenue & Customs. In England, transactions dropped 10% to 989,800 in 2020 from a year earlier.

One of the main reasons of the strong growth in house prices despite weak demand is the chronic housing shortage in the country, aggravated by a further decline in residential construction activity last year due to pandemic-related restrictions. During the year to Q3 2020, dwelling starts plummeted by 25% to 120,100 units, according to the Ministry of Housing, Communities & Local Government. Completions also fell by 18% to 145,430 dwelling units over the same period.

Government measures, such as the stamp duty holiday and extensions of the Help-to-Buy scheme, helped boost the housing market last year. However the outlook this year is very uncertain due to the uncertainty brought by the surge in coronavirus infections immediately after Christmas, as well as the post-Brexit deal.

The most bullish forecast is from the property listings website Rightmove, which projects a house price growth of 4% in 2021.
Savills expect the UK housing market to be flat this year, before regaining momentum in 2022.
Other forecasters, including Zoopla, Chestertons, and Knight Frank, suggest that house prices will rise slightly by 1% to 1.5% in 2021.
Halifax, on the other hand, projects a house price fall between 2% and 5% this year.
EY Item Club, a UK-based economic forecasting firm, also predicts a house price fall of as much as 5% in 2021.
The Office for Budget Responsibility, the Treasury's independent forecaster, is even more pessimistic, predicting a house price decline of as much as 8% this year.

The Royal Institution of Chartered Surveyors (RICS) said that it could not with any confidence issue a house price forecast. "If 2020 has taught us anything, it's 'don't make predictions!' The only certainty we have going into 2021 is more uncertainty," said Christian Cubitt of RICS.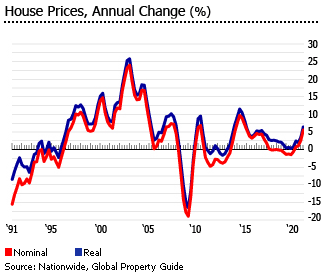 The UK economy is struggling, with real GDP contracting by 9.9% in 2020 from a year earlier, the biggest annual decline on record, according to the Office for National Statistics. With the resurgence of infections, the International Monetary Fund (IMF) recently downgraded its 2021 economic growth forecast for the UK to 4.5%, down from its initial projection of a 5.9% growth.

In February 2021, the Bank of England (BoE) kept its key rate unchanged at its current record-low level of 0.1%, following two consecutive rate cuts in March 2020 totalling to 65 basis points, in an effort to boost the struggling economy.