UK house prices continue to rise strongly, amidst robust demand and a chronic housing shortage. The average house price in the UK increased by 12.6% to £260,771 (US$ 320,258) during the year to Q1 2022, according to Nationwide – a sharp acceleration from the previous year's 6.3% growth. In fact, it was the country's largest house price rise since 2004. When adjusted for inflation, house prices rose by 6.3% in Q1 2022 from a year earlier.

All other regions saw house price rises during the year to Q1 2022, with London registering the lowest growth of 7.4% to an average of £518,333 (US$ 636,615) – up from the prior year's 4.8% increase. London's prices are now about 70% above 2007 peak levels.

Wales saw the biggest growth, with house prices rising by 15.3% during the year to Q1 2022 (9.3% inflation-adjusted). It was followed by the South West and East Anglia, with price increases of 14.4% and 14.2%, respectively. Strong house prices were also seen in Yorkshire and Humberside (13.5%), East Midlands (13.5%), Outer South East (12.8%), North West (12.4%), Scotland (12%), West Midlands (11.7%), Outer Metropolitan Area (11.4%), Northern Ireland (11.1%), and the North (10.6%).

During 2021, residential property transactions in the UK soared by about 41.2%, to around 1,475,740, following a 11.2% decline in the previous year, according to HM Revenue & Customs. In the first four months of 2022, there were 385,060 residential property transactions in the UK, down 24% from a year earlier but still up 12% from the same period in 2019 before the pandemic. This was amidst the expiration of the temporary stamp duty holiday introduced during the peak of the Covid-19 lockdown.

Aside from robust demand, the acute housing shortage in the country is pushing prices up. About 8.4 million people in England are living in unaffordable, insecure, or unsuitable homes, according to the National Housing Federation. And despite the increase in residential construction activity last year, completions remain far below the government's target of 300,000 new homes every year.

The UK housing market is expected to continue growing, albeit at a slower pace, primarily due to rapidly rising borrowing costs, coupled with the inflationary pressures currently exerted on household budgets and the adverse impact of the Ukraine war. Savills predicts an annual house price growth of 7.5% this year.

Property listings website Rightmove, expects a more muted house price increase this year, of about 5%. It expects the most competitive markets of Scotland, West Midlands, South West, and Yorkshire and the Humber to see price growth above 7% in 2022, while London's price increase will be more subdued at 3%. Zoopla expects property values across the UK to rise by 3.5% by year-end, mainly due to economic headwinds, including increases in mortgage rates and rising cost of living.

"After a very strong first half of the year, it is likely that the housing affordability crunch will have a greater impact on market behaviour in the months ahead, with further interest rate rises anticipated during that period," said Tim Bannister of Rightmove.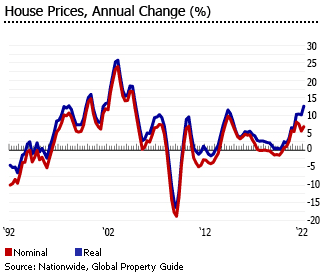 The UK economy grew strongly by 8.7% year-on-year in Q1 2022, up from its 6.6% expansion in the previous quarter, buoyed by strong construction and services sectors. Yet on a quarterly basis, the economy advanced by only 0.8% in Q1 2022. Modest economic growth is projected this year at 3.7%, following strong growth of 7.4% in 2021 and a historic plunge of 9.3% in 2020, according to the International Monetary Fund (IMF).

In June 2022, the Bank of England (BoE) raised its key rate by another 25 basis points to 1.25%, its fifth consecutive rate hike since December 2021, in an effort to meet its inflation target of 2%. It is the highest level in more than 13 years.