After five consecutive years of modest house price increases, Spain's housing market is cooling rapidly again, amidst an economic slump caused by the COVID-19 pandemic.  Nevertheless Spain is once again looking like a possible investment destination, as yields rise.

Spanish house prices rose slightly by 1.68% during the year to Q3 2020 (2.2% inflation-adjusted), a sharp slowdown from the previous year's 4.68% rise, according to the InstitutoNacional de Estadistica (INE). On a quarterly basis, house prices increased 1.15% in Q3 2020 (1.67% inflation-adjusted).

By property type:

Existing dwellings: prices rose by a minuscule 0.76% during the year to Q3 2020 (1.27% inflation-adjusted), the slowest growth in six years.
New dwellings: prices continue to rise strongly by 7.46% y-o-y in Q3 2020 (8.01% inflation-adjusted), slightly up from the annual rise of 6.64% in Q3 2019.

By autonomous regions, Melilla saw the biggest y-o-y price growth during the year to Q3 2020, at 4.87% (5.4% inflation-adjusted), followed by Ceuta (4.38%), Balears(3.35%), Murcia (3.04%), Asturias (2.72%), Aragón (2.5%), Castilla y León (2.23%), and Valencian Community (2.04%).

Minimal house price increases were seen in Galicia (1.92%), País Vasco (1.86%), Navarra (1.73%), Cataluña (1.73%), Canarias (1.43%), Castilla - La Mancha (1.38%), Cantabria (1.38%), Andalucía (1.25%), Madrid (1.21%), and La Rioja (1.19%). House prices were unchanged in Extremadura.

Spain's housing market only returned to growth in 2015, having fallen by 36.3% (-42.9% inflation-adjusted) from Q3 2007 to Q1 2015, with existing home prices falling by as much as 43.1% (-49% inflation-adjusted), based on figures from INE. There were 24 consecutive quarters of y-o-y declines.

House prices rose by an annual average of 2.5% (1.6% inflation-adjusted) from 2015 to 2019.

Demand is now falling sharply. Home sales in Spain fell sharply by 21.2% to 339,986 units in the first ten months of 2020 compared to the same period last year, after a modest annual decline of 2.4% in 2019, according to the InstitutoNacional de Estadistica (INE). The number of transactions for second-hand houses was down by 22.8% y-o-y while transactions for newly built houses dropped 14.3%. All of the autonomous regions saw falling demand.

Foreign demand, which buoyed the Spanish housing market in recent years, is also falling rapidly. In the first half of 2020, home sales to foreigners plummeted by 37% from a year earlier, according to the latest figures from the Association of Spanish Notaries.

There is one peculiarity that increases the risk of investing in Spanish property. Some residents are struggling with the okupa movement (short for ocupante). It stems from the notion that every person has a right to a home. Because of that, these "squatters" keep living in houses even though they can't pay for it.

In case a homeowner finds out about okupas on their property, they can apply one of two legal measures. The CEO of Virto Property, Sergei Sinyugin, notes that these are not quick but effective: to file a complaint in a civil law court or request a police investigation.

However, the okupas' effect on Costa Blanca property for sale is practically non-existent. At the very least, it doesn't compare to the influence of other external factors, such as construction activity and inflation.

Standard & Poor's projects a 1.4% decline in Spanish house prices by end-2020.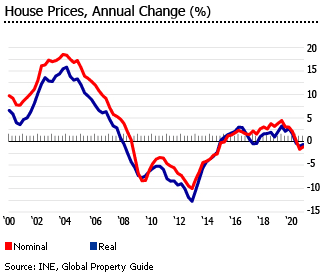 The COVID-19 pandemic has severely hurt Spain's already weakening economy. The Bank of Spain expects the economy to have contracted by 11.1% in 2020, and to rebound with 6.8% growth this year. The European Commission and the IMF released gloomier projections of contractions of 12.4% and 12.8%, respectively.

Foreigners have a right to buy and resell all kinds of property - residential, commercial or land, with no limits.