Portugal's housing prices continue to rise strongly, fuelled by surging demand as well as improved economic conditions. Property prices in Portugal rose by 6.09% (5.39% in real terms) y-o-y in 2018, to an average price of €1,220 (US$1,395) per square metre (sq. m.), based on figures released by Statistics Portugal (INE). During the latest quarter (Q4 2018), house prices increased 1.24% (2.03% in real terms) from the previous quarter.

After more than three years of depression, house prices in Portugal started to recover in 2014. House prices have been rising since.

In Lisbon metropolitan area, property prices were up by 7.9% (7.2% in real terms) in 2018 from a year earlier, to an average of €1,502 (US$1,717) per sq. m.

House prices rose in 23 of the country's 24 urban areas. Porto recorded the highest increase of 15.6% during 2018, followed by Amadora and Seixal (13.9%), Sintra (13.7%), Setúbal (13.5%), Maia (13.4%), Almada (12.9%), Loures (12.6%), Barcelos (11.4%), Cascais (10.6%), Vila Franca de Xira (10.5%), Vila Nova de Gaia (10.3%) and Braga (10.1%).

Strong house price rises were also registered in Matosinhos (9.8%), Odivelas (9.7%), Gondomar (8.2%), Oeiras (8%), Vila Nova de Famalicão (7.5%), Leiria (6.6%) and Guimarães (6.4%).

Modest house price increases were seen in Santa Maria da Feira (4.6%), Lisbon (2.4%) and Funchal (2.3%). Only Coimbra saw a house price decline of 2% during 2018.

By property type:

Flats prices rose by 7% (6.3% in real terms) y-o-y in 2018, to an average of €1,284 (US$1,468) per sq. m.
Villa prices rose by 4.9% (4.2% in real terms) during 2018, to an average of €1,119 (US$1,279) per sq. m.

Demand is rising strongly. In Q3 2018, the total number of housing transactions in Portugal rose strongly by 18.4% to 45,935 units from a year earlier, according to INE. Likewise, the value of transactions surged 29.1% y-o-y to €6.28 billion (US$7.17 billion) over the same period. Clearly the new wealth tax introduced in 2017, applicable to higher-valued properties, has in fact had a negligible impact on the luxury housing market.

The Portuguese housing market is expected to remain buoyant this year, with Moody's Investors Service predicting house price increases of between 7% and 8% every year until 2020.

There are no restrictions on foreign property ownership in Portugal and transaction costs are generally low.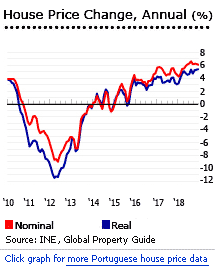 Portugal will grant a 5-year residency permit to non-EU citizens who buy a minimum of €500,000 worth of property. The permit allows holders to work or study, as well as to travel in Schengen countries. They can opt to apply for permanent residency after five years.

The Portuguese economy expanded by 2.2% in 2018 from a year earlier, after annual rises of 2.8% in 2017, 1.6% in 2016, 1.8% in 2015, and 0.9% in 2014, according to the European Commission. The economy is expected to grow by 1.8% this year and by another 1.7% in 2020.