During 2022, the nationwide house price index soared by 20.67%, sharply up from y-o-y increases of 11.25% in 2021, 1.77% in 2020, 3.53% in 2019, and 1.62% in 2018, according to the National Bank of the Republic of North Macedonia, the country's central bank. In fact, it was its best showing since 2008.

However when adjusted for inflation, house price growth is much more muted, increasing by just 1.62% in 2022 from a year earlier.

Quarter-on-quarter, nationwide house prices increased 4.78% in Q4 2022 (3.09% inflation-adjusted) – one of the biggest quarterly increase in the past decade.

The government's decision to officially change the country's name from "Macedonia" to "North Macedonia" under the name deal with Greece in 2019 solved the long-standing dispute between the neighboring countries and opened the way for NATO and EU integration. North Macedonia became an official member state of NATO on March 27, 2020 and its EU accession talks have finally began.

The housing market, which has been sluggish since the global financial crisis, is one of the major beneficiaries.

After house price rises of 10.8% (4.9% inflation-adjusted) in 2007 and 25% (18.8% inflation-adjusted) in 2008, Macedonia's housing market has shown unimpressive performance since, mainly due to the global financial meltdown, the problems with neighboring Greece, and its own extended political crisis exacerbating the situation. The housing market showed significant improvements just recently, with house prices rising strongly by 11.25% in 2021 and by another 20.67% in 2022, buoyed by strong property demand both from local and foreign homebuyers.

Foreign individuals can freely buy apartments and buildings, subject to the reciprocity rule and approval from the Ministry of Justice.

Foreign citizens and companies can directly own land for construction in Macedonia, under the Law on Construction Land adopted in 2008. Under the law, the construction land is sold through a public tender procedure. Also, foreign individuals and companies can lease land for up to 99 years through a public bidding process.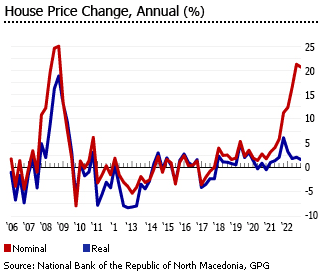 During 2022, North Macedonia's economy expanded by a modest 2.7% from a year earlier, following annual expansion of 4% in 2021 and a contraction of 6.1% in 2020, based on figures from the International Monetary Fund (IMF). The economy is expected to grow by 3% this year and by another 3.9% in 2024.

Though by European standards North Macedonia is a poor country, with a total population of about 2.1 million people and a GDP per capita of US$ 6,800 in 2022. Corruption is rife. There is much emigration. A large proportion of the population lives in poverty, especially ethnic Albanians who are simultaneously derided as "lazy" and discriminated against.