Latvia's housing market remains robust but the overall economy is expected to slow sharply this year amidst the Russia's ongoing invasion of Ukraine.

In Riga, Latvia's capital city, apartment prices rose by 17.9% to €967 (US$1,017) per square metre (sq. m.) in April 2022 from a year earlier, according to Arco Real Estate's figures, a sharp improvement from the previous year's meager growth of 0.24%. In fact, it was the biggest y-o-y increase recorded in a decade.

However when adjusted for inflation, apartment prices actually increased by a modest 4.37% y-o-y in April 2022. The huge difference between the nominal and real figures is due to high inflation, amidst supply chain disruptions caused by the Covid-19 pandemic as well as the ongoing Ukraine crisis.

In May 2022, nationwide inflation in Latvia reached 16.9%, the highest in about 13 years.

Real estate agent Ober Haus, which tends to deal in high-end city-centre housing, says average apartment prices in Riga rose, on average, by 11% during 2021, following a 0.9% decline in 2020.

For existing apartments, prices ranged from €700 to €1,500 per sq. m.
For new apartments, particularly in Riga city centre and in the Old Town, prices stood at about €1,800 to €4,700 per sq. m. Apartment prices in luxury projects can reach as much as €7,000 per sq. m.

"In 2021, the housing sector in Latvia, despite the fact that the Covid-19 pandemic had not yet receded, showed growth practically in all segments," said Ober Haus. "The main drivers of the market— availability, financing and positive attitudes towards the market—remain high. As the demand for housing increased, so did their prices. Demand increased not only for new projects, but also in the secondary market."

In Riga, apartment sales rose by 20% in 2021 from a year earlier, following a 9.5% decline in 2020, according to Ober Haus, as both local and foreign demand increased again amidst the easing of travel restrictions and other curbs. Nationwide, apartment sales transactions increased 16% y-o-y to 21,288 units in 2021, according to figures from Latio.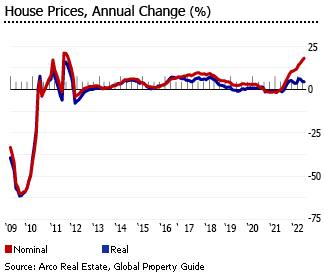 Despite increasing demand, residential construction activity remains weak. During 2021, the number of new dwellings authorized in Latvia fell by 6.5% to 2,853 units, according to the Central Statistical Bureau. Likewise, the area of new dwellings authorized also dropped 14.7% to 353,700 sq. m. over the same period. Then in Q1 2022, both the number and area of new dwellings commissioned fell further by 20.8% and 8% y-o-y, respectively.

Overall economic outlook is now uncertain amidst heightened risks caused by the ongoing Russia's invasion of Ukraine. The European Commission (EC) repeatedly downgraded Latvia's GDP growth forecast for this year – from an initial growth forecast of 5% to 4.4% and now to a much slower pace of just 2%. Likewise, the Bank of Latvia has also recently revised down its 2022 growth forecast to 1.8%, far lower than its previous estimate of a 4.2% expansion.