Latvia's housing market has weakened slightly, amidst the economic repercussions of the COVID-19 pandemic.

During the year to Q1 2021, apartment prices in Riga fell by 0.4% (0.6% in real terms) to €817 (US$994) per square metre (sq. m.), according to Arco Real Estate's figures, in contrast to a 2.2% rise the previous year. It was the third consecutive quarter of y-o-y price falls.

Real estate agent Ober Haus, which tends to deal in high-end city-centre housing, says average apartment prices in Riga fell by 0.9% during 2020, following last year's 2.3% growth.

Apartment sales fell by 9.5% to about 8,900 units in Riga in 2020 according to Ober Haus, mainly due to less foreign demand (foreigners account for about 70% of all property transactions in the country). Most transactions were in the neighborhoods of Purvciems, Kengarags, Imanta, Plavnieki, Ziepniekkalns, Jugla, Iļģuciems and Vecmīlgrāvis.

Likewise, new dwellings authorized in Latvia fell by 6.5% y-o-y to 3,101 units in 2020, and the total area dropped 14.7% to 460,000 sq. m., according to the Central Statistical Bureau. The weakness of the construction sector continued in Q1 2021, with the number and area of new dwellings authorized falling further by 0.6% and 32.6%, respectively.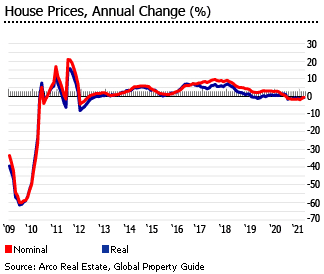 Latvia's economy contracted by 3.5% during 2020, following expansions of 2.2% in 2019, 4.3% in 2018, and 3.8% in 2017, according to the Central Statistical Bureau of Latvia. But economic growth might exceed 3% during 2021, according to the Ministry of Economics, in line with the European Commission's forecast of 3.5% growth.