Latvia's housing market remains very strong, but Riga's house price rises are now gradually slowing, amidst limited supply.

According to Arco Real Estate's figures, apartment prices in Riga rose by 4.89% (1.64% in real terms) to €794 (US$900) per sq. m. during the year to end-Q3 2018, down from 7.22% in Q3 2017. Quarter-on-quarter, house prices rose by just 0.38% (0.63% in real terms) in the latest quarter.

Real estate agent Ober Haus, which tends to deal in high-end city-centre housing, while Arco deals in the estates, shows more muted growth, with the average apartment prices in Riga rising by 3.59% y-o-y in August 2018 to €1,240 (US$1,406) per square metre (sq. m.), a sharp slowdown from last year's 6.59% growth.

When adjusted for inflation, apartment prices rose by a meagre 0.76%.

Outside Riga, apartment prices continue to rise rapidly.

In Ogre, one of Latvia's greenest towns due to its amazing parks and forests, the average apartment price increased about 11% during the year to September 2018 to €594 (US$673) per sq. m.
In Kauguri, a popular residential area in the western part of Jurmala, the average apartment price rose by 9.1% y-o-y in September 2018, to €564 (US$639) per sq. m.
In Salaspils, mostly known for its military history, the average apartment price rose by 7.2% y-o-y in September 2018, to €644 (US$730) per sq. m.
In Jelgava, a hospitable city located on the banks of the River Lielupe, the average apartment price rose by 7.3% during the year to September 2018 to €499 (US$566) per sq. m.


In October 2018, the total number of apartments offered for sale in Riga plunged by 15% from a year earlier, according to Arco Real Estate. Likewise, apartments offered for sale in the country's largest housing estates were also down 11% over the same period. This reflects insufficient supply, which explains why during the first five months of 2018, apartment transactions in Riga fell by 2.2% to 3,731 units compared to the same period last year, according to Ober Haus, despite strong demand.

The Riga neighborhoods with the highest demand include Purvciems, Kengarags, Imanta, and Plavnieki. Strong demand is also recorded in Ziepniekkalns, Jugla, Iļģuciems and Vecmīlgrāvis.

Why the strong demand? Partly because foreigners get a five-year residence permit in Latvia if they buy residential real estate, under Immigration Law amendments implemented on July 1, 2010. The conditions were then (according to Baltic Legal):

The transaction should exceed €142,000 (US$ 160,992) in Riga or Jurmala, or €71,000 (US$ 80,496) in other regions;
Only non-cash funds may be used to buy real estate;
The buyer must not have any real estate tax arrears in Latvia (and must never have had such arrears);
Transaction concluded after July 1 2010.

Since the foreign real property buyer visa scheme was launched in July 2010, most foreign buyers have been Russians, looking for properties in Riga and Jurmala. Latvia has one of the lowest house prices in Europe, and foreigners now account for 70% of all property transactions. In recent years, most of the in-demand properties were located in Jurmala, according to the Office of Citizenship and Migration Affairs. Russians have made the most purchases, followed by Ukrainians, Chinese, Kazakhs, and Uzbeks, according to Arco Real Estate's chairman of the board of directors, Aigars Smits.

In September 2014, Immigration Law amendments increased the threshold for obtaining a residence permit and introduced other conditions and costs, if a foreigner's real estate was registered in the Land Register after September 1, 2014:

Minimum transaction value of real estate located anywhere in Latvia must be €250,000 (US$ 283,437).
The total cadastral value of the property at the time of acquisition should be at least €80,000 (US$ 90,700).
Payment of a state budget contribution worth 5% of the real estate's transaction value.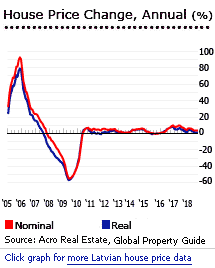 "We expect that in 2018 the average price growth will continue to increase, but will not exceed [2017's] growth rate which was 6-7% per annum," said BALSTS CEO Aigars Zarins.

In the third quarter of 2018, the economy grew by 4.8% from the same period last year, slightly down from the previous quarter's 5.3% y-o-y growth, according to the Central Statistical Bureau of Latvia (CSB). The economy is projected to grow by 4.1% this year, from annual expansions 4.6% in 2017, 2.2% in 2016, 3% in 2015, 1.9% in 2014, 2.4% in 2013, and 4% in 2012, according to the European Commission.