Hungary's house price increases are accelerating again. Hungary's nationwide house price index soared 14.1% (10.6% inflation-adjusted) during the year to Q1 2021. Supported by improving demand, these latest rises follow y-o-y rises of 6.8% in Q4 2020, 9.9% in Q3, 10.2% in Q2 and 12.5% in Q1, according to the country's central bank Magyar Nemzeti Bank (MNB).
On a quarterly basis, house prices rose by 8.2% (6.3% inflation-adjusted) in Q1 2021.
Pest, the eastern part of Budapest comprising about two-thirds of the capital city's territory, saw the biggest y-o-y price increase of 22% (18.3% inflation-adjusted) in Q1 2021. It was followed by cities located in Southern Great Plain (14.9%), Southern Transdanubia (14.7%), Northern Great Plain (14.6%), Northern Hungary (12.6%), Central Transdanubia (12.1%), and Western Transdanubia (8.4%).
Nationwide, the average price of new homes was HUF 36.1 million (€102,840) in Q1 2021, while second-hand home prices averaged HUF 18.6 million (€52,987).
After falling by almost 18% during 2020, demand is now rising. In Q1 2021, the number of sales rose by 15% from a year earlier, according to KSH. Housing transactions in non-subsidized villages increased 14% y-o-y in Q1 2021 while transactions in subsidized villages rose by 1.9%.
Residential construction activity remains strong. In H1 2021, housing completions rose by 12.8% y-o-y to 9,795 units, following a 33.5% increase during 2020, according to KSH. Likewise, dwelling permits also increased 22.4% y-o-y to 15,274 units in H1 2021, an improvement from last year's 22.1% fall.
The housing market outlook remains positive, with an expected rebound in demand this year after the government reduced the housing tax. Previously, the government had raised VAT on selling residential properties from 5% to 27% by end-2019. But the government recently reduced the tax back to 5%, effective January 2021, to boost the housing market. In addition, the government is also giving grants for home renovations.
The economy is expected to rebound this year, with a real GDP forecast of 6.3%, based on projections from the European Commission, following a decline of 5% last year due to the economic repercussions of COVID-19. Hungary's economy grew by 17.9% in Q2 2021 from a year earlier, after four consecutive quarters of contraction, mainly driven by a rebound in industry, according to the KSH. It was the fastest expansion on record, due to baseline effects and amidst the relaxation of pandemic-related curbs.
Local house price variations
Budapest has the most expensive housing in Hungary, with the average price of second-hand homes reaching HUF 35.62 million (€ 101,317) in 2020. It was followed by Pest, with an average house price of HUF 29.21 million (€ 83,085).
In Transdanubia region, the average price of second-hand homes ranged from HUF 18.31 million (€ 52,081) in the western area to HUF 18.52 million (€ 52,678) in the central area.
Great Plain and the North region had the least expensive housing in the country. In Northern Hungary, the average house price stood at HUF 9.52 million (€ 27,079) during 2020 while it was about HUF 11.62 million (€ 33,052) in the Northern Great Plain and HUF 12.04 million (€ 34,247) in the Southern Great Plain.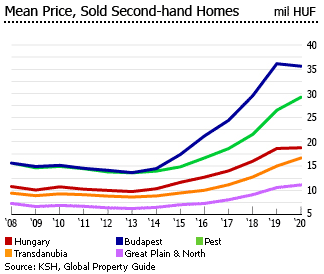 The large concentration of foreign homebuyers in Budapest is one of main reasons of the huge price difference between the city and the whole country. A foreigner buying a home in Budapest spends on average just above HUF 40 million (€ 113,827).
Demand is recovering
The number of second-hand homes sold fell sharply in 2020 by 17.7% to 119,968 units, according to KSH. Demand was weak even before the pandemic, with second-hand homes sales falling by 5.7% in 2019, in contrast to an annual average growth of 11.2% during 2013-18.
By region:
In Central Hungary, second-hand home sales plunged by 28.3% y-o-y to 30,690 units in 2020. In Budapest, sales fell by almost 25% to 21,039 units in 2020 while sales in Pest dropped 35.2% to 9,651 units.
In Transdanubia, second-hand home sales were down 16.1% y-o-y to 37,053 units last year.
In Great Plain and North, sales fell by 11.2% to 52,225 units in 2020 from a year earlier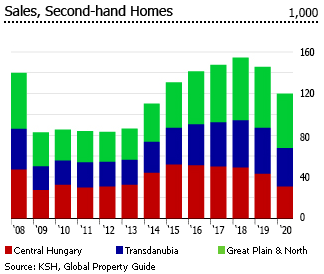 But demand is recovering, with sales rising by 15% in Q1 2021 from a year earlier, according to KSH. Housing transactions in non-subsidized villages increased 14% y-o-y in Q1 2021 while transactions in subsidized villages rose by 1.9%.
Foreign buyers have vanished
From January to October 2020, home purchases by foreigners plunged by about 80% from a year earlier, mainly due to travel restrictions, according to ingatlan.com.
"Before the [COVID-19 pandemic], people from all around the world were interested in investing in Hungary, mainly in Budapest," said ZoltánGadanecz, owner of real estate firm GDN Ingatlanhálózat. "Today, only those foreigners who actually live in Hungary with their families tend to buy properties for personal use or to rent them out."
Before the pandemic, foreign homebuyers had been steadily rising in Hungary – from 3,207 purchases in 2017 to 3,529 purchases in 2018 and finally to 3,753 purchases in 2019. Chinese citizens accounted for more than half of the total, followed by EU citizens (22%), primarily Germans.  Other large groups of buyers were Israelis (11%), Russians (4%) and Turks (2%).
Budapest's District 7 was the most popular location for foreign homebuyers, followed by District 6 and District 8.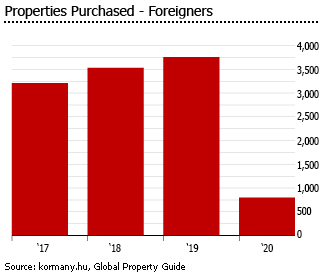 Hungarian law requires that real estate purchases shall be concluded through private contract (purchase agreement) countersigned by a lawyer. Non-Hungarian citizens must gain the approval of the relevant Administrative Office to purchase property as a private person. Most foreigners should receive a permit within 2-3 months.
Most lawyers advise foreign nationals to set up a company registered in Hungary in order to purchase property. In this case, no permit is needed. This is a fairly swift and easy procedure (taking 1-2 days), and all expenses can be written off.
Residential construction is rising
Housing completions rose by 12.8% y-o-y to 9,795 units in H1 2021, following a 33.5% increase during 2020, according to KSH. Central Hungary saw a strong rise in housing completions in the first half of 2021 while activity in the other two large regions remain depressed:
In Central Hungary, newly built homes soared 68% y-o-y to 6,250 units. In Budapest, completions rose by 174% to 4,532 units in H1 2021 while they fell in Pest by 17% to 1,718 units.
In Transdanubia, newly built homes fell by 33% y-o-y to 1,953 units.
In Great Plain and North, completions dropped 22.7% y-o-y to 1,592 units in H1 2021.
The total number of permits issued for residential buildings also increased strongly in H1 2021 - by 57.6% y-o-y to 8,566, following minuscule growth of o.8% during 2020, according to KSH. Dwelling permits rose 22.4% y-o-y to 15,274 units in H1 2021, an improvement from last year's 22.1% fall.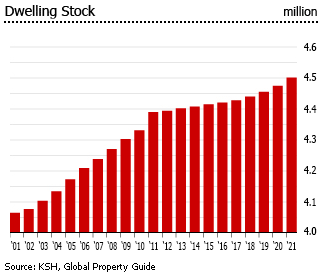 Housing cycle
It was in 2014 that the housing market started to recover from the 2009 global financial crisis, when the forint's steep decline had caused the mortgage market to collapse. From 2008 to 2013 house prices fell by 21% (36% inflation-adjusted).  But legislation in November 2014 required financial institutions to convert all outstanding foreign currency-denominated loans into HUF by December 2015, by which time only 0.2% of the stock of housing loans was in foreign currency, down from 52% in December 2014.  In 2014 house prices rose 6.6% (7.3% inflation-adjusted). House prices have been rising by double-digits annually since then, surging by a total of 120% (99% inflation-adjusted) in 2014-19.
HOUSE PRICES, ANNUAL CHANGE (%)

Year
Nominal
Inflation-adjusted
2008
0.21
-3.87
2009
-9.26
-13.75
2010
0.53
-3.63
2011
-3.90
-7.68
2012
-6.56
-11.34
2013
-3.57
-4.28
2014
6.56
7.30
2015
14.36
13.77
2016
15.37
13.96
2017
14.65
12.08
2018
16.51
12.85
2019
18.12
14.24
2020
6.83
3.91
Sources: MNB, Global Property Guide
Part of the recovery in housing demand during 2014-5 was caused by other government measures. At the beginning of 2013, the government increased the amount of 5-year loan subsidies, the maximum value of subsidized loans, and the loan house price threshold, causing significantly stronger credit demand in the second half of 2013.
From July 1, 2015 a non-refundable subsidy, the family housing allowance (CSOK) became available for buying new- and used homes, for apartment expansions, and for home construction. It was expanded in March 2018, allowing families returning from abroad and those already owning a property about to buy new or resale homes to apply for the CSOK. The government now repays HUF 1 million (€ 2,843) of the mortgage loans of families with at least two children. Moreover, every woman under the age of 40 is also eligible for a CSOK interest-free loan when she first gets married.
By end-2020, nearly 156,000 families had already benefited from this program, receiving a total of HUF 386 billion (€1.1 billion). The average amount of loan per disbursement was HUF 2.5 million (€ 7,122).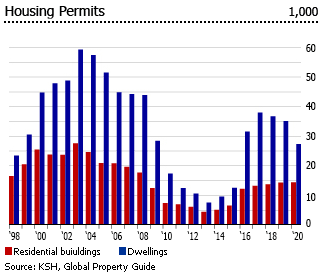 As a result of the surge in demand residential construction rose sharply, almost half the new supply being in Budapest and Pest. In 2019, the total number of newly built dwellings in Hungary soared 19.5% y-o-y to 21,127 units, following annual rises of 22.9% in 2018, 44% in 2017 and 31.3% in 2016, based on KSH figures analyzed by Global Property Guide. Then in 2020, newly built dwelling rose strongly again by 33.5% to 28,208 units, despite the COVID-19 pandemic.
Budapest rental yields good, but rents falling
Gross rental yields in Budapest are moderately good. In Buda, Budapest's greener side, apartments have relatively higher yields ranging from 5.63% for a smaller-sized apartment of 90 sq. m. to 5.73% for a larger apartment of 120 sq. m., based on a Global Property Guide research. Apartments in Pest, Budapest's business and commercial centre, have slightly lower rental yields ranging from 5.16% to 5.24%.
However, rents plummeted last year due to travel restrictions imposed to curb the spread of the coronavirus, as well as the new rules restricting Airbnb rentals. In Budapest, property rental prices fell by about 20% last year, in contrast to around 5% to 10% increase in 2019.
"In March and April, many landlords voluntarily offered trusted tenants a decrease in rent, because they feared losing them and not finding new renters to replace them," said Ádám Heinrich of Budapest-based real estate brokerage firm OTP Ingatlanpont. "The market was also hit by airbnb flats, which were left without tourists. This also helped in the decline of prices, as many tenants took advantage of the opportunity to move to a cheaper but better-equipped apartment."
The average monthly rents for brick apartments in Budapest ranged from HUF2,400 (€ 6.85) to HUF3,600 (€ 10.3) per square metre (sq. m.). Districts 13, 5 and 1 were the most expensive areas while Districts 4 and 10 and the peripheral districts on the Pest side were the cheapest.
Low interest rates
Housing loan interest rates remain low. In June 2021, the average interest rate on housing loans was 4.49%, down from 4.61% a year earlier and 4.6% two years ago, according to the European Central Bank (ECB).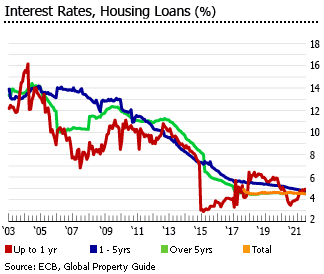 Average interest rates on loans for house purchases in June 2021:
Initial rate fixation (IRF) up to 1 year: 4.9%, up from 3.59% a year earlier
IRF over 1 year and up to 5 years: 4.7%, down from 5% a year ago
IRF over 5 years: 4.48%, down from 4.6% a year ago
Mortgage market remains small despite continued growth
More housing is now being bought with loans. From only around 33.5% in 2015, the ratio of home purchases on credit rose to 44% in 2019 and to 47% in 2020, according to MNB's Housing Market Report – May 2021.  This increased loan demand stems from Hungary's low interest rates, plus subsidized lending schemes such as the Family Housing Subsidy Scheme (CSOK), and government's newly introduced home improvement subsidy. 
The value of housing loans outstanding increased 10% to HUF 4 trillion (€ 11.4 billion) in 2020, following 9.3% growth in 2019, according to the KSH's Residential Mortgages 2020 report.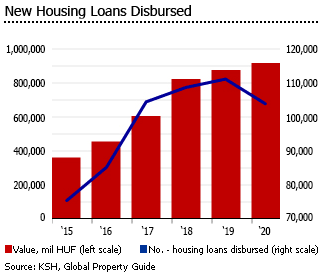 Despite this, the size of the mortgage market remains small at about 8.4% of GDP in 2020, slightly up from 7.8% of GDP in 2019, according to KSH.
The value of new housing loans rose 4.6% to HUF 916.8 billion (€ 2.62 billion), following y-o-y rises of 6.5% in 2019, 36% in 2018 and 32.7% in 2017.
New loans borrowed for the purchase of second-hand homes, which constituted more than two-thirds of new housing loans, rose by 6.1% y-o-y to HUF 636.1 billion (€ 1.81 billion).
Loans for buying new homes, which represented 12.2% of new loans, rose by 4.7% to HUF 111.42 billion (€317.8 million) last year.
The volume of loans for housing construction fell by 9.8% to HUF 78.74 billion (€224.6 million) last year.
"Compared to the size of the economy there is plenty of room for growth," said the central bank. "The depth of mortgage lending in Hungary – in addition to Romania – is the lowest in the EU."
The share of "problem-free" loans has been steadily risen from 89% in 2016, to 93% in 2018, and to more than 97% last year, according to the KSH.
Economy recovering rapidly, labour market improving
Hungary's economic recovery is moving forward at a pace that is "among the fastest in the European Union (EU)", noted the country's Finance Minister Mihaly Varga.  Real GDP is forecast to rise by 6.3% this year, according to the European Commission. During 2020, the economy declined by 5%, its biggest contraction since 2009.
Hungary's economy grew by 17.9% in Q2 2021 from a year earlier, after four consecutive quarters of contraction, mainly driven by a rebound in industry -  the fastest expansion on record, due to baseline effects and amidst the relaxation of pandemic-related curbs.
"Now our goal is to preserve the growth advantage the Hungarian economy enjoys compared to the EU, with pursuing an economic policy based on tax cuts, workplace creation, investment incentives and family support," said Varga.
Quarter-on-quarter, the economy expanded by 2.7% in Q2, after growing by 2% in the previous quarter.
"Household consumption is poised to rebound thanks to steady real income growth, and the increasing ability and willingness of consumers to spend once restrictions are lifted," said the European Commission.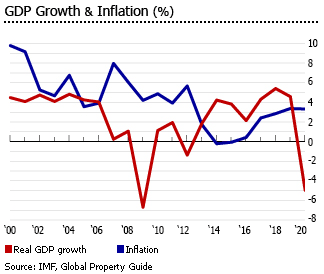 Unemployment fell to 4% in June 2021, down from 5% a year earlier, according to KSH figures.
The country's inflation was 4.7% in July 2021, down from 5.3% in the previous month but up from 3.8% a year ago. It also remains higher than the central bank's target range of 2% to 4%.
Orban's power grab continues
Since coming to power in 2010, Hungary's nationalist prime minister Victor Orbán has concentrated power and media organs in his hands, and regularly clashes with Brussels over migration and rule-of-law issues.
Economic growth has boosted his popularity, propelling him and his party, Fidesz (the Hungarian Civic Union) to victory in the 2014 elections, and again in the 2018 national elections, when the Fidesz–KDNP alliance won a two-thirds parliamentary majority, with 133 seats out of 199.
In a move towards the creation of an "illiberal" state, in April 2017 the Hungarian Parliament imposed stringent restrictions on foreign universities, a move primarily directed towards the Central European University (CEU), founded by philanthropist and Hungarian NGO supporter George Soros. Forbidden to accept new students after January 1 2019, the CEU re-launched all U.S. accredited degrees in Vienna from September 2019.
Orban's growing authoritarianism has met resistance. In May 2017, large anti-corruption street protests occurred in Budapest, expressing support for CEU and NGOs. During the same month, two United Nations Special Rapporteurs also expressed their objection to the Hungarian government's draft "Bill on the Transparency of Organisations Financed from Abroad" that would limit NGO activities. The bill was eventually passed as law in June 2017.
Orban's latest target is the University of Theatre and Film Arts in Budapest (SZFE), which the government identified with the "left-liberal" ethos. This coincides with yet another move to shut down the country's last independent political radio station, Klubrádió. Klubrádió's broadcasting license, which expired last February 2021, was not renewed forcing it to go off air and the station's former frequency had been allocated to a station owned by a group close to Orban. The station's fate has attracted international attention and in June 2021 the European Commission launched an "infringement procedure" against Hungary, which could lead to a legal action.
"We warned the Hungarian authorities and asked them to find a solution so that Klubradio could continue broadcasting" said Vera Jourova, the EU's commissioner for values and transparency. "They did not act. We now launch an infringement procedure against Hungary for failing to comply with EU telecoms rules."
Press freedom in the country has continuously deteriorated since Orban returned to power in 2010. Hungary is currently ranked 92nd out of 179 countries on the 2021 World Press Freedom Index by Reporters Without Borders (RSF) – sharply down from 23rd in 2010.
The next general election is scheduled on April 2022.
Sources:
Hungary - More data and information