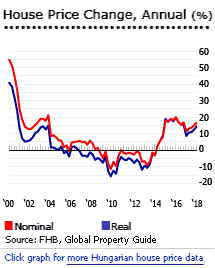 House prices in Hungary are still rising rapidly, supported by favourable economic conditions, higher wages and employment, low borrowing rates, and government programs making home buying accessible to more people.
During the second half of 2018, the national house price index rose by 16.2% y-o-y (12.7% inflation-adjusted), based on the Hungarian National Bank´s (MNB) house price index. Budapest house prices surged by 20.2% y-o-y (16.6% inflation-adjusted) during the same period.
Prices of existing dwellings rose by 10.6% y-o-y (7.7% inflation-adjusted) in Q2 2018, while prices of new dwellings went up by 10.4% (7.5% inflation-adjusted), according to the Hungarian Central Statistical Office (KSH). 
Housing transactions increased by 5.1% in 2017, with strong increases during the first half of the year. From around 86,000 in 2012, transactions rose to around 154,000 in 2017.  Credits for purchasing new homes surged by 80.1% y-o-y in 2017, while credits for second-hand homes rose by 31.1%, according to the Hungarian Central Statistical Office (KSH).
On the supply side, dwelling permits issued during the first three quarters of 2018 went up by 1.2% y-o-y. But this a sharp slowdown compared to the 11.2% y-o-y growth last year, based on KSH figures. However completions increased by 28% y-o-y during the first nine months of 2018.
Government measures have boosted the market
Part of the recovery in housing demand 2014-5 was caused by a series of government measures. First, at the beginning of 2013, the government increased the amount of 5-year loan subsidies, the maximum value of subsidized loans, and the loan house price threshold, causing significantly stronger credit demand in the second half of 2013.
From July 1, 2015 a non-refundable subsidy, the family housing allowance (CSOK) became available. It can be used for buying new- and used homes, for apartment expansions, and for home construction. This subsidy scheme was expanded in March 2018, allowing families returning from abroad and those already owning a property who are about to buy new or resale homes to apply for the CSOK.
On December 15, 2015, the National Assembly lowered the VAT rate for new dwelling units to 5% from the previous 27%, in a further attempt to boost the property market. The new VAT rate will be effective from 2016 to 2019. The amendment also contained other measures to improve construction sector´s performance and reduce red tape, according to the Ministry for National Economy.
A proposal to extend the implementation of the 5% VAT rate up to 2023 was submitted to the Parliament in November 2018. The said extension would only be applicable to properties with a final building permit obtained by November 1, 2018.  
Purchases of real estate in Hungary by foreigners
Hungarian law requires that real estate purchases shall be concluded through private contract (purchase agreement) countersigned by a lawyer. Non-Hungarian citizens must gain the approval of the relevant Administrative Office to purchase property as a private person. According to regulations most foreigners should receive a permit within 2-3 months.
Most lawyers advise foreign nationals to set up a company registered in Hungary in order to purchase property. In this case, no permit is needed. This is a fairly swift and easy procedure (taking 1-2 days), and all expenses can be written off.
Property market history
During Hungary´s housing boom (1998-2007), house prices soared by 264% (102% inflation-adjusted). However, the market started to fall in 2008 in the global financial meltdown. Real house prices started to rise again in 2014.
Nominal and Inflation-adjusted House Price Change in Budapest

Nominal
Inflation-adjusted
2008
2.51%
-1.66%
2009
-11.12%
-15.52%
2010
2.19%
-2.04%
2011
-2.38%
-6.22%
2012
-5.86%
-10.68%
2013
-2.61%
-3.33%
2014
10.71%
11.48%
2015
25.09%
24.44%
2016
20.27%
18.80%
2017
17.15%
14.52%
Source: Hungarian Central Statistical Office (KSH)
Rental yields are good in Budapest
Gross rental yields in Budapest are moderately good. In Buda, Budapest´s greener side, apartments have relatively higher yields ranging from 5.63% for a smaller-sized apartment of 90 sq. m. to 5.73% for a larger apartment of 120 sq. m., based on Global Property Guide research in September 2017. Apartments in Pest, Budapest's business and commercial centre, have slightly lower rental yields ranging from 5.16% to 5.24%.
In Buda, monthly rents range from EUR 9.50 (US$ 10.80) to EUR 10.50 (US$ 10.50) per sq. m.  Apartments in Pest can be rented from around EUR 10.60 (US$ 12.05) to EUR 11 (US$ 12.51) per sq. m.
Rents in Budapest rose significantly by around 8% to 20% during the first half of 2018, as compared to the previous year, according to Otthon Centrum (OC). OC noted in its Residential Market Monitor in Q2 2018, cheaper rental apartments are located at the inner city districts preferred by university students and professionals, and also at the outer parts of Józsefváros in District 8. The most expensive rental apartments can be found in District 5, with average monthly rents as high as HUF 3,800 (US$ 13.31) per sq. m.   
AVERAGE PRICE for SECOND HAND DWELLINGS

Detached
Condominium
Housing Estate
Total
2017
2018. I–II Quarter.
2017
2018. I–II Quarter.
2017
2018. I–II Quarter.
2017
2018. I–II Quarter.
Budapest
HUF 38.5 million (US$ 134,894)
HUF 37.5 million (US$ 131,390)
US$ 25.3 million (US$ 88,644)
HUF 27.7 million (US$ 97,053)
HUF 16.7 million (US$ 58,512)
HUF 19.8 million (US$ 69,374)
HUF 24.4 million (US$ 85,491)
HUF 26.6 million (US$ 93,199)
Pest
HUF 18.7 million (US$ 65,520)
HUF 18.4 million (US$ 64,469)
HUF 19.7 million (US$ 69,024)
HUF 20 million (US$ 70,075)
HUF 14.1 million (US$ 49,403)
HUF 15.6 million (US$ 54,658)
HUF 18.6 million (US$ 65,169)
HUF 18.5 million (US$ 64,819)
Central Transdanubia
HUF 12.2 million (US$ 42,746)
HUF 13 million (US$ 45,549)
HUF 11 million (US$ 38,541)
HUF 12.2 million (US$ 42,746)
HUF 9.8 million (US$ 34,337)
HUF 11.2 million (US$ 39,242)
HUF 11.3 million (US$ 39,592)
HUF 12.4 million (US$ 43,446)
Western Transdanubia
HUF 12.2 million (US$ 42,746)
HUF 12.8 million (US$ 44,848)
HUF 13.9 million (US$ 48,702)
HUF 15.3 million (US$ 53,607)
HUF 12.8 million (US$ 44,848)
HUF 14 million (US$ 49,052)
HUF 12.9 million (US$ 45,198)
HUF 13.9 million (US$ 48,702)
Southern Transdanubia
HUF 8.6 million (US$ 30,132)
HUF 8.8 million (US$ 30,833)
HUF 10.8 million (US$ 37,840)
HUF 11.4 million (US$ 39,943)
HUF 9.2 million (US$ 32,234)
HUF 10.7 million (US$ 37,490)
HUF 9.2 million (US$ 32,234)
HUF 9.8 million (US$ 34,337)
Northern Hungary
HUF 6.2 million (US$ 21,723)
HUF 6.3 million (US$ 22,074)
HUF 8 million (US$ 28,030)
HUF 8.4 million (US$ 29,431)
HUF 6.3 million (US$ 22,074)
HUF 7.1 million (US$ 24,877)
HUF 6.6 million (US$ 23,125)
HUF 7 million (US$ 24,526)
Northern Great Plain
HUF 6.9 million (US$ 24,176)
HUF 7 million (US$ 24,526)
HUF 11.6 million (US$ 40,643)
HUF 13.2 million (US$ 46,249)
HUF 10.5 million (US$ 36,789)
HUF 12.1 million (US$ 42,395)
HUF 8.5 million (US$ 29,782)
HUF 9.1 million (US$ 31,884)
Southern Great Plain
HUF 7.4 million (US$ 25,928)
HUF 7.6 million (US$ 26,628)
HUF 11.7 million (US$ 40,994)
HUF 12.7 million (US$ 44,497)
HUF 8.9 million (US$ 31,183)
HUF 10 million (US$ 35,037)
HUF 8.7 million (US$ 30,482)
HUF 9.3 million (US$ 32,585)
Hungary (whole)
HUF 11.4 million (US$ 39,943)
HUF 10.8 million (US$ 37,840)
HUF 18.4 million (US$ 64,469)
HUF 20 million (US$ 70,075)
HUF 11.8 million (US$ 41,344)
HUF 13.4 million (US$ 46,950)
HUF 14 million (US$ 49,052)
HUF 14.8 million (US$ 51,855)
Source: KSH
Low interest rates
Housing loan interest rates remain low. In Q2 2018, average APRs on housing loans were 3.18%, a 0.3% drop from the 3.5% prevailing rate in Q2 2017, according to the Hungarian National Bank (MNB).
Average interest rates on loans for house purchases in October 2018:
Floating rate, or with IRF up to 1 year ― 3.18%
IRF over 1 year and up to 5 years ― 4.40%
IRF over 5 and up to 10 years ― 5.12%
IRF over 10 years ― 5.26%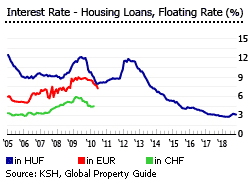 More housing is now being bought with loans.  From only around one-third (33.5%) in 2015, 46% of housing market transactions were accompanied by a loan by end-Q2 2018, according to November´s MNB Housing Market Report.
Part of the rising demand for loans is attributable to the popularity of the Family Housing Subsidy Scheme (CSOK).  Loans combined with the CSOK accounted for about 16% of the total new housing loans granted in Q2 2018.
Banks anticipate higher demand for housing loans during the second half of 2018, according to the MNB´s lending survey, and half banks intend to reduce spreads. 
Newly-built homes market still up; Gov´t proposes preferential 5% VAT rate extension
The recent rise of newly-built home sales - up 10% in 2017 - can be partly attributed to the reduction of VAT on newbuild homes from 27% to 5%. However the newbuild share of total sales remains small, at only around 3.6% of total home sales, according to the KSH.
Despite rising demand for newly-built homes, the "lack of construction capacities" is limiting it, according to Otthon Centrum (OC).  OC predicts that more than 20,000 new units will be completed by the end of 2018, mostly in Budapest and areas with high number of permits issued in the previous years.
Concerns about a dramatic real estate market slowdown after the preferential 5% VAT rate expires in 2019 has prompted the government to propose extending the lower VAT rate to 2023, but only for properties with a final building permit obtained by November 1, 2018.
Robust construction sector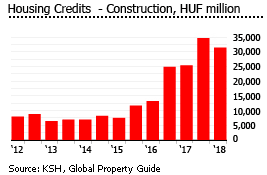 Hungary´s construction sector continues to expand, with a 28% rise residential property units completed to 10,218 during the first three quarters of 2018. However residential building permits issued rose only 1.2% y-o-y during the year to September 2018. This follows an 87% surge in 2016 in building permits issued, followed by an 8.3% growth in 2017.
Further growth is expected due to changes in the Family Housing Subsidy Scheme (CSOK) in 2018, making application procedures faster and easier, and expanding the program, according to a recent report from the Ministry of Finance.
Out of Hungary´s three large regions, Central Hungary (which consists of Budapest and Pest county) had the highest share of new dwellings built at around 49%, during the first three quarters of 2018. Transdanubia came in second with a 33.7% share, followed by the Great Plain and North with a 17.2% share of the total new dwellings built, based on the figures from the KSH.
Number of Construction permits issued
Number of dwellings built
H1 2017
H1 2018
H1 2017
H1 2018
Budapest
8,378
6,119
981
1,483
County towns
4,260
4,111
1,507
1,686
Other towns
4,382
5,130
1,574
1,942
Villages
2,803
2,706
942
1,406
Hungary (whole)
19,823
18,066
5,004
6,517
Source: KSH
Built Dwellings, annual change (%) 2017

For own use
For lease
For sale
Budapest
31.10
-94.62
-3.32
County towns
61.12
-44.51
55.39
Other towns
71.11
-15.15
71.62
Villages
56.59
-76.47
153.08
Hungary (whole)
59.05
-59.29
39.98
Source: KSH
The mortgage crisis is over
Hungary´s residential mortgage market ground to a halt in 2009 as a result of the decline in the value of the Forint against the Euro. A large portion of mortgages were backed by foreign currency loans, burdening homeowners with swelling repayments, and prompting buyers to exit the market.
Foreign currency mortgages were banned in August 2010, and a number of measures were introduced to manage the foreign currency loan crisis:
an early repayment scheme
exchange rate fixing
foreclosure quota
home protection interest subsidy
establishment of the National Asset Management Company
The introduction of an early repayment scheme in September 2011 unilaterally changed the terms of all foreign currency loan contracts and allowed debtors to make a one-off repayment of their loans at a discounted exchange rate. Banks had to cover the difference between the discounted exchange rate and the current exchange rate. Those unable to afford early repayment of foreign currency loans have been able to get help since 2012 by paying the instalments at a fixed exchange rate.
As of December 2015, only 0.2% of the stock of housing loans was in foreign currency, down from 52% in December 2014. Legislation adopted in November 2014 required financial institutions to convert all outstanding foreign currency-denominated loans into HUF claims.
The National Asset Management Inc purchased properties of debtors unable to pay mortgages, allowing debtors to continued use of these properties as tenants. Around 19,628 collateralized properties were purchased from January 2013 to December 2015.
From January 1, 2015 creditors have been allowed to sell any non-performing residential real estate, without restriction - a sign of the end of the crisis.
As of December 31, 2017, around 93% of current loans were "problem free" (4.5 percentage points higher than at year-end 2016), while 2.5% were "under special watch". Around 0.4% of the total current loans were "below average", while the remaining 4% were categorized as "sub-prime" (consisting of doubtful and bad loans).
Strong economic growth continues in Hungary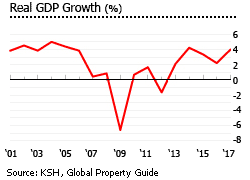 Hungary´s economic growth has been robust for the last five years, and this year won´t be an exemption. Hungary´s GDP rose by 4% in 2017.  This was reassuring, as the economy had slowed to 2.2% growth in 2016 due to a decline in EU investment funds, after 3.4% growth in 2015, and 4.2% growth in 2014.
Domestic consumption, which is a combination of household consumption and investment volume, contributed strongly to last year´s growth, according to the Ministry for National Economy. One-fourth of 2017´s 4% growth was due to a six-year tax and wage agreement between social partners and the government concluded in November 2016, resulting in job growth and salary hikes pushing up consumption.
The resumption of the EU investment funds in 2017, as well as the favourable borrowing conditions, also helped fixed investment growth last year.  
Domestic demand remains buoyant.  With 4.9% y-o-y GDP growth in Q3 2018, Hungary is one of the fastest growing countries in the European Union. Economic growth above 4% is forecast by the government in the years up to 2020. In 2018 the economy is expected to expand by 4.3% to 4.5%, and by above 4% in 2019, according to Finance Minister Varga.   The European Commission largely echoes the government´s prediction, albeit with more conservative growth estimates of 4% in 2018 and 3.2% in 2019.
Unemployment in Hungary was 3.7% in Q3 2018, down from 4.1% the same quarter last year. In November 2018, the country´s inflation slowed to 3.1% y-o-y from 3.8% in October, nearly approaching the midpoint of the central bank´s 3% plus or minus 1.0 percentage point inflation target.
Orban´s re-election - and the EU Parliament´s vote on the Article 7 procedure
Despite accusations of authoritarianism, economic growth after the crisis boosted the popularity of Prime Minister Viktor Orban, propelling him and his party, Fidesz (the Hungarian Civic Union) to victory in the 2014 elections. It won 133 seats, followed by Unity with 38 seats, Jobbik with 23 seats, and LMP with 5 seats.
During Orban´s second term as prime minister, his government altered the constitution, reducing the number of Members of the Parliament (MPs) from 386 to 199.
However, Orban´s growing authoritarianism has been met rising resistance. In a move towards the creation of an "illiberal" state, in April 2017 the Hungarian Parliament imposed stringent restrictions on foreign universities, a move primarily directed towards the Central European University (CEU), founded by philanthropist and Hungarian NGO supporter George Soros. Forbidden to accept new students after January 1 2019, the CEU will re-launch all U.S. accredited degrees in Vienna from September 2019.
In May 2017, large anti-corruption street protests occurred in Budapest, expressing support for CEU and NGOs. During the same month, two United Nations Special Rapporteurs also expressed their objection against the Hungarian government´s draft "Bill on the Transparency of Organisations Financed from Abroad" that would limit NGO activities. The bill was eventually passed as law in June 2017.
These issues led to a drop of Orban´s personal approval rating and a decline of voter support for his right-wing party Fidesz, on early last year´s opinion polls.
However, Orban and the Fidesz party, along with its satellite ally the Christian Democratic People´s Party (KDNP), still emerged as victors in the latest parliamentary elections held in April 2018. The Fidesz–KDNP alliance was able to get the two-thirds majority, winning a total of 133 seats out of 199. The recent election also marked Orban´s third term as prime minister.
In September 2018, just a few months after the elections, the European Parliament voted to trigger sanctions procedure against Hungary, under the terms of Article 7 of the Treaty of the European Union, over the country´s failure to adhere to EU´s fundamental values.
This action of the Parliament was due to the government´s hardline policies that may have seriously breached certain values related to human dignity, equality, and rule of law. One of these policies include the "Stop Soros" law, a law introduced in June 2018 that criminalizes the act of aiding undocumented immigrants and asylum seekers.
The vote ended with 448 MEPs supporting the Article 7 sanction procedures, passing the required two-thirds majority, 197 were against and 48 abstained. While breaching the EU´s values leads to the suspension of the member state´s rights, Hungary is currently under the "preventive" measure, wherein the Parliament begins the Article 7 process in determining if there´s a "clear risk of a serious breach of EU values".
Hungary - More data and information