Hungary's house price increases are accelerating again. Hungary's nationwide house price index soared 22.8% (11% inflation-adjusted) during the year to Q2 2022, according to figures from the Hungarian Central Statistical Office (KSH). Supported by improving demand, these latest rises follow y-o-y rises 16.9% in Q2 2021 and 2.6% two years ago. In fact, it was one of the highest annual price growth recorded in the country's recent history.

On a quarterly basis, house prices rose by 5.2% (0.9% inflation-adjusted) in Q2 2022.

Pest, the eastern part of Budapest comprising about two-thirds of the capital city's territory, saw the biggest y-o-y price increase of 33.7% (27.1% inflation-adjusted) during 2021. It was followed by the Northern Great Plain (22.2%), Northern Hungary (21.9%), Southern Great Plain (20.7%), Central Transdanubia (19.9%), Southern Transdanubia (19.7%), and Western Transdanubia (17.4%). In Budapest, the mean price for second-hand homes also rose, albeit at a more modest 9.7% (4.3% inflation-adjusted) y-o-y last year.

Nationwide, the average price of new homes was HUF 45.6 million (€107,862) in Q1 2021, while second-hand home prices averaged HUF 22.8 million (€53,931).

After falling in 2019-20, demand has bounced back strongly last year. The total number of second-hand homes sold rose by 13.8% to 142,138 units in 2021 from a year earlier, a sharp improvement from annual declines of 14.3% in 2020 and 5.7% in 2019. In fact, foreign demand is now recovering, amidst weakening forint against the euro.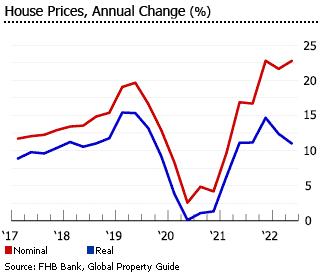 Yet residential construction activity remains weak. In the first half of 2021, housing completions in Hungary fell by 6.8% y-o-y to 9,133 units, according to KSH. The number of newly built homes dropped by 16.8% in Central Hungary and by 1.9% in Great Plain and North. In contrast, newly built homes increased 21.6% y-o-y in Transdanubia over the same period.

The overall economy remains fundamentally strong. Hungary's economy grew by a robust 7.1% during 2021, following a 5% contraction in 2020 due to the Covid-19 pandemic. In Q2 2022, the economy expanded by 6.5% from a year earlier, following y-o-y expansions of 8.2% in Q1 2022 and 7.1% in Q4 2021, supported by strong private consumption and a rebound in exports, according to the KSH. The country's overall economic growth this year is expected to slow slightly to 5.2%, according to the European Commission's forecast, amidst rising inflation, tightening fiscal and monetary policies, as well as trade disruptions and rising uncertainty due to Russia's war of aggression against Ukraine.