It is something of a disaster.  During the year to Q1 2020, the price index for second-hand homes in Hungary has plunged 18.3% - in sharp contrast to the previous year's 14.5% price rises and the first y-o-y property price decline in seven years, according to the Hungarian Central Statistical Office (KSH).

When adjusted for inflation, residential prices actually fell 21.7%. On a quarterly basis, second-hand home prices fell by 6.1% in Q1 2020 (-7.5% inflation-adjusted).

The primary market is in an even worse condition, with the price index of new homes plummeting by 21.2% during the year to Q1 2020 (-24.5% inflation-adjusted). Quarter-on-quarter, new home prices fell 9% (-10.3% inflation-adjusted).

The pandemic has also adversely impacted the rental market. In April 2020, the number of flats for rent in Budapest – a city that is a big tourist destination – surged by 22% as compared to February 2020. A large number of dwellings, which had been previously rented out short-term to tourists, have been shifted to the long-term rental market, according to the Housing and Real Estate Advisory Board (LITT). Unsurprisingly, the average asking prices for flats to let has fallen in most districts of Budapest, especially in the downtown districts.

In Q1 2020, the average price of second-hand homes in Hungary was HUF 16 million (€ 44,415) while it was HUF 24.7 million (€ 68,565) for newly built homes.

Even before the pandemic, demand was already falling. The total number of second-hand homes sold fell by 8.7% to 141,115 units in 2019 from a year earlier, in contrast to a 4.7% growth in 2018.

New dwelling completions, mostly started before the pandemic, rose strongly by 34.4% y-o-y to 8,697 units in H1 2020. But new dwelling permits fell by 31.6% y-o-y in H1 2020, according to KSH.

The situation is not expected to improve during the remainder of the year given the huge uncertainty pose by the pandemic.

Hungary's economy shrank by a huge 13.6% y-o-y in Q2 2020, in sharp contrast to annual expansions of 2.2% in Q1 2020, 4.5% in Q4 2019, 5% in Q3 2019, 4.9% in Q2 2019 and 5.3% in Q1 2019, according to KSH. It was the biggest y-o-y contraction ever recorded.

The economy is expected to contract by 7% this year before bouncing back with a GDP growth of 6% in 2021, based on projections from the European Commission.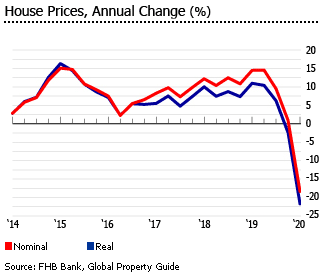 Hungarian law requires that real estate purchases shall be concluded through private contract (purchase agreement) countersigned by a lawyer. Non-Hungarian citizens must gain the approval of the relevant Administrative Office to purchase property as a private person. According to regulations most foreigners should receive a permit within 2-3 months.

Most lawyers advise foreign nationals to set up a company registered in Hungary in order to purchase property. In this case, no permit is needed. This is a fairly swift and easy procedure (taking 1-2 days), and all expenses can be written off.