After a decade-long of uninterrupted house price rises, Estonia's housing market remains fundamentally strong, despite the economic repercussions of the COVID-19 pandemic.

The nationwide dwelling price index rose by 4.8% during 2020 (6% inflation-adjusted), following y-o-y rises of 8.2% in 2019, 5.7% in 2018, 4.9% in 2017 and 7.7% in 2016, according to Statistics Estonia. In Tallinn, the country's capital, the average price of apartments in Tallinn increased 4.9% during 2020 to €2,124 per square metre (sq. m.), according to Ober Haus.

By property type:

Apartments: prices rose by 4.1% (5.3% inflation-adjusted) during 2020, following annual increases of 9.2% in 2019 and 5.7% in 2018, according to Statistics Estonia.
Houses: prices rose by 6.5% (7.7% inflation-adjusted) during 2020, after increasing by 5.8% in 2019 and 5.6% in 2018.

Quarter-on-quarter, nationwide dwelling prices increased 3.8% (4.2% inflation-adjusted) in Q4 2020.

The average price of dwellings in Estonia was €1,404 per square meter (sq. m.) during 2020, up 7.1% from a year earlier, according to the Bank of Estonia. New apartments cost around €2,300 to €5,000 per sq. m. in the city centre and €1,500 to €2,200 per sq. m. in the residential districts.

Despite a decline in the number of foreign homebuyers due to coronavirus-related travel restrictions, overall demand continues to rise. In the first four months of 2021, the number of purchase-sale contracts rose by a huge 28.4% y-o-y to 18,571 units, following an annual rise of 2.5% in 2020, according to Estonian Land Board. In Tallinn, the number of purchase-sale contracts soared by 33% y-o-y in 2020.

"Last year, we had less transactions with foreign buyers, mainly because of travel restrictions," said Gunnar Savisaar, a notary in Tallinn. "However, the numbers have remained strong, which might be seen as a sign of a strong and healthy internal market for real estate."

This is supported by Ebe-Kai Mutso of Baltic Sotheby's International Realty:"I know the numbers show we've had fewer foreigners buying, but I've had more inquiries and requests than I normally do, perhaps because throughout Europe people have been relocating, and Estonia is in a good location."

Residential construction is also resilient. The total number of dwellings completed in Estonia rose by 8.1% to 7,579 units in 2020 from a year earlier, according to Statistics Estonia. Yet in Tallinn, completions have been more or less steady last year.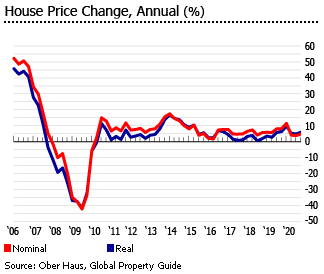 Estonia's economy contracted by about 2.9% in 2020, in contrast to the previous year's 5% expansion, due to the COVID-19 pandemic, according to the European Commission. The economy is expected to grow by a modest 2.6% this year and by another 3.8% in 2022.

Foreign individuals and companies are allowed to acquire real estate with the permission of the local authorities. There are legal restrictions on acquiring agricultural and woodland of 10 hectares or more, and permission from the county governor is needed. Foreign individuals are not allowed to acquire land located in smaller islands, or listed territories adjacent to the Russian border.