After a decade-long of uninterrupted house price rises, Estonia's housing market remains fundamentally healthy, despite the economic repercussions of the Covid-19 pandemic, the worldwide surge in inflation, and the ongoing invasion of Russia of Ukraine.

The nationwide dwelling price index rose by 14.4% during the year to Q1 2022, following y-o-y increases of 10% in Q4 2021, 13% in Q3, 11.2% in Q2 and 9.8% in Q1, according to Estonia's State Statistical Office. However, when adjusted for inflation, prices actually increased by just 1.4% - with the huge gap due to a surge in inflation in recent months.

Quarter-on-quarter, house prices rose by 4.2% (-0.3% inflation-adjusted) in Q1 2022.

By property type:

Apartments: prices rose by 19.8% during 2021, following annual increases of 4.1% in 2020, 9.2% in 2019 and 5.7% in 2018, according to Statistics Estonia. But when adjusted for inflation, the increase is more muted at 6.2%.
Houses: prices surged 21.7% during 2021, after increasing by 6.5% in 2020, 5.8% in 2019 and 5.6% in 2018. When adjusted for inflation, house prices increased 7.9% last year.

In Tallinn, the country's capital, the average price of apartments rose by 15% during 2021, to €2,433 per square metre (sq. m.), an acceleration from the previous year's 4.9% growth, according to Ober Haus. For new apartments, the average price reached €3,122 per sq. m. while for existing apartments, the price increased to €2,303 per sq. m.

"Reasons behind the increased prices for apartments include overall growth in demand, lower interest rates, rising incomes, high inflation expectations predictions and the purchase of apartments for investment purposes," said Ober Haus.

Demand remains robust. During 2021, the total number of purchase-sale contracts of dwellings in Estonia rose by a huge 21%, following annual increases of 2.8% in 2020, 5.6% in 2019 and 5.5% in 2018, according to the Estonian Land Board. It was the highest number of sales since 2006. In the first five months of 2022, purchase-sale contracts were down by 16.2% from a year earlier but remain one of the highest sales numbers ever recorded.

Yet residential construction activity is falling. In Q1 2022, dwelling completions fell by 27.1% from a year earlier, following a decline of 11.1% in 2021, based on figures from Statistics Estonia.

The outlook for Estonian housing market in 2022 remains positive, but Russia's invasion of Ukraine poses a wider threat to the Baltics and perhaps specially to Estonia.

"The prospects of the real estate market seemed especially good for 2022 since all the fundamental factors that promote the market remained relevant up to the beginning of 2022," said Ober Haus. "However, the Russian invasion of Ukraine in February 2022, has caused a global geopolitical and economic crisis. The ongoing war threatens, to a greater or lesser extent, economic development globally. And the Baltic countries, due to their geographical position, cannot but be affected by these events."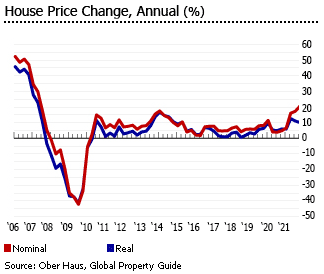 Estonia's economy grew strongly by 8.3% in 2021 from a year earlier, a strong recovery from a 3% contraction seen in 2020, according to preliminary data released by Statistics Estonia. Compared to 2019, the economy grew by 5.2%, thereby exceeding pre-pandemic levels. However, economic growth is expected to slow, with the European Commission projecting GDP growth for Estonia of just 1% in 2022, amidst the Ukraine crisis.

Foreign individuals and companies are allowed to acquire real estate with the permission of the local authorities. There are legal restrictions on acquiring agricultural and woodland of 10 hectares or more, and permission from the county governor is needed. Foreign individuals are not allowed to acquire land located in smaller islands, or listed territories adjacent to the Russian border.