Will Cyprus bounce back?
May 17, 2014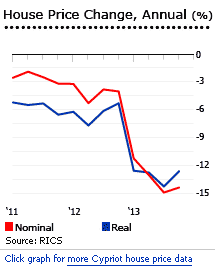 The average house price in Cyprus fell 10.5% (-8.7% inflation-adjusted) in 2013, according to the Royal Institution of Chartered Surveyors (RICS). On a quarterly basis, prices fell 0.5% (-0.35% inflation-adjusted).
The largest decline during the year was in Larnaca, with prices falling 15.2% (-13.4% inflation-adjusted) to an average price of €281,400 (US$ 385,715)
In Nicosia, house prices fell 14.4% (-12.6% inflation-adjusted) to an average price of €407,115 (US$ 558,033)
Paphos saw house prices decline 10.9% (-9% inflation-adjusted) to an average price of €348,105 (US$ 477,148)
In Limassol, house prices dropped 8.3% (-6.5% inflation-adjusted) to an average price of €333,030 (US$ 456,484)
In Farmagusta-Paralimni, the average price of houses fell 3.11% (-1.1% inflation-adjusted) to an average price of €349,463 (US$ 479,009)
Apartments in Cyprus suffered even more. The capital, Nicosia, had the biggest drop in apartment prices of all Cyprus districts, with apartment prices falling by 22.3% (-20.7% inflation-adjusted), followed by Paphos -13.5% (-11.7% inflation-adjusted), Larnaca -12.4% (-10.6%), Limassol -10.13% (-8.3%) and Famagusta-Paralimni -4.6% (-2.7%).
This across-the-board decline is largely driven by two factors: the economic slowdown which has affected local consumer demand, and the tightening of lending criteria.   The Cyprus real estate market has historically been divided into the major urban centers of Nicosia, Limassol and Larnaca, primarily driven by local demand; and the seaside resort areas of Paphos and Famagusta , which are mostly driven by foreign demand. The economic slowdown affected both.
The seaside market of Famagusta has arguably been the least affected, primarily due to increased demand recently from Chinese investors.
Property sales plunged in 2013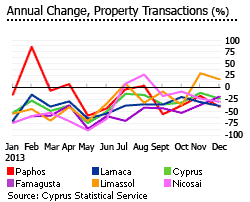 Cyprus property sales were down 39.9% in 2013 compared to 2012, due to falling domestic demand.

Cyprus Statistical Service (CySTAT) figures for 2013 show that only 3,767 properties were sold in Cyprus compared to 6,269 property sales a year ago.
The seaside resort area of Paphos fared best in Cyprus, with 1,164 registered sales contracts, down 23.92% in 2013.
In Limassol, there were 1,049 sales contracts, down 35.53%.
In Larnaca there were 604 sales contracts, down 42.53%.
The capital Nicosia registered 709 contracts, down 52.03%.
Famagusta was the worst performer in 2013 with only 241 contract registrations, down 58.66%.
The number of loans extended for house purchase in March 2014 decreased 5.32% y-o-y, according to the Central Bank of Cyprus.
Brief history of Cyprus´ housing market
After robust year-on-year house price increases of 21.09% (17.03% inflation-adjusted) in 2007 and 9.26% (5.48% inflation-adjusted) in 2008, Cyprus' housing market started to decline in 2009, mainly due to the global financial meltdown, according to the Central Bank of Cyprus (CBC)
CBC statistics are collected separately from RICS, so the figures may differ slightly: 
In 2009, the residential property price index fell by 2.19% (-3.03% inflation-adjusted) from a year earlier.
In 2010, the residential property price index dropped by another 3.89% (-5.83% inflation-adjusted) from the previous year.
In 2011, the residential property price index fell 5.67% (-8.93% inflation-adjusted) from 2010.
In 2012, the residential property price index declined 4.83% (-6.1% inflation-adjusted) from 2011.
The rate of decline increased again in 2013, with prices falling 8.69% (-6.83% inflation-adjusted) from 2012 – the largest decline since the data started in Q1 2007.
Cyprus´ high unemployment leads many to believe that the housing slump will continue.
Cyprus house price falls are way above the Euro average with prices falling 9.4% in 2013 compared to the same quarter of the previous year. This represents the second largest price fall in EU, after Croatia (-14.4%), and the largest price fall in the Eurozone (again, Eurostat uses slightly different definitions).
ANNUAL HOUSE PRICE CHANGE IN EUROPAN UNION, Q4 2013

Germany
-
Greece
-
Austria
-
Poland
-
Estonia
15.6
Latvia
7.9
Sweden
7
Ireland
6.3
United Kingdom
5.5
Luxembourg
4.8
Denmark
3.4
Lithuania
3
Slovakia
2.2
Malta
1.2
Finland
0.6
Romania
0.2
Belgium
0.2
Czech Republic
0
Portugal
-0.6
Bulgaria
-1.2
France
-1.5
Hungary
-1.6
Slovenia
-2
Netherlands
-4.5
Italy
-4.8
Spain
-6.3
Cyprus
-9.4
Croatia
-14.4

Source: Eurostat
Economy hamstrung by massive non-performing loans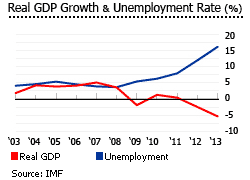 Cyprus´ economy has been more resilient than many expected. It did not shrink by 20% after the banks collapsed last March, as some feared. Nor did it shrink by 8.7%, as the Troika had expected.
The decrease in Cyprus´ GDP for 2013 was limited to 5.3%.  
However, Cyprus faces enormous economic problems.  Non-performing loans (NPL) are a key issue.  NPLs  amounted to €24.1 billion (US$33.03 billion) or 147% of GDP in 2013.  Many NPLs are in the construction sector, amounting to €4.62 billion (US$6.33 billion).
The Bank of Cyprus has 53% of its loan portfolio non-performing, and Hellenic Bank has 47%. The COOPs´ NPLS amount to 47% of their portfolio, according to Leaf Research.
The International Monetary Fund (IMF) has identified these NPLs as a "key challenge" to the economy and called on legislators to put in place a "strong legal framework to facilitate foreclosures", arguing that facilitating asset seizures to be an effective remedy for rising NPLs.
The Bank of Cyprus (BoC) is on the edge of setting up a separate "development bank" to deal with mortgaged properties. The move, according to BoC Chairman Christis Hassapis, is not intended to split the bank into a "good" and a "bad" bank. The aim is to set up a new bank to deal with property development and handle NPLs.
Unemployment reached 16.04% in 2013 and is expected to increase to to 19.2% during 2014, according to the IMF.
Cyprus: global specialist in property frauds
Property frauds in Cyprus are a huge problem for expat home owners, but also for developers, banks, and the government.
Many buyers have lost their homes after the developer went bankrupt, despite having paid in full.
Developers tend to keep the title deeds, neglecting to inform house-buyers that their title deeds will be withheld for an unspecified time, or that the land on which their property is built has been mortgaged by the developer.  The bank which holds the title deed as collateral has the right to foreclose, but, under normal circumstances, it may take a bank between 9 to 12 years to obtain control over the property. So banks extend and pretend, until the developer goes broke.
Between January 2005 and June 2008 a total of 37,769 overseas buyers purchased 29,949 properties for which Title Deeds had yet to be transferred, according to the Cyprus Department Land Registry report published in October 2008. This figure of 29,949 included properties for which Title Deeds had yet to be issued, plus those whose Title Deeds were in the process of being issued.  During the same three and a half year period, 4,440 properties were transferred to 5,988 overseas buyers.
"Some cases have involved 'double selling' fraud whereby the developer sells a property to Party A, fails to lodge the contract with the Land Registry, and then sells it again to Party B (possibly for a higher price) but fails to reimburse Party A," says Alan Waring, an international risk management consultant.
The Land Registry has not issued a report on Title Deeds since 2008. But the number of pending applications for Title Deeds is down to 20,000 as of April 2014, according to Vasos Petrides, director of the Land and Surveys Department.
A new directive on mortgage credit was adopted on January 28, 2014, by the Economic and Financial Affairs Council.  Its new rules will address some of the amazing problems in the Cyprus market, such as insufficient pre-contractual information, irresponsible lending and borrowing, and misleading advertising and marketing. The directive establishes regulatory and supervisory principles for credit intermediaries, and provisions to regulate and supervise non-credit institutions.
It sets out conditions for ensuring professionalism amongst creditors and credit intermediaries; principles for marketing and advertising; obligations relating to pre-contractual information; requirements for information on the borrowing rate; and requirements to check the consumer's creditworthiness; and disclosure obligations for the consumer.
However in the medium-term, the risks of developer defaults and home repossessions can only increase, given Cyprus´ worsening economic outlook. Developer debt has doubled in the last three years, and now stands at nearly €6 billion (US$ 8.22 billion).
Shrinking mortgage market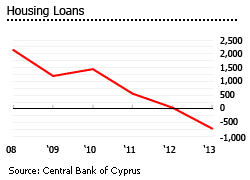 The mortgage market is shrinking.  Total advances to Euro area residents decreased 6.02% in value during the year to March 2014 to €85.2 million (US$116.78 million), while advances to domestic residents decreased 6.44% y-o-y  to €11.68 billion (US$16.01 billion), due to the banking sector´s problems.
Interest rates still high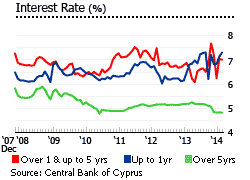 Cyprus' interest rates are now among Euro area's highest.  Banks in Cyprus have been slow to respond to ECB interest rate cuts, and there is a large margin between the Central Bank key rate and their interest rates. That is because there is little inter-bank lending, so banks rely on customer deposits for funding.  Many banks pay high rates to attract deposits, according to finance minister Makis Keravnos.
Variable-rate mortgages account for 97.8% of all housing loans in Cyprus, making the market vulnerable to interest rate shocks.
In March 2014, the average lending rate for loans up to 1 year increased to 7.3%. The interest rate for loans from over 1 and up to 5 years was raised to 7.02% and to 4.84% for loans over 5 years, according to the Central Bank of Cyprus.
Rents falling, but yields steady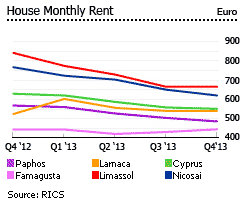 Across Cyprus, monthly rents dropped by 13.3% for flats with rents up to €342 (US$469), and 12.3% for houses with rents up to €551 (US$755.2), during the year to Q4 2013.
"The majority of asset classes and geographies continue to be affected, with areas that had dropped the most early on in the property cycle now nearing the trough," says the RICS-Cyprus Q4 2013 report. "Only properties in Famagusta district showed a marginal increase in both capital values and rents, as the market there appears to be stabilizing."
Average gross yields stood at 3.8% for apartments, 1.9% for houses. "The parallel reduction in capital values and rents is keeping investment yields relatively stable and at very low levels (compared to yields overseas). This suggests that there is still room for re-pricing of capital values to take place," says RICS-Cyprus.  "Repricing" is RICS code for "further reductions in prices". 
Construction at an all-time low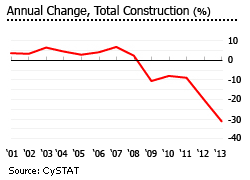 Only 5,341 residential building permits were authorized in 2013, a fall of 25.5%, according to the Cyprus Statistical Service. The total area of these permits dropped 30.3%, while their value fell 30.1%.
Paphos authorized 909 building permits in 2013, down 31.2%
Nicosia authorized 1,838 building permits, down 25.4%
Larnaca authorized 812 building permits, down 24.5%
Limassol authorized 1,452 building permits, down 24%
Famagusta authorized 330 building permits, down 17.5%
Construction activity fell 31.1% y-o-y in 2013, the largest decline since 2000.
On the road to recovery?
The fifth Eurozone country to get a bailout, Cyprus was lent €10 billion (US$13.71 billion) in March 2013 by the Troika, composed of the International Monetary Fund, European Central Bank and European Commission.
The terms required Cyprus to cut public sector spending, hike taxes, and cut its bloated banking sector. Also included in the agreement was a haircut for  bank deposits of more than €100,000 (US$137,070) at the country's two largest banks—Bank of Cyprus, and Cyprus Popular Bank (Laiki Bank).
 "We're aligned with the Troika," said finance minister Harris Georgiades. "The memorandum could have been our own manifesto. It's a chance to correct our own shortcomings, and do what should have been done in Cyprus long ago."
There are positive signs for 2014, according to Imperio chief, Yiannis Misirlis.
 "Cyprus, despite all its recent issues, is still the fifth favorite place to reside, according to the Financial Times. The economy is beginning to recover; the fact that every quarter the economy outperforms the International Monetary Fund predictions is very encouraging," according to Misirlis. Although investor confidence and mortgage availability is at an all-time low, there are signs of future improvement.
 "Moreover, the banks have just started to announce new mortgage plans. Of course, we have a long way to go before the market is completely normalized, but the signs are very encouraging. I would expect the market to pick up in 2014."
Cyprus - More data and information