COVID-19 pandemic derails Cyprus' housing market recovery
Lalaine C. Delmendo | August 11, 2020
After eight long years of house price falls, Cyprus' housing market had improved significantly over the past three years. However the outlook is now uncertain as the coronavirus outbreak has caused both demand and supply to plunge again in recent months.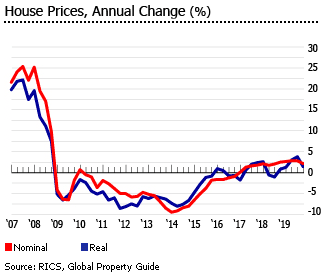 The economy is under significant strain. In Q1 2020, tourist arrivals and revenues plummeted by 46.5% y-o-y and 52.4%, respectively. The European Commission expects Cyprus' economy to contract by as much as 7.7% this year.
It is another major "hit" for Cyprus' economy, which had suffered two other big hits over the last 12 years:
The 2008 global crisis.  Cyprus' economy contracted about 2% in 2009, mainly due to the adverse impact of the global financial crisis. After registering anaemic growth rate of 0.4% in 2011, the economy shrank again by 3.4% in 2012.
Cyprus' 2012 banking crisis. Due to the collapse of its entire offshore banking system, Cyprus' economy suffered a huge 6.6% contraction in 2013, and a 1.9% contraction in 2014, based on IMF figures.
The property market was also afflicted by the title deeds scam (see below) which caused thousands of foreign buyers to lose their investments.
Before Coronavirus hit, Cyprus' banking system had just about recovered. The economy was growing strongly. The property market was beginning to pick up.  But then– wham! –along came Coronavirus, killing Cyprus' main industry, tourism.
During 2019, the nationwide residential property price index had risen by 2.16% (1.44% inflation-adjusted), following y-o-y increases of 2.51% in 2018 and 1.78% in 2017, according to the Central Bank of Cyprus – not enough to reverse the 30% house price decline 2009-2016 (32.3% inflation-adjusted) but still a recovery. The three years of house price rises were caused by Cyprus' steady economic recovery as it put its economic house in order, with GDP growth of 3.4% in 2015, 6.7% in 2016, 4.4% in 2017, 4.1% in 2018, and 3.2% last year.
By district, during 2019:
Nicosia, Cyprus' capital, apartment prices rose by 1.5%, and house prices increased by 1.1% from a year earlier.
In Limassol, apartment prices rose strongly by 7.6%, while house prices increased by 2.4%.
In Larnaca, apartment and house prices rose by 7.4% and 0.9%, respectively.
In Paphos, apartment prices rose by 1.6%, while house prices increased slightly by 0.7%.
In Famagusta, apartment and house prices rose by 0.8% and 3.3%, respectively.
Both demand and supply of housing are now falling. Property sales fell by more than 41% y-o-y to 3,271 units during the first half of 2020. Domestic sales dropped 39% y-o-y while overseas buyers fell by 44%.
The Cyprus real estate market has historically been divided into the major urban centres of Nicosia, Limassol and Larnaca (primarily driven by local demand); and the seaside resort areas of Paphos and Famagusta, which are mostly driven by foreign demand. The economic decline of recent years affected both areas.
Foreigners can buy one home in Cyprus, and are entitled to hold land freehold, but there is a maximum limit on land ownership of 3 donums (4,014 sq. m.).
Brief history of Cyprus' housing market
Cyprus' housing market has been on a roller-coaster ride.  During a crazy boom in the mid 2000's built on tourist demand and Russian money, there were house price increases of 22.06% (17.46% inflation-adjusted) in 2007, and 9.73% (7.47% inflation-adjusted) in 2008.  But then house prices fell by 30% (32.3% inflation-adjusted) from 2009 to 2016, beginning their decline in 2009 due to the global financial meltdown, according to the Central Bank of Cyprus (CBC).
HOUSE PRICES IN CYPRUS, ANNUAL CHANGE (%)

Year
Nominal
Inflation-adjusted
2009
-1.86
-3.83
2010
-3.57
-5.13
2011
-4.96
-8.55
2012
-4.71
-5.75
2013
-8.50
-6.34
2014
-8.02
-6.66
2015
-1.82
-0.85
2016
-0.94
-0.69
2017
1.78
2.38
2018
2.51
0.80
2019
2.16
1.44
Sources: Central Bank of Cyprus, Global Property Guide
Cyprus' housing market started to stabilize in Q1 2017, amidst an improving economy.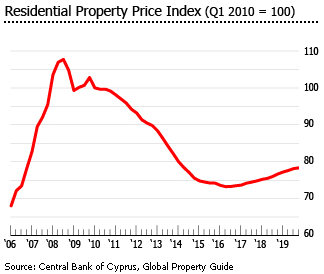 Demand weakens amidst pandemic
Now Cyprus' property recovery is once again at risk.  During the first half of 2020, total property sales in Cyprus fell by more than 41% y-o-y to 3,271 units.
By major urban centres:
Nicosia registered 830 sales contracts in the first half of 2020, down by 18.1% from a year earlier.
In Limassol, property sales were down by a huge 53% y-o-y to 934 units over the same period.
In Paphos, sales contracts dropped almost 50% y-o-y to 713 units.
In Larnaca, property sales fell by 27.1% y-o-y to 563 units.
In Famagusta, sales contracts fell by 37.9% y-o-y to 231 units.
Strong interest from foreigners, and predominantly from non-EU buyers, has been the driving force for the housing market in recent years. In 2019, property sales in Cyprus rose by 12.2% to 10,366 units from a year earlier - the biggest sales total since 2008. It followed rises of 5.8% in 2018, 23.7% in 2017, 42.6% in 2016, 9.4% in 2015 and 20.2% in 2014.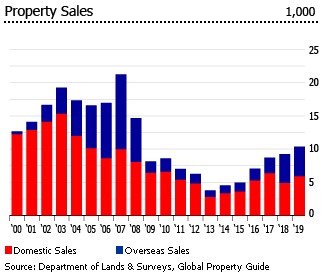 However with worldwide lockdown measures and travel restrictions, it is not surprising that sales have fallen tremendously in H1 2020.
Residential construction activity is falling again
There was a dramatic increase in building permit values in 2019, reflecting the economic recovery and Cyprus' return to credit-worthy status.  The value of residential building permits increased 87.1% to €2.43 billion (US$2.81 billion), while the total number of dwellings authorized in Cyprus surged more than 55% to 9,627 units, following y-o-y growth of 25.6% in 2018, 35.4% in 2017, 14.1% in 2016 and 12% in 2015, according to the Cyprus Statistical Service.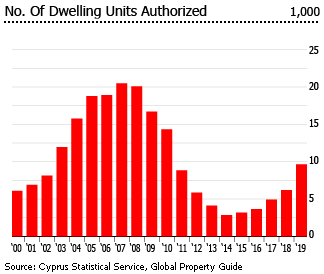 But in the first four months of 2020, dwelling units authorized dropped 9.8% y-o-y to 2,239 units, amidst the coronavirus outbreak, according to the Cyprus Statistical Service.
Dwelling stock in the country reached around 455,000 units in early last year.
Interest rates continue to fall
Interest rates in Cyprus are low, following European Central Bank (ECB) key rates. As of May 2020, the following average housing loan rates applied in Cyprus: 
Interest rate fixation (IRF) of up to 1 year: 1.22%, sharply down from 1.49% in May 2019 and from 3.18% in May 2018
IRF over 1 and up to 5 years: 1.81%, down from 2.28% a year ago and 2.33% two years ago
IRF over 5 years: 2.17%, down from 2.43% in May 2019 and 2.93% in May 2018
Variable-rate mortgages now account for about 98% of all housing loans in Cyprus.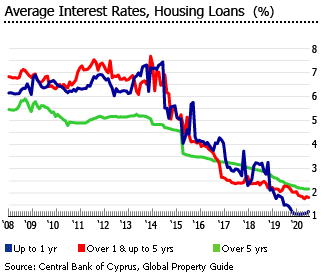 The ECB left its key rate unchanged at an all-time low of 0.00% in June 2020, after cutting it by 5 basis points in March 2016. In previous years, banks in Cyprus have been slow to respond to ECB interest rate cuts, but this seems to be changing.
Mortgage market shrinking
Despite the low interest rates, new housing loans to households plummeted by 26.5% y-o-y to €301.1 million (US$348.6 million) in the first five months of 2020, according to the Central Bank of Cyprus. About 73% were pure new loans while the remaining 27% were renegotiated loans, with advances to local residents accounting for around 90% of housing loans.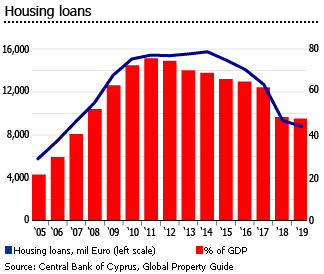 From 29.1% of GDP in 2005, the mortgage market grew to about 91.32% of GDP in 2012. But it has contracted sharply since to 44% of GDP in 2019.
Rents rising sharply, yields are moderate
Average gross yields in Cyprus stood at 5% for apartments in 2019, up from 4.5% in 2018, 4.3% in 2017 and 4% three years ago, according to RICS. Likewise, gross yields for houses were 2.6% in 2019, up from 2.4% in 2018, 2.2% in 2017 and 2.1% three years ago.
Nicosia and Limassol usually offer higher gross rental yields as compared to other Cypriot cities.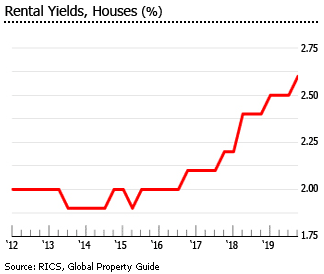 Across Cyprus, monthly rents for residential properties rose by double-digit figures during 2019. Apartment rents rose by 14.4% y-o-y in 2019 while house rents increased 12%. Overall, residential rents are now at their highest level for six years.
By district, during 2019:
Nicosia, Cyprus' capital, apartment rents rose by 10% and house rents increased 9% in 2019 from a year earlier, according to KPMG.
In Limassol, apartment rents rose by 19% while house rents increased strongly by 23%.
In Larnaca, the average rent for apartments and houses rose by 12% and 23%, respectively.
In Paphos, apartment and house rents rose by 12% and 2%, respectively.
In Famagusta, the average rent for apartments and houses rose by 8% and 4%, respectively.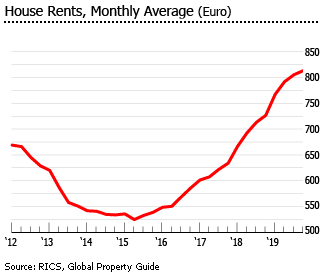 In Nicosia and Larnaca, 120 sq. m. apartments typically rent for about €700 to €800 per month, according to a Global Property Guide research.
Cyprus' property title deeds fiasco remains unresolved
Property frauds in Cyprus are a huge problem for expat homeowners, but also for developers, banks, and the government. Many buyers have lost their homes after the developer went bankrupt, despite having paid in full.
Developers tend to keep the title deeds, neglecting to inform house-buyers that their title deeds will be withheld for an unspecified time, or that the land on which their property is built has been mortgaged by the developer.
Between January 2005 and June 2008 a total of 37,769 overseas buyers purchased 29,949 properties for which Title Deeds had yet to be transferred, according to the Cyprus Department Land Registry report published in October 2008. "Some cases have involved ´double selling´ fraud whereby the developer sells a property to Party A, fails to lodge the contract with the Land Registry, and then sells it again to Party B (possibly for a higher price) but fails to reimburse Party A," says Alan Waring, an international risk management consultant.
To resolve the scandal, a new directive on mortgage credit was adopted on January 28, 2014 by the Economic and Financial Affairs Council. The new law sets out conditions for ensuring professionalism amongst creditors and credit intermediaries; principles for marketing and advertising; obligations relating to pre-contractual information; requirements for information on the borrowing rate; and requirements to check the consumer's creditworthiness; and disclosure obligations for the consumer.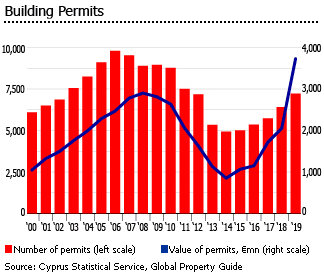 The property title deeds fiasco however remains unresolved. According to European Commission's Post-Programme Surveillance Report of spring 2017, at the current rate of Title Deeds issuance, it would take about ten years to address the backlog of unissued Title Deeds, which already reached around 30,000.
"The currently dysfunctional Title Deeds issuance and transfer system is deterring potential investors and thus weighing on the liquidity of the property market," said the European Commission. "Although some measures were taken to streamline the issuance of Title Deeds for new properties, no new measure was announced to provide for a sustainable system of transfer of Title Deeds."
The Immovable Property Transfer and Mortgage Law (Amendment) (No. 10) of 2015, better known as the 'Trapped Buyers' Law or the 'Hidden Mortgages' Law, was passed to help property purchaser(s) to obtain a Title Deed, if they cannot obtain one despite having fulfilled their contractual obligations to the vendor.
The following can apply for Title Deeds:
The buyer who has yet to receive the Title Deed of the property he purchased
The vendor of the property, whether a private individual or a property development company
The lender who granted the loan to the property buyer
The mortgagee under the mortgage contract deposited at the Land Registry
The buyer who purchased the property thru assignment or vesting contract deposited at the Land Registry
The Director of the Department of Lands and Surveys ex officio
However a court ruled in May 2017 that the new law is unconstitutional because it violates Article 26 of the Constitution, which affords individuals the right to enter freely into a contract. As such, the land registry suspended procedures, as the government contemplated its next move.
In July 2019, the government approved amendments seeking to improve the 2015 law to finally resolve the problem. The amendments ensure the involvement in the process of all three parties – buyer, lender and seller – and afford the capacity of filing a substantiated objection and securing a court order within a defined timeframe to stop the transfer.
"We are affording the land registry a new opportunity to tackle legal obstacles set by the banks in the process," said Akel MP Aristos Damianou.
As of the end of the first half of 2019, the largest number of applications from trapped buyers was submitted in Famagusta, with 4,349 cases, followed by Paphos with 4,235 applications, Larnaca with 3,365, Nicosia with 3,100 and Limassol with 2,394.
Overall, 17,443 applications were submitted to district offices of the Land and Surveys Department. Of which, 7,876 applications concern properties without a title.
Banking system improving
In 2012, Cyprus' huge offshore banking system, which was not unlike Iceland's, collapsed. By 2012 the banking sector had assets of US$120 billion in an economy with a GDP of only US$24 billion, with US$60 billion of these assets involving Russian corporations' deposits. Cypriot banks had a hard time making a return on all this money, and their response was to raise loan risk-levels, lending to Cyprus' local property companies, and to the Greek government, which in 2012 experienced the largest sovereign debt default in history.
In March 2013, Cyprus was bailed out by the Troika, composed of the International Monetary Fund, European Central Bank and European Commission. Cyprus was lent €10 billion (US$11.6 billion). Included in the agreement was a haircut for bank deposits of more than €100,000 (US$115,800) at the country's two largest banks-Bank of Cyprus, and Cyprus Popular Bank (Laiki Bank).
The terms required Cyprus to cut public sector spending, hike taxes, and cut its bloated banking sector. The loss of confidence had an enormous impact on the local economy, combined with the decline in tourism largely resulting from the Eurozone crisis, and the downgrading of the Cypriot government's bond credit rating to junk status.
Over the last five years, Cyprus has had impressive policy achievements, ending its IMF bailout program before term. Significant legal and institutional changes were introduced. The banking system is now on more solid ground. Unemployment has begun to fall. The economy is growing strongly.
Banking system solvency is also improving. NPLs were about 29.3% of total gross loans in H2 2019 – one of the lowest levels since 2013. The reduction in NPLs can be attributed to increased repayments, restructurings, write-offs, and settlement of debt through swaps with real properties intended to be sold for faster cash collection, according to the central bank. The housing market recovery is also helping improve Cypriot banks' asset quality. Despite the significant improvement, it remains among the highest in the EU.
Currently, NPLs in the Cypriot banking system amount to about €9.7 billion (US$11.2 billion), down from €10.3 billion (US$11.9 billion) in 2018 and a peak of €28 billion (US$31.4 billion) in 2013 – a decline that can be considered as the fastest in the EU.
In early-2020, it was reported that Cyprus' two largest lenders, the Bank of Cyprus and the Hellenic Bank, plan to sell bad loans worth a total of €4 billion (US$4.6 billion) in the coming months.
As a result, Standard & Poor's and Fitch Ratings raised the country's sovereign credit rating to investment grade, more than eight years after it had been downgraded into 'junk' territory. Also, Moody's Investor Service upgraded the country's long-term issuer rating from Ba3 to Ba2.
At the start of the pandemic, the uncertainty surrounding its potential impact on the country's banking system and the overall economy resulted in the three major credit rating agencies all affirming their current rating level, but revising a previously 'positive' outlook down to 'stable'. But in July 2020, Moody's decided to reinstate the outlook for Cyprus to 'positive'.
"The credit profile of Cyprus (Ba2 positive) reflects its small but wealthy economy, improved economic resilience and the government's fiscal outperformance in the wake of the country's banking crisis," said Moody's.
"The coronavirus pandemic will lead to a severe deterioration in the country's economic activity and fiscal position, and debt is expected to spike this year." Despite this, Moody's expect that the rise in debt related to the COVID-19 pandemic is only transitory.
"We expect that Cyprus' debt reduction will resume at a sustained pace after the 2020 coronavirus crisis," said Moody's Senior Vice President Sarah Carlson.
Cypriot economy continues to grow, but outlook is now gloomy
In Q1 2020, the economy expanded by 0.8% from a year earlier.   "Cyprus was on a solid growth path before the global outbreak of COVID-19," said the European Commission's summer outlook. "…the pandemic, and the confinement measures that followed have dramatically changed the picture."
Cyprus had real GDP growth of 3.2% last year, following annual expansions of 4.1% in 2018 and 4.4% in 2017, driven by strong domestic demand and favourable external demand for Cypriot exports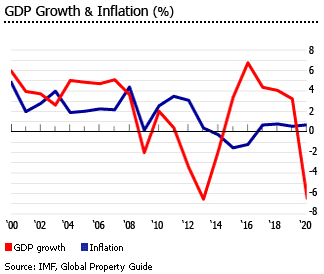 The economy is now under significant strain with tourism revenues expected to plunge to only about 25% of last year's level. In Q1 2020, tourist arrivals and revenues fell by 46.5% y-o-y and 52.4%, respectively. Last year, tourism revenues generated from record arrivals of 3.97 million amounted to €2.68 billion (US$3.1 billion).
As such, the European Commission expects Cyprus' economy to contract by as much as 7.7% this year, before bouncing back in 2021 with a 5.3% growth.
Cyprus is expected to record a substantial overall deficit this year, beyond the official estimate of 4% to 5% of GDP, after the government recently allocated over €1.2 billion (US$1.4 billion) for COVID-19 assistance to the health sector, households and businesses. This is in sharp contrast to a surplus equivalent to 1.7% of GDP in 2019.
Gross public debt is projected to surge above 120% of GDP this year, sharply up from 95.5% of GDP in 2019 and surpasses the previous high of 109.2% of GDP in 2014.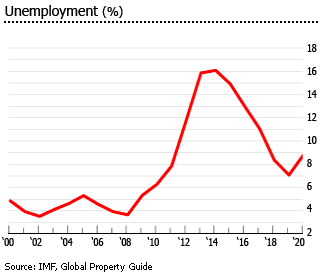 Consumer prices fell by 2% in June 2020 from a year earlier, the biggest decline in four years, following a 1.5% drop in the previous month. Inflation averaged 0.7% in the past three years.
Unemployment in Cyprus climbed to 10.2% in May 2020, up from 8.9% in April and 6.7% in March, according to Eurostat. In fact, it was the highest level in almost three years, amidst coronavirus related-lockdown measures. From an average of just 4.8% from 2000 to 2011, unemployment had surged to an average of 12.3% from 2012 to 2019, according to the IMF.
Sources:
Cyprus - More data and information