COVID-19 pandemic derails Cyprus' housing market recovery
Lalaine C. Delmendo | August 11, 2020

After eight long years of house price falls, Cyprus' housing market had improved significantly over the past three years. However the outlook is now uncertain as the coronavirus outbreak has caused both demand and supply to plunge again in recent months.

The economy is under significant strain. In Q1 2020, tourist arrivals and revenues plummeted by 46.5% y-o-y and 52.4%, respectively. The European Commission expects Cyprus' economy to contract by as much as 7.7% this year.

It is another major "hit" for Cyprus' economy, which had suffered two other big hits over the last 12 years:

The 2008 global crisis.  Cyprus' economy contracted about 2% in 2009, mainly due to the adverse impact of the global financial crisis. After registering anaemic growth rate of 0.4% in 2011, the economy shrank again by 3.4% in 2012.
Cyprus' 2012 banking crisis. Due to the collapse of its entire offshore banking system, Cyprus' economy suffered a huge 6.6% contraction in 2013, and a 1.9% contraction in 2014, based on IMF figures.

The property market was also afflicted by the title deeds scam (see below) which caused thousands of foreign buyers to lose their investments.

Before Coronavirus hit, Cyprus' banking system had just about recovered. The economy was growing strongly. The property market was beginning to pick up.  But then– wham! –along came Coronavirus, killing Cyprus' main industry, tourism.

During 2019, the nationwide residential property price index had risen by 2.16% (1.44% inflation-adjusted), following y-o-y increases of 2.51% in 2018 and 1.78% in 2017, according to the Central Bank of Cyprus – not enough to reverse the 30% house price decline 2009-2016 (32.3% inflation-adjusted) but still a recovery. The three years of house price rises were caused by Cyprus' steady economic recovery as it put its economic house in order, with GDP growth of 3.4% in 2015, 6.7% in 2016, 4.4% in 2017, 4.1% in 2018, and 3.2% last year.

By district, during 2019:

Nicosia, Cyprus' capital, apartment prices rose by 1.5%, and house prices increased by 1.1% from a year earlier.
In Limassol, apartment prices rose strongly by 7.6%, while house prices increased by 2.4%.
In Larnaca, apartment and house prices rose by 7.4% and 0.9%, respectively.
In Paphos, apartment prices rose by 1.6%, while house prices increased slightly by 0.7%.
In Famagusta, apartment and house prices rose by 0.8% and 3.3%, respectively.

Both demand and supply of housing are now falling. Property sales fell by more than 41% y-o-y to 3,271 units during the first half of 2020. Domestic sales dropped 39% y-o-y while overseas buyers fell by 44%.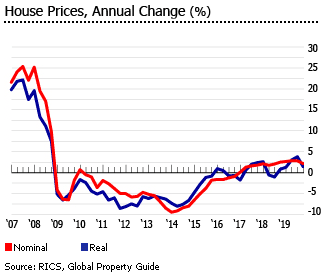 The Cyprus real estate market has historically been divided into the major urban centres of Nicosia, Limassol and Larnaca (primarily driven by local demand); and the seaside resort areas of Paphos and Famagusta, which are mostly driven by foreign demand. The economic decline of recent years affected both areas.

Foreigners can buy one home in Cyprus, and are entitled to hold land freehold, but there is a maximum limit on land ownership of 3 donums (4,014 sq. m.).