After a major pause last year due to the COVID-19 pandemic, Cyprus' housing market is now showing signs of recovery. Low interest rates, coupled with government relief measures, are currently driving property demand and construction activity.

During the year to Q1 2021, the nationwide residential property price index rose slightly by 0.91% (1.64% inflation-adjusted), a slowdown from the 1.82% y-o-y rise seen in Q1 2020, according to the  Central Bank of Cyprus (CBC).

By district, during the year to Q1 2021:

Nicosia, Cyprus' capital, apartment prices rose by 2.2% but house prices fell slightly by 0.9%.
In Limassol, apartment prices rose by 3.4%, and house prices increased by 2.7%.
In Larnaca, apartment prices rose strongly by 6%, but house prices fell by 0.8%.
In Paphos, both apartment and house prices fell by 3% and 1.6%, respectively.
In Famagusta, apartment prices rose by 3.2% while house prices dropped slightly by 0.1%.

Residential construction activity has quickly bounced back. In the first four months of 2021, the number of value of residential building permits rose by 44.6% and 47% y-o-y, respectively. Dwellings authorized also increased almost 50% y-o-y to 3,353 units in Jan-Apr 2021.

After a double-digit decline last year, demand is now rising again. In the first five months of 2021, total property sales in Cyprus rose strongly by 36.2% y-o-y to 3,577 units, according to the Department of Lands & Surveys. Domestic sales, which accounted for more than two-thirds of total sales, soared by 73% y-o-y to 2,482 units while property sales to foreigners fell by 8% to 1,095 units over the same period.

Overall, Cyprus' real estate market is expected to remain steady during the remainder of the year. "Activity and prices in the main commercial centres of Nicosia and Limassol are currently stable, as locals are acquiring residential properties taking advantage of various government subsidies and in order to generate income," said consultancy firm Wire FS. However, "other districts are continuing to experience low levels of demand, as they are more reliant on overseas markets and have a higher dependency on tourism."

In the first half of 2021, tourist arrivals totalled 340,984 people, up by 33.4% from last year but still down by a huge 79.1% from the 1.63 million arrivals recorded in H1 2019.

The Cyprus real estate market has historically been divided into the major urban centres of Nicosia, Limassol and Larnaca (primarily driven by local demand); and the seaside resort areas of Paphos and Famagusta, which are mostly driven by foreign demand.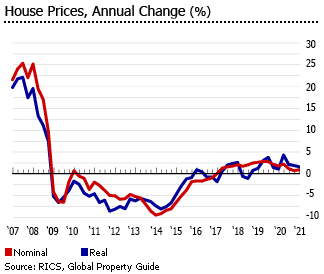 Foreigners can buy one home in Cyprus, and are entitled to hold land freehold, but there is a maximum limit on land ownership of 3 donums (4,014 sq. m.).

The International Monetary Fund (IMF) expects the Cypriot economy to grow by a modest 3% this year, following a contraction of 5.1% last year. But the Finance Ministry is more optimistic, projecting growth of 4.5% to 5% this year.


Analysis of Cyprus Residential Property Market »
Cyprus Rental Yields are moderate, ranging from 3.8% to 5%
Property prices. Due to solid property demand, apartment prices in Cyprus have increased. During the third quarter of 2021, Cyprus property prices rose by 1 percent per quarter, according to the Central Bank of Cyprus.

Rental Yield:

Larnaca: the average cost of a 75 square metre (sq. m.) apartment is around EUR 3,000 and monthly rents tend to be around EUR 10 per square metre (sq. m.), earning a rental yield of 3.8%. You can generate a rental yield of 4.91% for a 120 square metre (sq. m.) apartment that costs EUR 2,000 and EUR 11 per square metre (sq. m.) per month..

Limassol: the average price of an apartment is between the range of EUR 4,000 to EUR 5,000, generating a rental yield of 3.88% for a 150 square metre (sq. m.) apartment and approximately 5.64% rental yield for a 120 square metre (sq. m.) apartment. Smaller apartments will earn proportionally higher rental returns.

Nicosia: the cost of a 120 square metre (sq. m.) apartment is approximately EUR 2,000 per square metre (sq. m.) and EUR 9.26 per square metre (sq. m.) per month generating a rental yield of 5%. Gross rental yields here are higher than in Larnaca.

Property rents. A 120 square metre (sq. m.) apartment in Larnaca, Limassol, and Nicosia costs around EUR 1,000 to EUR 2,000 per month to rent. If you are looking for a buy–to-let property in Cyprus, Limassol apartments will give you a higher yield.

Over the years, gross rental yields in Cyprus have remained steady. Buying prices are low and capital gains seem possible.

Round trip transaction costs are moderate on residential property in Cyprus. See our Cyprus residential property buying-guide.