Croatian house prices continue to rise, mainly fuelled by strong demand, coupled with limited housing supply. Demand is surging. In 2018, the total number of new dwellings sold rose by 18.6% to 2,880 units from a year earlier.

In 2018, the nationwide price index for all dwellings rose by 4.69% (3.77% inflation-adjusted) from a year earlier, after y-o-y increases of 7.64% in 2017 and 0.79% in 2016.  During the latest quarter dwelling prices increased 1.09% (1.48% inflation-adjusted).

The house price index in Zagreb, Croatia's capital and largest city, soared 8.47% (7.51% inflation-adjusted) in 2018, according to the CBS.  The average price of new dwellings in Zagreb, which accounts for more than 45% of all sales transactions in the country, stood at HRK 12,749 (€1,712) per square metre (sq. m) in 2018.

On the Adriatic Coast, house prices rose by 4.44% (3.52% inflation-adjusted) y-o-y in 2018.

In other areas of the country, house prices fell slightly by 0.25% (-1.14% inflation-adjusted).

During 2018:

New dwellings: the price index rose by 2.8% y-o-y (1.88% inflation-adjusted)
Existing dwellings: the price index rose by 5.02% y-o-y (4.08% inflation-adjusted)

Before the recent surge there was a long period of declining house prices - 2.13% in 2015, 1.44% in 2014, 1.68% in 2013 and 5.88% in 2012, according to the Croatian Bureau of Statistics (CBS).

Croatia's property market is expected to remain strong in the coming years, thanks to robust demand supported by healthy economic growth.

"We expect the prices will continue (slightly) increasing in the short to medium term in Zagreb and on the coast, providing the interest rates and economic cycle remain stable," said Colliers International.

On January 1, 2017, Croatia lowered real estate transfer tax from 5% to 4%. On VAT-charged property transactions, the VAT rate remains 25%.

The right of non-EU foreign nationals to buy a property in Croatia depends on reciprocity agreements between Croatia and the foreign buyer's home country.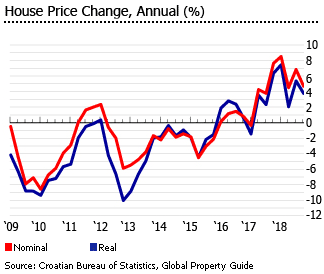 The Croatian economy expanded by a modest 2.6% in 2018, according to the Croatian Bureau of Statistics (CBS), mainly driven by strong private consumption, supported by rising wages and employment. The economy is expected to grow by 2.7% this year and by another 2.6% in 2020, based on European Commission estimates.


Analysis of Croatia Residential Property Market »