House prices in Croatia are now rising
June 29, 2018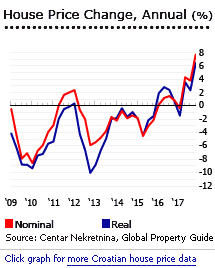 Croatia has an expanding economy and - after a short crisis - a more stable government. And propelled by economic growth and by foreign buying, in 2017, the nationwide house price index rose sharply by 7.6% y-o-y (6.4% inflation-adjusted), based on the figures from the Croatian Bureau of Statistics (CBS).
Though prices have risen most in popular coastal areas - Istria´s largest city, Pula had the highest annual apartment price growth among Croatia´s large cities during the year to February 2018, with prices rising by more than 12%, according to the property portal Njuškalo - house price increases are not confined to the coast.
In Zagreb new dwellings have had an extraordinary spurt, with prices rising by 15.8% y-o-y (14.4% inflation-adjusted) in 2017 to HRK 12,098 (€1,630) per sq. m. In contrast, the average price of new dwellings elsewhere only rose by 1% (-0.2% inflation-adjusted) to HRK 9,679 (€1,304). Nationwide, existing dwellings rose most, by 8.3% y-o-y (7% inflation-adjusted).
On the Adriatic coast, the house price index rose by 7.2% (5.9% inflation-adjusted) y-o-y to the last quarter of 2017.
House prices in Zagreb City surged by 9.8% y-o-y (8.5% inflation-adjusted).
Elsewhere the house price index went up by 4.1% (2.8% inflation-adjusted).
During 2017, the average price of new dwellings sold in Croatia was HRK 10,734 (€1,446) per square metre (sq. m.), up by 7% (5.7% inflation-adjusted).
Croatia´s most expensive properties are in Dubrovnik, with average apartment prices of €3,374 per sq. m., and houses at €4,600 per sq. m. Property is expensive in Split (apartments: €2,563 per sq. m., houses: €2,799 per sq. m.), Rovinj (apartments: €2,488 per sq. m., houses: €2,078 per sq. m.), and Zadar (apartments: €1,898 per sq. m., houses: €1,482 per sq. m.).
Recent property price movements in Croatia (changes in the index):
2009: down 5% y-o-y (-7.21% inflation-adjusted)
2010: down 6.33% (-7.28% inflation-adjusted)
2011: up 0.17% (-2.05% inflation-adjusted)
2012: down 1.56% (-4.81% inflation-adjusted)
2013: down 3.95% (-6.03% inflation-adjusted) 
2014: down 1.58% (-1.37% inflation-adjusted)
2015: down 2.89% (-2.44% inflation-adjusted)
2016: up 0.89% (2.04% inflation-adjusted).
2017: up 3.83% (2.65% inflation-adjusted).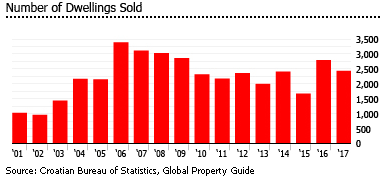 About 45% of the new dwellings sold in 2017 were located in Zagreb, while the remaining 55% were sold elsewhere.
This year, Colliers International predicts that "prices will continue the upward trend", boosted by the elevated demand and high growth of tourist arrivals and overnights.
On January 1, 2017, Croatia lowered real estate transfer tax from 5% to 4%. On VAT-charged property transactions, the VAT rate remains 25%. 
The right of non-EU foreign nationals to buy a property in Croatia depends on reciprocity agreements between Croatia and the foreign buyer´s home country.
Croatia´s spectacular coast
About 70,000 foreigners own property in Croatia, mostly on the Adriatic Coast. The Northern peninsula of Istria is home to a property boom fuelled by German buying.
Croatia´s high-end residential market continues to attract foreign buyers. Of Croatia´s 20 regions, the five most popular with foreign buyers are on the Adriatic Coast:
Istria (33% of foreign-owned properties), Primorje-Gorski Kotar (26%), Split-Dalmatia (12%), Zadar (8%), and Dubrokniv-Neretva (6%).
Only 3% of foreign buyers chose Zagreb City.
Around 55% of approved permits for foreign acquisitions were granted to Germans. Austrians come in second place with 16% of permits granted, followed by Britons (6%), Hungarians (4%) and Dutch (3%).
Luxury properties in Istria are popular among Germans, Austrians, and Slovenians. In Dalmatia, most luxury demand comes from the Croatian diaspora: Sweden, Slovakia, and the Czech Republic. Luxury homebuyers in Opatija are mostly Russians.
In 2017, no new large-scale tourist resorts were built. Most development came from small projects, usually waterfront projects with up to 10 units or less. These small-scale projects are mostly in Dalmatia (the islands of Brač and Hvar, Makarska Riviera, and Rogoznica) and in Kvarner region´s Krk Island.
However a new retreat resort at Brizenica Bay, in the island of Hvar, is to be built featuring a 120-key Four Seasons hotel and around 60 high-end properties. This resort development from Arqaam Capital and Four Seasons is expected to open in 2019.
Moderate to good rental yields in Zagreb, but very limited rental market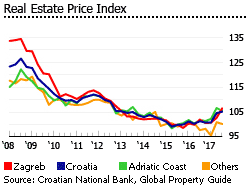 Gross rental yields in Croatia´s capital, Zagreb, are moderate to good, ranging from 5.4% to 6.1%, based on Global Property Guide research in December 2017. In Split, rental yields are lower, at around 3.2% to 4.7%. Smaller-sized apartments tend to have higher yields than larger ones.
Most Croatians are owner-occupiers. About 90% of Croatian households were living in an owner-occupied home or apartment in 2016, according to the Eurostat.
The rental market concentrates on short-term holiday rentals for foreigners and tourists, with good resort waterfront real estate on Adriatic coast fuelling demand.
The country´s long-term rental market is very small. Most long-term rental properties are in Zagreb, Dubronik, and Split. In Zagreb, the demand for rental properties partly comes from students studying at the University of Zagreb, as in Split, where the greatest demand is in the city centre and around the university campus.
According the Global Property Guide´s December 2017 research:
In Zagreb a 90 sq. m. apartment rents for around HRK 6,459 (€870) per month;
a 120 sq. m. apartment is around HRK 7,973 (€1,074).
In Split a 120 sq. m. apartment rents for around HRK 6,199 (€835) per month.
Mortgage interest rates are falling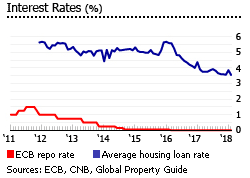 In February 2018, the average interest rate for housing loans indexed to foreign currency stood at 3.55%, down from 3.91% a year earlier.
Rates for foreign currency housing loans (February 2018):
Floating rate and interest rate fixation (IRF) of up to 1 year: 3.76%.
IRF over 1 and up to 5 years: 3.54%.
IRF over 5 years and up to 10 years: 3.36%.
IRF over 10 years: 3.63%.
Rates for housing loans not indexed to foreign currency:
Floating rate and IRF of up to 1 year: 3.86%.
IRF over 1 and up to 5 years: 3.84%.
IRF over 5 years and up to 10 years: 3.84%.
IRF over 10 years: 3.88%.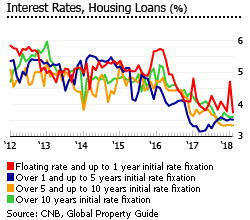 Only 20% of all new housing loans are floating rate (or with interest rate fixation (IRF) of up to 1 year), an unusually small proportion. In fact 29% of all new housing loans have an IRF of more than 10 years. This suggests that the Croatian property markets will be exceptionally resilient in the event of interest rate hikes.
Housing supply slowly increasing
Dwelling permits rose by 33.1% to 12,509 units in 2017, following growth of 35.2% in 2016. However, these numbers are still below the annual average of 22,000 units from 2001 to 2008. After the 2008 crisis, dwelling completions and permits fell even below levels seen during the War of Independence (1991-1995).
Mortgage loans have risen, after five years of decline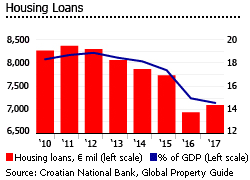 After five years of massive contraction, Croatia´s outstanding housing loans expanded again by about 2.2% in 2017. Since 2012 the country´s outstanding housing loans has been declining, which continued even after the economy recovered from recession in 2015. Housing loans contracted by about 0.8% in 2012, 2.8% in 2013, 2.4% in 2014, 1.7% in 2015, and 10.2% in 2016, according to the European Central Bank (ECB). 
Nevertheless, Croatia´s mortgage market has developed significantly during the past decade. The old large state-owned banks have been privatized, and commercial banks have been restructured. Austrian, Italian and German banks have entered the market. There was a significant increase in building societies´ share of loans, from 1% in 2003 to 5% recently.
One interesting trend has been the rise of kuna-denominated loans in the past two years, according to the CNB. From a share of below 10% of the total outstanding housing loans from 2010 to 2015, the share of kuna-denominated housing loans not indexed to foreign currencies sharply rose to around 20% of the total housing loans by end of 2016. In 2017, the share of kuna-denominated loans stood at 26.7%.
According to Igor Ljubaj and Suzana Petrović of the CNB the rise of kuna loans was due to:
The decline of interest rates on kuna loans as a result of the drop in the general level of interest rates;
Households´ negative experience with Swiss franc-indexed loans
CNB´s expansionary monetary measures and regulatory changes that raised the consumers´ awareness about currency risk;
Strong competition among banks in granting new loans, amid generally subdued lending activity; and
Banks´ reduced reliance on foreign currency financing
In February 2018, kuna-denominated new housing loans amounted to HKR 317.69 million (€43.27 million), while foreign currency-indexed kuna loans amounted to HRK 506.78 million (€69.02 million).
Economic outlook still positive in 2018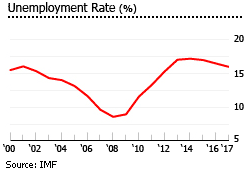 The Croatian economy expanded by 2.8% in 2017, down from 3.2% in 2016, according to the Croatian Bureau of Statistics (CBS). While the economy had a strong start during the first three quarters of 2017, its growth softened during the second half of the year.
From 2009 to 2014, Croatia´s economy lost more than 12% of GDP, Europe´s second-biggest contraction after Greece. Croatia´s economy began to turn around in 2015 and gained momentum in 2016, expanding by 2.3% and 3.2%, respectively, according to the CNB.
Croatia is expected to expand by 2.8% in 2018, according to the European Commission (EC). The economy´s main engine of growth is private consumption, supported by rising wages and employment. Investment, whose growth was limited in 2017 due to the debt restructuring of a major food-processing and retail company Agrokor, is expected to recover in 2018.
Croatia´s most serious problem is high unemployment, the fourth highest in the European Union (EU), following Greece, Spain and Italy. Croatia is also hailed as one of the EU countries with the highest decline in unemployment, based on the Eurostat´s data in March 2018. Unemployment rate in the country stood at 11.5% in March 2018, down from the previous year´s rate of 14.4%.
In March 2018, Croatia´s annual inflation stood at 1.1%. Prior to last year, the country was under deflation for three years, posting rates of -0.2% in 2014, -0.5% in 2015, and -1.1% in 2016, according to the CNB.
A stable government, credit rating upgrades, and EDP exit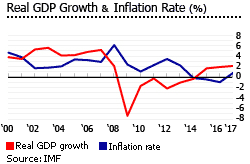 In April 2017, the governing coalition of Croatian Democratic Union (HDZ) and Bridge of Independent Lists (MOST) collapsed. MOST left the coalition after Finance Minister Zdravko Marić allegedly withheld of information related to Agrokor´s financial woes.
However HDZ regained its parliamentary majority after partnering with five turncoat Croatian People´s Party (HNS) MPs, who formed a new political party called Civic Liberal Alliance (Glas).
During the first quarter of this year, Croatia´s credit rating was raised by two ratings agencies ― Fitch ratings agency and Standard & Poor´s (S&P). Both upgraded Croatia´s credit rating to ´BB+´ with a stable outlook from its earlier ´BB´ rating. Fitch cited economic growth, improved public finance, and a strong tourist season.
Since the beginning of 2014, Croatia has been in the European Commission´s Excessive Deficit Procedure (EDP) due to its high budget deficits and public debt. However, the country, along with Portugal, was able to exit the EDP in June 2017, upon the recommendation of the European Commission (EC) a month before.
Croatia´s public debt stood at 78% of GDP in 2017, down from 80.6% of GDP in 2016 and 83.8% of GDP in 2015, according to the European Commission. Aside from a steadily declining public debt-to-GDP ratio, the country saw a budget surplus at 0.8% of GDP in 2017, Croatia´s first budget surplus since independence.
Croatia - More data and information