Croatia's housing market remains buoyant, amidst low interest rates and robust economy. During the year to Q2 2022, the nationwide house price index rose strongly by 13.6% from a year earlier, up from a y-o-y increase of 6.48% in Q2 2021 and the highest growth recorded in recent history, according to the Croatian Bureau of Statistics (CBS). However in real terms, prices actually increased by just 1.39% over the same period, amidst surging inflation.

On a quarterly basis, house prices increased 3.74% in Q2 2022, but declined 1.48% when adjusted for inflation.

By major regions:

In Zagreb, Croatia's capital and largest city, new dwelling prices rose by 14.8% (2.45% inflation-adjusted) y-o-y in Q2 2022, according to the CBS. Quarter-on-quarter, prices increased 3.85% (-1.38% inflation-adjusted).
In Adriatic Coast, prices of new dwellings increased 12.79% (0.66% inflation-adjusted) in Q2 2022 from a year earlier. On a quarterly basis, prices were up 2.88% (-2.3% inflation-adjusted) during the latest quarter.
In other settlements, new dwelling prices surged 15.25% (2.86% inflation-adjusted) in Q2 2022 from a year ago, and by 6.41% (1.05% inflation-adjusted) from the previous quarter.

In 2021, the average price of new dwellings in Croatia rose by 7.8% to HRK 13,713 (€1,821) per square meter (sq. m.) from a year earlier, following y-o-y rises of 3.1% in 2020, 7.6% in 2019, 6.8% in 2018 and 7% in 2017. In Zagreb, house prices average HRK 14,672 (€1,948) per sq. m. while it was HRK 12,577 (€1,670) in other settlements.

Before the recent surge there was a long period of declining house prices - 2.13% in 2015, 1.44% in 2014, 1.68% in 2013 and 5.88% in 2012, according to the CBS.

Croatia's property market is expected to remain robust, primarily driven by strong demand and still limited supply.

The Croatian economy bounced back strongly last year, registering a real GDP growth rate of 10.2%, fully offsetting the 8.1% pandemic-induced contraction seen in 2020. Then in Q2 2022, the economy grew by 7.7% year-on-year, its fifth consecutive quarter of strong growth, buoyed by robust household consumption and a surge in exports.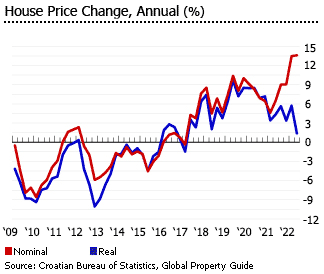 The Croatian National Bank, in its Macroeconomic Development and Outlooks report in July 2022, projects the Croatian economy to expand by a healthy 5.5% this year, despite heightened global economic uncertainty and rising consumer prices.

Croatia is set to join the euro area on January 1, 2023.