Croatia's housing market battered by the COVID-19 pandemic
Lalaine C. Delmendo | April 11, 2021

Croatia's housing market remains buoyant, despite a struggling economy battered by the COVID-19 pandemic, as well as two deadly earthquakes that struck Zagreb in March 2020 and the central region in December 2020.

In 2020, the average price of new dwellings in Croatia rose by 3.1% to HRK12,724 (€1,678) per square meter (sq. m.) from a year earlier, following y-o-y rises of 7.6% in 2019, 6.8% in 2018 and 7% in 2017, according to the Croatian Bureau of Statistics (CBS). When adjusted for inflation, prices increased 2.8%.

During 2020:

In Zagreb, Croatia's capital and largest city, new dwelling prices rose by 9.2% (8.9% inflation-adjusted) to an average of HRK 14,013 (€ 1,848) per sq. m., according to the CBS.
In Split, the country's second largest city and one of Adriatic's most vibrant port cities, asking prices rose by 3.6% to HRK22,640 (€2,985) per sq. m., according to Njuskalo.hr and eNekretnine.
In Rijeka, Croatia's third largest city and a principal seaport located on Kvarner Bay in the northern Adriatic Sea, asking prices increased 9.1% to HRK13,099 (€1,727) per sq. m.
In Osijeck, a Drava River cruise port and Croatia's fourth largest city, asking prices rose by 6.6% to HRK8,017 (€1,057) per sq. m.
In other areas of the country, new dwelling prices fell by 4.6% (-4.8% inflation-adjusted) to an average of HRK 11,198 (€ 1,476) per sq. m.

Before the recent surge there was a long period of declining house prices - 2.13% in 2015, 1.44% in 2014, 1.68% in 2013 and 5.88% in 2012, according to the CBS.

Croatia's property market is expected to strengthen again in the second half of 2021, as the economy returns to growth.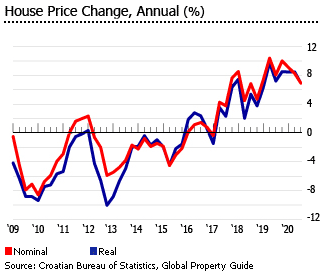 The Croatian economy slumped by a record 8.4% in 2020 from a year earlier, in contrast to an annual expansion of 2.9% in 2019.  This was worse than the 7.3% fall seen during the global crisis, according to the CBS. The European Commission expects Croatia to have real GDP growth of 5.3%.

On January 1, 2017, Croatia lowered real estate transfer tax from 5% to 4%. On VAT-charged property transactions, the VAT rate remains 25%.

The right of non-EU foreign nationals to buy a property in Croatia depends on reciprocity agreements between Croatia and the foreign buyer's home country.