Puerto Rico's luxury market resilient, amidst continued economic woes
January 02, 2016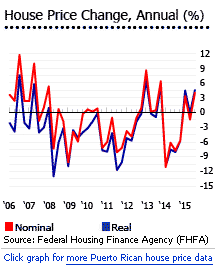 Puerto Rico's housing market is now showing some signs of improvement, after previous house price declines. During the year to end-Q3 2015, the seasonally-adjusted purchase-only house price index rose by 3.97% (4.51% inflation-adjusted), in sharp contrast with the annual decline of 5.7% a year earlier, according to the Federal Housing Finance Agency (FHFA). On a quarterly basis, house prices increased 2.76% (1.88% inflation-adjusted) in Q3 2015.
In fact, the luxury segment is thriving, according to local property experts. This is because Puerto Rico's high-end market attracts mostly high net worth individuals and foreign investors who are not affected by the debt crisis, and who want to take advantage of tax incentives being offered by the Puerto Rican government.
Puerto Rico's luxury segment saw a spectacular 105% sales growth in 2013-14, according to Christie´s International Real Estate, after Puerto Rico was established as a tax haven in 2012.
"The luxury market is thriving," said Roberto Trápaga of the Association of Home Builders of Puerto Rico. "We have a supply shortage."
"The opportunity to acquire luxury real estate at very low prices is now better than ever, especially for foreign buyers," said Professor Juan Lara of the University of Puerto Rico.
Demand for luxury beachfront properties in exclusive areas such as Dorado, Palmas del Mar and Rio Grande is expected to outstrip supply in the coming years, according to Carlos Xavier Velez of real estate consulting firm, RE Advisors.
In 2015, Puerto Rico's real GNP growth was estimated at -0.7%.  In 2014 it dropped 0.9%, after a decline of 0.2% in 2013 and growth of 0.5% in 2012, according to the Government Development Bank (GDB).
The economic crisis and the housing market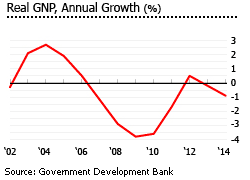 Historically, Puerto Rico's economy has closely mirrored trends in the United States. However the latest economic downturn has been more intense and has lingered longer in Puerto Rico than in the United States.
Puerto Rico's recession began in the fourth quarter of 2006.  GDP has grown very little or declined over the past eight years. The economy contracted every fiscal year from 2007 to 2014, with an exception in 2012 when the economy grew slightly by 0.5%. There's been high unemployment, massive emigration, and a near-catastrophic national debt crisis and credit rating downgrades.
Moreover, the housing market has suffered tremendously.  After huge annual house price increases in the early 2000s, the housing market came crashing down in 2008. Prices have dropped 23% (31% inflation-adjusted) from Q1 2008 to Q3 2014.
Many Puerto Ricans have been forced to sell at a loss following the crisis, given the high unemployment rate – at an average of 15.3% in 2009 and 16.4% in 2010. The government is burdened by more than USD70 billion in debt and its credit rating has been cut to junk. The economic crisis has reduced both consumers' savings and confidence, with many postponing their home-buying decisions.
The loss of net worth among Puerto Ricans from the drop in real estate prices is close to USD30 billion, said economic consulting firm Estudios Tecnicos's director, Jose Villamil.
Hundreds of thousands of Puerto Ricans have been forced to migrate to the United States, according to the Census Bureau's Community Survey. During the decade 2004-2014 about 280,000 locals left, the largest migration wave since the 1950s, when close to 500,000 Puerto Ricans migrated to the mainland. As a result, Puerto Rico's population dropped by about 7.3% to 3.6 million in 2014 from its peak in 2004.
Aside from migration, the island suffers from an ageing population and a declining birth rate.
Puerto Rico's banking sector is also in crisis, with nonperforming loans at elevated levels.  Most of the problem is in the housing market, which accounts for about 2/3 of total loans, according to Scotia Bank. At the start of 2006, before the crisis, the prime interest rate was at 7.26%. It fell to only 3.25% in 2009. Interest rates remained very low in recent years to buoy the struggling economy. Despite this, around 80,000 families have been unable to refinance their loans, despite the lower interest rates, and many risk losing their homes.
To abate the situation, many new initiatives have been introduced, including tax incentives and other housing stimulus measures. But demand, though now gradually rising, remains far below the pre-crisis levels, and residential construction remains depressed.
Residential construction has continuously fallen for 11 years.
During 2014, residential construction activity plummeted, both in number and in value, by 31.8% and 20%, respectively. Then in the first five months of 2015, the number of new dwelling units plunged again by 18% to 661 units from the same period last year, according to the Puerto Rico Planning Board.
The top losing municipalities during 2014 were Cataño (-100%), Cidra (-100%), Cabo Rojo (-96%), Florida (-94%), Loiza (-87), Arroyo (-85%), Carolina (-83%) and Barceloneta (-83%).
The municipalities of Luquillo, Comerío, Dorado, Quebradillas, Coamo, Gurabo and Canóvanas exhibited growth in housing units construction in 2014, ranging from 450% in Luquillo, to 90% in Canóvanas. The capital, San Juan also registered an increase of 200% in 2014 from a year earlier.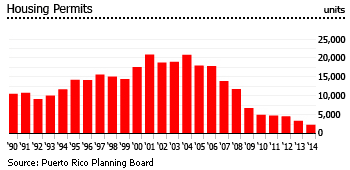 Cement sales, the construction industry's key indicator, dropped 2.5% to 0.94 million bags in November 2015 from the previous year, according to the GDB.
Hope on the horizon - Acts 20 and 22 are attracting foreign businesses to Puerto Rico
Yet all this crisis has brought change.  Not least, new measures to attract foreign businesses to Puerto Rico, which seem to be succeeding.
Two laws in early 2012 provided new tax benefits to individuals and businesses.
The Export Services Act 20 seeks to attract businesses by offering tax incentives on export services.
The Individual Investors Act 22 hopes to attract new residents to Puerto Rico by providing total exemption from Puerto Rico income taxes on all passive income realized or accrued after becoming bona fide residents of Puerto Rico.
During its first year of implementation, 151 people were granted the tax-exempt status, according to Puerto Rico's Department of Economic Development and Commerce. Then in 2014, around 250 high net worth individuals applied under the Act 22 program.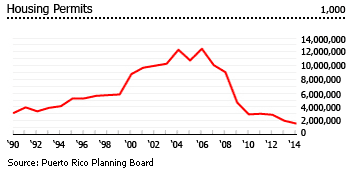 The government has recently expanded the coverage of both Act 20 and 22. Senate Bill 864, signed into law in December 2014, increases the impact of Act 22 by expanding who qualifies for the tax break. When Act 22 went into effect in January 2012, it was only applicable to new migrants to Puerto Rico who had not been residents for the last 15 years. That period has now been reduced to 6 years. Moreover, Senate Bill 1020, also signed into law in December 2014, also expands the type of businesses eligible to take advantage of the Act 20 program.
"I have seen more people come to Puerto Rico in the last two years than I have seen in a long time," says Ignacio Alvarez, chief legal officer of Banco Popular.  "One of the big advantages of Act 20 and 22 is not even so much how many wealthy people come down, it is putting Puerto Rico back on the map.
"I think that San Juan represents one of the great investment opportunities of my generation," says Nick Prouty, CEO of Putnam Bridge Funding, who has moved his office and family from Greenwich, Connecticut, to Puerto Rico.
"I'm seeing a shift in airspace, I´m seeing it in other areas," says Angel Perez, Vice-President of Solid Rock Technologies.
Billionaire John Paulson is among those who have committed hundreds of millions of dollars to buy and remodel the historic Condado Vanderbilt resort.  "He has a vision, and he is willing to put his money where his vision is," says Alberto Baco, Puerto Rico´s secretary of economic development.
"It is working, it is really working," says Baco. "We are seeing a lot of entrepreneurs coming in and partnering with our people."
Rental yields are good, though rents are falling
Despite the dire economic situation, rental yields in Puerto Rico remain good, according to the Global Property Guide research of February 2015. Average rental yields on apartments in San Juan are slightly down on last year, at 7.3% on 2 bedroom apartments.  For 3-bedroom apartments, the average rental yield stood at 8.3%.
There were insufficient data on apartments in coastal areas of Puerto Rico such as Condado, Miramar and Dorado, but two years ago they had much lower rental returns at 3.8%.
San Juan metro area's average monthly rent for 2-bedroom apartments amounted to US$801 in February 2015, down from US$1,011 per month two years ago.  The average rent on 3-bedroom apartments was US$1,121 per month, down from US$1,329 two years earlier.
The Housing Stimulus Act
To rescue the island's plunging housing market, former Governor Luis Fortuño implemented the stimulus program "Impulso a la Vivienda" (Act 152) in 2010.   The idea was to cut home inventories and stimulate new housing construction. Even before the ratification of Act 152, a "combo program" allowed people to buy second homes at a reduced rate, through a USD25,000 incentive, plus a USD10,000 voucher covering closing costs.
"With Act 152, we basically have expanded our support of that program with an enhanced mortgage-insurance program and a rental-market stimulus program, as well as a housing-stimulus program,"said former Economic Development & Commerce Secretary José Pérez-Riera.
Act 152 provides:
Loan to value mortgage ratios of 105%, allowing loans to be made without a down payment
A 100% exemption from net rental income tax, for a 10-year period.
A 100% tax exemption during a 10-month window, plus a 100% exemption from capital gains tax at the time of resale of new property, and a 100% exemption from fees, stamps and vouchers. There also is a 100% exemption on temporary property tax, and a five-year exemption from property taxes.
Moreover, the new Transition Law of the Housing Stimulus Program aims to extend the incentives to promote the purchase of residential properties and other real estate in Puerto Rico and to provide other benefits such as a 25% reduction in registration and notary fees for the purchase of new properties, 100% property tax exemption for 5 years, 75% discount on registration and notary fees in sales deed and mortgage, and 100% tax exemption in capital gains tax when the property is not used as a main residence.
Buyers and, especially, developers are very happy with the Act.
"These programs are extremely important because, all of a sudden, we have a system that recognizes the diversity of our housing market, from new and existing homes to rental housing," Hans Moll, president of the Puerto Rico Home Builders Association, told news and information website Caribbean Business.
"These new programs are key for the return of the move-up market and for reversing the decline in home values."
Puerto Rico is "effectively in default"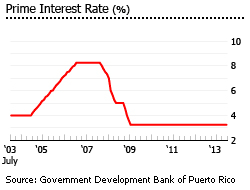 As the financial situation worsened, the government accumulated a public debt of more than USD70 billion, approximately 100% of GNP.  Over the past thirty-five years, government debt has risen from USD6 billion to USD70 billion, an annual compound growth rate of 7%.
In mid-2015, all major rating agencies downgraded the island's credit-rating to junk status: Fitch "CC", Standard & Poor's (S&P) "CCC-" and Moody's "Caa2". The three major credit rating firms all maintain negative outlooks for Puerto Rico.
In April 2013, the government enacted comprehensive reform of its largest public employee retirement system to address the system's deteriorating solvency.
Then in March 2014, in a desperate move to avert financial ruin, the Puerto Rican government issued bonds worth USD3.5 billion at a rate slightly below 9%, to attract interest from the financial markets. Despite their negative view of the island economy's financial markets, the credit rating agencies welcomed the bond sales and the government's austerity measures.
But those efforts have failed. The economy continues to shrink. The government has been forced to slash spending in order to keep up on its debt payments.
"Puerto Rico has a terrible financial problem. They´re essentially insolvent," said U.S. Treasury Secretary Jack Lew in December 2015. "They have $70 billion in debt. The debt needs to be restructured," Lew said. "They´ve already been taking money out pension funds to pay current bills. They´ve been shifting money for one creditor to pay for another creditor."
According to Puerto Rico governor Alejandro Garcia Padilla, the island will need to miss about US$37 million in interest payments due this January 2015 to ensure that the government has enough funds to pay salaries, pensions and other creditors,.
Mortgage-refinancing program is rescuing many indebted Puerto Rican families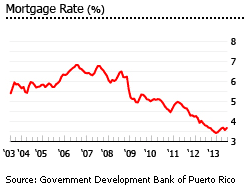 The government launched the "Ahorro Hipotecario" program in July 2014, offering mortgage-refinancing to some 10,000 low- to moderate-income Puerto Rican families,  backed by a USD63 million fund.
Under the scheme, qualifying homeowners can get new loans worth 100% of the appraised value of their property. This permits a considerable reduction in their interest rate, resulting in lower monthly payments. The program is offered to owners of primary residences paying interest rates higher than 6%, whose loans are smaller than USD250,000. The refinance loans will be granted by private banks and will have terms not exceeding 30 years.
To qualify, the applicant must not have more than two late mortgage payments of more than 30 days with 12 months of applying, and must have a credit score of 600 or more. Loans exceeding the property-related debt cannot be granted, and loans cannot be used to pay down credit card debts - but may serve as payment for motor vehicle loans and personal loans.
"This is a government with its ear to the ground. This is a government that knows that thousands of Puerto Rican families are meeting their obligations with enormous sacrifices. A government that knows that any savings right now on these obligations is a huge break," said Governor Alejandro García-Padilla
"Contrary to regular loan refinancings offered by commercial banks and even contrary to what the FHA is guaranteeing, our program allows refinancing up to 100 percent of the property's appraisal value with a substantial decline in interest rates."
Unemployment remains a serious problem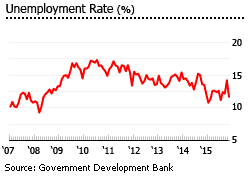 In November 2015, the seasonally-adjusted unemployment rate in Puerto Rico stood at 12.5%, slightly up from 12.4% in the previous month but down from 13.8% in the same period last year, according to the GDB.
The number of unemployed people (seasonally-adjusted) in Puerto Rico was about 143,000 in November 2015, from 142,000 people in October 2015 and 157,000 people in a year ago, based on figures from the GDB.
Since 2004, the total number of jobs has fallen by 15.4%, with only just over 1.1 million jobs available in 2015, according to the Department of Labor and Human Resources.   Puerto Rico´s labour force participation has also dropped, with only 41% of Puerto Ricans taking part in productive economic activities, comparing unfavorably to the United States and Latin America, where the average rate is about 60%.
The administration has begun implementing a plan to create jobs, the Jobs Now Act, under a law passed February 2013. The law grants an energy credit to participating businesses, speeds the permits process, and establishes a salary subsidy for businesses hiring previously laid off employees.  The Jobs Now Act has produced 44,704 new positions during the first fifteen months of its implementation.
Tourism helping boost Puerto Rican economy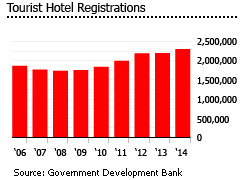 The Puerto Rican government plans to boost tourism's share of GDP from 6% to 8% in 2017, an increase of USD1.2 billion. The plan includes adding more than 5,000 new hotel rooms by 2017, new flights, and two new ports for cruise lines.
In 2014, the total number of tourist hotel registrations rose by 4.6% y-o-y to 2.3 million, according to the GDB.
In April 2015, there were about 200,600 tourist hotel registrations in Puerto Rico, up by 5.3% from the same period last year. Over the same period, the occupancy rate in tourist hotels stood at 75.7%, down from 81.7% from the previous month but up from 72.6% a year ago.
"If you want quick impact to the economy, tourism is where it's at," said Ingrid Rivera, executive director of Puerto Rico Tourism. "We are small but we are potent."
Currently, Puerto Rico has air connections with 17 countries and 24 destinations. But the island needs more airline service to accommodate more visitors, Rivera said. The agency is aiming for 10 million annual passengers, up from 8.4 million today. The island has a weekly flight from Frankfurt, Germany as well as several weekly flights from Panama and Colombia, and flights from Madrid, Spain two times a week. But there are no direct service flights from the United Kingdom or Mexico, two countries that, according to Rivera, could send travelers to Puerto Rico by the hundreds.
The government is also working to regain annual cruise ship visitors, which fell by nearly one-third after the 2008 financial crisis, back to 1.5 million. Ponce, on the southern shore, and Mayaguez, on the west coast, both plan to develop infrastructure to support large cruise ship calls. "The attractions are there," Rivera told Bloomberg.
Puerto Rico - More data and information