Barbados: West Coast's house prices up, South Coast down
Lalaine C. Delmendo | October 29, 2020

Barbados' housing market suffered a decade-long decline following the global financial crisis. Residential property prices in Barbados, especially in the high-end market, are still between 20% and 30% below their peak levels seen before the crisis.

Barbados' housing market remains two-tiered, with the high-end West Coast market showing signs of improvement while the South Coast is experiencing falling demand and house prices.

In the famous West Coast, which caters primarily to super-wealthy foreigners, median beachfront condo prices rose by 0.3% in 2019, following declines of 13.8% in 2018, 10.9% in 2017 and 13.3% in 2016, according to Terra Caribbean's Beachfront Condo Price Index (BCPI), which the company launched in January 2015.  There were however more sales – around 20% - above $5 million, so that average prices rose 70%.

The upward movement of prices in the West Coast can be mainly attributed to rising high-end demand. In 2019, sales transactions increased 4.5% from a year ago.

"As of the end of 2019, the BCPI for the south coast has declined by two points reflecting the 2.5% decrease in median price…(and) there have been fewer recorded sales transactions, down 21% from the previous year," noted Terra Caribbean.

On the West Coast the median price of beachfront condos was US$538 per square foot (sq. ft.) in 2019, slightly up from US$536 in 2018, but down from US$622 in 2017, US$698 in 2016, US$805 in 2015 and US$ 728 in 2014.
On the South Coast the median price of beachfront condos was US$407 per sq. ft. in 2019, from US$417 in 2018, US$408 in 2017, US$409 in 2016, US$441 in 2015 and US$426 in 2014.

The nationwide land price index rose by 6.3% in 2019 from a year earlier, following a growth of 4.3% in 2018, according to Terra Caribbean.


Transactions remain far below the peak levels of 4,250 transactions seen in 2007.

In 2019, overall transaction volumes in Barbados fell by 4.9% to about 2,460 units, following growth of 7.9% in 2018 and declines of 0.1% in 2017, 3.8% in 2016 and 10% in 2015.

"Perhaps this is unsurprising given the economy is reported to have contracted by 0.1% over the same period," said Hayden Hutton, COO of Terra Caribbean.

"Whereas there were various adjustments implemented in the 2019 budget, including a sweeping overhaul of the corporate and personal tax rates, the increase in Land Tax rates has likely not encouraged the market in the short term," Hutton added.

Regional variations:

In the West Coast, sales volumes of beachfront condos rose by 4.5% y-o-y to 23 transactions in 2019.
In the South Coast, sales of beachfront condos dropped 21.1% y-o-y to 30 transactions last year.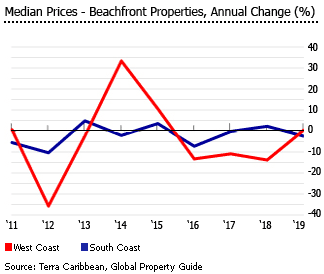 Most foreign homebuyers in Barbados come from Canada, the US, the UK and continental Europe.

Generally there are no restrictions on foreign ownership in Barbados except for one formality: nonresidents must obtain permission from Barbados' Central Bank if they want to buy property. This is pro forma, but failing to do so will void your purchase.