Thailand's economic downturn weighs on property market
August 18, 2016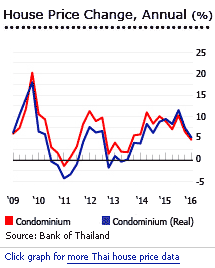 Having approved a new Constitution, with campaigning against it being punishable by 10 years in prison, Thailand seems fated to perpetual government by military junta. Even if there is an election in 2017, the prime minister will be appointed  by the military, as will a powerful 250-seat Senate. But with Thailand´s urban electors thoroughly tired of street demonstrations and clashes, for the moment many seem willing to tolerate what they´ve got.  After all, Bangkok´s middle and upper class was especially irritated by Thaksin Shinawatra´s populist and corrupt rule.
For the property market, which is losing steam, all this arguably matters less than the fact that Thailand's economy is weak.  Thailand is set to grow at a slower pace than most other nations in Southeast Asia, according to the IMF, its long-term prospects weighed down by structural problems including "rapid population aging, relatively low education quality and skill sets, and overdue structural transformation."  It underperformed much of the region with 3.2% growth in the first quarter of 2016, according to the Bureau of Trade and Economic Indices. The IMF forecasts the Thai economy will expand by 3% in 2016, and by 3.2% in 2017.
Investor confidence remains low. A recent survey of five chambers of commerce across the country reported that almost half (43%) of business operators noted a drop in sales, and 34.8% reported no change. Declining farm incomes due to low agricultural prices and higher debt are hurting confidence.
The property market has meanwhile been slowing:
The condominium segment saw price rises slow to 4.7% (5.2% inflation-adjusted) during the year to Q1 2016, down from 8.9% (9.5% inflation-adjusted) during the year to Q1 2015, according to the Bank of Thailand (BoT).
Townhouse price rises decelerated to 3.1% (3.6% inflation-adjusted) during the year to Q1 2016, from 7.3% (7.8% inflation-adjusted) during the year to Q1 2015; although the figure is a slight improvement from the previous quarter's 3.0% growth (3.9% inflation-adjusted).
The single-detached housing market dropped, albeit slightly, by 0.1% during the year to Q1 2016 (0.4% inflation-adjusted) - compared to price growth a year ago of 6.5% (7% inflation-adjusted).
Developers should be cautious in property development as "the economy remains slow, with high household debt, and low prices of agricultural products having an impact on consumers' purchasing power," has warned Bank of Thailand (BoT) Senior Director Don Nakornthab
Land development licenses issued for residential buildings during the first three months of 2016 fell 31% compared to the same period in 2015, according to the BoT.
Although the high-end segment remains bullish, the lower-end is seeing a clear reduction in demand, says Cobby Leathers, head of international marketing at Sansiri, one of Thailand's largest residential property developers.
"Large-scale projects are very risky as the market is not that good," says Opas Sripayak, managing director of SET-listed L.P.N. Development Plc
Presales by the 15 SET-listed developers in the first quarter of 2016 were down 3.3% y-o-y to THB 48 billion (USD 1.4 billion), and down 9.7% from the previous quarter, according to Asia Plus Securities´ Therdsak Thaveeteeratham.  Developer profits are expected to decline following the expiration in April 2016 of government measures to reduce transfer and mortgage fees.
Developers are visibly worried.  Nothing makes this clearer than the aggressive marketing campaigns launched to boost second-quarter sales:
LPN Development has a marketing campaign for Lumpini Township Rangsit-Klong 1, that allows potential buyers to rent for the first year, with the rent paid treated as a down payment on the mortgage.
A "Free to stay in the first year" promotion was launched by Pruksa Real Estate for its nine Pruksa Ville projects.
Property Perfect offers a zero-interest deal for the first year. Customers pay just Bt3,000 monthly instalments per Bt1 million of the loan during the first year. Transfer charges are waived.
AP (Thailand) has an "Amazing 5 of Baan Klang Muang" promotion, offering a special fixed interest rate of 3.5% for the first five years of a mortgage.
Sansiri has the "555 Like" campaign. Home-buyers need pay monthly instalments of only Bt555 for the first year of a mortgage.
Ananda Development has a "Live Now by Ananda" promotion, giving buyers free transfer and mortgage fees.
All these incentives are in parallel to the "Baan Pracha Rath" incentives under which the state-owned Government Housing Bank and the Government Savings Bank give qualified buyers loans at below-market interest rates and relaxed mortgage approval criteria for homes priced up to THB 1.5 million (USD 40,000).
Larger apartments yield more
According to the latest Global Property Guide research, rental yields in the capital, Bangkok, range from 5.0% to 8.0%.
Unlike most countries' major cities, yields on medium-sized apartments (120 sq. m.) in Bangkok are higher than on smaller apartments.  A 60-square metre (sq.m.) apartment in Bangkok's central location now earns gross rental yields of around 5.6%, while a 120-sq.m. apartment also centrally located, earns gross rental yields of around 8.0%.
Tighter lending criteria, higher mortgage rejection rates
Reacting to worries about the property market, some of Thailand's banks have hiked mortgage rejection rates to 30-35%, against 25-30% under normal conditions. The country's fourth largest bank, Kasikornbank, rejects around 50% of mortgage applications from "walk-in customers or those in the provinces, who have been affected by high debts or low farm prices," according to Alongkot Boonmasuk, an executive at Kasikornbank.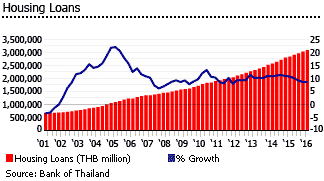 CIMB Thai Bank, one of the country's large banks, has also tightened its lending criteria.
Banks' reluctance to lend is not surprising. Thai households are among Southeast Asia´s most indebted.  Easy credit during civilian rule left behind consumer debt equivalent to 81% of GDP.
According to the Bank of Thailand, housing loans extended by financial institutions, including banks, rose by 8.5% - the slowest rate in 7 quarters. Gross non-performing loans (NPLs) for real estate activities made up 4.08% of banks' total loans in Q1 2016 – higher than 3.78% in Q4 2015.
BoT keeps benchmark interest rate steady, although the IMF recommends easing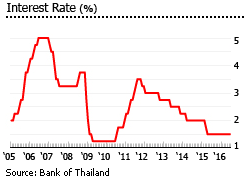 The Bank of Thailand has kept its benchmark interest rate at 1.5% for the ninth consecutive meeting since April 2015 – with monetary policy committee members voting unanimously in favour.
This is despite the International Monetary Fund's (IMF) call for monetary policy easing. "[The country´s] negative output gap, falling consumer prices and downside risks warrant additional monetary accommodation… Without further easing, inflation is expected to remain below target for several years," the IMF said.
The consumer price index edged up by 0.46% in May from a year earlier – after rising 0.07% in April, its first annual gain in 16 months – will probably undershoot the central bank's target of 1% to 4%, the lender said. Last year, the country registered headline inflation of -0.9%.
However, BoT has downplayed the deflationary risks, saying core inflation continues to hover around 1%.  BoT Assistant Governor Jaturong Jantarangs said that cutting the policy rate alone "won't help increase consumption and investment because monetary policy is not an impediment to that."
Furthermore, global market risks such as the 'Brexit' and financial stability concerns in China give the BoT more reason to opt for stability. Monetary policy measures should be preserved for future needs, BoT Governor Veerathai Santiprabhob told a business forum.
Thailand to remain under military rule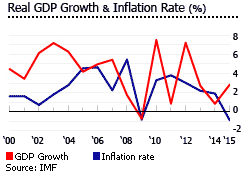 The country's major political parties, Pheu Thai and the Democrat Party, have both expressed dissatisfaction with the new constitution.
"I find this draft constitution illiberal," said Kasit Piromya, a senior Democrat member and former foreign minister. "It´s a setback for the democratization process of Thailand."
Pongthep Thepkanjana, a Pheu Thai member and former deputy prime minister, said the draft leaves far too much control in the hands of the military. "I read this draft charter, and I conclude that we lack a good checks-and-balances system. We have an imbalance of power."
"Thailand has become more militarized than we´ve seen in any contemporary period," said Thitinan Pongsudhirak, director of the Institute of Security and International Studies at Chulalongkorn University in Bangkok. "We are not in a better place than we were two years ago. There is law and order, but it has been achieved at a price of deeper divisions. The military had a chance to be a broker and to enforce a reconciliation in Thailand, but it has become party to the conflict."
Thailand's military seized power from an elected government in May 2014, the 12th military coup in the country since the end of absolute monarchy in 1932. Led by the present Prime Minister Prayuth Chan-o-cha, the coup came after several months of protests against the ruling Pheu Thai party and former PM Yingluck Shinawatra.
Thailand - More data and information