Thailand's housing market is slowing sharply, amidst a struggling economy caused by the COVID-19 pandemic. The economy is depressed – exports are down, and tourism has almost stopped. Both demand and construction activity are falling, and house prices are static or falling, in real terms. 
Covid has, temporarily, wiped out tourism. In Q1 2021, only 20,172 tourists arrived, down 99.7% from 6.69 million tourists a year earlier. During 2020, there were only 6.7 million foreign tourists in the country, a sharp decline from almost 40 million arrivals in 2019.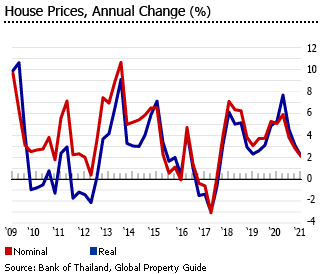 Thailand's tourism-reliant economy slumped by 6.1% during 2020, its biggest fall in more than two decades, mainly due to lack of tourists and a sharp decline in exports amidst the COVID-19 pandemic. Then in Q1 2021, Thailand's economy shrank further by 2.6% from a year earlier, its fifth consecutive quarter of y-o-y decline - but the smallest contraction since Q1 2020. Because of this, the National Economic and Social Development Council (NESDC) has recently downgraded its 2021 growth forecast to 1.5% - 2.5%, from its earlier projection of 2.5% - 3.5%.
The average price of single-detached houses in Thailand rose by 1.2% during the year to May 2021, sharply down from the previous year's 5.9% growth and the lowest y-o-y increase since August 2017, according to the Bank of Thailand (BoT). When adjusted for inflation, prices actually fell by 1.2%. However the mid and low-income detached housing sector has been buoyed by low interest rates.
By property type:
Condominium prices increased by a miniscule 0.1% (fell by 2.3% in real terms) in May 2021 from a year earlier, a sharp slowdown from a y-o-y rise of 7.9% in May 2020.
Townhouse prices rose by 1.4% (but declined 1% in real terms) during the year to May 2021, a slowdown from the previous year's 5.5% y-o-y increase.                                              
Land prices seem to be more resilient. The land price index rose by 8.4% (5.8% in real terms) y-o-y in May 2021, following annual growth of 5.6% in 2020, 1.7% in 2019 and 2.8% in 2018.
Residential construction is hampered by the pandemic. Nationwide condominium registrations plummeted by 33.6% to 17,618 units in the first four months of 2021 as compared to the same period last year. In Bangkok Metropolis, condo registrations fell by 41% over the same period.
New housing units in the capital also fell 18.1% y-o-y to 26,670 units in Jan-Apr 2021.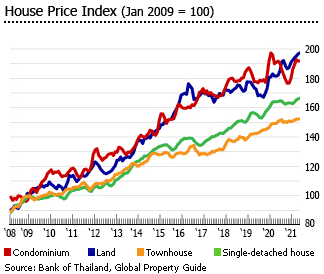 Property transactions are falling. In the first four months of 2021, land and building transactions totalled THB 267.81 billion (US$8.24 billion), down by 11.7% from a year earlier and by from 19.4% two years ago, according to the BoT, following annual declines of 5.3% in 2020 and 6.7% in 2019.
Demand, particularly from foreigners, is expected to remain subdued during the remainder of the year, after the discovery of more transmissible COVID-19 variants forced many countries to reimpose curbs. In June 2021, the government announced new restrictions in Bangkok and surrounding area, amidst surging infections.
Investors from Mainland China and Hong Kong make up almost half foreign demand for residential condos in the country. People from the US, Singapore, Taiwan, Japan and the UK are also big investors.
"CBRE believes the Bangkok residential market will remain sluggish in 2021 as COVID-19 has put pressure on both domestic and foreign buyers, prolonging purchasing decisions," said CBRE in its 2021 market outlook report. "Limited new launches will be focused mainly on the midtown/suburban areas and affordable segments as price becomes more realistic."
Sales transactions continue to fall
All the regions of Thailand saw falling transactions in Jan-Apr 2021 as compared to the same period two years ago:
In the Central region, which make up almost two-thirds of demand, transactions fell by 23.8% to THB 164.52 billion (US$5.06 billion) in the first four months of 2021 from two years ago.
In the Eastern region, transactions dropped 20.9% to THB29.53 billion (US$ 908.25  million)
In the Northeastern region, transactions were almost unchanged from two years ago to THB 28.54 billion (US$877.6  billion)
In the Northern region, transactions fell by 10.3% to THB 24.57 billion (US$755.55 million)
In Southern region, transactions fell by 10.6% from two years ago to THB 20.66 billion (US$ 635.25 million)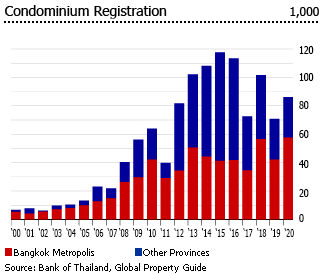 Demand for low to mid-range detached housing still exists
However real demand, not speculative demand, still exists for low-rise housing below THB 3 million (US$92,259), which accounts for 70% of the market, according to Housing Business Association (HBA) president IssaraBoonyong. The remaining 30% of demand comes from investors, who buy homes to generate rental income.
From 2008 to 2018, house prices rose by 39.3% (16.7% in real terms). In 2019, the housing market strengthened, with prices rising by 5.3% (4.9% in real terms) from a year earlier. However due to the pandemic, house price growth slowed to 2.1% (2.1% in real terms) last year.
SINGLE-DETACHED HOUSE PRICES, ANNUAL CHANGE (%)

Year
Nominal
Inflation-adjusted
2009
2.5
-1.0
2010
1.8
-1.3
2011
2.3
-1.2
2012
7.4
3.7
2013
5.0
3.3
2014
6.5
5.9
2015
1.1
2.0
2016
-0.4
-1.5
2017
4.0
3.2
2018
3.8
2.9
2019
5.3
4.9
2020
2.1
2.1
Sources: Bank of Thailand (BoT), Global Property Guide
Mortgage lending up; interest rates falling
Yet mortgage lending has continued to grow. As of April 2021, personal housing credits and total property credits outstanding rose by 7.6% and 3.5% y-o-y, respectively.  In June 2021, the Bank of Thailand kept its benchmark interest rate to a record low of 0.5%, following five rate cuts in the past two years. The size of Thailand's mortgage market grew to about 20.8% of GDP in 2020, up from 18.2% of GDP in 2019 and 13.4% of GDP a decade ago, thanks to the 6.2% increase in property loans outstanding last year.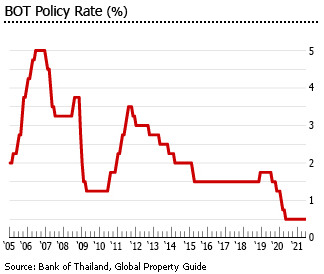 In 2016, the government launched the "Baan PrachaRath" program, mandating state-owned banks to provide a total of THB 70 billion (US$2.15 billion) soft loans to both housing developers (pre-finance) and low-to-middle income homebuyers (post-finance).
Then in 2018, the Government Housing Bank (GH Bank) launched the one million-unit low-cost housing project, giving low-income households the opportunity to buy affordable houses. So far it has provided loans worth THB 35 billion (US$1.08 billion).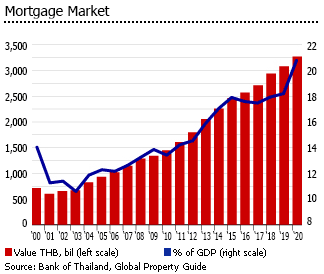 GH Bank, the country's largest retail mortgage lender with about 30% market share of the banking sector's mortgage loans outstanding, approved a total of THB 255 billion (US$7.84 billion) worth of housing loans in 2020, up from THB 217 billion (US$6.67 billion) in 2019 and THB 210 billion (US$6.46 billion) in 2018.  Then in Q1 2021, the bank approved THB 43 billion (US$1.32 billion) in mortgages, up from the same period last year.
"Such figures show that even with a crisis there is opportunity, especially for homebuyers that have real demand or even for investment purposes," said Chatchai Sirilai, president of GH Bank.
Residential construction activity depressed
Nationwide condominium registrations plummeted by 33.6% to 17,618 units in Jan-Apr 2021 from a year earlier, in sharp contrast to a 21.6% growth in 2020, according to the BoT.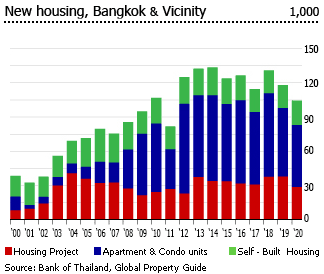 In the first four months of 2021:
In Bangkok Metropolis, condominium registrations fell by 41% y-o-y to 10,116 units, following a 36.7% increase in 2020
In other provinces, condominium registrations dropped 20% y-o-y to 7,502 units, after falling slightly by 0.7% last year
Likewise, land development licenses in the country plunged 49.4% to 19,689 units in the first four months of 2021 from a year earlier. Most of these licenses are located in other provinces. In Bangkok Metropolis, land development licenses fell by almost 40% y-o-y to just 2,261 units over the same period.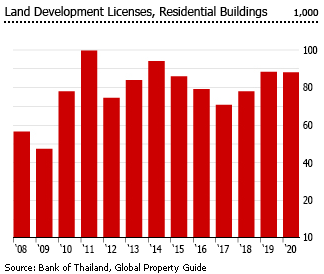 New housing units in Bangkok Metropolis also dropped 18.1% y-o-y to 26,670 units in Jan-Apr 2021, according to figures from BoT. Over the same period:
New housing project releases: down 15.8% y-o-y to 7,946 units
Apartments and condominiums: down 27.6% y-o-y to 12,234 units
Self-built housing: up 4.2% y-o-y to 6,490 units
To boost the ailing construction sector, the government announced in July 2021 its plans to allow some projects to resume in Bangkok and surrounding provinces although most sites will remain closed, as the country battles its biggest coronavirus outbreak to date.
Second phase of one million-unit housing project set to commence
In April 2021, the government rolled out the second phase of its one million-unit low-cost housing scheme, with an estimated budget of around THB 30 billion (US$923 million) to THB 50 billion (US$1.54 billion).
The second phase offers a lower interest rate and raises the ceiling price of housing units to THB 1.2 million (US$36,904), up from THB 1 million (US$30,753) in the first phase. In this phase, borrowers are offered a fixed rate of 2% for 10 years, as compared to the first phase's average interest rate of 3% for the first three to five years.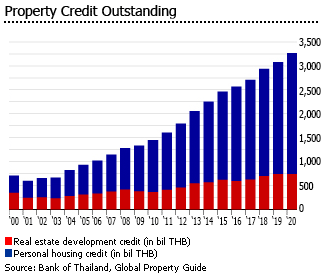 With lower interest rate, the monthly instalment payment for successful applicants should not exceed THB 4,000 (US$123).
Rental yields: larger apartments yield more
Rental yields in Bangkok are good, ranging from 5.0% to 8.0%, based on a Global Property Guide research conducted before the pandemic. Over the past three years, we've seen yields on medium-sized apartments (120 sq. m.) rise significantly. The apartments included in our survey are located in Bangkok's upscale residential areas which includes Sukhumvit Road, Silom, Sathorn, Riverside, Rama III, and Central Lumpini.
In most countries' major cities, smaller apartments earn higher rental yields than bigger apartments. That's not true in Bangkok. A 60-square metre(sq.m.) apartment in Bangkok's central location now earns gross rental yields of around 5.6%, while a 120-sq. m apartment also centrally located, earns gross rental yields of around 8.0%.
Yields have risen at the luxury end of the market, though since last year they have fallen for the very large sizes, such as 250 sq. m.
Foreign homeownership rules
Foreigners cannot buy land in Thailand, only condominium units and apartments. Foreigners cannot make up more than 40% of the condominium's unit-owners. However, a foreigner can buy a whole building, minus the land on which it is built.
In recent years, minor changes in Thai law have allowed nonresidents to further explore the Thai real estate market. A foreigner can have a 30-year renewable lease, under which the buyer registers at the Land Office an option to renew the lease contract indefinitely, for further 30-year periods.
There are serious drawbacks to this lease arrangement, however. Lease renewals cannot be registered, and are not effective against a purchaser of the property. And the lessee cannot (without the lessor's consent) sublease, sell or transfer his or her interest.
Another option is to set up a private limited company with mixed Thai and foreign ownership, the foreign ownership being 49% or less. Companies are allowed to own land. The foreign national can control the company by using a legal power of attorney from the Thai shareholders, handing control to the foreign directors, or through assigning greater voting rights to the foreigner partner/s. This is an effective and time-tested route, most commonly taken by foreigners. The help of a lawyer is very important.
Foreigners can also invest at least THB40 million (US$1.23 million) in a Board of Investment approved project. They will then be allowed to purchase up to 1 Rai (1,600 square meters) of land.
Economics: coronavirus pandemic hits Thailand's economy
The National Economic and Social Development Council (NESDC) has recently downgraded its 2021 growth forecast to 1.5% - 2.5%, from its earlier projection of 2.5% - 3.5%.  Thailand's economy had slumped by 6.1% during 2020, its biggest fall in more than two decades, mainly due to lack of tourists and a sharp decline in exports amidst the COVID-19 pandemic.
Only around 250,000 to 1.2 million foreign tourists are expected this year, according to Kasikorn Research Center's recent projections, sharply down from nearly 40 million foreign arrivals in 2019, who spent THB 1.91 trillion (US$58.7 billion) or about 11% of the country's GDP that year.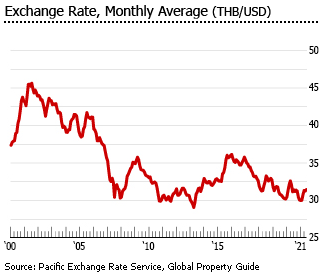 But there's not only bad news. Exports are now improving, thanks to booming auto exports. In the first five months of 2021, exports went up by 10.8% from a year earlier, following a decline of 6% during 2020, according to the Ministry of Commerce.
"Exports are now a main engine driving the economy," said Thai Commerce Minister JurinLaksanawisit.
Recently, the Bank of Thailand raised its 2021 export growth forecast to an 11-year high of 17.1%, up from its earlier projection of a 10% growth.
The Thai baht (THB) weakened against the US dollar by 4.6% since January 2021 to reach an average exchange rate of THB 31.453 = USD 1 in June 2021, as multiple waves and new variants of COVID-19 globally delay the much-awaited recovery of tourism. The baht gained further by 8.7% against the US dollar from the onset of the pandemic in April 2020 to January 2021, following a 19.2% gain from 2015 to 2019.
Flawed democracy
After winning the March 2019 elections, in July 2019 Prime Minister Prayuth Chan-o-cha formally resigned as the head of the military government. He declared that the country would now function as a normal democracy.
"Thailand is now fully a democratic country with a constitutional monarchy, with a parliament whose members are elected," Prayuth said. "All problems will be addressed normally based on a democratic system with no use of special powers."
However Thailand is really a hybrid of democracy and authoritarianism. True, the junta, which had given itself sweeping powers without oversight, was dissolved with the inauguration of the new Cabinet. But Prayuth was retained as prime minister with the backing of military-appointed Senate and pro-military parties in the parliament who were elected during the March 2019 general election, which was marred by irregularities, and was held under a new constitution enacted by the junta aimed at disadvantaging established political parties and keeping any single party from winning a clear majority.
Most of the powerful cabinet positions are held by former members of Prayuth's military government. In fact, Prayuth also serves as defense minister in the new government.  The military also keeps its power of arbitrary detention, which was used in the past to silence critics. Also, the new constitution ensures that members of the National Council for Peace and Order (NCPO), the official name of the military junta that governed the nation, will not be held accountable for any rights violations committed during its rule.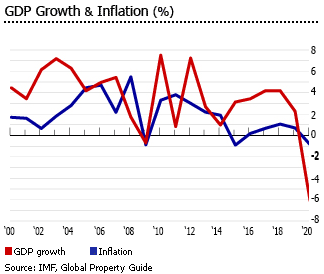 Prayuth is now facing a growing public anger and increased protests amidst surging coronavirus infections and a dismal economy. Protesters in Bangkok in June 2021 demand his resignation and the removal of 250 military appointees from the parliament.                                                
Just recently, more power has been handed to Prayuth "temporarily in order to suppress the [pandemic] situation and protect the people". A decree transferred ministerial powers covering 31 laws to Prayuth's direct control, including control over immigration, health and procurement, and several areas of defence and cybersecurity, raising concerns among human rights advocates.
Thailand's military seized power from an elected government in May 2014, the 12th military coup since the end of absolute monarchy in 1932. Led by the present prime minister, Prayuth, the coup came after several months of protests against the ruling Pheu Thai party and former PM YingluckShinawatra.
After dissolving the government and the Senate, the NCPO vested both executive and legislative powers in its leaders, and took control of the judicial branch. A nationwide martial law and curfew were declared; political gatherings were banned; opposition leaders and activists were arrested; and media and internet censorship was imposed.
Sources:
Thailand - More data and information