The coronavirus pandemic has temporarily reduced demand.  But Taiwan's house prices continue to rise modestly, as the impact of several rounds of market cooling measures has gradually waned.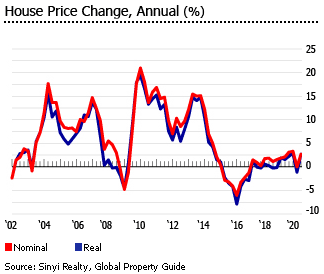 Taiwan's Lutheran home price index increased 2.67% (2.7% inflation-adjusted) during the year to Q1 2020, a slight increase on the previous year's 2.11% increase, according to Sinyi Real Estate Planning and Research. Quarter-on-quarter, nationwide house prices rose by 3.43% (4.4% inflation-adjusted) in Q1 2020.
However in Taipei, the capital, house prices fell slightly by 0.1% (-0.07% inflation-adjusted) during the year to Q1 2020, in contrast to the previous year's 1.5% y-o-y increase and the first decline since Q4 2017. On a quarterly basis, house prices in the capital city fell 0.33% in Q1 2020 but increased 0.6% in real terms.
All of the country's other major cities saw house price rises during the year to Q1 2020.
Xinbei house prices rose by 2.93% (2.96% inflation-adjusted) y-o-y in Q1 2020, its tenth straight quarter of annual growth.
Taoyuan house prices rose by 2.07% (2.1% inflation-adjusted), following a 3.47% y-o-y growth in Q1 2019.
Hsinchu house prices rose by 5.46% (5.49% inflation-adjusted), its thirteenth consecutive quarter of y-o-y growth and the second biggest expansion since Q3 2014.
Taichung house prices rose strongly by 8.64% (8.67% inflation-adjusted), the biggest growth since Q1 2014.
Kaohsiung house prices increased 1.02% (1.05% inflation-adjusted), following y-o-y rises of 5.78% in Q4 2019, 0.55% in Q3, 2.35% in Q2 and 5.42% in Q1.
Due to the coronavirus outbreak in May 2020 housing transactions in Taiwan's six major cities plunged 21.7% to 17,201 units from a year earlier. For the first five months of 2020, housing transactions fell by 3.2% y-o-y, following a 9.4% growth in 2019.
In contrast, the total number of residential construction licenses issued continue to rise by 4.7% y-o-y to 47,334 units in the first four months of 2020, following strong growth of 22.1% in 2019 and 32.3% in 2018, according to the Ministry of Interior.
The economic repercussions of the COVID-19 outbreak in Taiwan have been  milder than in neighbouring countries. The Taiwanese economy expanded by 1.54% year-on-year in Q1 2020. Recently, the Directorate General of Budget, Accounting and Statistics (DGBAS) predicted that the economy will contract by 1.67% this year, following expansions of 2.71% in 2019, 2.75% in 2018, 3.31% in 2017, 2.17% in 2016 and 1.47% in 2015.
Housing affordability remains a major problem
Taipei is one of the world's most expensive cities. Taipei's house price-to-income ratio has risen sharply from just 6.4 in 2004 to currently about 13.94, according to the country's Ministry of Interior (MOI) – higher than London (8.2x), New York (5.4x), or Sydney (11x). Hong Kong is still the world's least affordable market, with a score of 20.8, according to the research group Demographia.
Nationwide, the house price-to-income ratio stood at 8.58 in Q4 2019, unchanged from a year earlier, based on MOI figures.
Recently, Taipei mayor Ko Wen-je stressed the urgent need to resolve the country's affordable housing crisis before it provokes social unrest, similar to the case of Hong Kong.
"[In Hong Kong], high rent and housing prices are causing class struggle, a widening wealth disparity and accumulating resentment among young people," said Ko. "Unless the problem is resolved, Hong Kong's problem today could become Taiwan's tomorrow."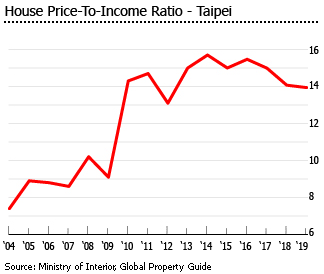 To address the problem, Ko announced that the city plans to build 50,000 public housing units in the next seven years, with around 9,000 units already under construction.
Housing demand was boosted after 2009 when the government cut inheritance tax rates from 50% to 10%, and interest rates were cut. Unmonitored speculation, low housing supply, and a long tradition of homeownership pushed house prices in Taiwan, particularly in the capital city, and particularly on high-end properties. A three-bedroom apartment, which cost just TWD6 million to TWD7 million in 1995, was sold for over TWD20 million last year.
From 2001 to 2019:
In Taipei City, the house price index rose by 198% (145% inflation-adjusted)
In Xinbei, the house price index rose by 215% (160% inflation-adjusted)
In Taoyuan, the house price index rose by 189% (138% inflation-adjusted)
In Hsinchu, the house price index rose by 143% (100% inflation-adjusted)
In Taichung, the house price index rose by 251% (189% inflation-adjusted)
In Kaohsiung, the house price index rose by 183% (133% inflation-adjusted)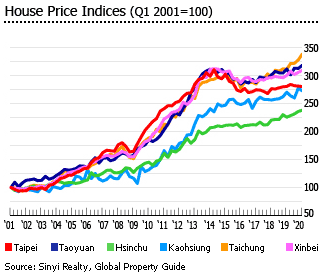 "Unfortunately, buying a home remains unaffordable for most young Taiwanese, a situation we don't expect to change in the medium term," said Emily Dabbs of Moody's Analytics. An average household in Taipei needs to pay two-thirds of income for a mortgage loan, far above the affordable limit of 30%.
Dramatic measures introduced to curb speculation
Worries about mainland speculators peaked in early 2008 when residential property prices rose by more than 10% y-o-y during the first quarter. Upward pressure further increased when Chinese banks based in Taiwan were able to offer mortgages after the signing of an MOU in November 2009.
From October 2009 onwards, the central bank actively urged banks to closely monitor mortgage-lending risks, and to reduce loan-to-value ratios, raise interest rates, and remove grace periods related to loans for investment properties. The central bank also conducted targeted examinations related to real estate lending.
A big step was to assign a 100% risk weighting to non-owner occupied residential mortgages. Risk weightings for other home mortgage portfolios range from 50% to 80%, compared with 10%-20% for banks in other developed markets in Asia-Pacific that practice the Internal Ratings-Based Approach to credit risk.
In 2011 a luxury tax was introduced. Second homes not occupied by the owner and sold within one year of purchase were taxed at 15%, and those sold within two years of purchase taxed at 10%.
From March 2014 much tougher measures were introduced which caused house prices in Taiwan to drop 7.9% (3.7% inflation-adjusted) from Q2 2014 to Q1 2016. House prices increased by a minimal 1.8% in 2017 and 1.9% in 2018. Last year, nationwide house prices registered zero growth.
These were the measures:
In March 2014, property taxes on non-owner-occupied residential properties were raised to between 1.5% and 3.6%, from 1.2% to 2%.
Inspections of pre-sale house transactions were tightened. State-owned bank lowered loan-to-value ratios for first-time buyers from 80% to 70%, and to 50% to 60% for people owning more than one property.
On January 1 2016 a new property gains tax of as much as 45% took effect. Property sellers are now required to pay between 15% and 45% of gains based on market prices, instead of the previously used government-assessed values. Qualified property sellers with gains of less than TWD4 million (US$135,000) are exempt from the tax.
Residential construction activity continues to rise
Residential construction is rising. In 2019, the number and area of residential construction licenses in Taiwan rose sharply by 22.1% and 17.5%, respectively, according to the Ministry of Interior.
The upward momentum continued this year, albeit at a much slower pace.
The number of residential construction licenses rose by 4.7% y-o-y to 47,334 in the first four months of 2020
The total floor area of residential construction licenses increased 4.1% y-o-y to 7.02 million square meters (sq. m.) over the same period.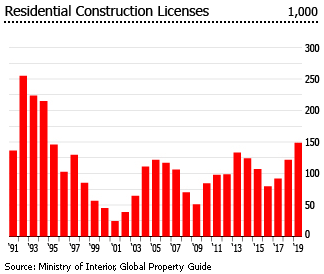 Taiwan Province accounted for the biggest share of about 22.2% of all residential construction licenses issued in Jan-Apr 2020. It was followed by Taichung with 20.6% share, Taoyuan (17.9%), New Taipei (15.7%), Kaohsiung (9.1%), Taipei City (7%), Tainan (7%), and Fuchien Province (0.4%).
New housing loans increase, amidst ultra-low interest rates
Interest rates for housing loans in Taiwan are among the lowest in the region. Yet as a result of the central bank's macro-prudential measures, although total outstanding housing loans rose by an average of 4.5% annually from 2009 to 2019, they remained absolutely steady as proportion of GDP, at around 40% of GDP.
Most residential mortgages in Taiwan are variable rate, with an average maturity of 25 years. The average interest rate for housing loans stood at 1.381% in April 2020, down from 1.622% a year earlier.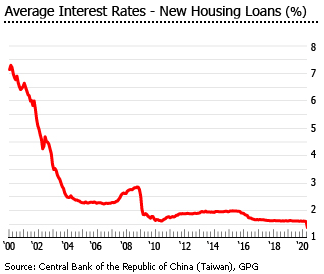 In March 2020, the Central Bank of the Republic of China (Taiwan) slashed its benchmark interest rate by 25 basis points to 1.125%, the first rate cut in more than four years, to buoy the slowing economy amidst the coronavirus outbreak.
During the first four months of 2020, the amount of new housing loans rose by 5.3% from a year earlier, to TWD187.62 billion (US$6.33 billion), according to the central bank.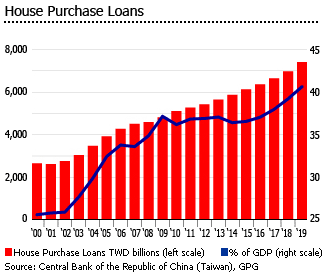 Likewise, outstanding housing loans increased 6.7% y-o-y to TWD7.53 trillion (US$254.05 billion) in April 2020.
Taiwan's vanishingly low rental yields
Taipei now vies with Monaco for the lowest yields in the world. Taipei is not a happy place to be a landlord. The owner of an apartment in Taipei will be lucky to realize 2% yields, except on the very smallest apartments. Currently, average rental yields in Taiwan hover around 1.5%.
Such low yields are often a sign of an overvalued market. Given that the Global Property Guide's figures are for gross rental yields, i.e., do not make any allowance for vacant periods, for legal costs, administration costs, cleaning and repairs, rental taxes, property taxes, and other taxes, it is safe to say that landlords in Taiwan earn nothing on their apartments.
Paradoxically Taiwan has one of the highest home ownership rates in the world at 87%, while social housing accounts for about 5% of households. And the trend towards home ownership is increasing. Because of this, Taiwan's rental market is quite small, around 8% of around seven million households.
Tsai Ing-wen's reelection expected to widen China-Taiwan divide further
In the January 2020 presidential elections, Tsai Ing-wen of the independence-leaning Democratic Progressive Party (DPP) won her second term in office, after defeating her major challenger Han Kuo-yu of the mainland-friendly Kuomintang by close to 3 million votes.
The conflict between Mainland China and Taiwan started to escalate four years ago when Tsai assumed office and became Taiwan's first female president. One of Tsai's key economic policies is to reduce Taiwan's reliance on Mainland China, which accounts for around 40% of the island's exports. Tsai plans to form closer ties with the ASEAN.
Mainland China is highly suspicious of Tsai, warning her against any attempt at a formal breakaway. Early in 2016, the Chinese government announced that it had cut off official contact with Taipei. In December 2016, Taiwan sent a blunt message to China by preparing its military forces and stepping up its training exercises to fend off Beijing's threats.
Taiwan's relations with China reached a new low after China decided to boycott the Olympic-style sporting event, 2017 Summer Universiade, which was held in Taipei in August 2017.
In June 2018, the construction of a US$250 million complex that will house the new American Institute in Taiwan (AIT), which serves as the United States' de facto embassy in Taipei, escalated further the tensions between Taiwan and Mainland China.
In July 2019, the US announced of its intent to sell 108 M1A2T Abram tanks and Stinger missiles worth US$2.2 billion to Taiwan, despite China's demand to cancel the said sale. The weapons deal is a signal to China of US commitment to Taiwan and to a peaceful resolution of cross-strait differences. As an expression of outrage, China recently said that it would impose sanctions on US firms involved in the weapons sale, as it harmed China's sovereignty and national security.
In September 2019, both Solomon Islands and Kiribati severed ties with Taiwan and officially recognized Beijing, amidst the latter's assurance of providing development assistance in these small countries. Seven diplomatic allies have cut ties with Taiwan since Tsai came to office, including Burkina Faso, Dominican Republic, Sao Tome and Principe, and Panama.
"China stealing our allies, pressuring our international space won't shrink the distance across the strait and won't allow for peaceful, friendly development of cross-strait relations," said Taiwan's foreign minister Joseph Wu.
Taiwan now has only 15 diplomatic allies left.
China's campaign to isolate Taiwan extends to minute details. In the past months, Beijing has been sending warning to airlines to list "Taiwan, China", rather than just "Taiwan", on their websites. The move seems to be working - The Associated Press has found that about 20 carriers, including Air Canada, British Airways, and Lufthansa, now refer to Taiwan as a part of China on their websites. In addition, China fined a Japanese clothing company recently for listing Taiwan as the "country of origin" on packaging.
Relations between Mainland China and Taiwan thawed when President Ma of the Kuomintang Party (KMT) assumed office in May 2008. He vowed greater cooperation with Mainland China and denounced independence for Taiwan, a sharp contrast to his nationalist but corrupt predecessor, Chen Shui-bian. In November 2009, several memorandums of agreement between Taiwan and China on financial cooperation were signed. These gestures reassured investors and home buyers alike. In June 2010, an Economic Cooperation Framework Agreement (ECFA) was signed by Taiwan and China. President Ma also accepted the 1992 consensus, which played a crucial role in lowering tensions with China and boosting cross-strait economic ties.
Ma was reelected in the 2012 presidential elections. Cross-straits trade nearly doubled during Ma's term, reaching US$198 billion in 2014. Tourism flourished, with nearly three million Chinese tourists a year.
Economic growth slowing; exports falling
The economic impact of the COVID-19 outbreak in Taiwan has been milder than in neighbouring countries, and the Taiwanese economy expanded by a revised 1.59% year-on-year in Q1 2020. However this is the slowest growth since Q1 2016.
The Directorate General of Budget, Accounting and Statistics (DGBAS) has predicted that economic growth will slow to 1.67% this year, following expansions of 2.71% in 2019, 2.75% in 2018, 3.31% in 2017, 2.17% in 2016 and 1.47% in 2015. The International Monetary Fund (IMF) is more pessimistic, predicting a 4% contraction this year.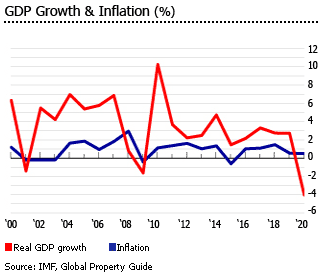 "Even though Taiwan's Covid-19 situation appears to be contained, we expect Taiwan's GDP to weaken further into 2Q 2020, as the escalation of Covid-19 in the rest of the world is likely to weigh on its exports, with spillover implications to domestic demand," noted Morgan Stanley economists Deyi Tan and Jin Choi.
Exports, which accounts for about 60% of the country's GDP, are now expected to remain in the negative for the whole year. Exports dropped 2% y-o-y in May 2020, the third straight month of y-o-y decline. Recently, Taiwan's statistics agency cut its 2020 forecast for merchandise and services exports to -3.1%.
Taiwan, heavily dependent on exports, was seriously affected by the US economic recession in 2008. The economy bounced back in 2010 with spectacular growth of 10.6%. From 2011 to 2019 the Taiwanese economy has grown by an annual average of 2.8%.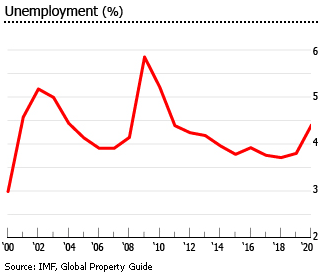 Consumer prices fell by 1.19% in May 2020, the four consecutive month of falling prices, according to the National Statistics.
The seasonally-adjusted unemployment rate rose to 4.1% in April 2020, the highest level since December 2013, according to the National Statistics.
Sources:
Taiwan - More data and information