The coronavirus pandemic has temporarily reduced demand.  But Taiwan's house prices continue to rise modestly, as the impact of several rounds of market cooling measures has gradually waned.

Taiwan's Lutheran home price index increased 2.67% (2.7% inflation-adjusted) during the year to Q1 2020, a slight increase on the previous year's 2.11% increase, according to Sinyi Real Estate Planning and Research. Quarter-on-quarter, nationwide house prices rose by 3.43% (4.4% inflation-adjusted) in Q1 2020.

However in Taipei, the capital, house prices fell slightly by 0.1% (-0.07% inflation-adjusted) during the year to Q1 2020, in contrast to the previous year's 1.5% y-o-y increase and the first decline since Q4 2017. On a quarterly basis, house prices in the capital city fell 0.33% in Q1 2020 but increased 0.6% in real terms.

All of the country's other major cities saw house price rises during the year to Q1 2020.

Xinbei house prices rose by 2.93% (2.96% inflation-adjusted) y-o-y in Q1 2020, its tenth straight quarter of annual growth.
Taoyuan house prices rose by 2.07% (2.1% inflation-adjusted), following a 3.47% y-o-y growth in Q1 2019.
Hsinchu house prices rose by 5.46% (5.49% inflation-adjusted), its thirteenth consecutive quarter of y-o-y growth and the second biggest expansion since Q3 2014.
Taichung house prices rose strongly by 8.64% (8.67% inflation-adjusted), the biggest growth since Q1 2014.
Kaohsiung house prices increased 1.02% (1.05% inflation-adjusted), following y-o-y rises of 5.78% in Q4 2019, 0.55% in Q3, 2.35% in Q2 and 5.42% in Q1.

Due to the coronavirus outbreak in May 2020 housing transactions in Taiwan's six major cities plunged 21.7% to 17,201 units from a year earlier. For the first five months of 2020, housing transactions fell by 3.2% y-o-y, following a 9.4% growth in 2019.

In contrast, the total number of residential construction licenses issued continue to rise by 4.7% y-o-y to 47,334 units in the first four months of 2020, following strong growth of 22.1% in 2019 and 32.3% in 2018, according to the Ministry of Interior.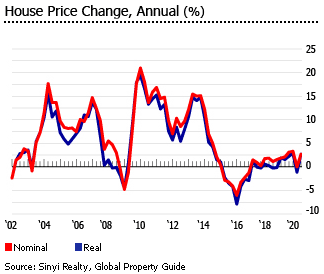 The economic repercussions of the COVID-19 outbreak in Taiwan have been  milder than in neighbouring countries. The Taiwanese economy expanded by 1.54% year-on-year in Q1 2020. Recently, the Directorate General of Budget, Accounting and Statistics (DGBAS) predicted that the economy will contract by 1.67% this year, following expansions of 2.71% in 2019, 2.75% in 2018, 3.31% in 2017, 2.17% in 2016 and 1.47% in 2015.