South Korea's house prices rising again
June 20, 2014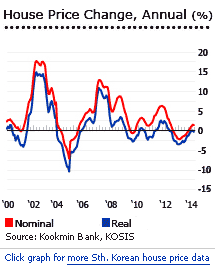 After more than a year of falling house prices, South Korea's housing market started to recover in the beginning of 2014, amidst robust economic growth.
During the year to end-April 2014, the housing purchase price index rose by 1.41%, its fifth consecutive month of annual house price rises, according to the Korean Statistical Information Service (KOSIS). However when adjusted for inflation, house prices were still down by 0.26% over the same period.
On a quarterly basis, nationwide house prices were up by a meagre 0.5% (-0.05% inflation-adjusted) in April 2014.
However, the national house price figures conceal regional house price movements. Among South Korea's bigger cities, Daegu, the fourth biggest city, saw the largest house price increase of 15.56% during the year to Q1 2014.  It was followed by Gwangju (7.1%), Chungbuk (5.91%), Ulsan (5.6%), Incheon (5%), Gyeonggi (4.61%), Gangwon (4.14%), and by Seoul, the country's capital, where the transaction-based house price indices rose by 3.89% y-o-y in Q1 2014. Busan's house prices rose 3.29%, and Daejeon's 3.26%. 
Demand is up. Property transactions rose to 58,846 units in January 2014, well above the average of 43,085 units over the past five years, according to the Ministry of Land, Transport and Maritime Affairs (MLTM). 
President Park Geun-hye is determined to ease property market regulations, in an effort to boost the economy as a whole.
"I will drastically boost the property market and loosen up unnecessary regulations so that the economy can be revitalized," the president said recently, "Many measures adopted to prevent property market overheating turned out to be obstacles after the market went down. These need to be loosened up a bit," she added.
South Korea has strict loan-to-value regulations, high taxes on housing transactions and on capital gains, and tight subsidized financing.
The South Korean economy is expected to expand by 4% this year, the fastest pace since 2010, mainly due to increased private consumption, construction and export revenues, according to the Bank of Korea (BOK), the country's central bank.
The key interest rate was kept unchanged by the BOK at 2.5% at its April meeting.
The rise and fall of house prices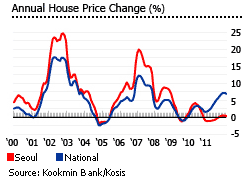 The peak of South Korea's house price boom was reached in 2006, when Seoul prices rose almost 20%. Then the government applied the brakes, imposing controls on housing loans, and hiking capital gains taxes on "speculative areas". These cooling measures caused a slight slowdown in 2007, with 5.4% price rises in Seoul (1.75% in real terms) and 3.1% nationally (0.6% in real terms). In 2008, house prices rose 5% in Seoul (0.86% in real terms) and 3.1% nationally (-1.5% in real terms).
From April to October 2009 there were house price declines, triggered by the Lehman shock and government curbs. Property transactions fell 35.8% y-o-y to September 2010, in the midst of a cycle of overbuilding. The mini-slump caused the construction industry severe problems.
The government began reviving the housing market in 2009 by purchasing KRW 2 trillion (US$ 1.79 billion) worth of unsold newly built housing, and KRW 3 trillion (US$ 2.68 billion) of land from construction firms wishing to repay their debts.
This was followed by a more intensive expansion measures in August 2010, as the government partially eased real estate lending restrictions through the following measures:
Restrictions on total debt payment ratios in non-"speculative areas" were abolished;
Households with annual incomes of KRW 40 million (US$ 35,787) or lower can now avail loans worth up to KRW 200 million (US$ 178,937) for house purchases;
The grace period for extra tax on asset transfer income was extended; and
Housing registration tax exemptions were also extended.
In early-2011, the government implemented more measures to help the decimated construction industry, including tax incentives for real estate investment trusts that buy unsold housing,. It also halved home purchase taxes to 1% to 2%, from between 2% to 4%. The government also announced the establishment of a "bad bank" – the Project Financing Stabilization Bank (PFSB) – to take on as much as KRW 1.2 trillion (US$ 1.1 billion) of non-performing loans, beginning June 2011.
In December 2011, the government revealed another new set of policy measures including:
Abolition of punitive capital gains taxes on owners of more than one property
Securitization of up to KRW 2 trillion (US$ 1.79 billion) worth of debt owed by construction companies
Rules preventing the quick sale of properties in Seoul's real estate hotspots lifted
Expansion of eligibility for cheap loans offered to first-time buying married couples and low income-earners, and the reduction of lending rates by half a percentage point to 4.2%.
Reduction of the levy to 6% - 35% on profits obtained from home sales made by multiple homeowners from 50% - 60% rate introduced in 2005.
Lending is rising again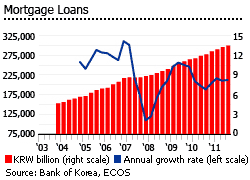 These measures have been effective. Mortgage loans expanded 8.27% y-o-y during the first three quarters of 2011. Household debt rose by 12.7% y-o-y the year to March 2011, and now averages KRW 50 million (US$ 44,743) per household.
Borrowers have also been attracted by the Bank of Korea's low key rate, unchanged at 3.25% from June 2011 to January 2012, and by a concerted campaign to push bank house loan rates below 5%.
The government programs have rebuilt confidence in South Korea's builders, as is evident in the rising shares prices of some homebuilding companies.
There are less unsold houses on the market – down to 69,807 in 2011, strikingly down on 2009's peak figure of 123,297 unsold houses. And this has been achieved with a banking system in better health, with the average bank loan-to-deposit ratio at 114x today, well down from a range of 120 to almost 140 between 2007 to 2009.
Interest rates low and quite stable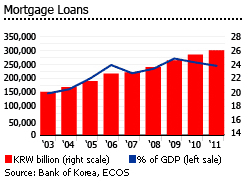 The average interest rate on housing loans has been about 5% since September 2011, a significant decline from the peak of 7.42% reached in November 2008. The Korea market has historically been very sensitive to interest rate changes, as traditionally around 80% to 95% of housing loans have been floating rate.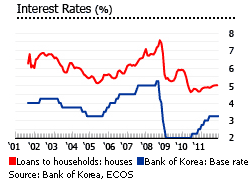 In order to reduce default risks, the Korean government has promoted fixed rate loans in the second half 2011. By November 2011 floating rate loans account for 69.1% of South Korean home loans, much lower than the 89.4% average in 2010.
Currently, actual lending rates are very low, in line with the low key interest rates.
Unique rental system hits young people
In Korea's unique chonsei (or jeongsei) rental system, the tenant a lump-sum amount of deposit to the owner for the use of the property, with no additional requirement for periodic rent payments. The deposit is fully refunded at the end of contract period with no interest.
The Chonsei system eliminates the likelihood of tenant's default on monthly rent as the deposit is maximized until the end of the contract period. However, the lump-sum deposit, equivalent to 70% to 80% of the property value, imposes a huge burden for younger renters and new households.
According to Population and Housing Census Report 2000, 54% of households are in owner occupied houses while 28% are under chonsei contracts. The remaining 18% are under a monthly rental system called wolse.
Better economic outlook in 2014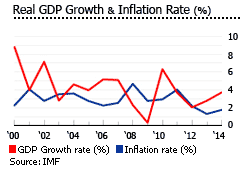 South Korea's economy – Asia's fourth largest economy and the world's 7th biggest exporter - grew by 2.8% in 2013, after registering real GDP growth rates of 2% in 2012, 3.7% in 2011, 6.7% in 2010 and 0.3% in 2009.
In the first quarter of 2014, real GDP was up 3.9% from a year earlier, the highest growth in three years, according to the Bank of Korea. This was mainly attributed to the increase of private consumption, construction and export revenues, despite won's 8% appreciation over the past year.
The exchange rate is now USD1=KRW1,016.98. Despite won's record appreciation in the past several months, a recent report released by the International Monetary Fund (IMF) suggests that the won is still undervalued by about 8%, and the country has an abnormally big current account surplus.
South Korea's current account surplus rose to a five-month high of US$7.35 billion in March 2014, up from the previous month's revised US$4.5 billion, according to the Bank of Korea.
The South Korean economy is expected to expand by 4% this year, the fastest pace since 2010, according to the Bank of Korea.
"The economy is doing well broadly, across exports, consumption and jobs," said Lee Chul Hee of Tongyang Securities Inc. In addition, "Advanced economies are expected to recover quickly, leading to better exports, which will also influence domestic spending," said Im No-jung of IM Investment & Securities.
In April 2014, Bank of Korea kept its key interest rate unchanged at 2.5% for 13 consecutive months, in an effort to continue to boost the economy. The country's central bank is closely watching for any impact from the ferry sinking on consumption and the economy.
In May 2014, inflation increased to 1.7%, the highest rate in 19 months. However, it remains well below the central bank's target band of 2.5% to 3.5%. Inflation is expected to be 1.8% in 2014, up from 1.3% in 2013, 2.2% in 2012, 4.0% in 2011 and 2.9% in 2010, according to the IMF.
The country's unemployment rate stood at 3.7% in May 2014, up from just 2.9% at end-2013, based on figures from Statistics Korea.
South Korea - More data and information