After a shortlived recovery, Singapore's housing market is slowing, amidst plunging demand. The private residential property index rose by 2.67% during 2019, a sharp slowdown from a strong growth of 7.86% in 2018, according to the Urban Redevelopment Authority (URA). When adjusted for inflation, house prices rose by 1.86% y-o-y last year.

During the latest quarter (i.e. q-o-q in Q4 2019), residential property prices increased by a meager 0.52% (0.22% inflation-adjusted).

The Outside Central Region is still rising fastest:

In Core Central Region (CCR), prices of non-landed private residential properties fell by 1.7% (-2.5% inflation-adjusted) during 2019, in contrast to a 6.7% expansion in 2018, according to URA. Quarter-on-quarter, prices dropped 2.8% (-3.1% inflation-adjusted) during the latest quarter.
In the Rest of Central Region (RCR), property prices were up by 2.8% (2% inflation-adjusted) during 2019, a slowdown from a y-o-y increase of 7.4% in the prior year. Quarter-on-quarter, prices actually fell 1.3% (-1.6% inflation-adjusted) in Q4 2019.
In Outside Central Region (OCR), property prices rose by 4.2% (3.4% inflation-adjusted) during 2019, a sharp slowdown from the previous year's 9.4% rise. During the latest quarter, prices increased 2.8% (2.5% inflation-adjusted).

Demand is falling sharply. Home sales, which include new sales, sub-sales and resales, fell by 13.5% y-o-y to 19,150 units in 2019, following a decline of 11.5% a year earlier, according to the URA.

Yet residential construction is rising strongly. In 2019, there were 11,345 uncompleted private residential units launched in Singapore, sharply up by 29.4% in the previous year, and the highest level since 2013.

Overall, 2o2o will be a challenging year for Singapore's housing market, amidst macroeconomic headwinds and market uncertainties, which are exacerbated by the impact of the novel coronavirus outbreak.

Singapore's economic growth slowed to a minuscule 0.7% growth in 2019 from a year earlier, sharply down from an annual expansion of 3.1% in 2018 and the weakest performance since 2009. This was mainly attributed to a decline in manufacturing and exports sector, amidst the ongoing US-China trade war.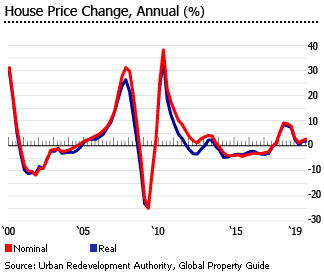 In February 2020, Singapore's Prime Minister Lee HsienLoong said that the economy is on the verge of a recession, mainly due to the expected blow from the COVID19 pandemic. The government recently cut its GDP forecast to a 0.5% contraction, down growth of about 0.5% to 2.5%.

Foreigners have been able to buy any apartment without prior government approval since the Residential Property Act of July 19, 2005. However, foreigners still cannot purchase vacant land and landed properties without permission from the Singapore Land Authority. Non-residential property is not subject to these ownership restrictions.