Mongolia's housing market weak, despite improving economy
Lalaine C. Delmendo | November 23, 2019

Residential property prices in Mongolia are falling again - by 0.38% during the year to Q2 2019, according to central bankMongol Bank, following last year's small recovery. But this figure doesn't adequately mirror reality.  Adjusted for inflation, house prices in Mongolia actually dropped by a huge 7.84%.

The huge gap between nominal and real prices is due to high inflation. In September 2019, consumer prices surged 9% from a year earlier – the highest increase since February 2015.

During the latest quarter (Q2 2019), house prices fell by 1.32% (-4.26% inflation-adjusted).

Mongolia's weak market is due to 3 factors: 

oversupply of more expensive properties
high mortgage rates
high unemployment

1. Oversupply of more expensive properties.The residential real estate market of Ulan Bator is divided between the buoyant lower end, and the oversupplied upper end/luxury market:

Over half of the residents of Ulan Bator still live in traditional dwellings known as gers, or in housing not well connected to permanent infrastructure. So there's big demand in the lower end market, encouraged by rising wages and massive government-sponsored access to mortgage financing.
But luxury real estate has a significant oversupply of projects competing for a limited number of buyers and scarce financing.

The average apartment price in Ulan Bator currently stands at MNT2.2 million (US$815) per square meter (sq. m.), according toThe UB Post's August 2019 interview with B.Javkhlan, CEO of real estate portal www.oly.mn.However, in the capital city's central business district (Sukhbaatar district), that caters to expats and the ultra-rich, prime residential prices averaged MNT 8.53 million (US$ 3,158) per sq. m., according to the Q2 2019 economic update by Mongolian Properties.

Ulan Bator's most desirable residential buildings/compounds include The Brauhaus, the Temple View Residence, The Jiguur Grand Office Building, The Star Apartments, The Royal County, The Sarnaikh Building, Lux House, The Erel Building, The Russian Embassy Building, Regency Residence, and the Blue Sky Tower, among others.

The "Embassy District" and the area around the State Department Store, also known as the 7 Courtyards, are two of the most popular residential areas for foreign homebuyers and tenants, as well as wealthy Mongolians.

2. High mortgage rates. During 2018, the weighted average interest rate for new mortgage loans rose to 12.2%, up from 11% in 2017, 8.8% in 2016, 9.7% in 2015, and 10.2% in 2014, according to Mongol Bank, despite the fact that the central bank's policy rate remained unchanged at 11% since November 2018.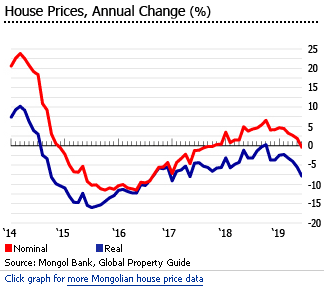 The loan-to-value (LTV) ratio is 70% of the appraised value of the property. The term period is usually over 20 years.

3. High unemployment. Mongolia's unemployment rate stood at 9.9% in Q3 2019, slightly down from the previous quarter's 10.1% jobless rate. Unemployment averaged 10% in the past three years.