Indonesia's residential property market has hardly moved. Adjusted for inflation, property prices actually fell by 0.2% last year, with the property price index (16 major cities) rising only by 1.29% during 2020, according to Bank Indonesia.  Looked at longer-term, property price rises are on a downtrend: up only 1.77% in 2019, 2.95% in 2018, 3.5% in 2017, 2.38% in 2016, 4.62% in 2015 and 6.29% in 2014.

During the latest quarter, residential property prices rose by a meagre 0.1% q-o-q (0.26% inflation-adjusted)."Almost all projects decided to not increase their asking prices. Thus, the average asking prices remains the same as 3Q 2020. We hope to see some improvement in the next year," said Colliers International.

When inflation is taken into consideration, only nine major Indonesian cities recorded house price increases during 2020.

In Jakarta, prices of strata title apartments rose by a minuscule 0.47% during 2020 to an average of IDR 34.96 million (US$2,500) per square metre (sq. m.), according to Colliers International.

Covid has had the expected effect. Residential property sales plummeted by 30.9% from a year earlier in Q3 2020, following y-o-y declines of 25.6% in Q2 and 43.2% in Q1, according to Bank Indonesia. On a quarterly basis, sales increased 7.9% in Q3 2020.

Residential construction activity was paralyzed last year due to pandemic-related restrictions and lockdown measures. During 2020, only 2,698 units were completed in Jakarta, down by 72.4% from the previous year's 9,769 units.

After two decades of uninterrupted growth, Indonesia's economy shrank by 2.07% in 2020, in sharp contrast to its 5% growth in 2019.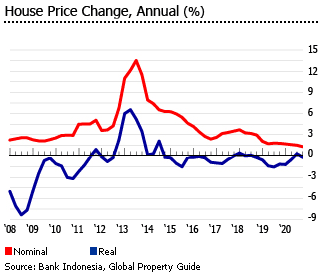 To boost economic activity, the government introduced a stimulus package worth IDR 744.28 trillion (US$53.26 billion) last year, including IDR 1.5 trillion (US$107.3 million) funds for the subsidized housing program, which is expected to cover financing for 175,000 new homes. On top of this, Finance Minister Sri MulyaniIndrawati recently announced that the government's COVID-19 recovery budget for 2021 will be expanded further to IDR 619 trillion (US$ 44.4 billion), from the initial budget allocation of IDR 372.3 trillion (US$ 26.7 billion).

The economy is expected to grow between 4.5% and 5.5% this year, according to Indonesia's chief economic minister AirlanggaHartarto. This is slightly more optimistic than the World Bank's recent projection of a 4.4% growth.