Indonesian residential property market rarely makes big moves. The property price index (16 major cities) rose by 1.77% during 2019, according to Bank Indonesia, after rises of 2.95% in 2018, 3.5% in 2017, 2.38% in 2016, 4.62% in 2015 and 6.29% in 2014. However property prices actually fell by 1.17% last year, when adjusted for inflation.

During the latest quarter, residential property prices rose by a meagre 0.3% q-o-q (0.19% inflation-adjusted).

Seventeen of Indonesia's 18 major cities saw nominal property price rises in 2019. However, when inflation is taken into consideration, only the city of Medan actually recorded an increase in value of 4.53% during 2019.

In Jakarta, prices of strata title apartments rose by 3% during 2019 to an average of IDR 34.8 million (US$2,130) per square metre (sq. m.), according to Colliers International.

Demand is almost steady. Residential property sales rose slightly by 1.19% in Q4 2019 from a year earlier, a sharp slowdown from the previous quarter's 13.95% growth, according to Bank Indonesia. On a quarterly basis, sales actually declined 16.33% in Q4 2019.

Indonesia's economy grew by 5.02% in 2019, slightly slower than the prior year's 5.17% growth, as investment and exports weakened, according to Statistics Indonesia. Recently, Bank Indonesia trimmed its 2020 economic growth forecast to 5% - 5.4%, from 5.1% - 5.5%.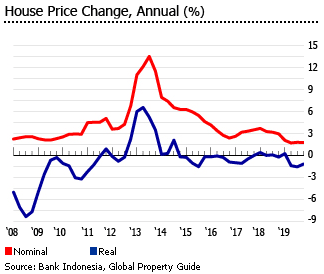 In March 2020, the Indonesian government unveiled its second emergency stimulus package worth US$8 billion, in an effort to protect the economy from the adverse impact of the coronavirus outbreak.

It provides a range of fiscal and non-fiscal incentives for the manufacturing sector and small and medium-sized businesses. This follows a US$725 million stimulus package announced last February 2020 to support tourism, the airline industry, and the property market. The package includes US$104 million funds for the subsidized housing program, which is expected to cover financing for 175,000 new homes.