South Africa's real house prices continue to fall, amidst weak economy
Lalaine C. Delmendo | May 21, 2020

There has been little to celebrate for the South Africa's homeowners for more than a decade. From 2007 to 2019, house prices rose by about 57% but when adjusted for inflation, real prices actually fell 18%.

South Africa's house prices fell 1.22% adjusted for inflation during the year to Q1 2020 (a nominal house price rise of 2.79%, according to ABSA). Quarter-on-quarter, house prices increased by a meagre 0.11% and fell by 1.45% in real terms.

Demand remains weak, reflecting the depressed macroeconomic environment, according to First National Bank's analyst SiphamandlaMkhwanazi.

"Sustainable long-term improvements in affordability (and demand) will have to be driven by income growth," said the FNB. "Concerningly, our forecasts do not suggest a strong recovery in income growth. This threatens the sustainability of the support offered by constructive lending on the market."

The fallout from coronavirus will make things worse. Housing demand, and consequently house prices, are expected to fall this year.

South Africa's economy fell into recession in Q4 2019, when real GDP contracted by 1.4%, following a decline of 0.8% in Q3, according to Statistics South Africa.  The economy grew by a minuscule 0.2% during 2019, its weakest performance since 2009.   The SA economy is expected to shrink by as much as 6.4% this year, mainly due to the adverse effects of the COVID-19 pandemic, according to Finance Minister Tito Mboweni.

South Africa is Africa's second biggest economy. The country has an estimated population of 58.8 million and an estimated GDP per capita of US$ 6,100 in 2019. It has formidable manufacturing and financial sectors. It is the world's largest exporter of gold and platinum. Tourism is also a key source of foreign exchange.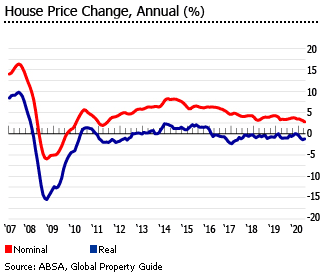 Foreigners can own immovable property in South Africa without restriction. However, all foreign funds remitted to the country must be declared and documented. The property must also be endorsed 'non-resident', as a condition for repatriation of funds.

Non-resident investors have to pay Capital Gains Tax when they later sell their properties. The purchaser of the property is required to deduct a prescribed percentage from the proceeds of the sale and remit it directly to the South African Revenue Service before paying the balance to the seller.