South Africa's housing market is showing signs of improvement, after being depressed for the past five years. The price index for medium-sized apartments rose by 4.61% in April 2021 from a year earlier, an improvement from the previous year's 1.2% rise, according to the First National Bank (FNB). In fact, it was the biggest y-o-y growth in four years.

Yet when adjusted for inflation, prices increased by a minuscule 0.1% y-o-y in April.

South Africa's housing market has been sluggish over the past several years, mainly due to high unemployment, weak household finances, and an underdeveloped mortgage market. From 2007 to 2020, house prices rose by about 62% but when adjusted for inflation, real prices actually fell 18%.

But with inflation moderating, the gap between nominal and real prices has noticeably narrowed in the past three years.

Demand continues to rise this year, albeit at a more modest pace following a strong surge in the second half of last year, according to FNB's June 2021 report.

"Our proprietary market strength indicators show that demand is now moderating, following a strong rebound in 2H20 and into 2021. However, these remain above pre-pandemic levels, in part reflecting the positive effect of lower interest rates on market activity," said the FNB.

"Liquidity remains intact: mortgage extension continues to grow at a faster pace, and loan-to-price (LTP) ratios remain high. Our investigations show that much of this credit is funding purchases in the middle- to upper-priced segments," the FNB added.

South Africa's economy contracted by 7% in 2020, following minuscule growth of 0.2% in 2019. It was the steepest decline for over a century. The coronavirus outbreak has deepened the country's debt crisis, aggravated food insecurity, and weakened already fragile health systems. The economy is projected to expand by a modest 3.1% this year, according to IMF estimates - still not enough to offset the huge contraction last year.

South Africa is Africa's second biggest economy. With a population of 59.6 million and US$ 5,067 GDP per capita in 2020, it has formidable manufacturing and financial sectors. It is the world's largest exporter of gold and platinum. Tourism is also a key source of foreign exchange.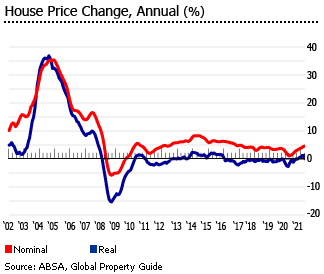 Foreigners can own immovable property in South Africa without restriction. However, all foreign funds remitted to the country must be declared and documented. The property must also be endorsed 'non-resident', as a condition for repatriation of funds.

Non-resident investors have to pay Capital Gains Tax when they later sell their properties. The purchaser of the property is required to deduct a prescribed percentage from the proceeds of the sale and remit it directly to the South African Revenue Service before paying the balance to the seller.