South Africa's housing market remains fragile, amidst weak economy, surging inflation, as well as rising interest rates. The price index for medium-sized apartments rose by a modest 3.4% in Q2 2022 from a year earlier, following a 4.5% increase a year ago., according to the First National Bank (FNB). However when adjusted for inflation, prices actually declined by 3.74% y-o-y in Q2.

On a quarterly basis, apartment prices rose by a meager 0.8% (and declined by 1.6% inflation-adjusted) during the latest quarter.

South Africa's housing market has been sluggish over the past several years, mainly due to high unemployment, weak household finances, and an underdeveloped mortgage market. From 2007 to 2021, house prices rose by about 69% but when adjusted for inflation, real prices actually fell 19%.

With inflation surging again, the gap between nominal and real prices has been rapidly widening recently.

Demand remains subdued, with nationwide residential market activity weakening in Q2 2022 compared to the previous quarter, amidst rising interest rates and weaker economic outlook, according to FNB's Q2 2022 Property Barometer.

"As expected, the FNB Estate Agents Survey showed signs of a softening market. Market activity weakened in 2Q22, and this is corroborated by the lengthening time properties remain on the market for sale," said the FNB. "The survey shows souring sentiment in the KwaZulu-Natal (KZN) region, following the devastating floods. This, combined with the impact of riots in July last year, should have a lingering effect on the KZN property market."

"Activity softened across all the price segments that we track, with the affordable market faring relatively better in 2Q22," the FNB added.

South Africa's economy contracted by 6.4% in 2020, following minuscule growth of 0.1% in 2019. It was the steepest decline for over a century. The coronavirus outbreak has deepened the country's debt crisis, aggravated food insecurity, and weakened already fragile health systems. The economy bounced back in 2021, registering a growth of 4.9% - but still not enough to offset the huge contraction in the prior year.

Currently, the SA economy continues to suffer, with real GDP shrinking by 0.7% in Q2 2022 from the previous quarter, mainly due to the devastating floods in KwaZulu-Natal, coupled with intense power rationing, according to Stats SA. On an annual basis, the economy grew by a miniscule 0.2% in Q2 2022, a sharp slowdown from y-o-y increases of 2.7% in Q1 2022, 1.7% in Q4 2021, 2.9% in Q3 2021, and 19.1% in Q2 2021.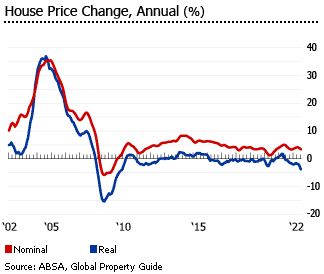 The International Monetary Fund (IMF) expects the SA economy to post a modest expansion of 2.3% this year.

South Africa is Africa's second biggest economy. With a population of 60.1 million and GDP per capita of US$6,950 in 2021, it has formidable manufacturing and financial sectors. It is the world's largest exporter of gold and platinum. Tourism is also a key source of foreign exchange.