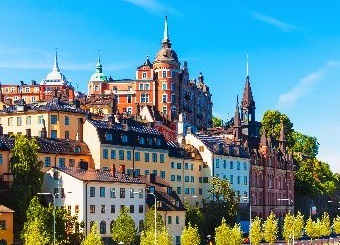 Hong Kong, Australia, Canada and Sweden are the world's most at-risk housing markets, warns an Oxford Economics report. New Zealand, Denmark, Norway, the U.K., Switzerland and South Africa closely follow them.
"In the top four countries, valuations are very elevated, there has been a lengthy housing boom, debt levels are high and there is a significant share of floating rate debt," said Adam Slater, lead economist at Oxford Economics.
Other key economies pose only a limited risk in terms of housing market dangers. They include the US, Germany, France, China and Japan, the report said.
Most other countries have reported no significant recent rise in mortgage rates. In fact, the rates have fallen in some cases.
"So, the classic 'trigger' for house price declines is largely absent," Slater said. "However, rising rates are not strictly necessary for prices to start falling."
Many at-risk housing markets are already witnessing price corrections. For example, prices have dropped by 3% in the year through August in major cities in Australia and 5.6% in the Sydney market. Three of the major Australian banks have also raised mortgage rates in recent weeks.
The report compared housing markets in 34 Organization for Economic Co-operation and Development (OECD) countries from 1970 to 2013 and found a clear relationship: Where valuations had risen 35% or more above the long-term average over that period, real house prices fell in 3/4 of cases over the following five years.
"This points to many OECD countries seeing stagnant or negative real house price growth in the next few years: the scope for a further house price 'melt-up' in highly valued markets looks extremely limited," Slater said.
Top 10 riskiest housing markets
Sweden
Australia
Canada
Hong Kong
New Zealand
Denmark
Norway
The U.K.
Switzerland
South Africa