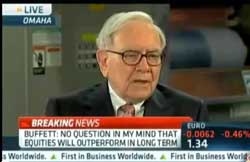 Tirelessly imparting his investing wisdom, billionaire Warren Buffett believes that with the right property management, one can take advantage of the distressed single family homes now available at discounted prices across the United States.
Mr. Buffett shares in his recent CNBC interview that since 2008 investing in single-family homes had been very attractive, but it should be done with utmost care.
He notes that there is leverage in owning a very cheap single-family home now as it can be transformed into additional monthly earnings through rentals while servicing the low monthly rates with a 30-year mortgage.
"[I]f I had a way of buying a couple hundred thousand single-family homes and had a way of managing—the management is enormous—is really the problem because they're one by one. They're not like apartment houses. So—but I would load up on them and I would—I would take mortgages out at very, very low rates," he told CNBC.
Mr. Buffett has acknowledged that his holding firm, Berkshire Hathaway, is one of those private equity firms, who had been involved into buying distressed properties and are making a profit out of it by renting it out.
"For our part, we've been steadily buying foreclosures and other distressed properties in Grand Rapids since 2008, and are in contract to buy 3 more houses—1 duplex and 2 single-family homes—in the next few months," he adds.
The sparse earnings from the bond and equity markets during the past months have drawn these big time investment houses to the foreclosed housing market, especially in the U.S.
A report of the Wall Street Journal further proves that the big money lenders comprised by hedge funds, university endowments and pension funds have been drawn to the single-family foreclosed housing market.
Some are even teaming up with local companies, who had the expertise in acquiring these distressed assets.
The WSJ pointed out the partnership between a hedge fund Och-Ziff Capital Management Group LLC with McKinley Capital Partners, who had acquired 300 in distressed single-family homes in the San Francisco Bay Area in California.
Och-Ziff Capital wants to buy at least 500 more foreclosed homes in the next year and rent them out and to ideally dispose of them, when the housing market improves.
U.S.-based property research firm Zelman &Associates said in its recent assessment of ownership trends during the period of 2005 to 2010, the number of renters have surged by 21.1%. The study further notes that especially in the states of Florida, Nevada and Arizona, the number of single-family homes rented rose by 47.6% compared to those owned rising 0.5%.